The Best Dinner Jackets in Cinema History
Some of the most stylish scenes in cinema have been made possible thanks to a well-tailored dinner jacket. Here are the best of all time...
Pierce Brosnan, Tomorrow Never Dies (1997)
Selecting a dinner jacket from the Bond series is a challenge. So many great moments; Connery's turn-back cuffs, Lazenby's ruffled shirt and Moore's flares are all worthy of attention, and they regularly receive attention from The Rake and other publications. So I would like to champion the suit worn by Pierce Brosan in
Tomorrow Never Dies
. Not my favourite Bond film and probably my least favourite Brosnan movie... but that suit, or more specifically, that waistcoat.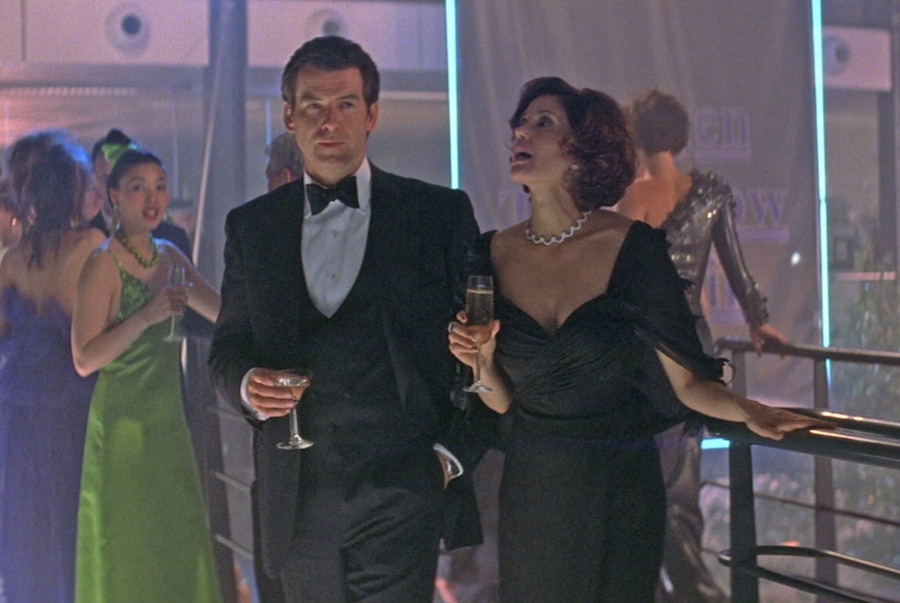 Ian Carmichael, School for Scoundrels (1960)
Ian Carmicheal was a natural clotheshorse and had an easy, dapper style. His evening clothes in the Ealing comedy,
School for Scoundrels
, are the perfect expression of English style. The double-breasted evening jacket has moderately wide lapels and no pocket flaps or vents. His shirt is soft with a turned-down collar and he has a hand-tied bow accessorised with a carnation in his lapel and casually placed linen pocket handkerchief. What makes this look so incredibly stylish is just how casually he carries himself. No chest puffing, posturing or cuff shooting like a football player at an awards ceremony. True style.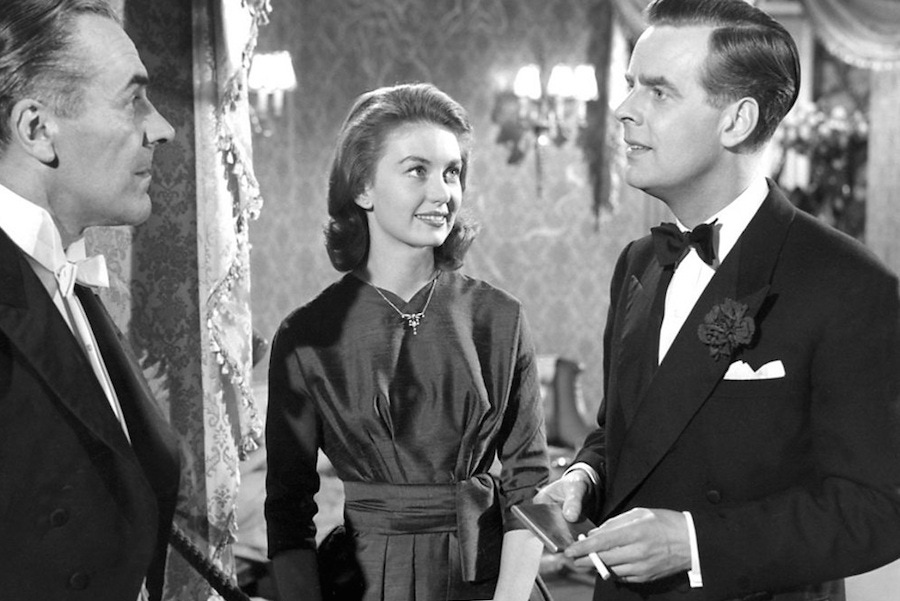 Cary Grant, To Catch a Thief (1955)
Grant's three-piece suit in
To Catch a Thief
is in a proper midnight blue with black facings. I approve of evening cloths in colours other than black and enjoy seeing them in shades of brown and blue. But midnight blue is almost black. Grant's shawl collar is slim compared to his frame but not skinny. I dislike the buttonhole cut into the lapel as there is no historical precedent as to why a shawl collar would have one, but it is a venial sin. And if you happen to have one, I would suggest wearing a flower in it. The star of Grant's ensemble is his shirt. The soft, pleated collar-attached evening shirt was a revelation in men's formal dress. They are significantly more comfortable and easier to care for than the boiled shirt of white tie and no need for additional studs to fasten them – ideal for when it is your valet's night off.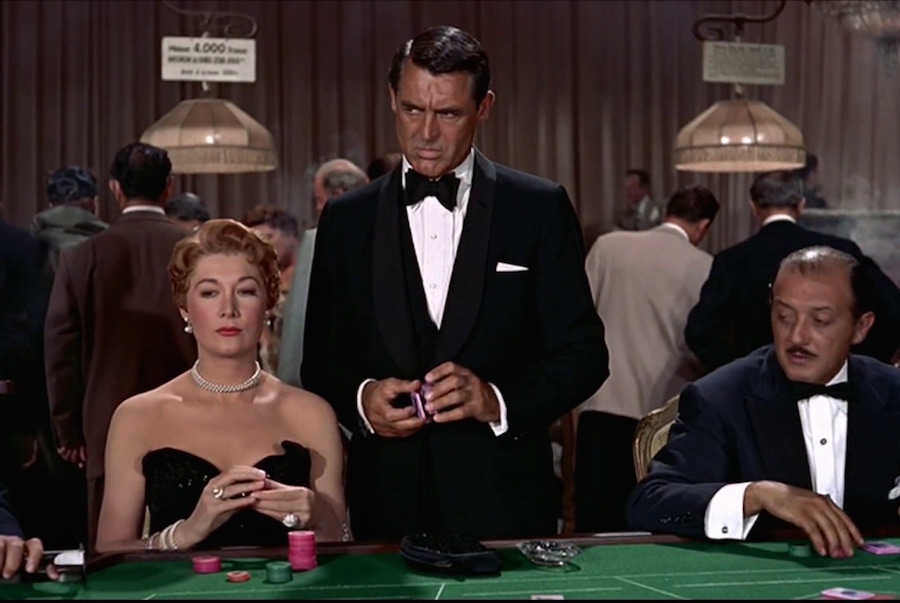 Humphrey Bogart, Casablanca (1942)
There are strict rules as to when a gentleman can substitute his black dinner jacket for the less formal 'white' version: when it is high summer, between the tropics or when he is the lead singer of Roxy Music. Bogart's cream (never white) dinner jacket in
Casablanca
is as iconic as the 1942 movie. Beautifully executed in a low-buttoning, double-breasted style, it boasts a perfectly proportioned shawl collar with just the right amount of belly. The buttons are a tonal mother-of-pearl and the coat has no vents or facings on the lapel. I prefer self-faced cream dinner jackets as they capture the right degree of formality, but it can be tricky to find a good one off-the-peg with all the right details so if you decide to have one made, you have the advantage of picking the right cloth. Consider a heavy Irish linen or a wool and silk blend in a rich shade of cream.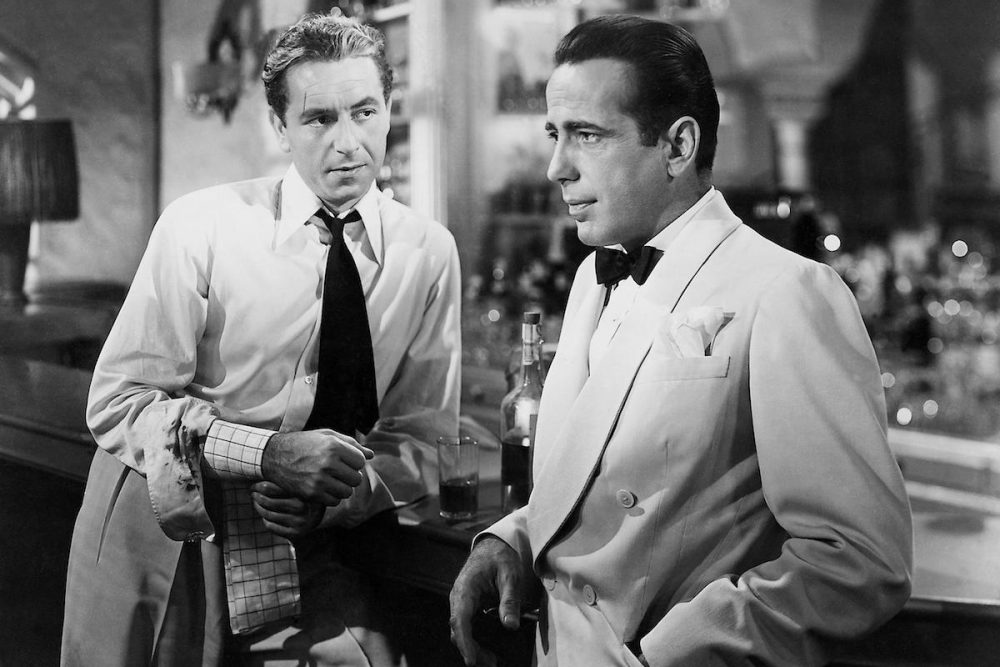 Fred Astaire, Swing Time (1936)
The movie that cemented white tie and tails as the most elegant expression of men's dress also has the most splendid example of black tie. Astaire's four-button double-breasted suit cut in a button-two, show-two style wouldn't look out of place today and is absolutely correct in every detail. Astaire's wing-collar shirt would appear a little archaic today however, having fallen out of favour. It still has a bad reputation from the 1980s when it was de rigeur for snooker players and estate agents. But this is a proper deep wing-collar with plenty of starch and not the limp, shallow version still offered in provincial department stores. The dinner suit is ventless, which creates an unbroken line between the jacket and the fuller-cut trousers. Also note that Astaire wears both a pocket square and buttonhole. Magnificent.