The Best Looking Rolex Day-Dates You've Never Seen
In 1956, Rolex unveiled the Day-Date watch featuring its groundbreaking Datejust technology that was supplemented by the addition of a day window. From the get go, the Day-Date was manufactured in precious metals only, including yellow, white and pink gold and platinum. Whilst there had been some diamond setting on the earlier models, it was with the 1800 series, launched in 1960, that Rolex really began to experiment and push the boundaries.
Rolex unveiled the Day-Date Baselworld in 1956. The new watch featured Rolex's groundbreaking Datejust technology that was supplemented by the addition of a day window. From the get go, the Day-Date was manufactured in precious metals only, including yellow, white and pink gold and platinum. The first references available were the 6510 and 6511 and then in 1957 the second series came in references 6611 (with a coin edge bezel), 6612 (with smooth bezel) and 6613 that was made in platinum in very small numbers. In 1960 the iconic reference 1803 was launched which was again available in yellow, white and pink gold as well as the reference 1804 in platinum. Whilst there had been some diamond setting on the earlier models, it was with the 1800 series that Rolex really began to experiment and push the boundaries.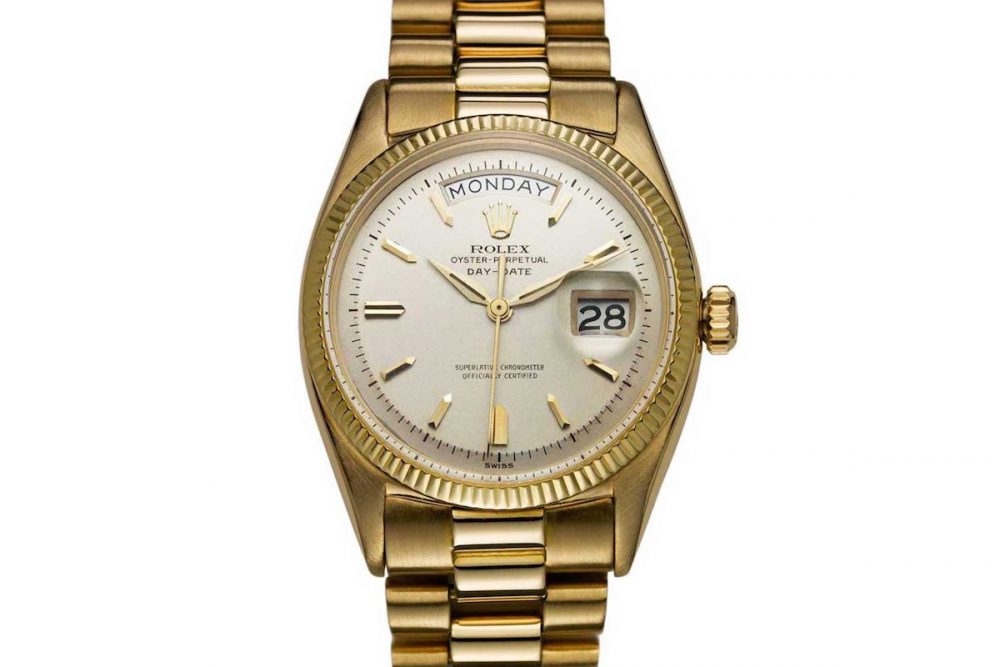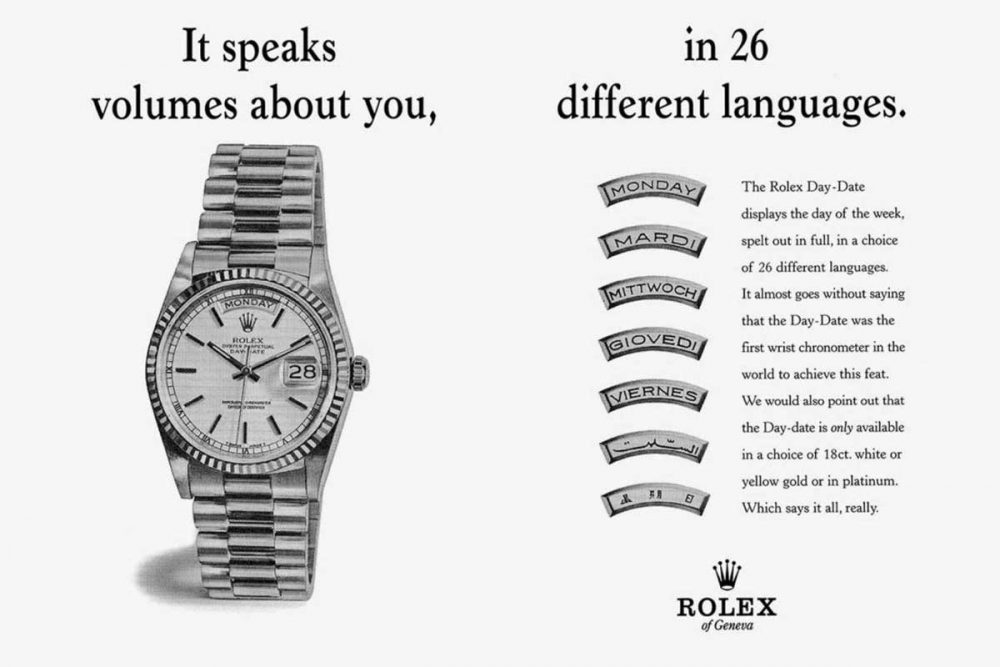 In 1977 the Day-Date underwent something of a makeover. The first change was the introduction of a quick-set date change and the second was the introduction of a sapphire crystal. It was still in a 36mm case and the metal options were unchanged, but it was an update none-the-less. The five-digit Day-Date, however, heralded a new chapter in the gem setting of the watch dials. The "eight plus two" dials were still used extensively, but this look was supplemented by a wide range of new styles. Special order watches had always been available and so there are unique examples from the 1800 series watches
,
but the main aim of this piece is to give a general overview of what was produced in regular production. The exciting thing about Rolex is that every year new, previously unseen examples surface.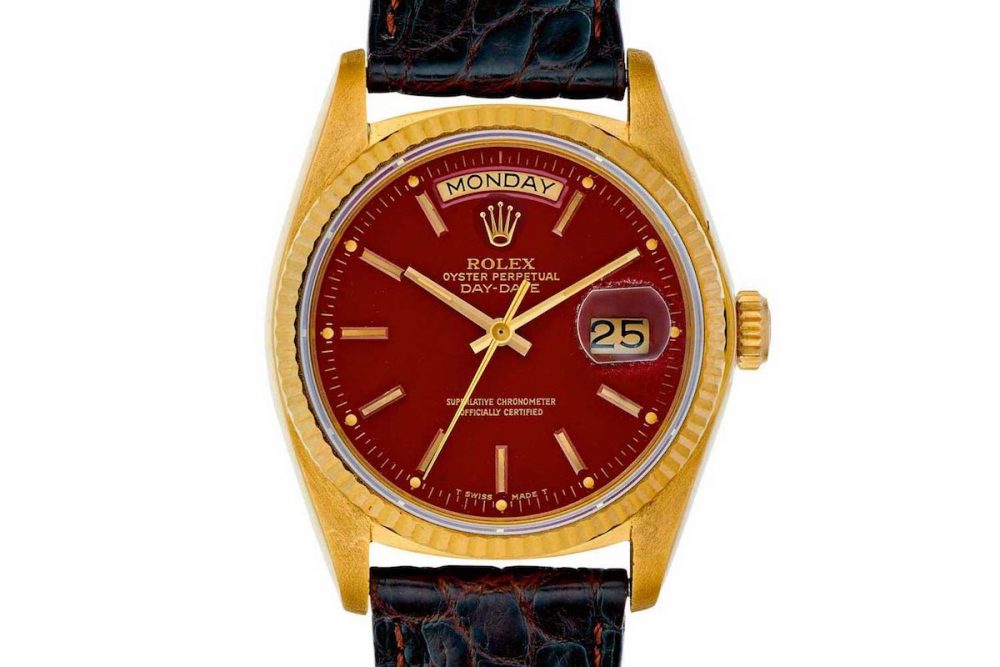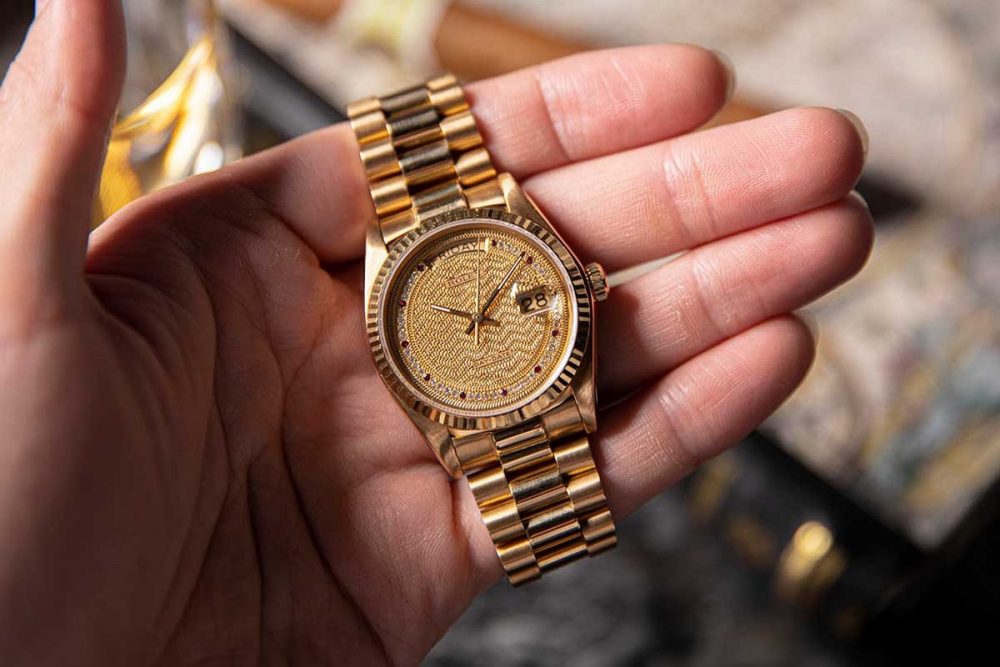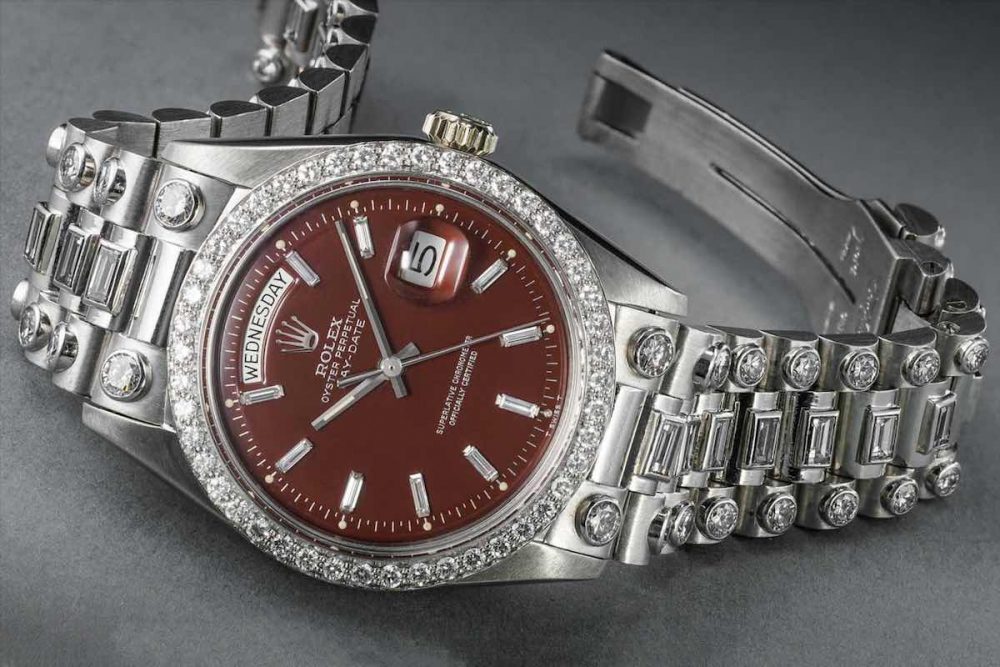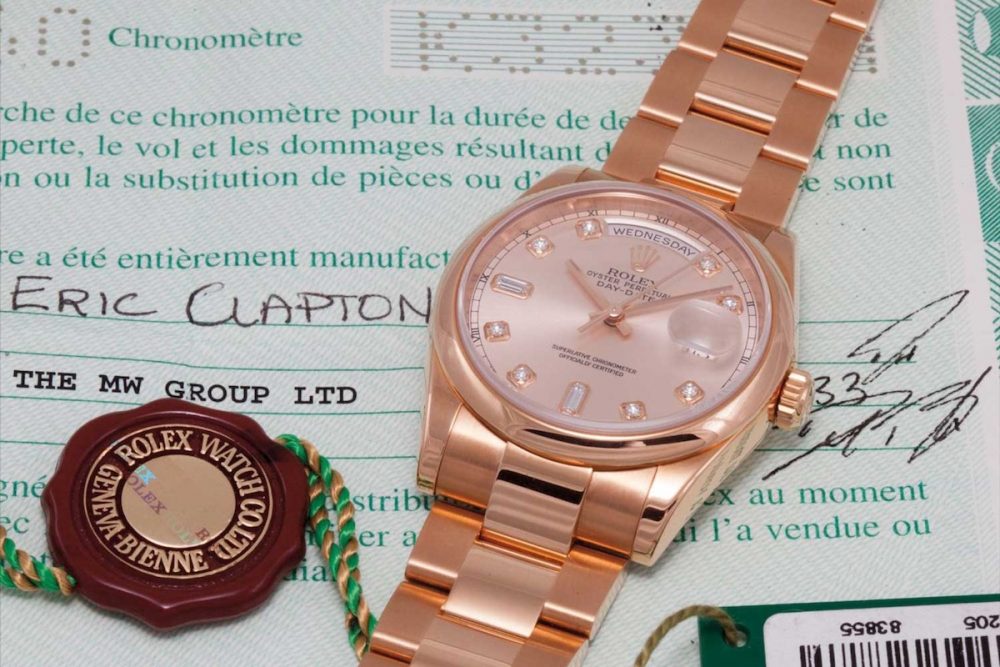 The string dials saw a string of brilliant-cut diamonds set around the minute track. The hour markers would then be marked with an additional diamond or in some cases an emerald, ruby or sapphire. In some rare cases the hours were marked with a single baguette-cut stone. At the Revolution Watch Bar in Singapore, we have a stunning example of reference 18038, featuring a Missoni dial—a solid gold champagne dial engraved with the zigzag stripe motif from the famous fashion house. Decorated with ruby hour markers and diamonds, the beautiful dial is encased in an 18k yellow gold case and is presented on an 18k yellow gold President bracelet.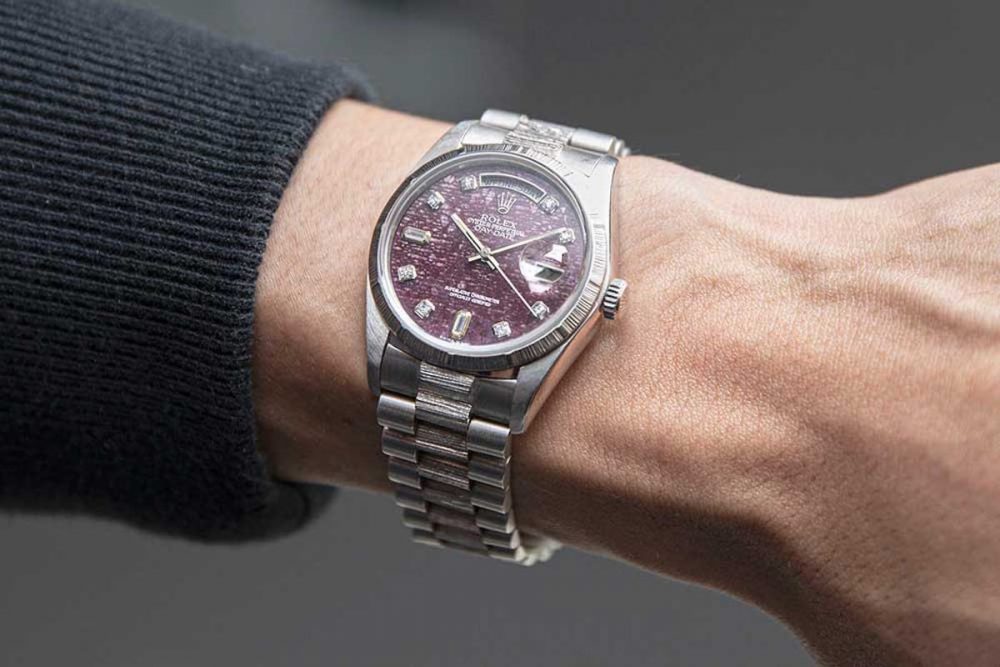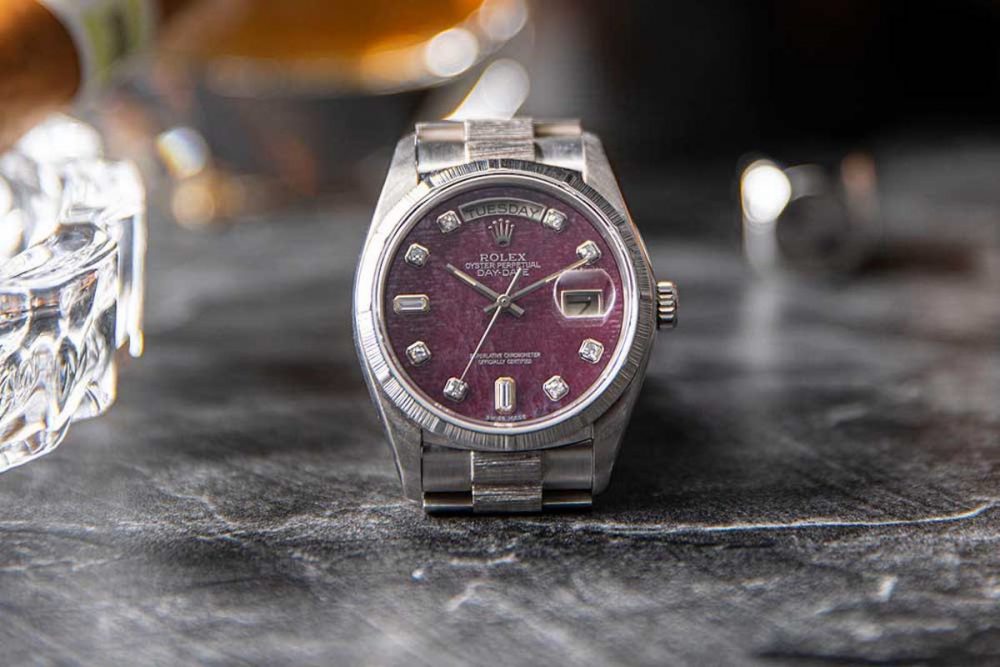 Pave dials also came into use. One of my favourite iterations is the paved chapter ring. Essentially this was a precious metal ring that continued in the same thickness as the day window around the inner circumference of the dial and it was paved with diamonds. The chapter ring would be highlighted at the hours with brilliant cut stones, including diamonds, rubies and sapphires.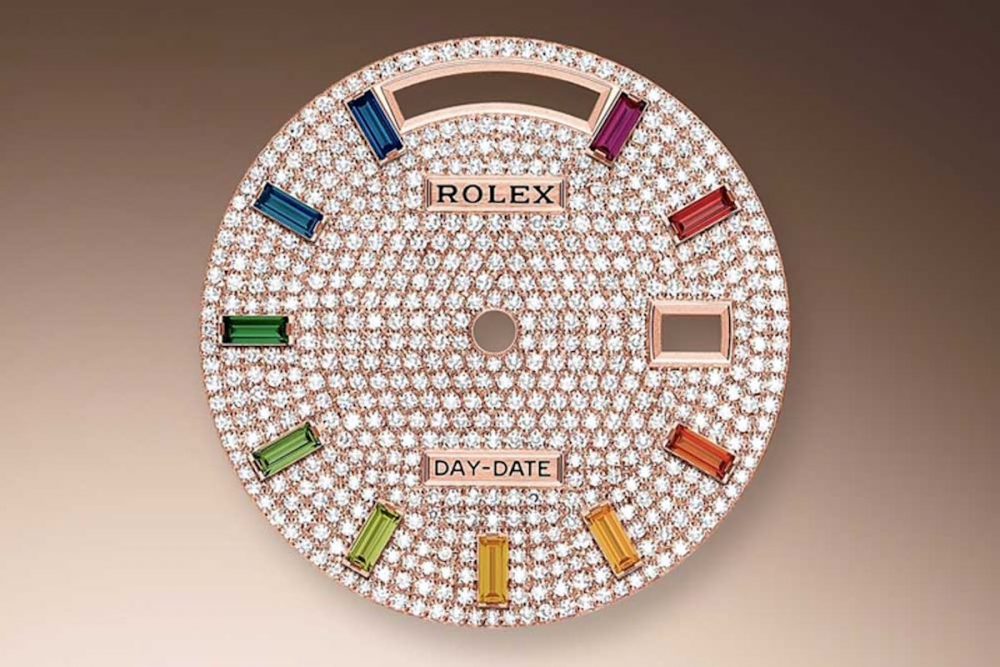 The full pave dial is a Rolex Classic. Who doesn't love a full dial of sparkling stones? Still in use today in Rolex sports watches, the full pave dial's maiden voyage was on the Day-Date. Rolex takes gem-setting very seriously, much like everything else that they do. They only employ the very best artisans who can flawlessly carry out the work and insist on the highest possible quality of stones for use on their watches. All the diamonds used, even the tiniest for full pave dials, must include zero inclusions when checked at 10x magnification. Each stone is checked by eye and compared with master stones to ensure only the finest examples make it onto watches - Rolex even has its own proprietary tools to ensure each stone is of uniform shape. The cut used for pave dials is known as the 8/8 cut, which has a total of 17 facets. One of the most challenging manufacturing processes for watch brands is the production of stone dials. Working with stone is difficult as it is incredibly hard and the resulting finished piece is very thin. This leads to a large failure rate with the brittle stone slivers being very prone to cracking. One of the appealing aspects of stone dials, however, is the unique nature of each one. I spoke about this in the last instalment of this series regarding the Daytona. The Day-Date used considerably more types of stone for its dials (check out a beautiful example of ref. 18079 with a rubellite dial with baguette-cut diamonds at the Revolution Watch Bar) and I'm not sure anybody, other than Rolex, could compile a thoroughly exhaustive list of all the stones used in the Day-Date. However, what follows is about as close as it is possible to get with full access to the Rolex archive.
A-Z of Day-Date Stone Dials 
Agate
- a rock consisting primarily of cryptocrystalline silica, chiefly chalcedony, alternating with micro-granular quartz. It is characterised by its fineness of grain and variety of colour.
Ammonite
–
the most commonly known fossil, it is the hard shell of an ancient, extinct mollusk.
Aventurine
-
a form of quartz, characterised by its translucency and the presence of mineral inclusions that give a shimmering or glistening effect
Bloodstone
-
a cryptocrystalline mixture of quartz. The "classic" bloodstone is opaque green jasper with red inclusions of hematite
Cacholong
-
a form of common opal, although it is often mistaken for agate or chalcedony.
Coral
-
the hard skeleton of red coral branches.
Ferrite
-
a ceramic material made by mixing and firing large proportions of iron with small proportions of one or more additional metallic elements, such as barium, manganese, nickel, and zinc.
Fossil
–
also known by collectors as 'Jurassic Park' dials, they are petrified fossil slices.
Grossular
- a vibrant red
calcium-aluminium species of the garnet group of minerals. 
Jade -
an ornamental mineral, mostly known for its green varieties.
Jasper
-
an aggregate of micro-granular quartz and/or chalcedony and other minerals. It's usually red, yellow, brown or green in colour.
Lapis Lazuli
- a metamorphic rock used as a semi-precious stone that is prized for its intense blue colour.
Malachite
- a
green copper mineral, known for its vibrant green color and agate-like banding that shows different shades of green.
Meteorite
-
a nickel and iron alloy with heavy traces of cobalt and phosphorus. It is the crystal composition of this meteorite that gives it its octahedrite structure that is so visually appealing.
Mother of Pearl (Nacre)
-
an iridescent organic composite material that is very strong produced by some molluscs as an inner shell layer.
Marble (Howlite)
-
a calcium borosilicate hydroxide, it has a white appearance with threaded gray, black or brown veins running through it.
Obsidian
-
a naturally occurring volcanic glass formed as rock, obsidian is produced when lava extruded from a volcano cools rapidly with minimal crystal growth.
Opal
-
formed when water from rain seeps down into crevasses in rock. Once the water evaporates, the silica that is left behind dries out and hardens into precious opal.
Onyx
-
formed of bands of chalcedony in alternating colors. The most common colour used by Rolex is the black bands.
Pietersite
-
a variety of Quartz, composed naturally of Tiger Eye, Hawk's Eye and Jasper. Its dominant gold hues are contrasted with deep blue-black, grey and brown, as well as occasional clear areas.
Rubellite
- to
urmalines with dark pink to red colours. Ruby-red colored specimens without orange or brown overtones are highly prized.
Sodalite -
a blue mineral named as a result of the very high sodium levels in the stone, which is very hard but also quite fragile. The shades can vary from light powder blue to rich royal blue.
Tiger Eye -
a chatoyant gemstone that is usually a metamorphic rock with a golden to brown colour and a silky lustre.
Turquoise
- an opaque, blue-to-green mineral that is a hydrated phosphate of copper and aluminium. It is a vibrant blue colour.