The Cartier Tank Américaine: The Evolution of A Classic
Launched in 1989, the Tank Américaine belongs to one of the most well-established horological lines, the Cartier Tank.
There is something utterly timeless about the voice and style of Ella Fitzgerald. I first began to appreciate her voice during my university years when I studied jazz and began to look back at some of the founding fathers of the genre. And Fitzgerald, The Queen of Jazz, was and is one of the true greats, with a versatility and ability to adapt her voice unlike anybody since. Similarly, the founding father of modern jazz is trumpet virtuoso Dizzy Gillespie. He could sing, play, compose, arrange and was especially gifted at improvisation. He was a master of pedagogy, with pupils including Miles Davis and Clifford Brown; a legacy that will last forever. Coincidentally, both these incredibly versatile and timeless jazz greats were born in 1917 which is also the year that Cartier first unveiled the Tank wristwatch.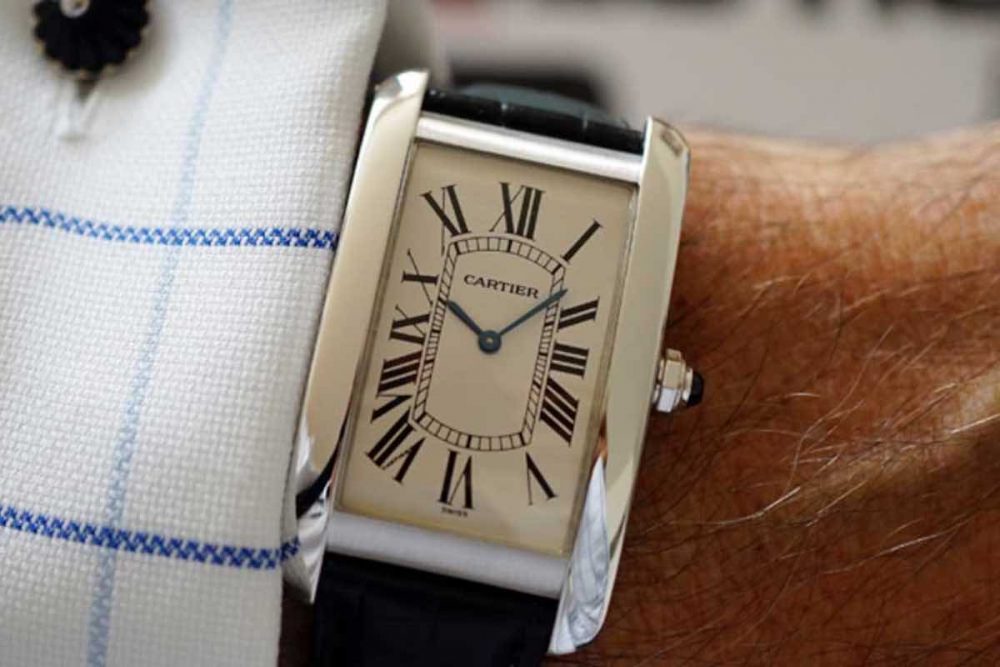 At 104 years' old this year, I imagine that any watch enthusiast would be unable to name a more timeless and adaptable wristwatch than the Cartier Tank. It's important to remember that in 1917 wristwatches were an emerging accessory for gentlemen and a rectangular wristwatch was, arguably, revolutionary. Pocket watches had been large, masculine affairs that a gentleman kept in the pocket of his waistcoat on a chain. The adaptation of the pocket watch for wristwear created huge wrist-mounted timepieces and so the early 20th century watchmaking modus operandi was to make watches smaller and more convenient on the wrist. Whilst a lot of watches were round, Cartier opted for a rectangle and the rest is 'wristory'!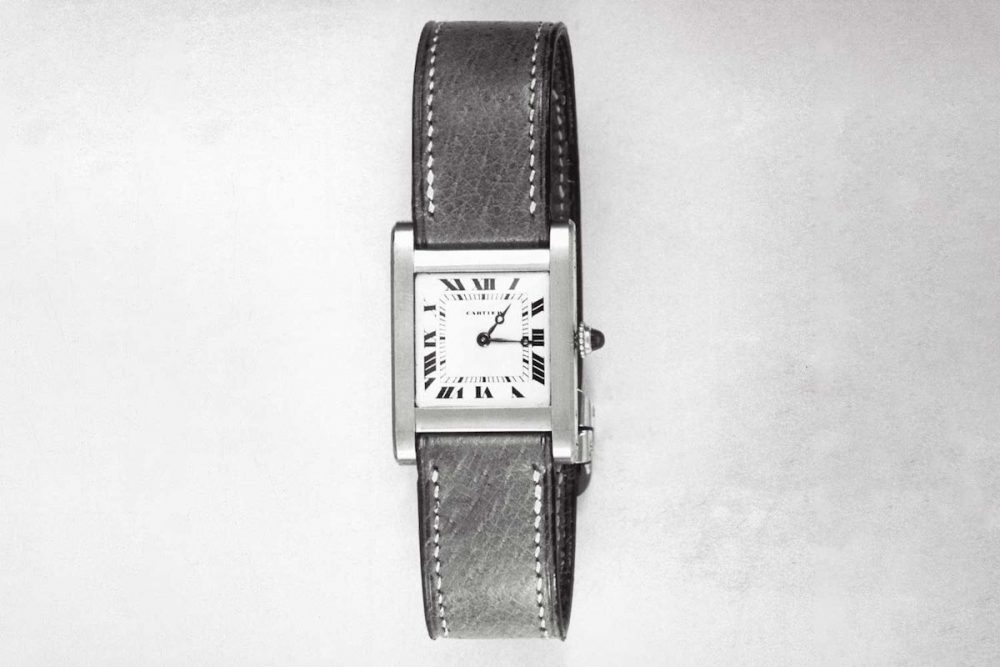 The Tank has been through a huge number of variations. Think of it like a jazz standard; a theme that everybody knows and loves but executed or performed in different ways, thus appealing to a different range of audiences. These riffs on a classic include, not exhaustively, Tanks Normale, Cintree, Chinoise, Obus, Basculante, Asymetrique and Américaine. We have a saying in the UK, "if it ain't broke, don't fix it." Hold a Tank from the 1920s next to a Tank that you bought yesterday and you will see that essentially they are the same. Sure, the movement may be more technical now and the manufacturing of the dial might be a little more precise, but to the untrained eye they will look the same. Like a '59 Gibson Les Paul next to a modern version, not a lot has changed over the decades. It is the Américaine that we are celebrating today with our latest selection from Watchfinder & Co. Whilst many of the classic Tanks were first realised between 1917 and the late 1930s, the Américaine is a relative young-timer, having been launched in 1989. Going back to the musician analogy, I'm not sure that either Taylor Swift or Chris Brown (both born in '89) can claim the same timeless qualities of the Tank, but time will tell. The initial Américaines were quartz powered and available with either a sub seconds dial or moon phase in relatively small cases. Neither offering were huge hits, but the 1993 large size Tank Américaine that was powered by the mechanical 430MC movement, was a good size at 44 x 27mm and was a more-of-the-time offering for men for whom the Cintree was a little too elegant and dressy. Produced in yellow gold and white gold from '95, it was much more in keeping with the emerging era of big watches.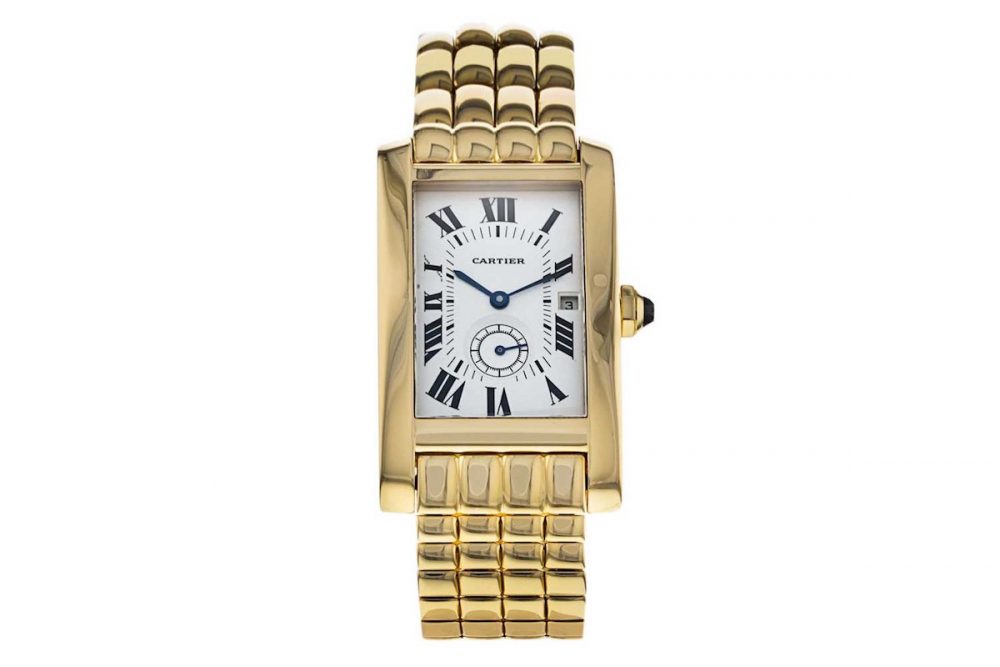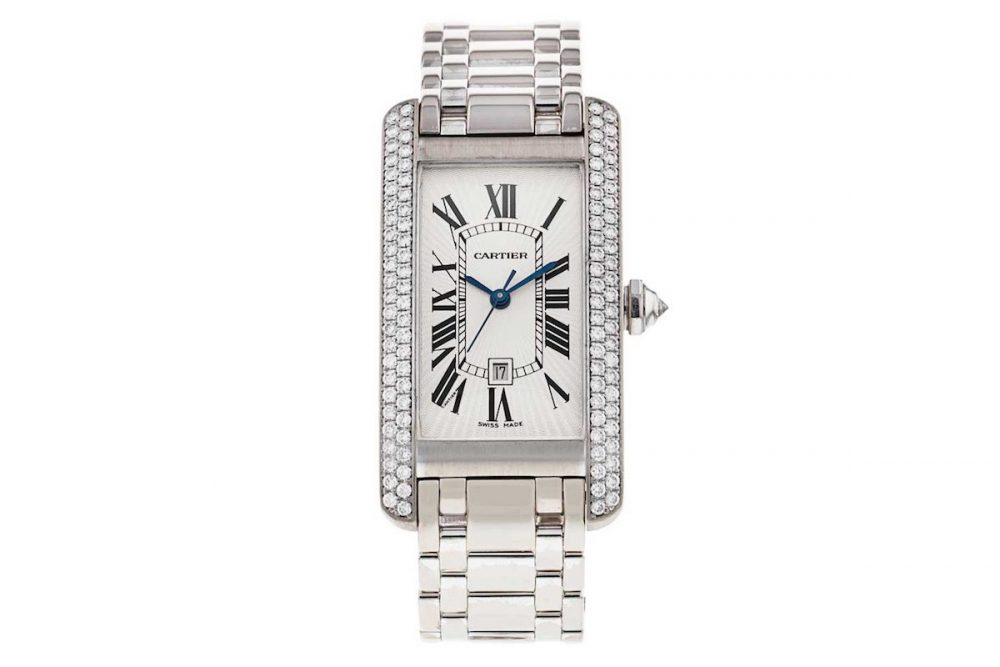 Like it's grandfather, the Cintree, from the earlier part of the century, the Américaine was curved; or at least appeared as such. The Américaine actually had an almost flat case back and a curved front side. The original watch from 1993 featured classic Roman numeral hour markers and a chapter ring that was curved at the top and bottom, as per the Cintree. The blued steel hands were the finishing touch, sans a seconds hand, giving the watch a pared-back, almost minimalist look. The flat case back and curved front edge gives the watch a very nice presence on the wrist. Don't be fooled by the on-paper diminutive width of the watch, it wears well and feels very contemporary. But then size isn't everything and when it comes to Cartier, the watches are all about elegance and design and therefore size is not a huge priority.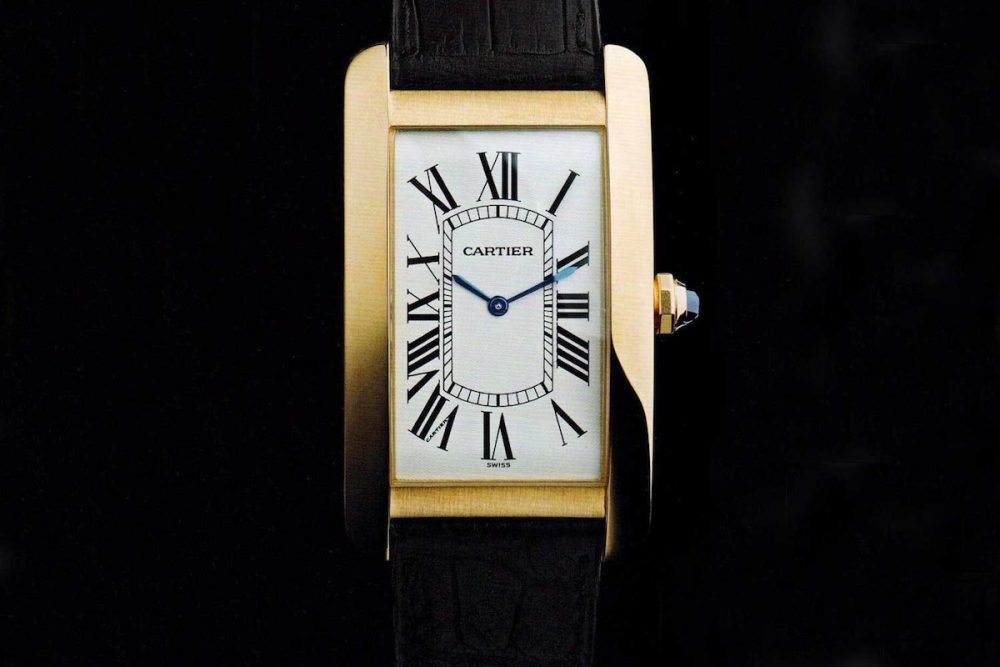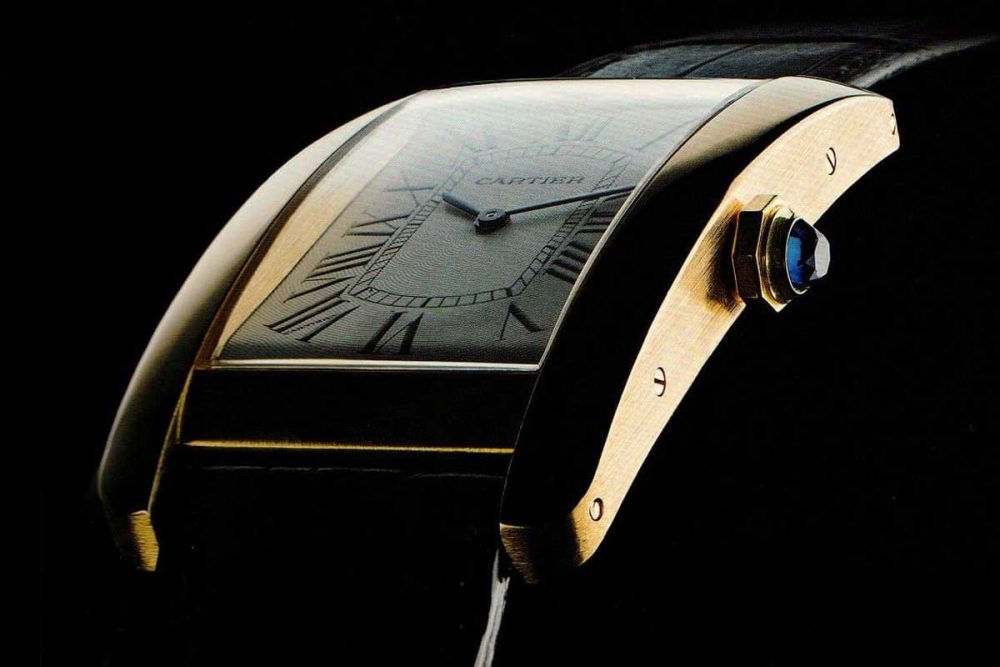 In its relatively short life, the Tank Américaine has been through a number of iterations and for most of its life those have been in precious metals. Following its debut in 1995 in white gold, it was traditionally the white gold and platinum versions that were the most sought-after. Whether with date, as a chronograph and even a flying tourbillon (as part of 2008's Fine Watchmaking Collection) there was an Américaine for everybody. Special editions included a white gold watch with Salmon dial and Arabic numerals at 9 and 7 to commemorate the handover of Hong Kong to China in 1997; in a limited number of? You guessed it – 97! Phillips also recently unveiled a very special platinum example, one of thirty made for the Italian market and featuring dark green numerals on the dial and a matching dark green crocodile strap.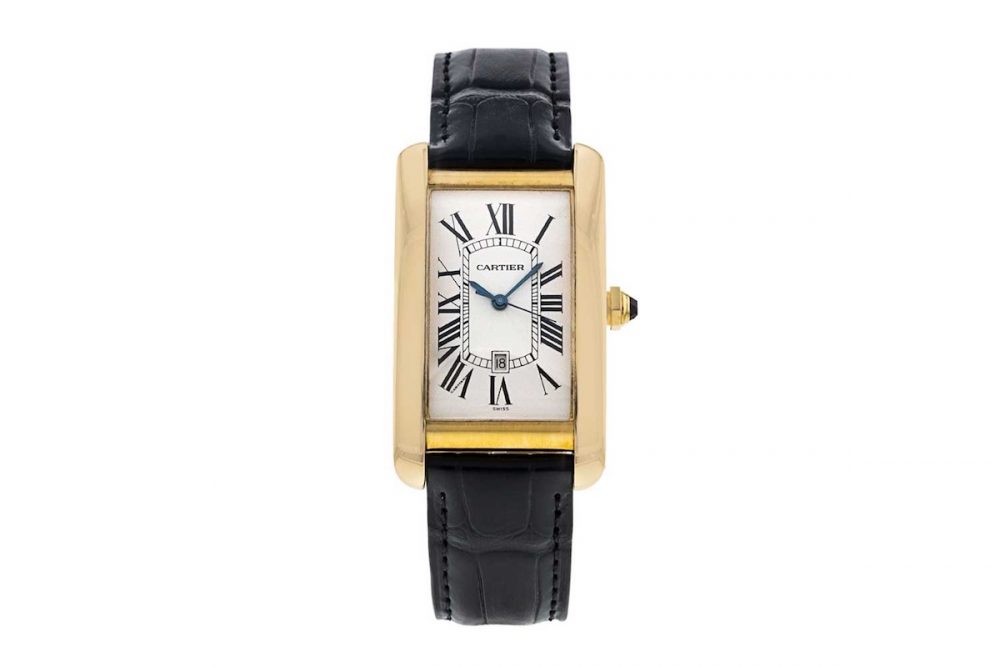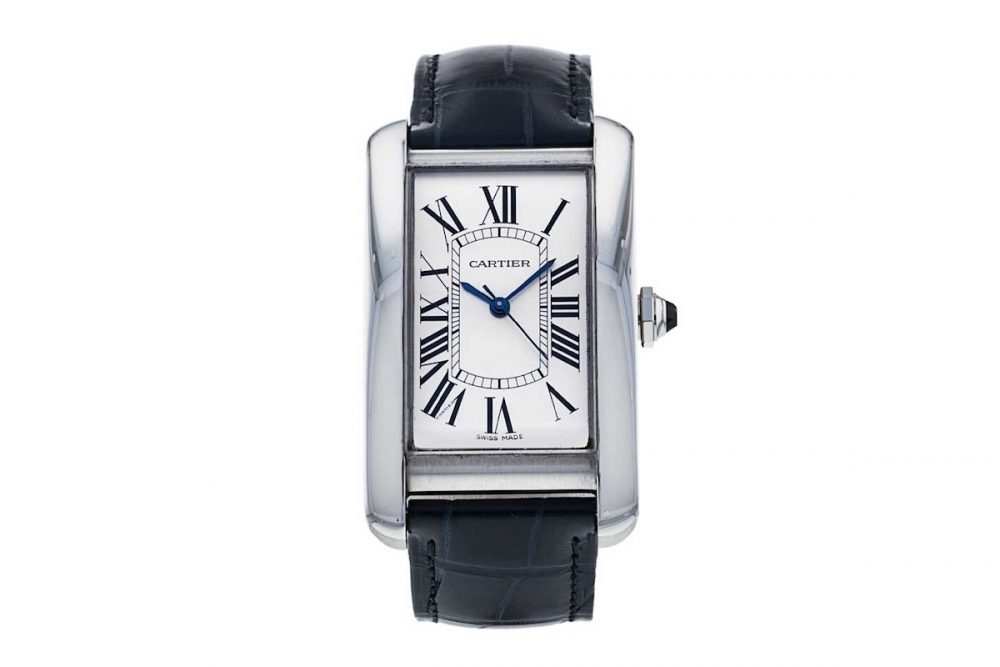 In 2017, as a key part of Cartier's celebrations of 100 years of the Tank, the Tank Américaine was released in steel. This watch is, in my mind, a total classic with all the hallmarks I love to see in a Tank. The black Roman numerals, with hidden signature in the VII numeral natch, and blued steel hands – in this case with a centre seconds hand. The blue sapphire cabochon is there, which on the steel watch is a luxury touch on a utilitarian metal. An interesting riff on a classic!