The Four Trouser styles you need for Winter
It can be a rather swift weather turnaround when October arrives, but for your wardrobe to comply with this, it's nothing more complicated than shifting to much heavier fabrics. Here at The Rake we're lucky enough to bring you a wide selection of trousers from some of the most reputable menswear brands around the world.
This recent blast of solar radiation is likely to end at the same speed it did for many of the famous turncoats in military history. Around the corner is the sight of half-bare trees whose blend of pink, brown and green leaves will detach from their stems and whirl around in the wind on the ground. This myriad of colours illustrates that autumn has arrived, which means a shift to warmer cloths such as flannel, corduroy, heavier wools and even a touch of tweed. Our selection of impeccably tailored trousers in a variety of styles in these autumnal fabrics will calm any trouser conundrums you might have been experiencing.
Flat-Fronted
The flat-fronted construction makes the silhouette smoother and straighter, creating a more streamlined look that is optimal for the slimmer gentleman but can sometimes struggle to comfortably contain a larger man's seat. The specifics can vary, but today the ivory corduroy trouser from Alexander Kraft Monte Carlo offers a casually sartorial option. They feature adjustable side tabs and for that finer detail — a beautiful button fly. They arrive unfinished, but to dress them up, simply add a turn-up and pair them with a double-breasted jacket that isn't too deep in texture such as The Rake Tailored Garments navy double-breasted blazer. Flannel possesses the perfect balance of fabric credentials for winter. The cloth is toasty and cosy, whilst maintaining just the right amount of classical élan. From esteemed mill, VBC, the Alexander Kraft Monte Carlo grey POW check flannel James trouser (part of a suit) but sold as a separate, is a versatile trouser option heading into cooler months. In a flat-fronted design, they have the ability to show off your physical attributes around the waist, correlative to the sharp way in which Sean Connery wore his glen plaid, melange grey suit in
Goldfinger.
Aptly named after the suave Bond actor, eschewing a more tapered yet warm aesthetic is the dark blue plain weave flannel 'Connery' model from trousers specialist Kit Blake. In keeping with the slimmer designs, Italian tailoring titans, Rubinacci offer a selection of soft medium-wale corduroy in autumnal hues such as dark beige, green and burgundy.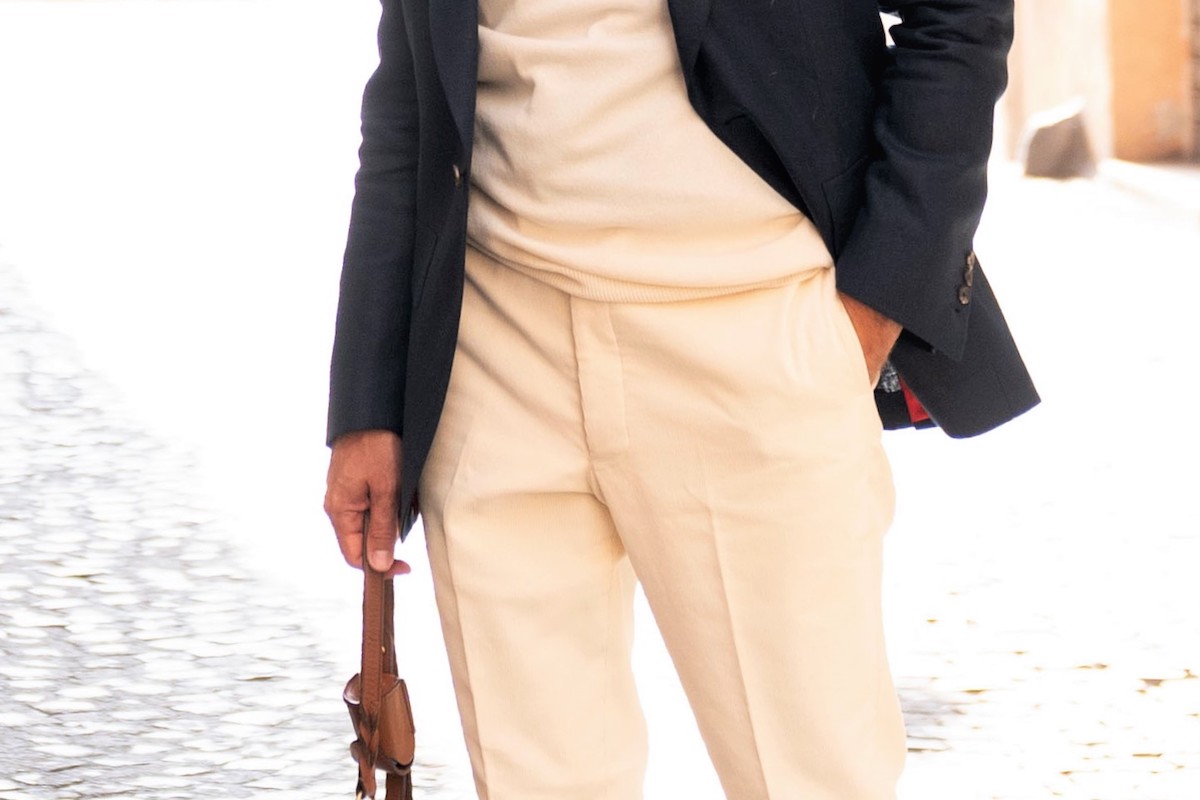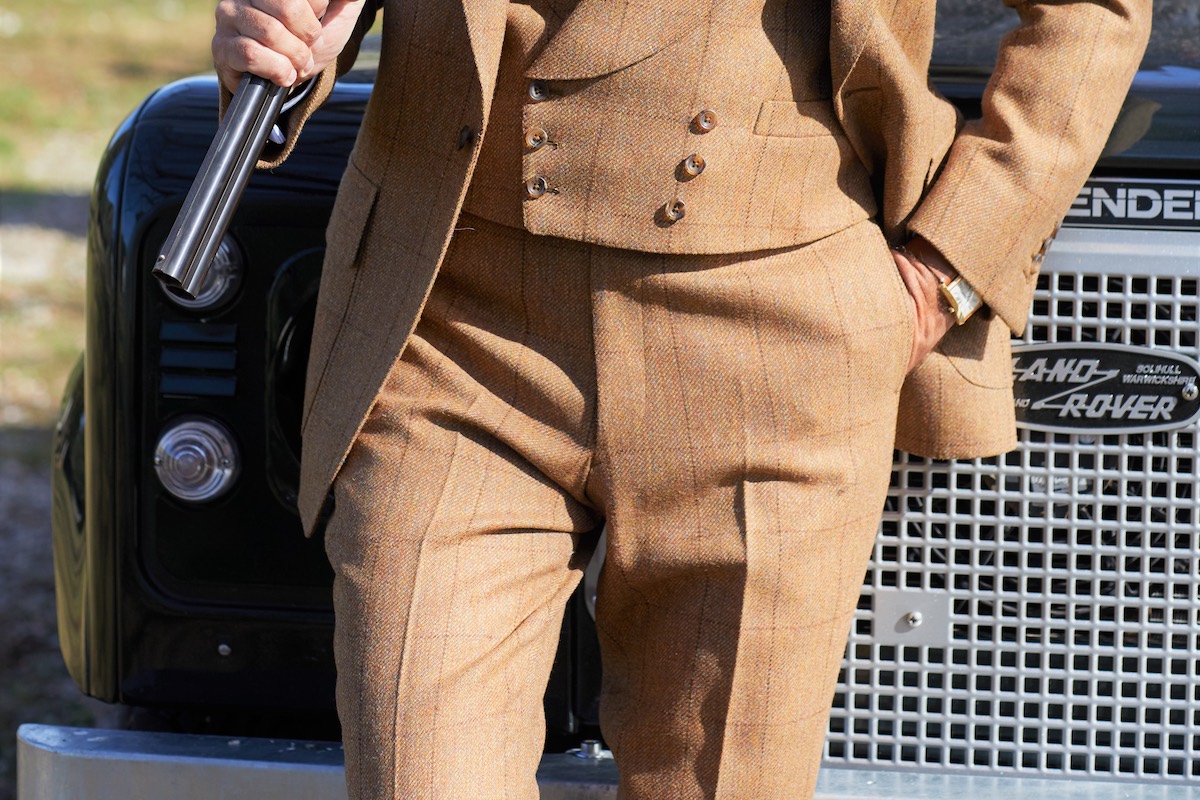 Single-Pleats
Single-pleated trousers might have been your grandfather's pants-du-jour back in the day, but don't let memories of the old boy's dress code put you off. The tide has changed in recent years, where even the younger crowd are shunning skinny trousers in favour of elegantly tailored pantaloons with neat details such as a single-pleat. If you'd like to channel your inner Neapolitan and opt for rear-facing pleats then The Rake.com will have you covered. These boast a looser shape because the extra cloth is taken from outside of the hips and casts less of a shadow in comparison to forward-facing pleats. A classic example is the navy wool trouser by Gaiola. An accessible label from the house of De Petrillo, they also offer an elegant reverse pleat in a forest green corduroy. Darker greys really become more versatile in winter, with De Petrillo keeping up their trouser stakes with two beautiful wool versions of the reverse-pleat. A bespoke tailoring business since 1730, Swedish-based Götrich who we welcome into the e-commerce fold offer single-pleats in a variety of winter fabrics. To lift spirits heading into the darker months Cordone's resplendent collection of colours in flannel and velvet bring some joviality to the room.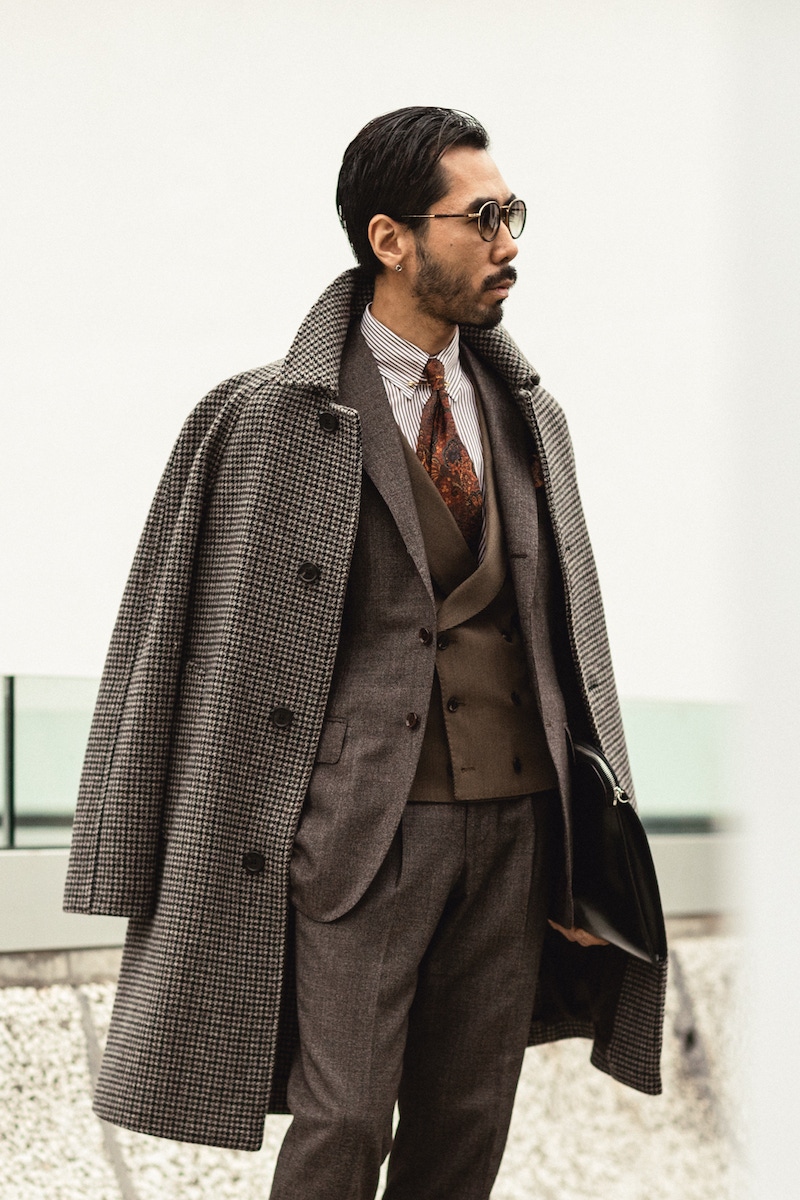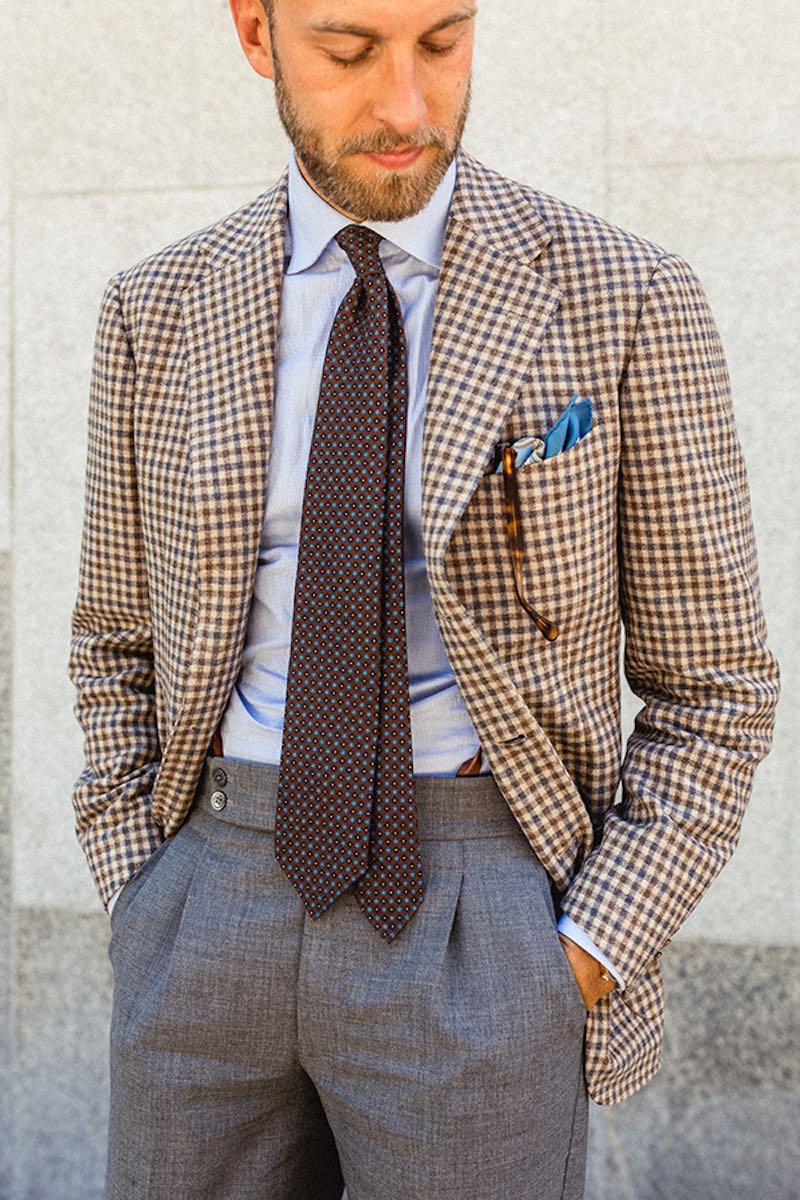 Double-Pleats
Disciples of sartorial pulchritude who enjoy the classical style are much less likely to reject double-pleated pants on the basis of traditionalism. Those tiny tucks of fabric, between pocket and fly, which add an extra inch of material to each leg, can create more room and comfort. Think back to the wide-leg, double-pleated trousers that Gary Cooper and George Raft used to don whilst in the troupe of the stylish elite of 1930s Hollywood. Another specialist in the traditional trimmings of menswear are burgeoning trouser specialists Kit Blake. The brand's iconic Aleksander trousers in flannel and tropical wool are quite possibly the most versatile trousers in the classic mould you can buy. Comprising all of the finer details you would expect in impeccably tailored trousers, their double-pleats look extremely sharp, whilst the trouser's drape allows for an unblemished silhouette. For vintage appeal the brand's mid-brown salt & pepper flannel model comprises a texture, rich in character that will pair nicely with a range of jackets. The precursor for classically designed trousers was often inflexibility as a compromise for those classic details. The reverse double-pleated trousers designed by The Rake Tailored Garments retain silhouettes and flattering angles, but not at the expense of comfort. Capitalizing on 12 years as the voice of authority in the bespoke arts, we've been able to implement a fusion of English, Italian and French tailoring techniques, whilst strategically applying cloth, so that there is tremendous ease of movement. It means there is unlimited scope to wear these traditional pieces in the manner you want. There's flannel options in grey and cream and a navy pinstripe trouser in wool. Whether it be business meetings in the city, dining out in a London restaurant, these trousers perfectly protrude informal elegance and can be worn through the winter. Another brand taking inspiration from the old-Hollywood style with great aplomb is Yuri and Yuri whose mocha brown Clifford trouser in a Merino worsted wool, comprises a very straight leg. With a double fastening waist with concealed buckle and tab - wearing knit polo shirt that fits tighter to the body is a fine juxtaposition.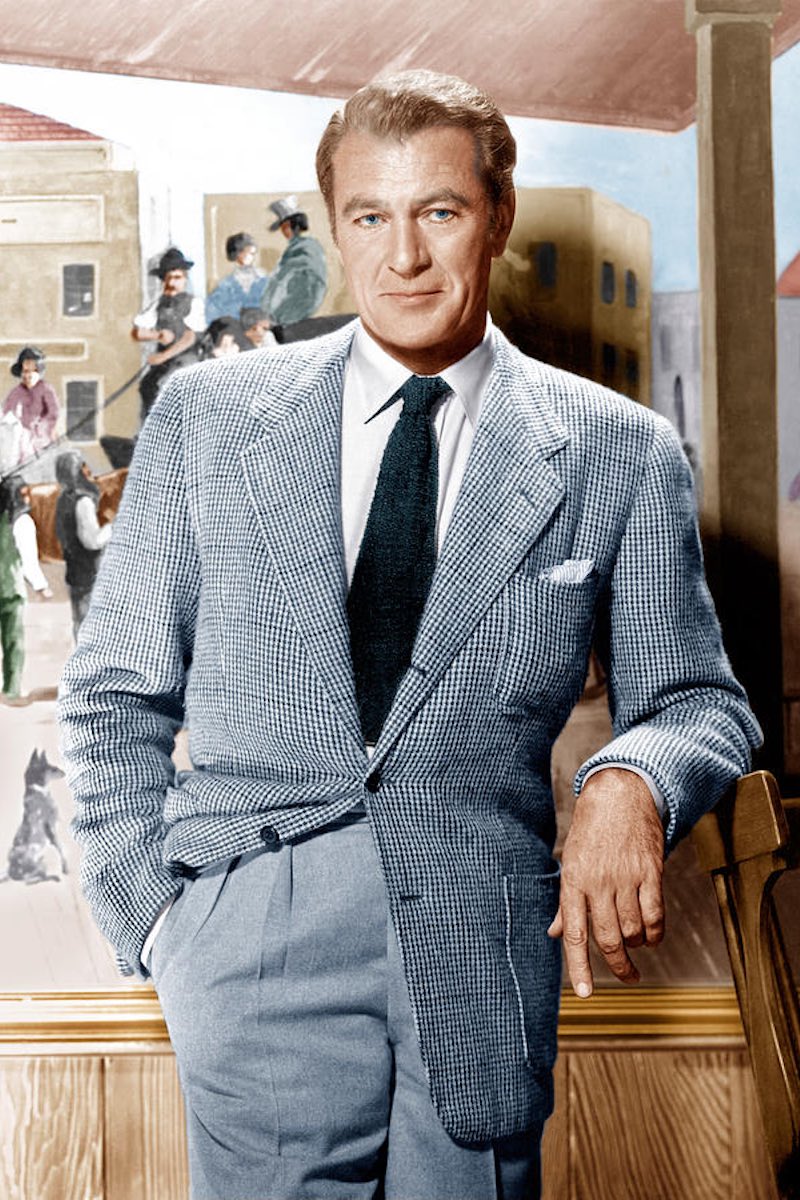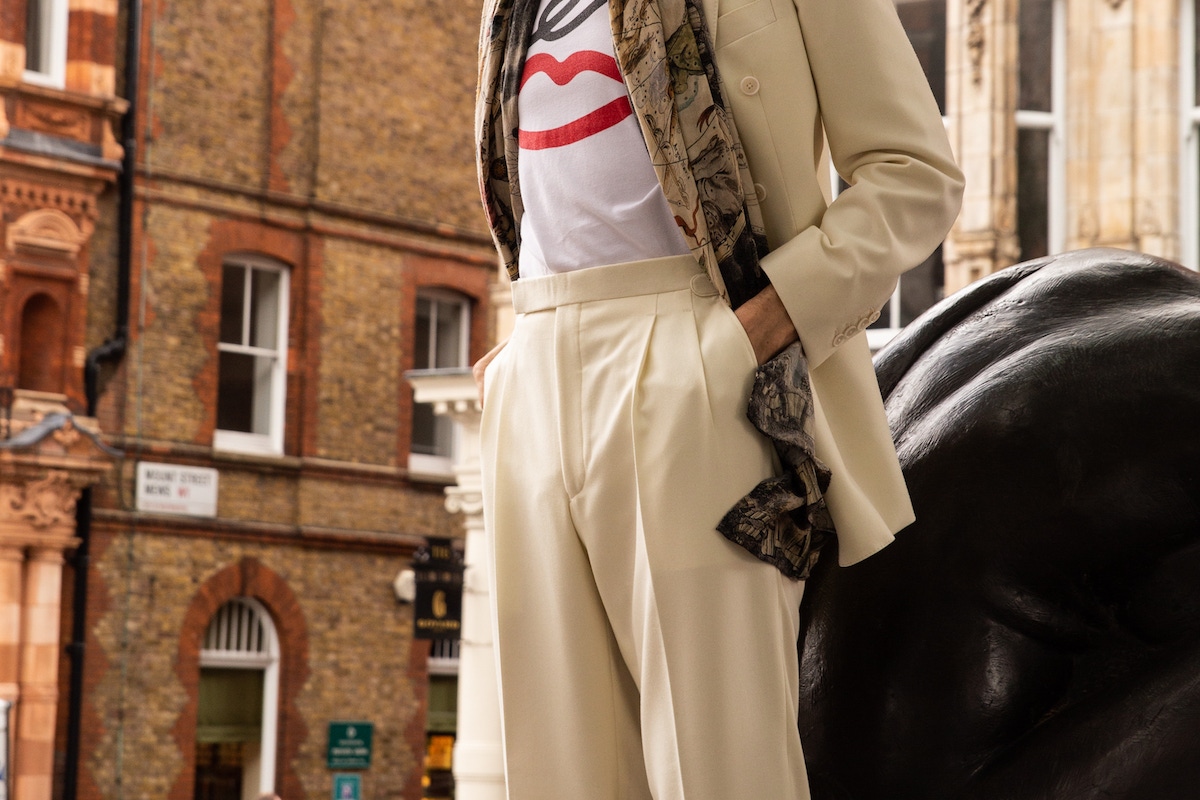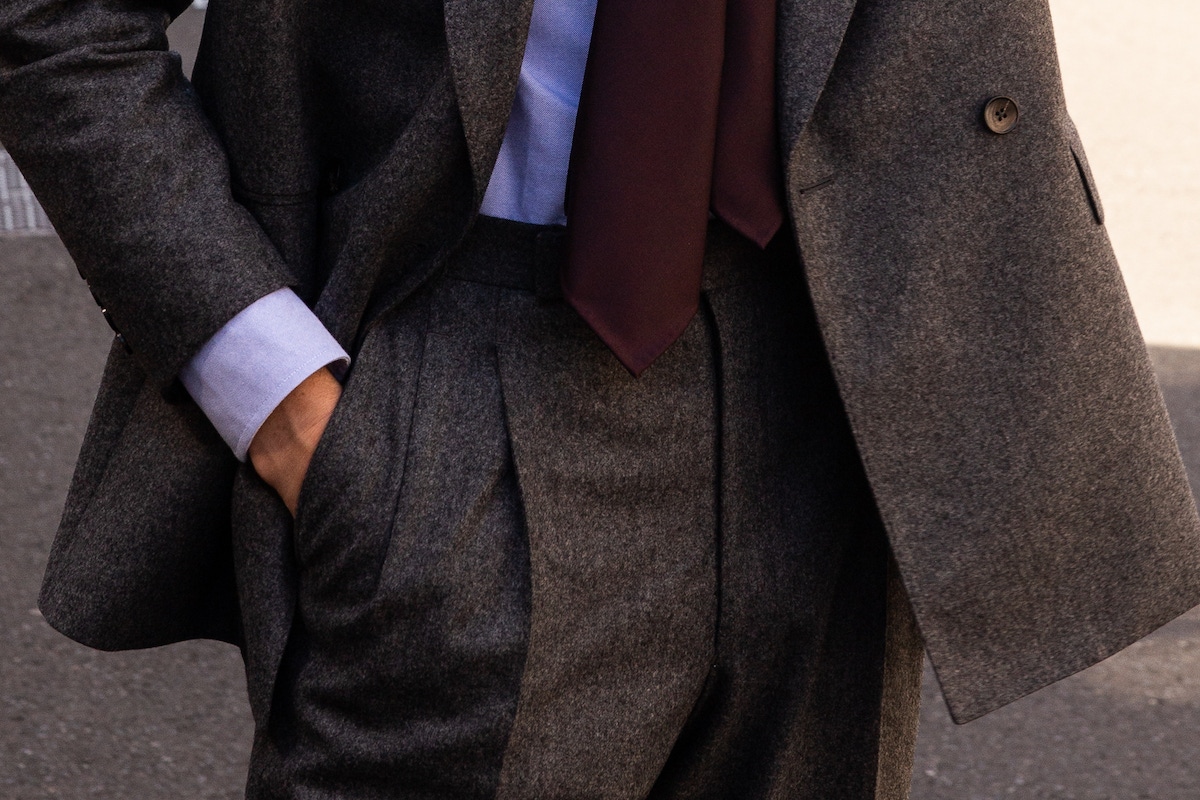 Gurkha
Technical, sartorial and practical, the Gurkha trousers has been undergoing a mini renaissance in recent years, with no sign of it stopping. It is a resilient, distinctive and romantic trouser, which comes in variety of fabrics. Complex in nature, but clean in silhouette it is a versatile trouser that will carry you through every season. The Gurkha trouser takes its name from Nepal's elite soldiers of the same name and the Gurkhas themselves in turn derive their name from the Nepalese kingdom of Ghorka. The dependable trouser carries the same traits as their original wearers the Gurkha military who held out against the British military who had an army six times the size in 1814. Today though its adventurous spirit lives on through some of the most reputable brand's in menswear. Italian tailoring firm, Rubinacci are the most famous for their Manny trousers. Their wool and cashmere Manny trousers comes in a variety of hues, including a unique olive-striped pattern which is a warm option for winter. A special mention must also go to their brown and dark grey herringbone wool trouser. It is a trouser that pairs exceptionally well with jackets as the high waist on the Gurkha strap means that the equilibrium between length of jacket and height of trouser remains in sync, considering that many Italian jackets are cut with a shorter back. There is also expertly tailored versions of the Gurkha trouser from Craftsman Co in cotton and a charcoal wool Gurkha trouser from American-based 18
th
Amendment, which feature a fine silhouette.