The One True King: Chuck Berry
Transgressor of genres, pioneer of rock 'n' roll, and the man Sir Mick Jagger credits with blowing "life into our dreams of being musicians" - The Rake honours rock deity Chuck Berry.
To say someone is a rock god today really means that that person has been moderately successful and in the same room as a guitar. Don't believe me? Take a cursory glance at the mainstream music press. It is a statistical certainty that right now someone - it could even be someone you know, dear reader - is earnestly penning a think-piece about how Ed Sheeran is this generation's rock god. Well, don't believe it. Not only because this world has already lived through The Simply Red Years once and survived (and really, shouldn't we know better by now?), but also because there really was a Rock God. His name was Chuck Berry, and he died last Saturday.
"If you tried to give rock and roll another name," John Lennon once famously said, "you might call it Chuck Berry." Such was the size of the shadow he cast over the genre and, indeed, over almost all music since. Yes, his music wasn't unprecedented - one can point to the blues musicians of the thirties and forties, Blind Lemon Jefferson and T-Bone Walker in particular, as critical antecedents. But Chuck was different. His guitar playing - angular, effortless and solo-oriented, and yet lockstep with the rhythm - was unprecedented. Likewise, no musician before him had been able to so successfully catch the ear of teenage America with their lyrics - whip-smart narratives about high school dances, fast cars and young romance. And man, he had style. A handsome black kid, hair quiffed back, clad in a smoking jacket, and high-waisted, pleated pants, guitar slung low like a gun - he was slick, smart and maybe a little dangerous. The epitome of 1950s cool.
Chuck Berry was born in 1926 in St. Louis, Missouri. He gained an appreciation for music at high school, a rambunctious talent show performance making him something of a local sensation, picking up the guitar soon after. He was also something of a hell-raiser, unmotivated at school despite his talent, and on a sporadic road trip to California ended up finding a pistol, robbing a barbers, stealing a car and getting thoroughly caught. He ended up spending the next three years in a reform school. Upon his release, he continued pursuing music, supporting himself with a succession of rather eclectic jobs, working as a carpenter, a janitor, a photographer and a hairdresser.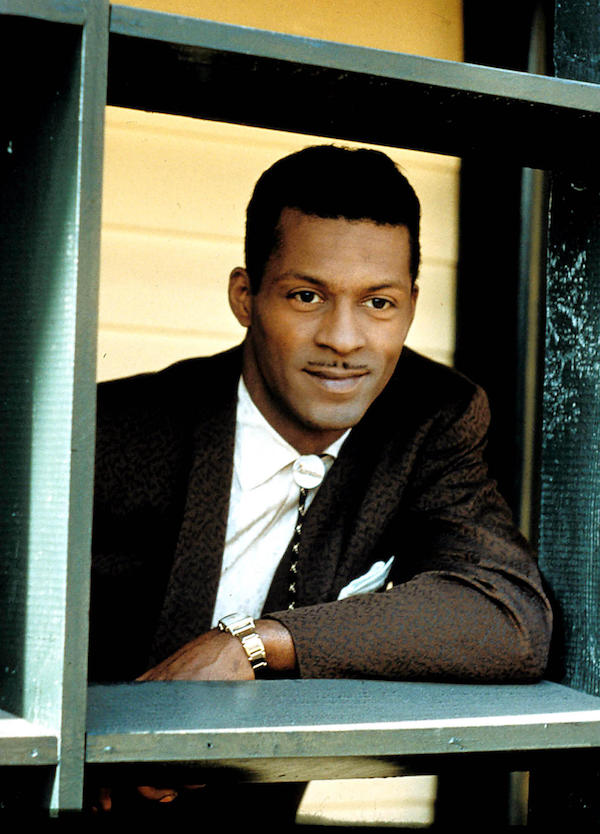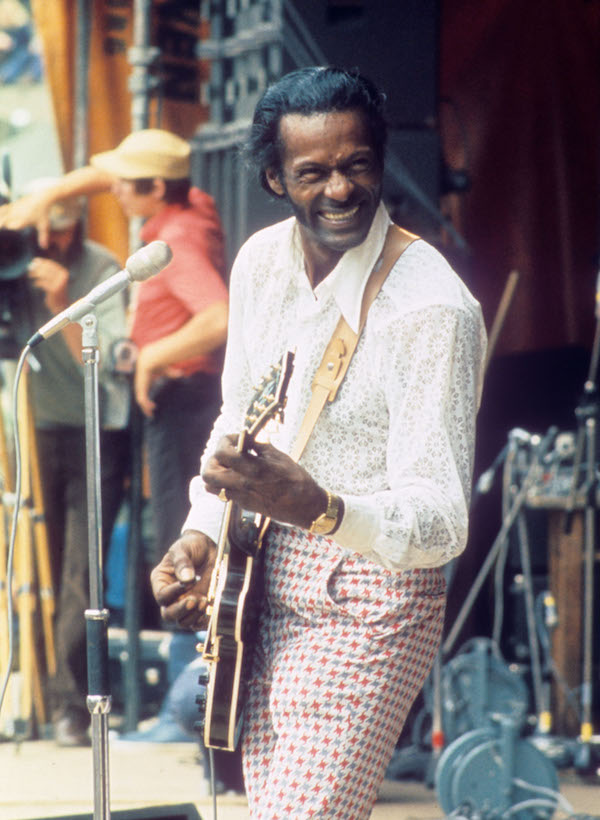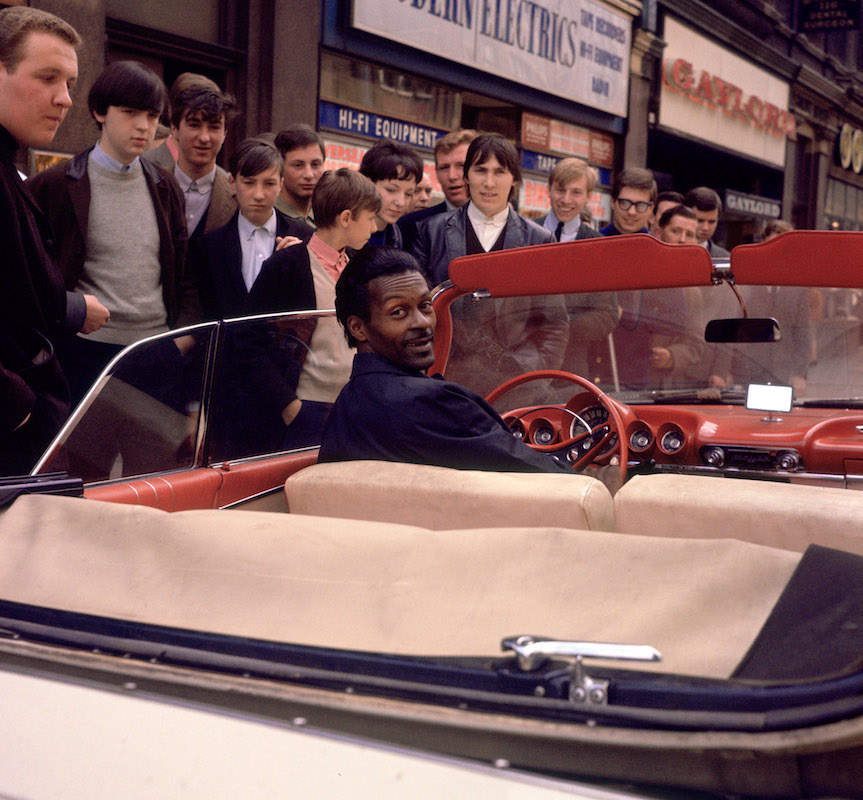 His big break came in 1955. After a chance meeting with legendary bluesman Muddy Waters, he got an introduction with Chess Records. He played Chess 'Maybellene' and they signed him on the spot. 'Maybellene' merged the foundation of the blues with the speed of skiffle, but more importantly it was a hit - it reached number one on the R&B charts and number five on the pop charts, finding almost as big an audience with white listeners as black, representing arguably the first rock and roll song and the first crossover hit. Over the next decade, despite another contentious run-in with the law, he released a string of hits - 'Johnny B. Goode', 'Roll Over Beethoven' and 'You Never Can Tell' among them.
His fame soon came to be eclipsed, of course, by a slew of talented, but also white, compatriots and imitators - Jerry Lee Lewis, Buddy Holly and, of course, Elvis Presley among them. But as their own careers came and went, Berry's legacy and influence only grew as without him, there was no rock and roll, period. Another Chuck, the great music critic Chuck Klosterman, perhaps put it best when he said that "Chuck Berry's persona is the purest distillation of what we understand rock music to be. The songs he made are essential, but secondary to who he was and why he made them. He is the idea itself."
In 1977 Nasa launched two Voyager probes into space, each equipped with, amongst other things, a golden record entitled "The Sounds of Earth". The aim of the record was to be a message in a bottle; to provide a snapshot of what 'Earth music' was like to any sufficiently advanced spacefaring races that happened upon it (and that also happened to use turntables, presumably). The one rock and roll inclusion? Chuck Berry - 'Johnny B. Goode'. His music will literally outlive us all.