The Rake Personified: Jay McInerney
Jay McInerney's 1984 novel Bright Lights, Big City illuminated the decade's hedonistic landscape and made the American author the voice of a generation. Here he talks to The Rake's founder, Wei Koh, about New York life, the sartorial arts, wine and watches — in other words, everything a man could want in a good life.
What was your first bespoke experience?
The first time I visited London as an adult was in 1985, after the publication of my novel Bright Lights, Big City. I'd seen this image of Mick Jagger with his tailors. It was captioned, "Me and Edward Sexton and Tommy
Nutter
". I was really captivated by the style.
So
I went there and I made myself a suit. It was a windowpane fabric: their signature big-format check. That was one of their geniuses, the ability to source or commission fabric to match their larger-than-life style. I remember it was double-breasted, which was the style in the eighties. I remember that Armani was making a lot of these cool double-breasted suits. 
Do you credit Armani with starting you on your sartorial journey?
Yes. When I finally had a few dollars to spend, back in 1984, I went to Armani, which was the brand of our generation. In fact, I ended up meeting him. And when I did my book tour of
Italy
he reached out to my publisher to see if we could spend time together. I remember he lent me all these clothes for the various photoshoots throughout the trip. It was the end of the trip and we were rushing for the airport and I called up his atelier. I asked, "What should I do with all these clothes?" And the response came back that he wanted me to keep them, which was incredibly generous of him. 
It's amusing, but that deconstructed oversized silhouette of 80s Armani is coming back in a big way…
I loved those clothes at the time. And when I look back at the pictures of myself in them from the 80s, I think to myself it was such a look. It was really innovative how he took all of the structure of the jackets out and enlarged the proportions. And in some
ways
there was some spiritual alignment with
Nutter
in the generosity and heroism of the clothes. The idea of a very unique and singular perspective on style. But
Nutter
was the first time I commissioned a bespoke suit. 
Why
Nutter
specifically, as opposed to the more established Savile Row firms?
At that
time
I wasn't looking for your traditional Savile Row suit. I wanted something beautifully made but that had a little flair and a little rock 'n' roll to it. As a novelist you don't want to look like a businessman. I actually put quite a lot of consideration into my wardrobe, but for quite a few years
Nutter
was my only bespoke experience. Then later, in the mid 1990s, I
went back
to Savile Row.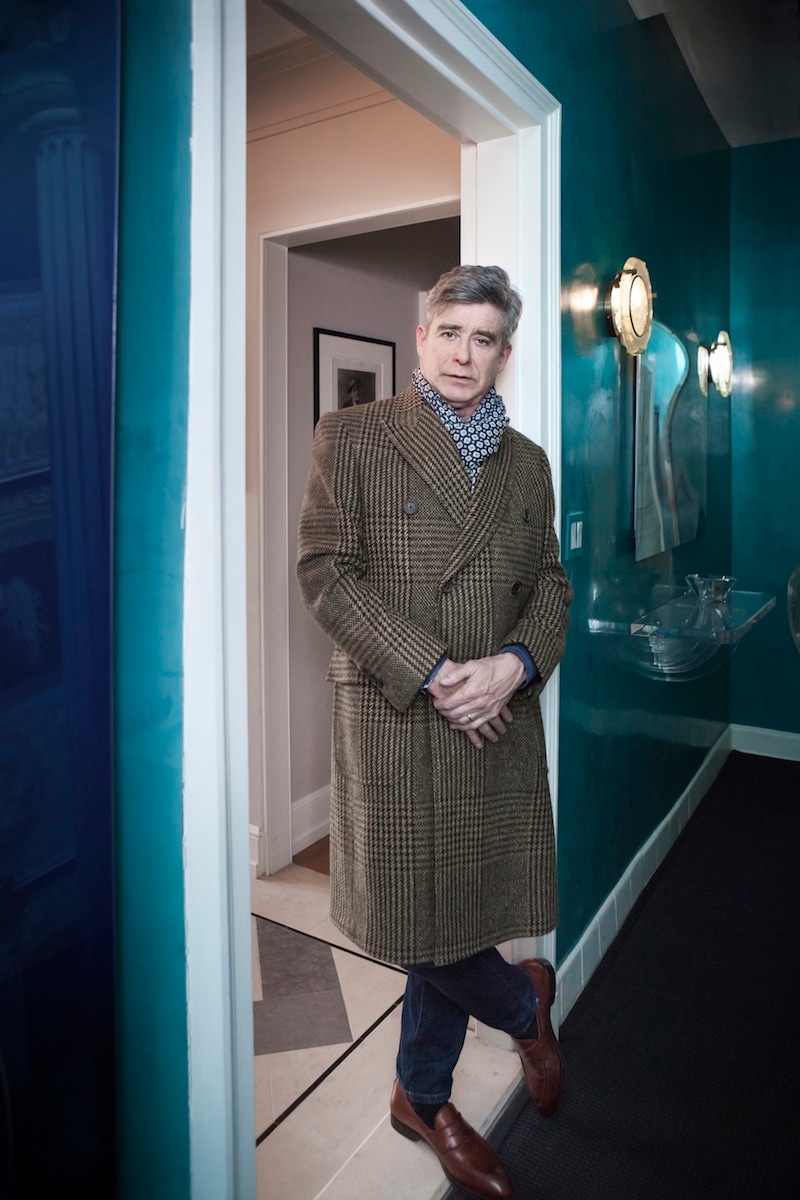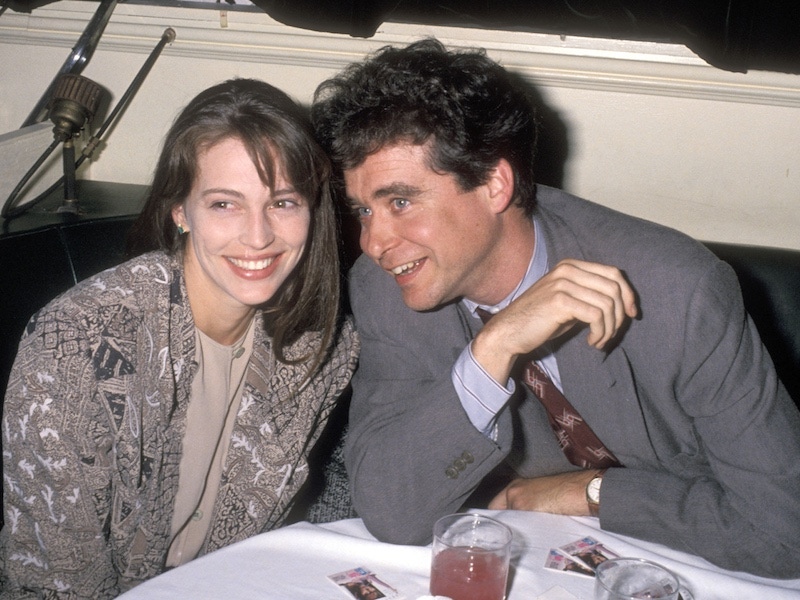 Did you go structuralist or drape?
[Laughs] Both. The first thing I did was I tried Anderson &
Sheppard and Huntsman to get an understanding of their house styles. I honestly liked both. I think Anderson, with it chest drape, made for a beautiful double-breasted suit. But you know how it is. The double-breasted jacket was really big in the 80s
, then it kind of went away in the 90s and didn
'
t really come back until relatively recently. Anyway, as it was the 90s and I was wearing a lot more single-breasted jackets, I decided that Huntsman
'
s single-breasted coat was more to my taste. The
n I went over to
Cleverley
, where George Glasgow was set up, to make some shoes. It was the mid-90s, I was doing quite a lot of screenplay writing and I was feeling quite flush. What
'
s amazing is I still have all those suits that I made and I recent
ly had Huntsman recut them slightly to make them feel more modern. You know the jackets were really long back then. But how great is it that you can take a 25-year-old jacket, have it adjusted, and wear it and feel great? 
You are now a client of
Cifonell
i
. How did that happen?
I met Lorenzo
Cifonelli
through Prince
Dimitri
of Yugoslavia, who is a good friend of my wife. I was admiring his jacket and asked him who made it. He replied,
"
Lorenzo
Cifonelli
"
. Then there was a second time I saw him in a differe
nt jacket I really liked. I asked,
"
Is this the same guy?
"
And he nodded and said,
"
Yes, it
'
s
Cifonelli
"
. At that time I hadn
'
t heard of
Cifonelli
, but
Dimitri
explained that Lorenzo was coming to New York City. What I like about the
Cifonelli
cut is that
it has great mobility thanks to the special shoulder, but the chest is actually relatively narrow. And I have a really big chest now, and with a double-breasted jacket that tends to add bulk, you have to be very discerning about how it
'
s cut, so you don
'
t
look like a whale. As you get older and you no longer have a stick figure you have to be smart about the silhouette of the clothing you make. In fact, I stopped wearing double-breasted jackets until recently, when I had Lorenzo [
Cifonelli
] make me a double
-breasted suit and a blazer.
Was it fashionable as an author to be well dressed?
Not at all.
I always found it amusing that in the literary world a badge of authenticity was to dress badly and not care about appearances. And I think the reasons I was occa
sionally considered suspect in the literary world was that I care about the way I dress, I don
'
t teach at university, I got a little bit of tabloid attention when I was younger, and I love the good life. 
Where do you get your love of
style from?
My fathe
r was a dandy. He was an executive and he worked for several paper companies. He worked for the Crane paper company, for example. He wasn
'
t particularly wealthy but he loved to dress well. He used to love his
Oxxford
suits. That was his thing. He was the k
ind of guy who used to love to wear white shoes in the summer. He had all these
multicoloured
blazers in red or in green. I got my love of clothes from him. I
'
ve always just been interested in clothing. I wouldn
'
t mind wearing a suit every day. As it is I
go out most nights and I always put on a suit. But the average businessman really has no idea how to dress. 
Why?
I think in a lot of cases it
'
s because they dress out of obligation rather than pleasure; America pushing forward the deracination of dressin
g up. I think when casual Friday became a staple of the American
work week
, that was definitely a bad thing. It
'
s good that you
'
re fighting the good fight against
'
athleisure
'
wear. When did sweat pants become an acceptable form of dress outside of the gym
? New York is certainly better dressed than the majority of American cities, but it
'
s nothing like Milan or Naples or any European capital where men still take pride in dressing up.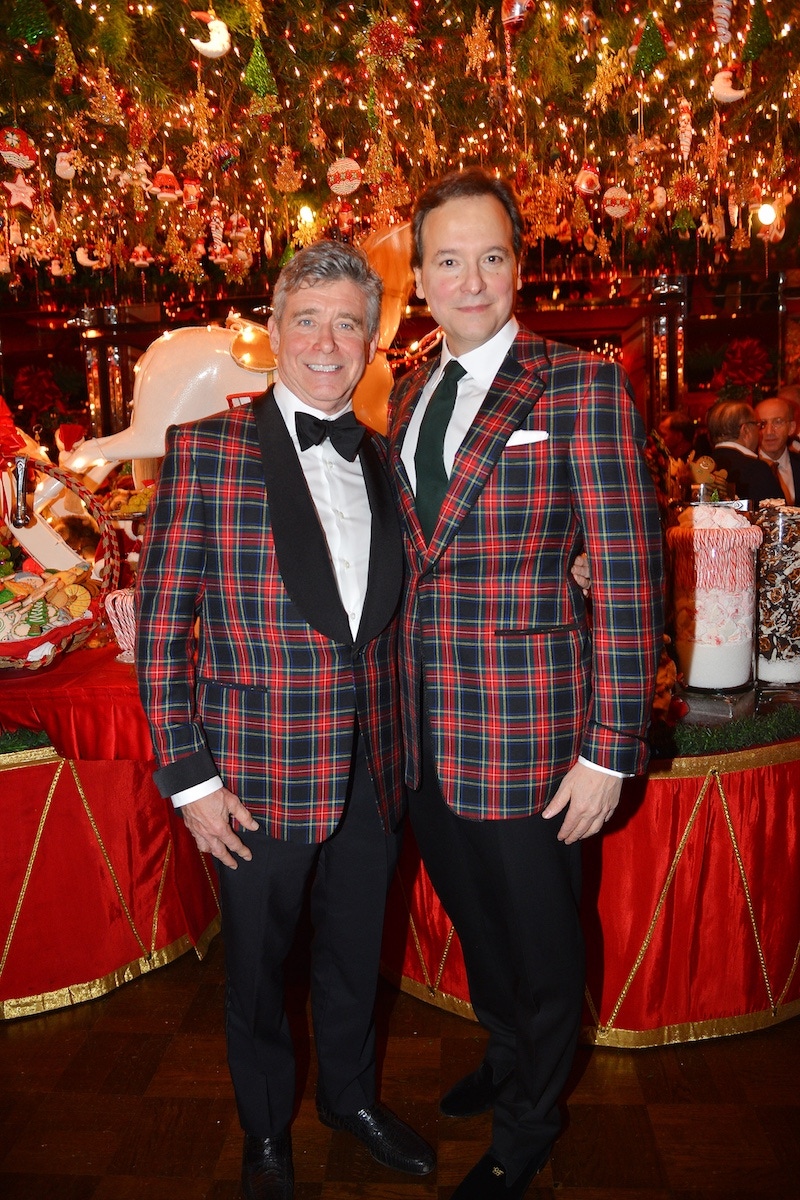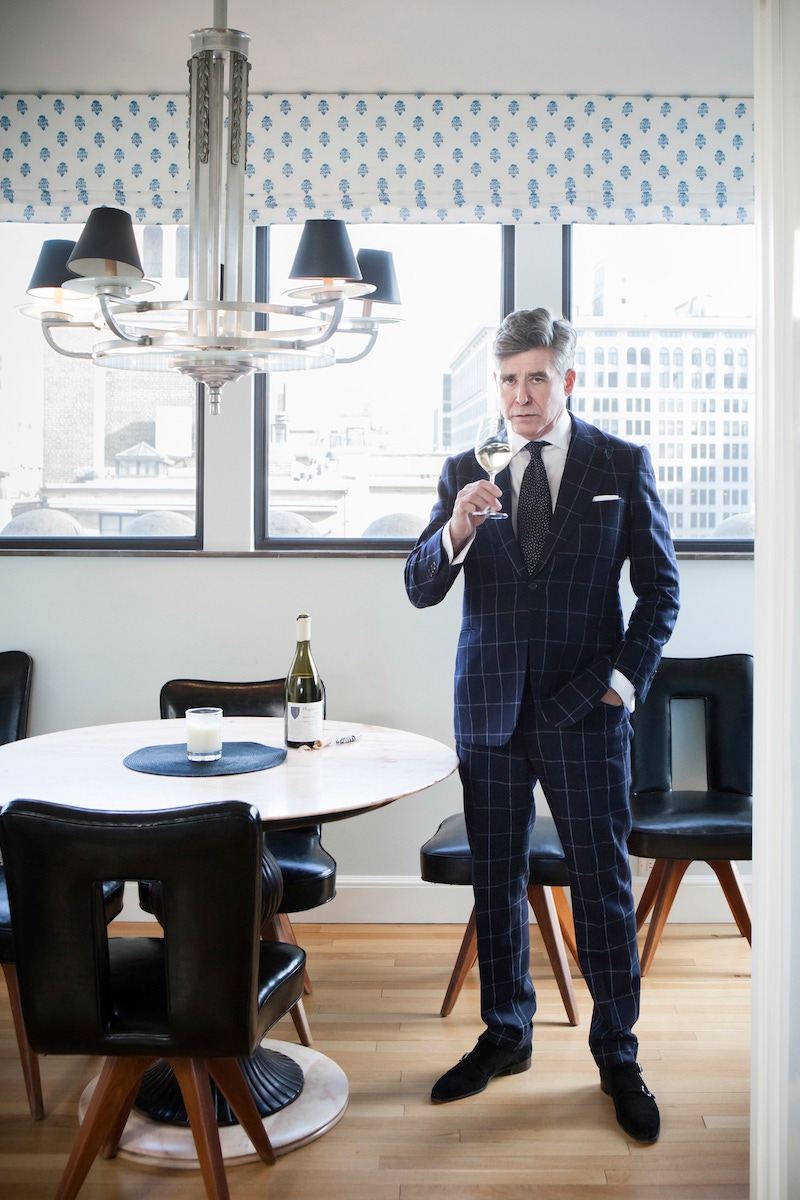 Back to
Cifonelli
.
How does it make you feel to wear something made by L
orenzo?
I make quite a bit with
Cifonelli
, and Lorenzo has this eye and he knows how to make a guy look good. It was funny but when I came to your party [
The Rake
'
s 10th-anniversary party at Ralph Lauren
'
s flagship in New York], there was a bunch of guys t
here who immediately knew I was wearing
Cifonelli
. But perhaps the greatest compliment of a tailor
'
s ability is, for example, when I
'
m wearing a
Cifonelli
double-breasted jacket and women just say,
"
Holy shit, you look great
"
. 
I got into
Cifonelli
becaus
e I saw a man in the elevator in Plaza
Ath
é
n
é
e
who I thought looked amazing. I asked him who his tailor was and he said,
  "
Young man, go to
Cifonelli
"
. 
[Laughs]
Lorenzo is great. The only challenge I think he has today is keeping up with the huge global demand for his suits. Sometimes you
'
ve got to be direct and just say,
"
Lorenzo, where the
fu
ck
are
my clothes?
"
I
'
ve introduced him to at least two guys in Ne
w York who
'
ve become huge clients, probably much greater than me. But at the same time I sometimes need to remind him a bit that I was his client first [Laughs]. He might be a little overworked right now. But I guess that
'
s a testament to his skill and his
ability. 
You also make quite a bit at Huntsman, where my buddy Dario
Carnera
cuts your clothes? 
Yes. And I don
'
t want to put down
Savile
Row. For example, a really nice winter-weight hacking jacket, no one is better than Huntsman, especially if you hav
e it made in
their
house tweed. And strangely enough I have a bunch of formal clothes from Henry Poole. I figured since they invented the tuxedo I had an obligation to have evening clothes made there. So I have a couple of tuxedos, a couple of smoking jack
ets made with them. And honestly these clothes are pretty great. I am, however, working on a
Cifonelli
tuxedo, but I
'
m trying to decide on the style. I think with him I
'
d like a peaked lapel, possibly a double-breasted. He
'
s got these really great lines th
at are very dramatic, and I think the angles on a peaked lapel jacket would be great. I must own six tuxedos, but the thing is I don
'
t have a Lorenzo tuxedo, and so I have to have one.
Do you buy ready-to-wear?
I love Ralph Lauren and I
'
ve got this amazin
g white double-breasted shawl lapel dinner jacket from him. I mean, it
'
s [Purple Label], really expensive for ready-to-wear.
Almost the price of bespoke.
But I saw it hanging on the mannequin at Bergdorf and I just had to have it. And I think that
'
s the po
wer of Ralph Lauren
—
his clothes have such a compelling narrative. 
When we first met you were wearing a lovely
Patek
Philippe. I take it you are a watch guy? 
Yes, I
'
m a total watch guy. The watch I
'
m wearing, it
'
s
actually the only
Vacheron
Constantin
I own, and it
'
s from the 1940s [Jay is wearing a reference 2431 with stunning flame lugs]. How did I get into them? I suppose the same way I got into clothes. And if there
is
any one brand I have a particular affectio
n for, it would be
Patek
Philippe. I think there has to be a connection between the watch you wear and the way you
'
re attired. I see in New York a lot of guys wearing big, oversized sports watches with suits, and I find that inconsistency disturbing.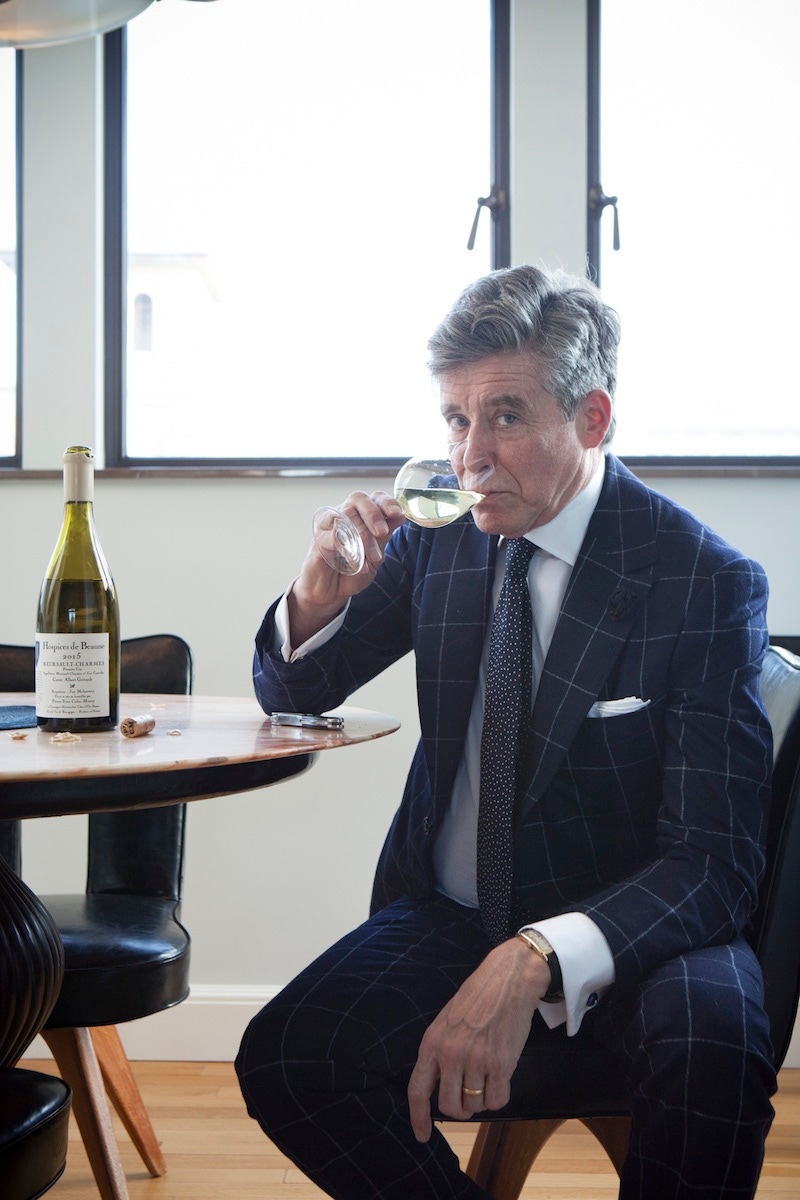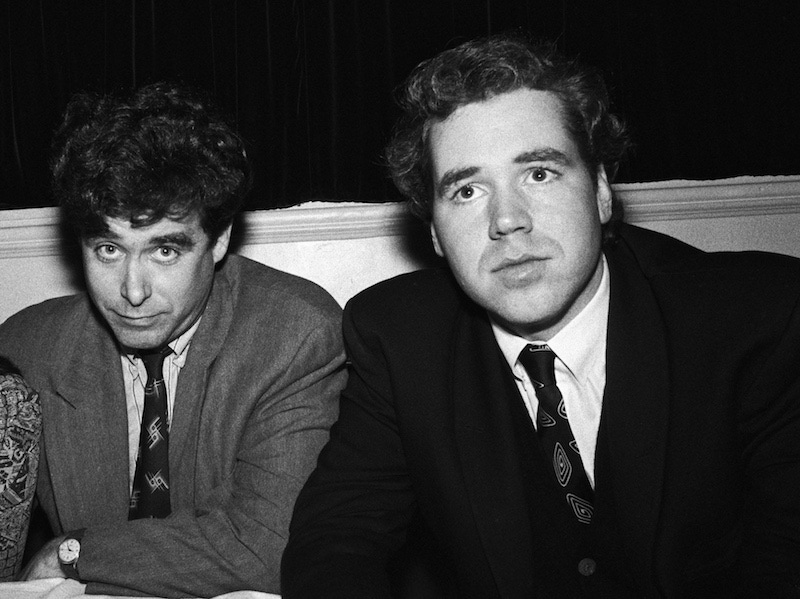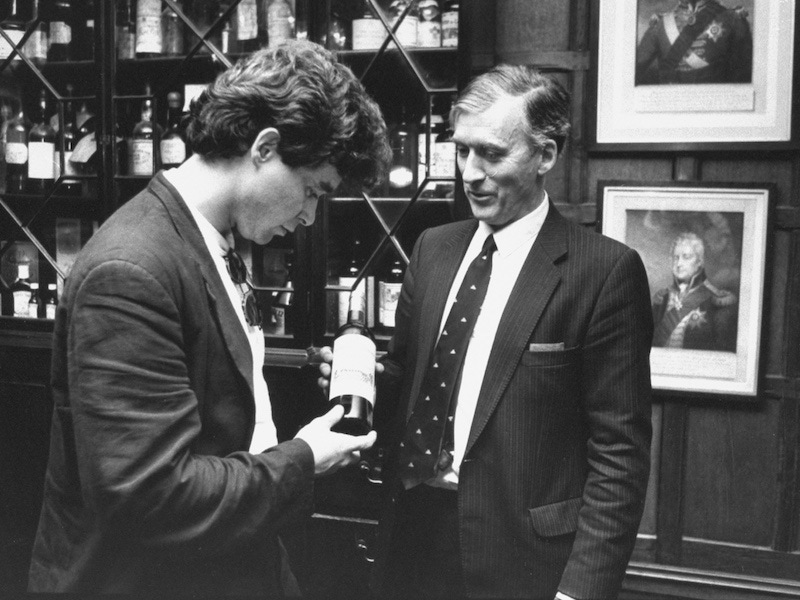 I w
as in high school when I read your book and you inspired me to start sneaking into nightclubs, because I wanted to be part of this world you described.
And nice clothes was
the only way I could get in, so I attribute your book to starting my style journey.
[Laughs] You know, it
'
s funny. When people look at images of Bret Easton Ellis and me banging around these seminal nightclubs of the era, we were almost wearing suits and ties. That is how men dressed back then. I think it was a carry-over of the Europea
n culture, from the famous nightclubs in the decades before, but you would not be considered properly dressed without a suit on. What I always found amusing was that we were often mentally
dishevelled
but always dressed up on the exterior. 
This would car
ry on throughout the iconic New York clubs of the nineties, with places like Nell
'
s, M.K., and Au Bar.
Absolutely, and those were all my clubs. You know, I hate to be one of these older guys
who
'
s
talking about
'
back in my day
'
. But I do think club culture
today is very different. I don
'
t think there are places any more like this, where the objective was to curate the very best crowd in its diversity and coolness every evening. That was certainly the case in Nell
'
s. Nell
'
s was very caf
é
society. Its crowd w
as really beautifully curated. I really don
'
t think this exists [now]. The objective today is just about
maximising
profit, which goes in the opposite direction of taste.
Which generates and rewards a prevailing sense of crassness and banality. What was c
ool back then was that once you got in, there was
a certain
egalitarianism. You were in, you were cool,
so
everyone was friendly
… 
Exactly. Nell
'
s was really like that. M.K. was perhaps a little less glorious in that regard, but it was still really fun. An
d some amazing moments happened there. I remember I was sitting at a table
—
it was Bret Easton Ellis, Tama
Janowitz
and my publisher, and this guy came over and introduced me to Anne Hearst, who many years later would become my wife. And I remember him sa
ying,
"
You
'
ve got to meet these guys, they are the coolest authors of this generation
"
. Now she was a real uptown girl. She was wearing Chanel. But I instantly had a rapport with her. So we always stayed in touch over the years. But that was an unlikely me
eting in a way, and speaks of the serendipitous nature of the New York nightclub back then.  
What were your
favourite
haunts?
Well, my
favourite
club back then was Area. That was a little more downtown and [had] a little more of a gay vibe, and I loved t
he place. But I also loved going to the
Mudd
Club. It was glorious in its punk seediness and this dynamic sense that you could meet anyone inside. Andy Warhol, Jim Carroll and Lou Reed would be in there. It was in some ways the coolest. But I wasn
'
t. Becau
se I was dressed the way I was, and because I didn
'
t know anybody there, I would sometimes have a hard time getting in [Laughs].
As a fixture of these clubs, it became something of a community, no?
Absolutely. What was interesting was there was this
international community that you would run into at nightclubs around the world. If you went to Les
Bains
-Douches in Paris on a given night in the eighties you would run into friends from New York, of course friends from Paris but also people you knew from
Milan or London, and there was this wonderful shared sense of camaraderie. 
So why has New York lost this coolness? 
It
'
s real estate prices. I lived here on and off for four years before I published my first novel. There were places to live for people wi
th no money in Manhattan. I have no idea where in the city an impoverished freelance writer/editorial assistant,
which
I was, could live today. In my case I lived on Elizabeth Street just off the Bowery. [He paid $375 a month.] I mean
,
it was filthy and co
mpletely infested with homeless people. Today it is the
epicentre
of
fashionability
, but it wasn
'
t back then. They would just pile into our little foyer and you had to step over them to get to work in the morning. But I actually had an affordable one-bedro
om apartment in New York in the 80s.  
You are an inspiration to me also in how you
'
ve become one of the world
'
s most revered wine experts. But don
'
t you think prices for burgundy have gone a little crazy?
Absolutely. I had to wake up early this morn
ing because there was a
Domaine
de la
Roman
é
e
-Conti auction from the
Drouhin
cellars, because
Drouhin
was at one point the importer of their wines. Some of these older ones, they are possibly the only ones left in the world. But the prices have become so n
uts. I was in a consortium of guys and we were going to go up to
£
150,000 for a magnum of 1937. And we thought beforehand that we would get the bottle. But in the end it went for 240k. They had two bottles of 1945
Roman
é
e
-Conti, which is the ultimate vinta
ge; there has never been a wine that is its equal, except for maybe the
'
69
Lafite
. The first one hammered for $450,000, which means with premium it was 558k, which is a world record.
The second bottle was won by a friend of mine
. And I suspect he
'
ll drink
it. He
'
s a very generous real estate guy. He has probably a $50 million cellar. He had offered me a share if he got it for 250k. And I was flattered he offered to cut me in but I was like,
"
I don
'
t want to pay $60,000 for a glass of wine
"
. It was just cra
zy. People were calling in from all over the world. I
'
m sure a bunch of it went to Hong Kong.
Do you get
recognised
by sommeliers a lot?
It
'
s funny, the other night I was eating on top of Lincoln Center, where I never really go. The reservation was in som
eone else
'
s name, and so I sat down. And the sommelier came over and was slightly quivering and asked how long I had been writing about wine. Actually, it
'
s fun. And I get treated to a lot of nice things, so I have to say I enjoy being part of the wine com
munity. 
What are New York spots with great lists?
Babbo
for Italian wines. Daniel and Le
Bernardin
have great lists. Gotham Bar and Grill is great. I got a bottle of 2015
Colombiere
(Comte Liger-
Belair
'
s
) for like 220 bucks and it was insanely good. And
that
'
s less than retail. 
I love the fact you love
Condrieu
. So do I!
It
'
s
funny,
I have some friends who collect Chaves
'
whites but almost no one that likes
Condrieu
. I love it.
Have you had the
Saint-Joseph
and Hermitage Blanc from
Dard
&
Ribo
?
I love
them. I discovered them about 15 years ago in Paris. The
Dard
&
Ribo
whites, you almost never see over here. I got to Paris to
Aug
é
(Les Caves
Aug
é
) to buy those wines. Good place. 
Another interesting white is the
Aligote
in Morey St. Denis, the
Monts
Lu
isants
. I think
it
'
s only made by
Ponsot
and
Dujac
…
I love that stuff, and it will age forever. I
'
ve got some really old ones and they are amazing.
So without these seminal nightclubs, how do you amuse yourself nowadays?
My friend George
Farias
is an Ande
rson & Sheppard guy but I managed to convince him to visit Lorenzo for the first time. Now every year we host a big Christmas party here in New York. It started about 10 years ago, when he asked my wife and me if we wanted to co-host a Christmas party at 2
1 Club. Then we moved it over to Doubles, which is the private club under the Sherry-Netherland hotel. And it has somehow become this institution. People fight to get into it. It
'
s always named best party of the year in some of the social magazines.  So as
part of the planning I have to go to the Upper East Side to eat at a restaurant called Fleming, which
was opened by the people behind the original
Bilboquet
. I would normally never go to the Upper East Side otherwise. 
What will you wear at your Christma
s party?
George
Faris
and I decided to go to Huntsman and make matching tartan dinner jackets to wear. 
Amazing. Of course you did.