The Rake Style Guide: Women In Suits
 We round up the five standout icons and moments of women's suiting.
In recent years, women's tailoring has become an industry of its own - a continual feature on the runways, with tailors now crafting specifically for women on Savile Row.  Today, we round up the five standout icons and moments of women's suiting.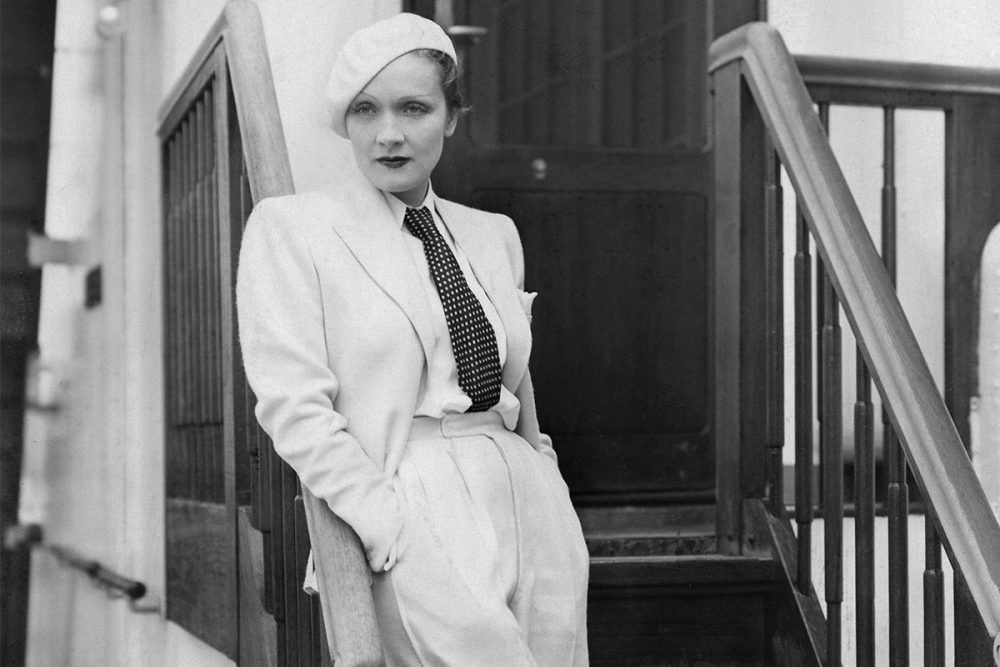 Marlene Dietrich
Marle Dietrich's white tuxedos and double-breasted suits in Blonde Venus, Seven Sinners and Morocco made women's tailoring glamorous for the very first time. As a result, in 1939, Vogue published its first spread featuring women in trousers, and Katharine Hepburn followed suit in the forties. Dietrich continued to wear tailoring throughout her life, becoming the first woman to commission a bespoke suit on Savile Row's Anderson & Sheppard.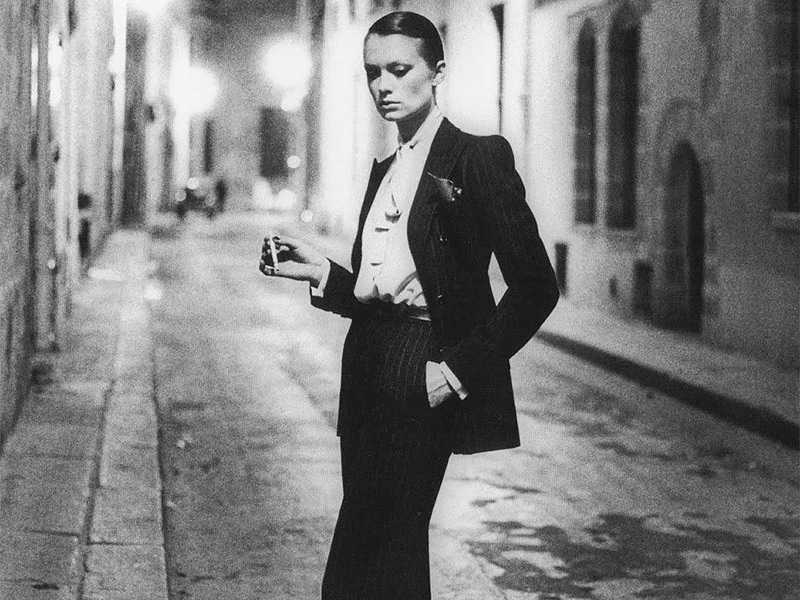 Le Smoking, Yves Saint Laurent
In 1966, despite ongoing prejudices about women wearing trousers, Yves Saint Laurent launched the infamous 'Le Smoking', the full-dinner suit for women. The suit became an immediate success in high-society, with Catherine Denevue as the official face for the look. It rose to further prominence after the now iconic Helmut Newton  photograph of Vibeke Knudsen in Rue Aubriot ran in the French edition of Vogue in 1975. 'Le Smoking' was a turning point in the way suits could be adopted as an haute alternative to evening dresses - just as Saint Laurent intended - and in some ways, the effeminate touch influenced how men  like Mick Jagger and David Bowie would wear their own.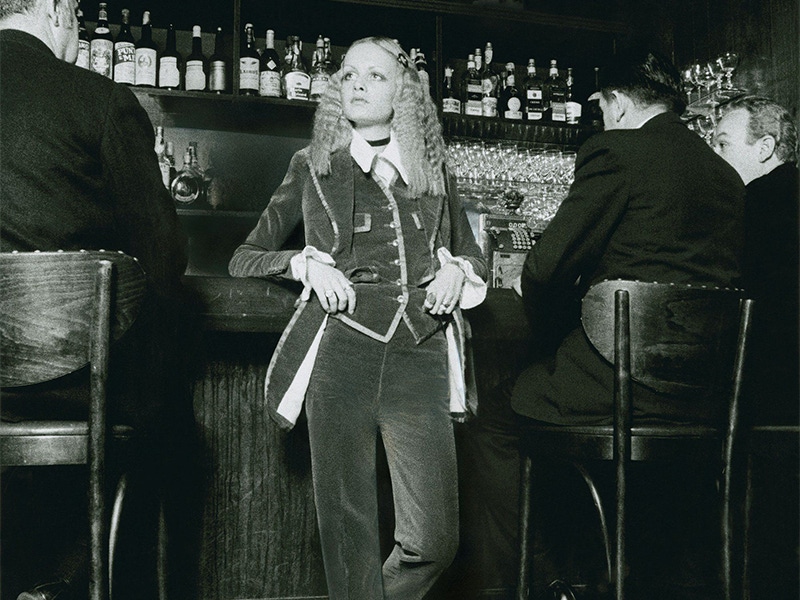 Twiggy
London was a bohemian paradise in the late sixties and early seventies, and gender-fluid dressing was emphasized by the Punk Rockers and musicians and artists. At the centre of it all? Twiggy. The English model and singer was notorious for wearing English dandy styling, in structured double-breasted suits from Edward Sexton at NUTTERS of Savile Row, and complete with her very own cane. Twiggy appeared like the Men of Mayfair, swaggering in a Savile Row ensemble, all the while inspiring the New Romantic phase of her era.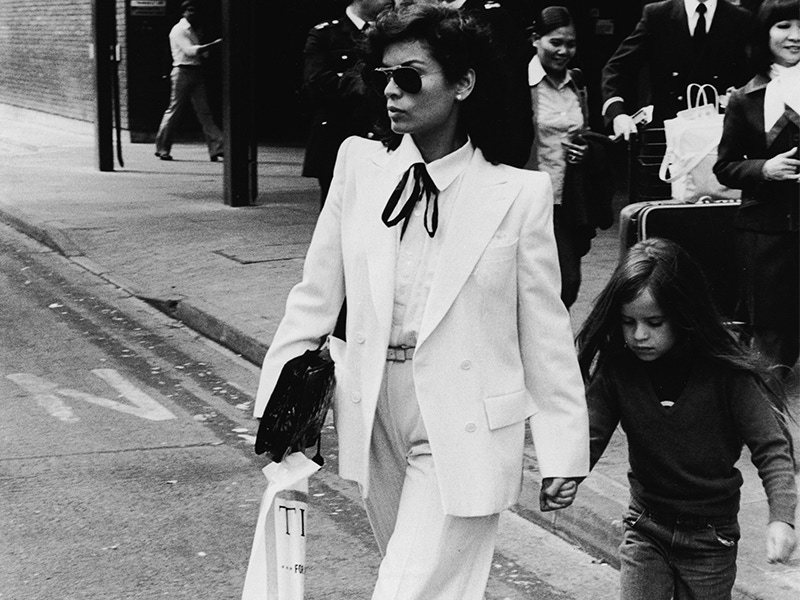 Bianca Jagger
Like her ex-husband Mick, Bianca Jagger had a reputation for flirting with androgyny in the seventies and eighties. The shots of her on her wedding day to Mick Jagger in 1971, in a YSL Smoking Jacket and bias-cut skirt, are now embedded in pop culture history. She would almost always wear white tailoring when out on the town, and still does to this day. It's her calling card; and she has become synonymous with the white bridal suit.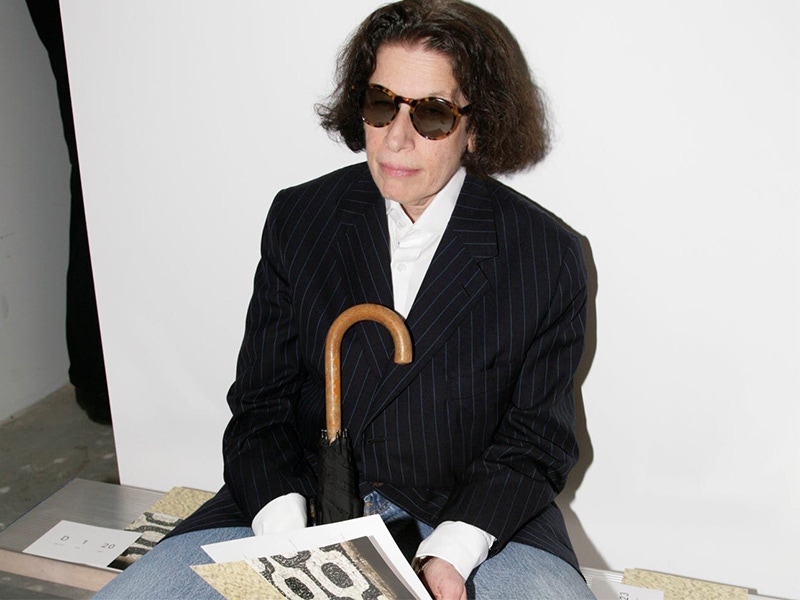 Fran Lebowitz
Fran Lebowitz doesn't wear a suit, she wears a uniform. At least, that's the way she defines it. The cultural commentator's oversized Anderson & Sheppard tailoring has remained a consistent feature of her wardrobe for over three decades, as have her English shirting and gold cufflinks. It's a silhouette that implies after-thought, but has actually been shaped and sculpted to form an image that, like the greatest style icons, is immediately familiar. This is Fran Lebowitz - a woman who we can't imagine wearing anything other than a pinstriped blazer, Levi's 501s, and brown boots.