THE RAKE TAILORED BEVERAGES NEGRONI NO.1 x ARTINGSTALL'S GIN
The countdown to the most hotly anticipated cocktail project in recent memory is over. Through The Rake Tailored Beverages, we are extremely excited and proud to bring you a pioneering pre-made Negroni cocktail. The Negroni No. 1 is not only the manifestation of multiple years of research and recipe perfection, but it is the pillar of a scheme that is set to transform the Negroni into a global men's lifestyle brand and culture.
In old-school Ivy League speak, Paul Feig is a 'renaissance man' — in other words, a polymath devoted to art, style and humanitarianism, and an individual who excels in each discipline. He has established a reputation as a groundbreaking director, with triumphs such as
Bridesmaids
and
Ghostbusters
under his belt. He is also one of the world's style icons, as the single Hollywood luminary championing classic sartorialism. But it is perhaps in his roles as the founder of the award-winning gin brand Artingstall's and as the host of Quarantine Cocktail Time on Instagram that he has become most familiar to us over this past, remarkable year. To be specific, Quarantine Cocktail Time, in which Feig danced, narrated, entertained, teased his wife, Laurie, and instructed us on mixing boozy creations, applied a gladdening and healing salve to our fractured, bleeding souls. And during this past 12 months he marvelled at how one drink in particular, the Negroni — invented in 1919 at Florence's Caffè Casoni, for the Count of Negroni — suddenly became far more than a cocktail. "I love how the Negroni became a symbol of comradery and good cheer on social media during the crazy year we just experienced," Feig says. "It was almost by making, drinking and posting your Negroni that you were part of a resistance against the encroaching darkness of negative emotions stirred up by isolation that we were all grappling with in 2020. So when The Rake approached me to create my ultimate pre-made Negroni, to celebrate our survival of the most seismic year we have ever experienced and to celebrate all the wonderful moments that await us in the near future, I seized the opportunity." If Eskimos have a thousand words for 'snow', Feig has just as many recipes for the Negroni, the drink that has become the most conspicuously quaffed beverage on Instagram. After all, this is the man who, during the early days of the pandemic, decided to single-handedly lift the world's spirits (pun intended) with Quarantine Cocktail Time.
The Rake Tailored Beverages is here. Please note the RTB Negroni No. 1 is only available to be shipped to the US (selected states), the UK and EU and Artingstall's gin the UK and EU. Contact shop@therakemagazine.com for further information.
Videos by Marcus Ebanks
Part 1
Part 2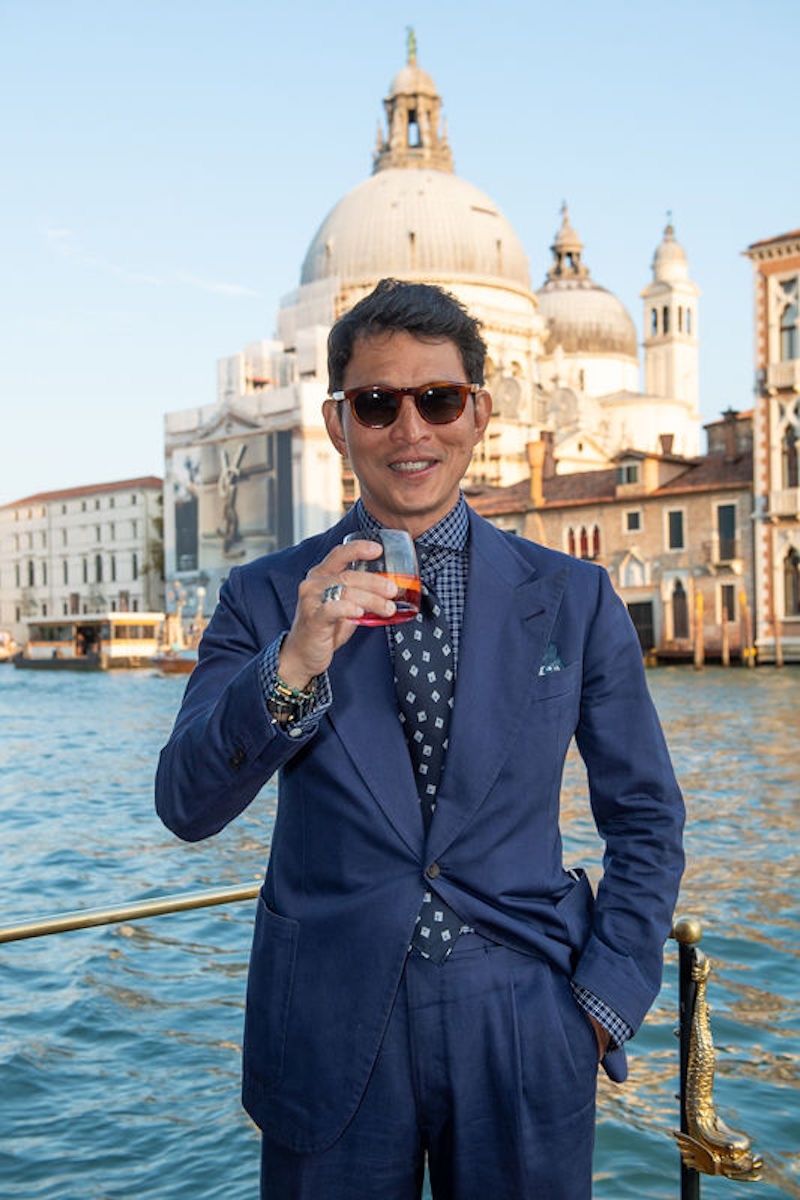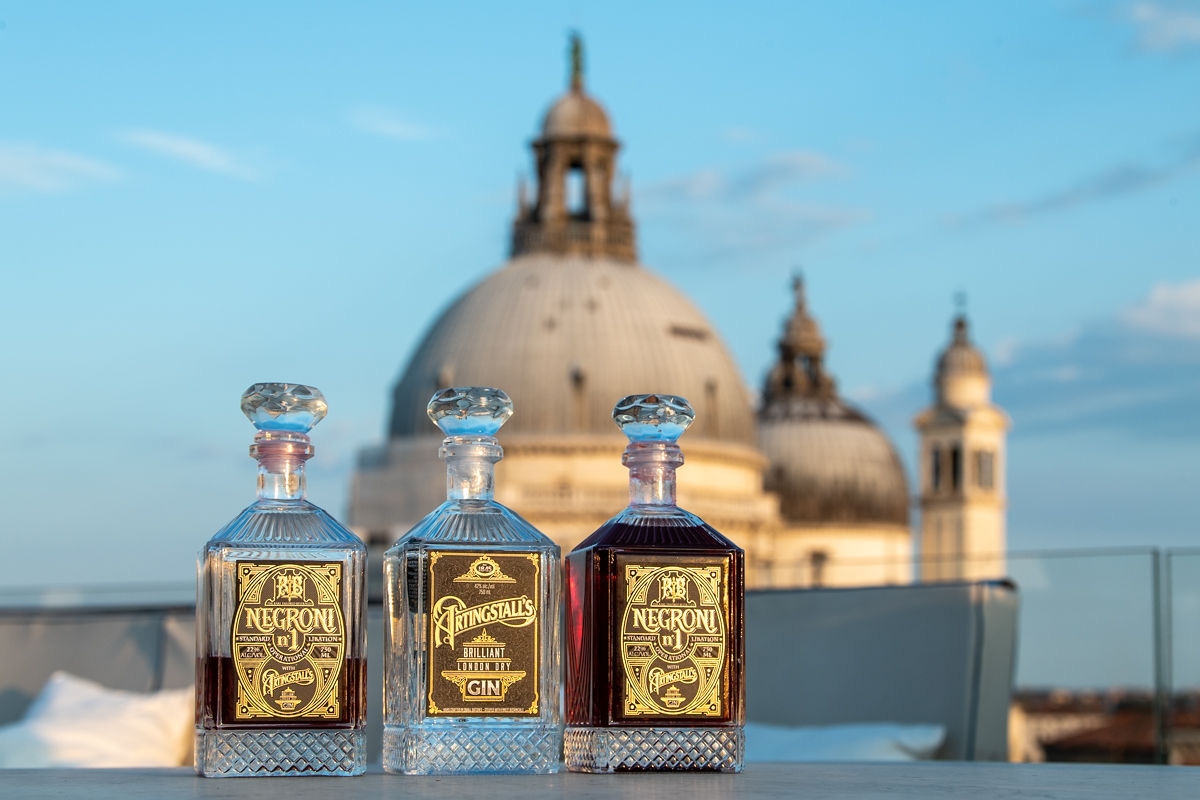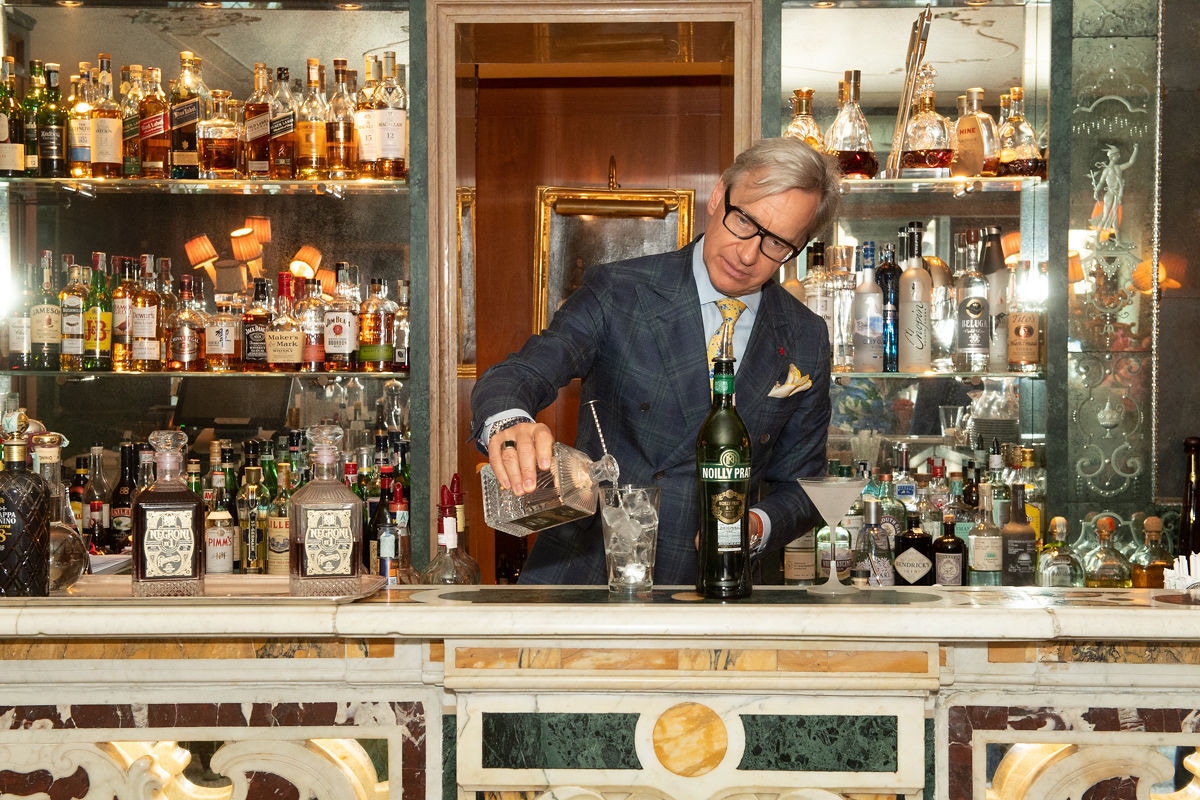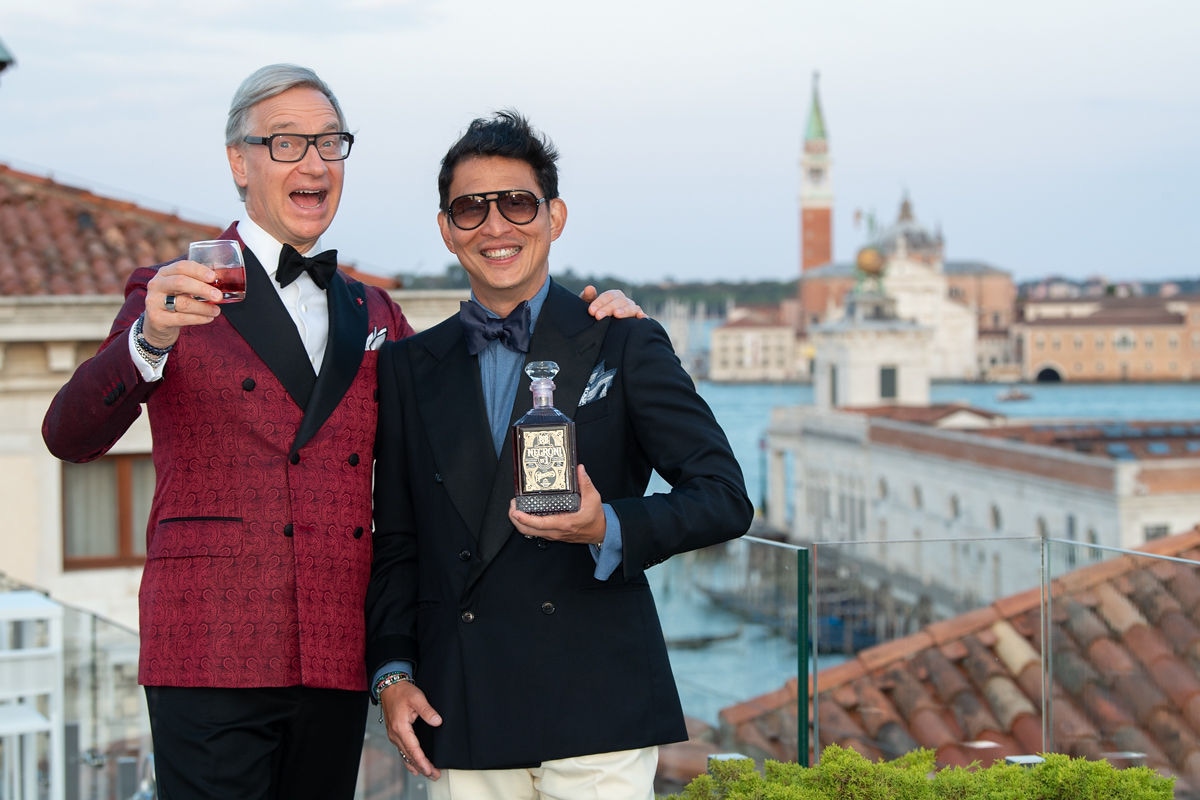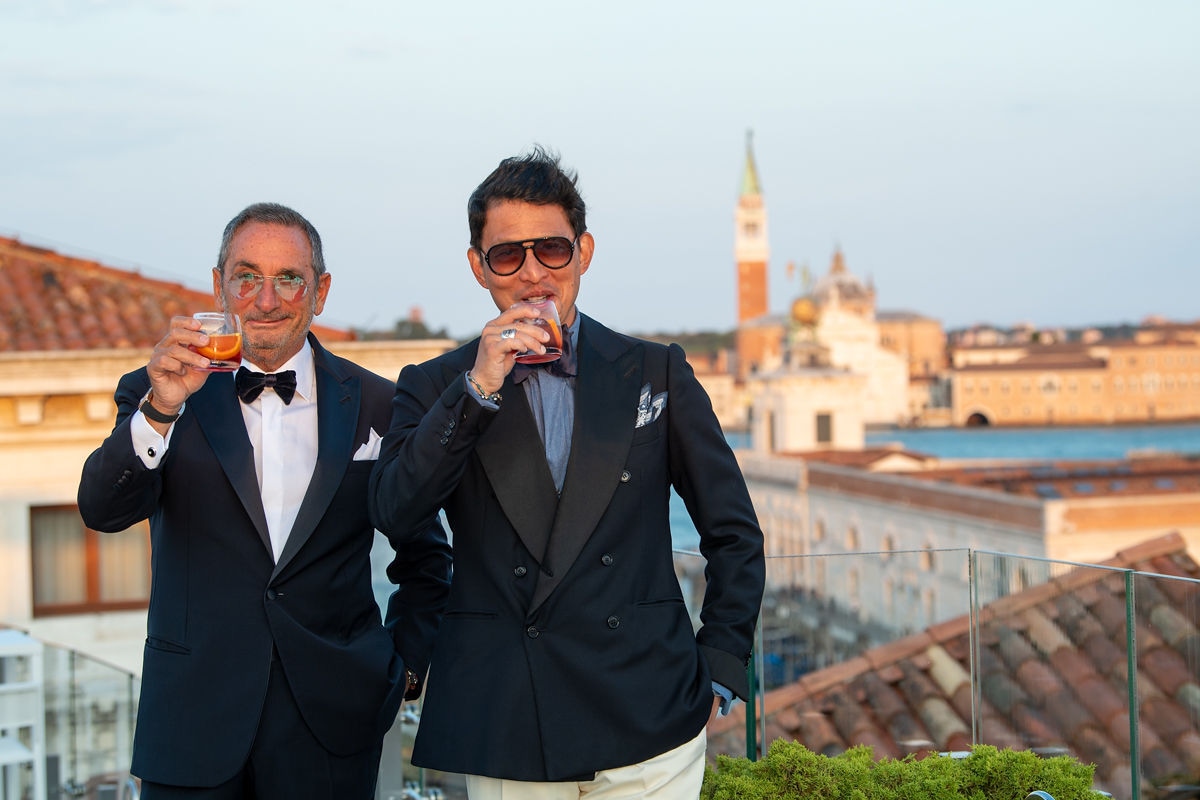 Why the Negroni? Why has the Negroni become the drink of choice and a membership badge for the global community of edifying gentrifiers? Feig explains his theory: "The Negroni has moved beyond being a beverage and has become a community symbol for those of us inspired by the past. It's the drink for people who love the glamour of old Hollywood embodied by Bogie and Bacall. It's the tipple for those of us enchanted by the incredible poolside imagery of Slim Aarons. It's the calling card for the classic elegance and perennial style championed by The Rake. When I drink a Negroni I hear Chet Baker playing in Paris. I think of sitting with Laurie and our dog, Buster, on the terrace of Venice's Gritti Palace, overseen by the head barman, Cristiano Luciano, or ensconced in my favourite corner at Dukes bar, helmed by my dear friend Alessandro Palazzi. I imagine myself dressed in a midnight-blue evening suit by Anderson & Sheppard. The Negroni for whatever reason has become the calling card for civility and civilisation." Matt Hranek, the author of a new book on the Negroni, and one of the drink's greatest champions, says: "The Negroni is a symbol of style, of manners, and of friendship. Something you share with people you love, but as an expression of old-school gentility. It has also become the preferred drink for anyone who embraces sartorial culture."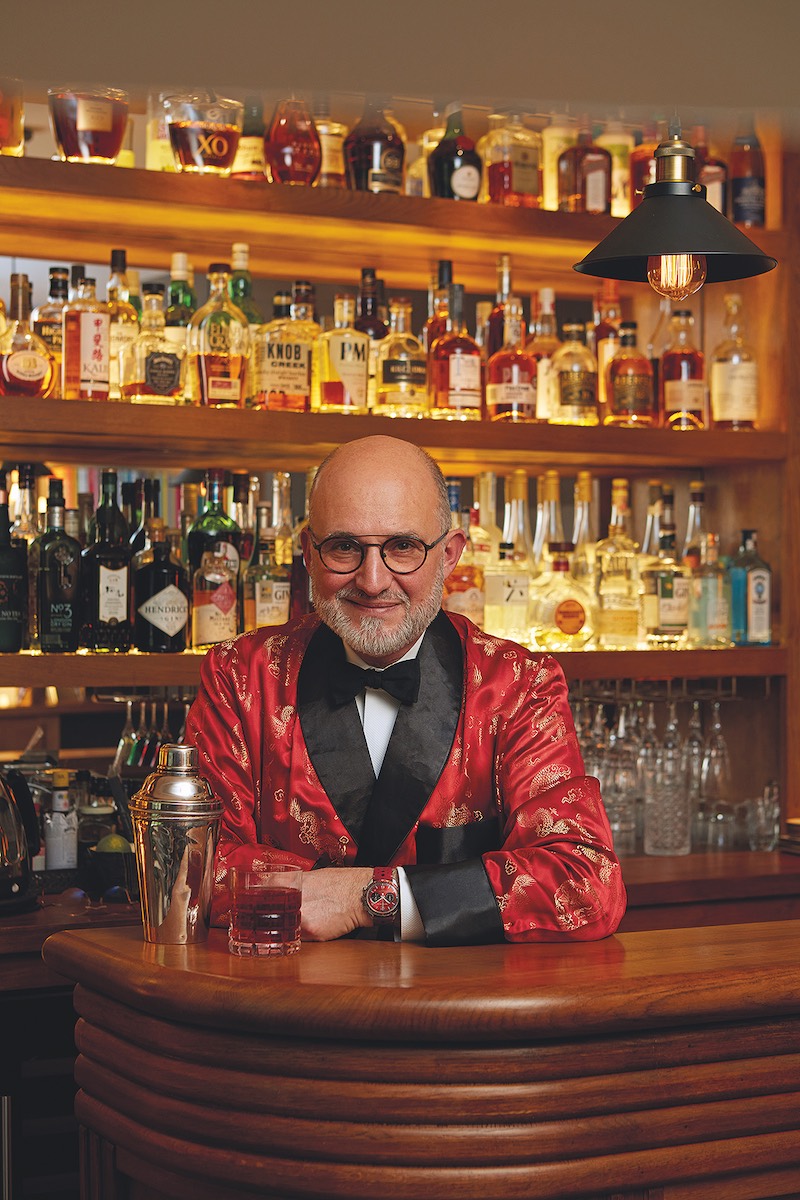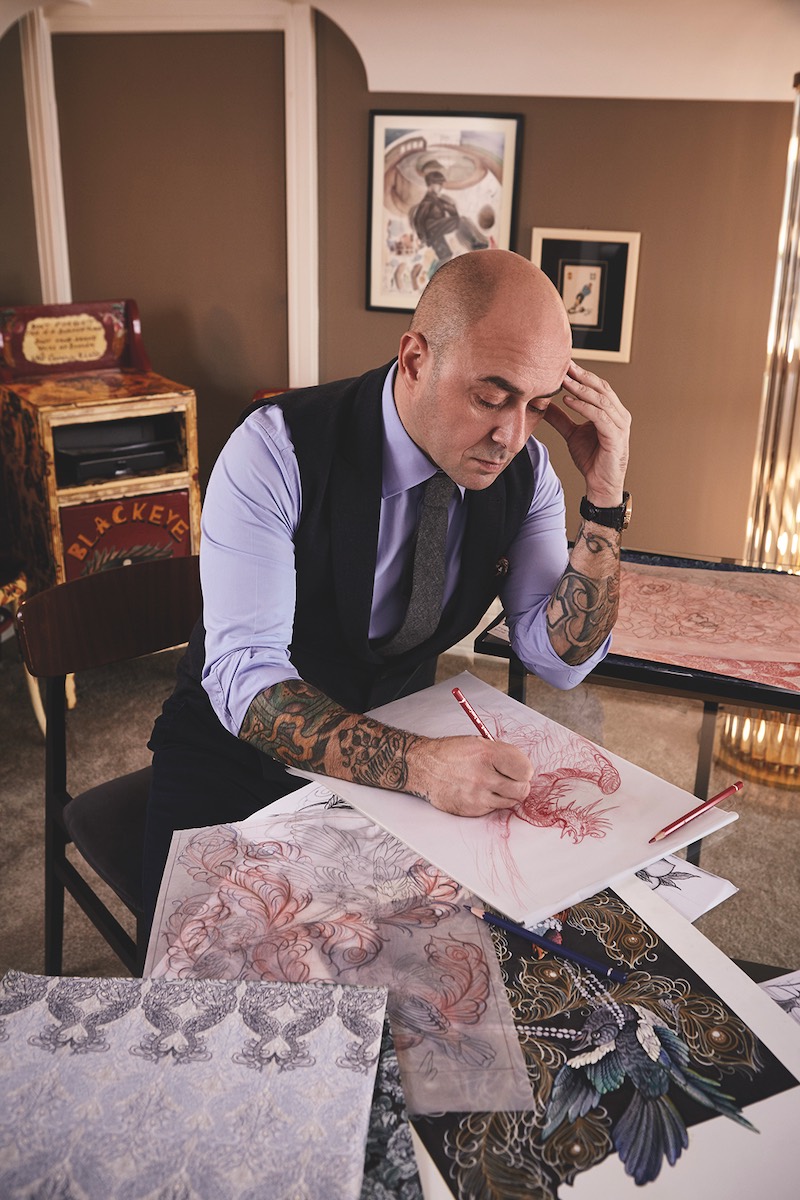 The rise of Negroni culture The connection between the Negroni and sartorial culture was born during the menswear trade show of Pitti Uomo in Florence. There, the world's style demigods would descend to ply their trades by day; by night, resplendent in more of their exuberant style, they would reach for Florence's most famous cocktail, the Negroni. Angel Ramos, the founder of the menswear brand 18th Amendment, says: "That was the ritual: we would work our asses off during the day at full hustle, and nighttime was all about friendship, brotherhood and Negronis." Soon, photos and videos of these style icons drinking a seemingly endless supply of these distinct gem-coloured beverages — often gathered en masse outside the famous Caffè Gilli on Piazza della Repubblica — began to explode across the pages of Instagram. The images came thick and fast: of the Italian heavyweights Alessandro Squarzi, Fabio Attanasio and Luca Rubinacci; the style originators Ethan Newton, Mark Cho and the Guardì brothers of Barbanera; the photographers Robert Spangle, Karl-Edwin Guerre, Jamie Ferguson and Milad Abedi; and of course tailoring's rock stars, such as Lorenzo Cifonelli, Damiano Annunziato and Salvatore Ambrosi. It seemed that no one could be photographed in Florence during Pitti Uomo without a Negroni in hand. Then came Hranek's famous WM Brown magazine Negroni party at Harry's Bar, where, on the first night, those gathered consumed a veritable River Arno of Negronis, leaving a €20,000 bar bill in their wake. Says Hranek: "I almost had a heart attack: to say we underestimated the number of Negronis our community could drink was a vast understatement." Ramos adds: "The Negroni, because of its connection to Florence, became our thing at Pitti Uomo. When we went home we learned how to make them, and it became our thing at home, too — probably because it reminded us of our community and the friends we missed. It was almost by drinking a Negroni we could be together again. This is definitely what happened on social media in 2020." The other reason for the Negroni's rapid global conquest is to do with its flavour profile. Feig says: "It's simple: it's just a delicious drink. It's neither too bitter or too sweet. It has a kick but not one that is overpowering." Palazzi, the head barman at Dukes, agrees. "A Negroni is perfect as an aperitif but it is also perfectly acceptable as an after-dinner drink, and if you are the type of person that prefers cocktails to wine, it is even great with a meal," he says. "It is not a seasonal drink. Of course, you associate it with summer, but it is also a drink for the three other seasons. If you are a cigar smoker, as many of the Negroni's fans are, the taste of the Negroni is not overwhelmed by cigar smoking, making it the perfect après-ski or beach holiday drink." With this shift in cultural relevance came the creation of Negroni-themed goods. The first of these was Hranek's and Douglas Cordeaux's Fox Brothers Negroni tweed, which has become the ultimate club symbol for the most hardcore Negroni devotees. Next came The Rake's Ralph Lauren 'Negroni Bear' and Bell & Ross's '#NegroniTime' Bellytanker Chronograph timepieces. Feig, who is in possession of a bespoke Anderson & Sheppard Negroni tweed jacket and a Ralph Lauren Negroni Bear watch, says: "When I'm wearing my jacket or my watch, it's as if I'm displaying my club badge, and I love it when I run into other lovers of Negroni culture and we share this kindred spirit." But why a pre-made Negroni? "It was around this time I realised that making a Negroni means you always have to have its three elements — gin, vermouth and bitters — in stock at all times," Feig says. "But during quarantine I realised how frustrating it could be to run out of one of these! It was a serious crisis. So I began remaking my Negronis, which also became an opportunity for experimentation with the recipe. When The Rake explained they wanted to create the world's best pre-made Negroni, I immediately saw how fun it would be."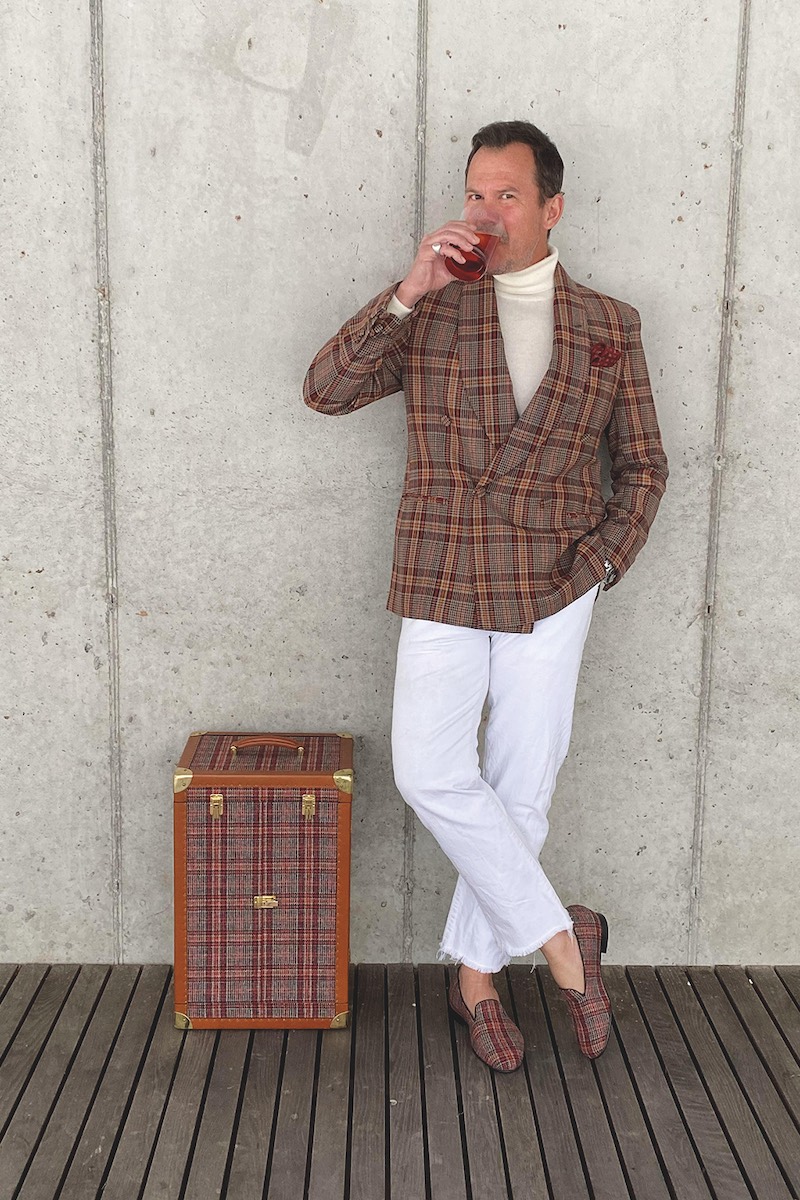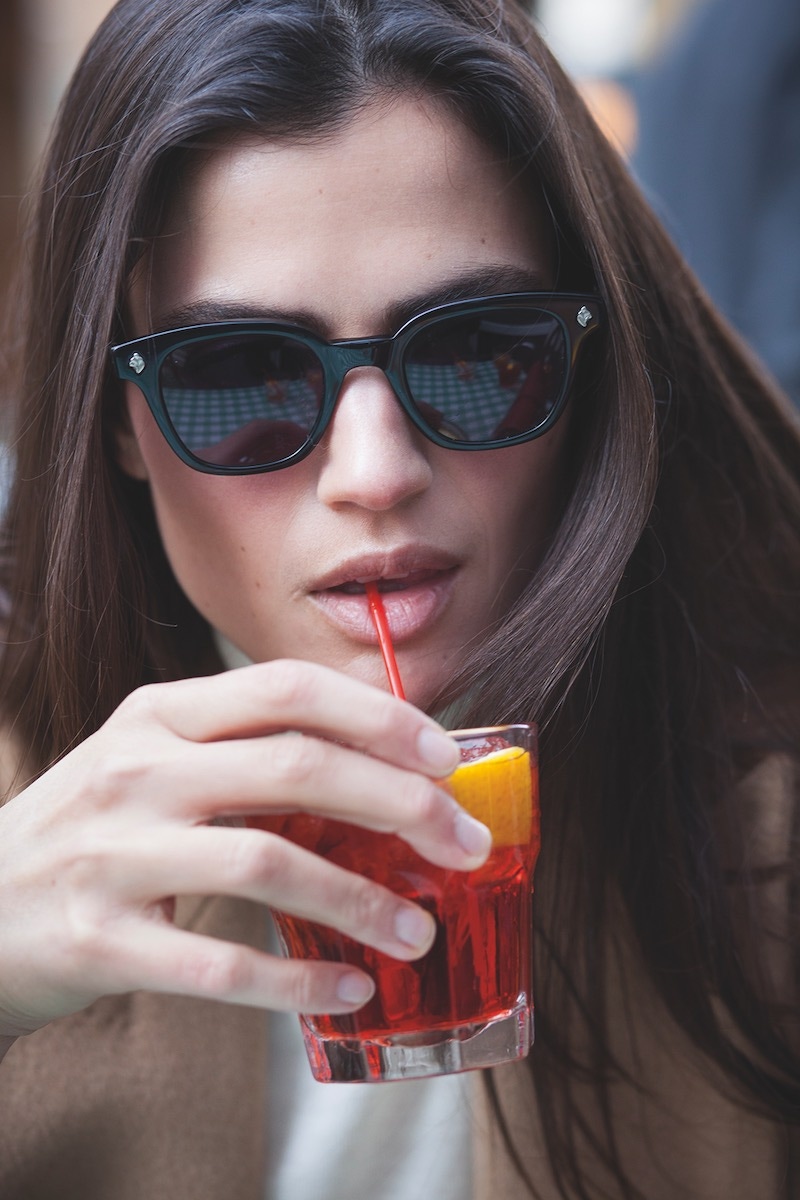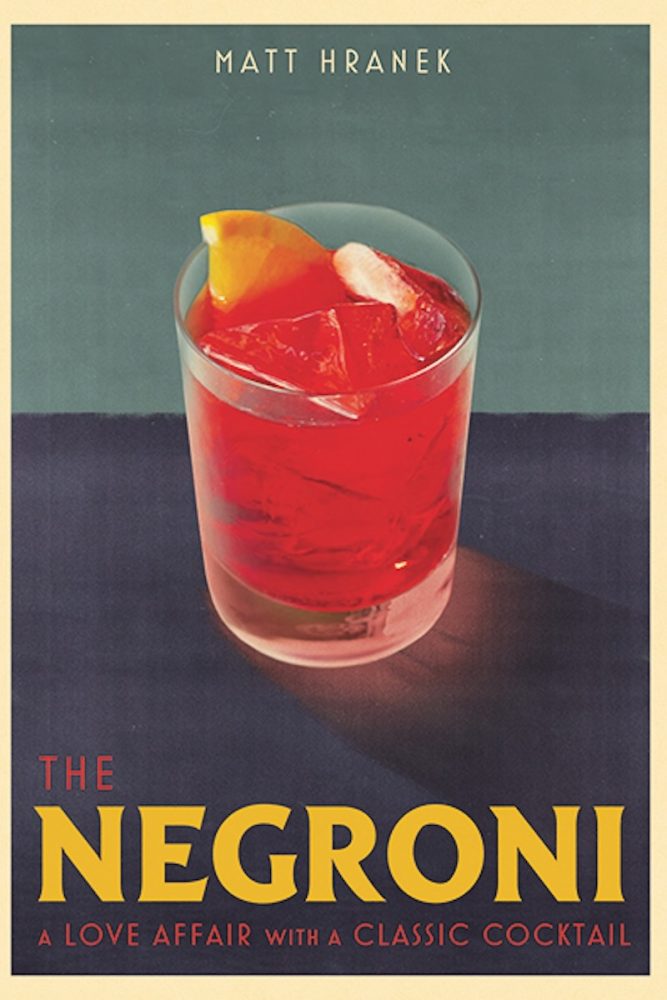 Not all Negronis are created equal
It was not until we started discussing our collaborative Negroni with Feig that I realised I had been sitting at the children's table when it came to Negroni making. Thus far I had not ventured further than using, in equal thirds, Campari, Antica formula vermouth, and a variety of gins. But speaking to Feig was like attending a PhD-level class in cocktail mixing. Which should come as no surprise given that Feig has crafted his own critically acclaimed, award-winning gin, Artingstall's. He proceeded to unveil myriad alternate bitters, a dazzling array of vermouths, and, of course, we had the great privilege of using Artingstall's as our dedicated gin of choice. Then he introduced us to his partner in Artingstall's, Ravinder Minhas. Minhas is one of the most impressive entrepreneurs in the alcohol business. Together with his sister Manjit, a star of the Canadian version of
Dragon's Den
, they own the 10th largest craft-beer brewery in the United States, and the Minhas Brewery and Distillery Group has an annual revenue in excess of $210m. I would describe Minhas as an individual whose apparently laid-back disposition is belied by a fierce brilliance evinced by the empire he and his sister have built from a college business. He is also a kind of Willy Wonka of booze, meaning he has a dedicated team that is able to engineer pretty much any kind of alcohol to taste. Which was a huge relief to me, because, during the conceptualisation stage, Feig had experimented with several bitters and vermouth that prompted the question, Those are so obscure, where are we going to buy them in quantity? I will admit, the idea of us sending staff to purchase bottles of rare vintage vermouth and almost unknown bitters makers had me slightly perplexed. Finally, when Feig arrived at what he felt was not just a great Negroni, not just a superb Negroni, but a truly exceptional Negroni, he sent a test sample to me. In my favourite lowball glass, I poured it over ice. I marvelled at the gem-like ruby colour, which was decidedly more red than your average Negroni, and took a sip. The following experience blew my mind. It tasted, of course, recognisably like a Negroni, but it was far more nuanced, with a dynamic tension between bitters and fruit lengthened by the underlying gin. It was like listening to
Pinball Wizard
in stereo for the first time when your entire experience has otherwise been monophonic. I was humbled by the feeling. I had until this point considered myself something of a consummate Negroni drinker. But I suddenly realised I had seen only the tip of the experiential iceberg. Minhas had been sent the same thrilling concoction. After tasting it on a Zoom call together with Paul and me, he smiled and said, "This is it". Then he nodded and said, "O.K., we will begin reverse-engineering this immediately". This left me baffled. How is that possible, I thought. But what Minhas's team accomplished was not only an accurate version of Feig's Negroni, they actually came up with 10 alternative, even better tasting, versions on the same formula, which we were sent for a final tasting. I remember the final tasting vividly. The moment that Feig zeroed in on that perfect ethereal cynosure between bitters, vermouth and gin, the millisecond that he locked in the flavour profile for time immemorial, was exactly the moment his trainer in Los Angeles arrived for his workout. The typically southern-Californian, quinoa-fuelled ectomorph literally did a double-take at Feig on the Zoom tasting call with members of The RakeNegroni No.1 team scattered around the globe. The trainer took one look at the numerous now empty pre-made Negroni bottles arrayed before Feig and sighed, "I take it our workout session is cancelled". Feig replied with typical, unflappable wit: "Not at all! I have never been readier, sir." Later he would admit: "One of my drunkest moments was when I completed the final tasting to lock the Artingstall's gin flavour profile. This was a close second." O.K., it is not for us to sing the health benefits of our new Negroni (or, as we've stated on the bottle, our "standard operational libation") like snake-oil salesmen at a sideshow carnival. But the fact is, Feig did work out after the tasting, and by all accounts crushed his cardio, demonstrating that Negroni drinking — or, specifically, drinking
The Rake
and Artingstall's Negroni No.1 — can be very healthy for you indeed. To cocktail drinkers the world over, I take great pleasure in introducing our first ever pre-made cocktail, the result of one year's work and, in particular, the brilliance of two men, Paul Feig and Ravinder Minhas, whom I consider the gods of the cocktail known as the Negroni.
The Rake Tailored Beverages is here. Please note the RTB Negroni No. 1 is only available to be shipped to the US (selected states), the UK and EU and Artingstall's gin the UK and EU. Contact shop@therakemagazine.com for further information.