The Rake Tailored Garments: Navy Pinstripe Double-Breasted Suit
Worn by politicians and famous gangsters, the pinstripe double-breasted suit is one of the more recognisable men's suiting choices. Not always famed for its adaptability, The Rake Tailored Garments navy version consists of a fusion of tailoring techniques that reveres the refined look, whilst its added drape gives you permission to wear it with real imagination, within reason.
Luca di Montezemolo's charm, inspiration, influence and business wisdom runs right through the boot of Italy. Along the way he's been spotted by the richest men in Italy to run their empires and on the reverse galvanized countless characters – a few of which have led to partnerships of worldwide success. He's been the Chairman of Ferrari S.p.A, Chairman of Fiat S.p.A, run drinks company Cinzano and launched Italy's America's Cup bid, among countless other enterprises. Born into Piedmontese aristocracy, one would think his was a smooth ascent into the realms of Formula One's top brass. He is famed for his expression of charm, but in December 1972, he appeared as a guest on Chiamate Roma 3131, a popular daytime radio talk show. He got into an argument with a caller and said: "You're talking a lot of balls". Enzo Ferrari happened to be listening in, and decided that he wanted to take this 26-year old upstart under his wing. It turned out to be one of life's more perspicacious whims. Constantly enchanting, he is still trim as a whippet. Known for his collection of pinstripe suits, it is Luca's desire to innovate, his charming personality and infectious humour that has to led him being the inspiration behind The Rake Tailored Garments navy pinstripe double-breasted suit.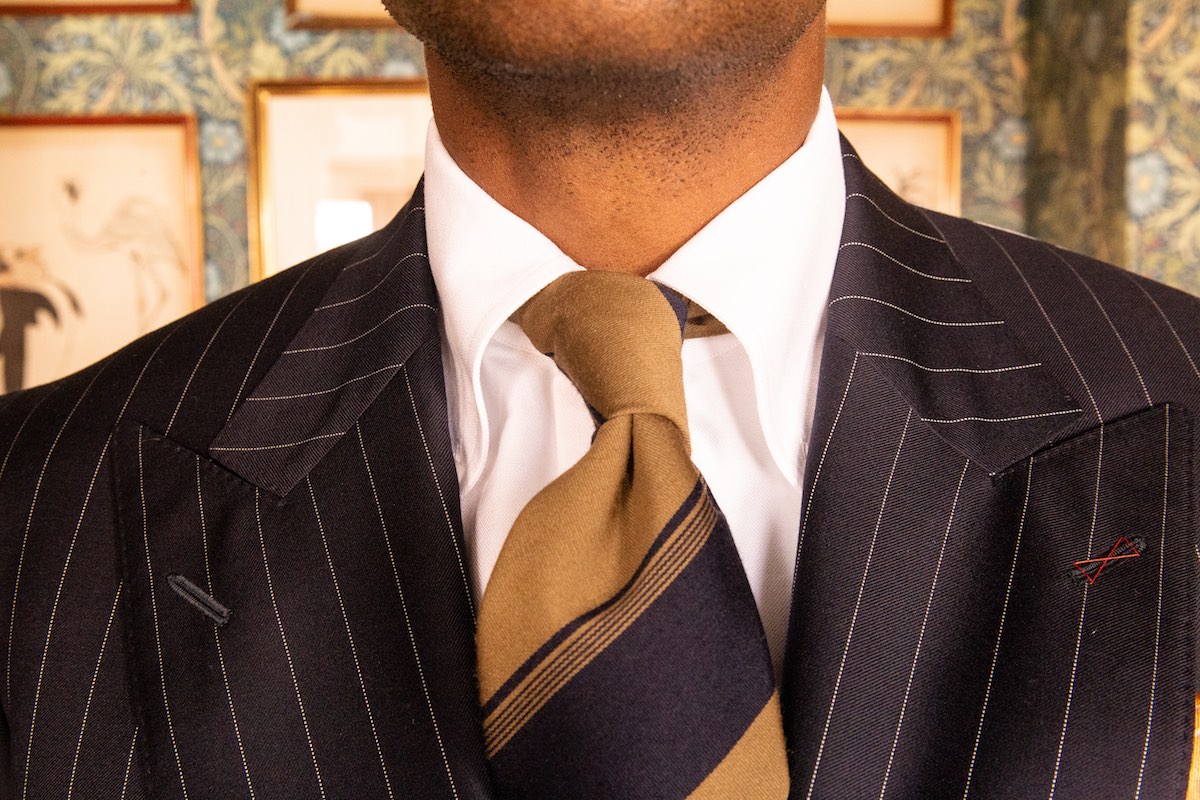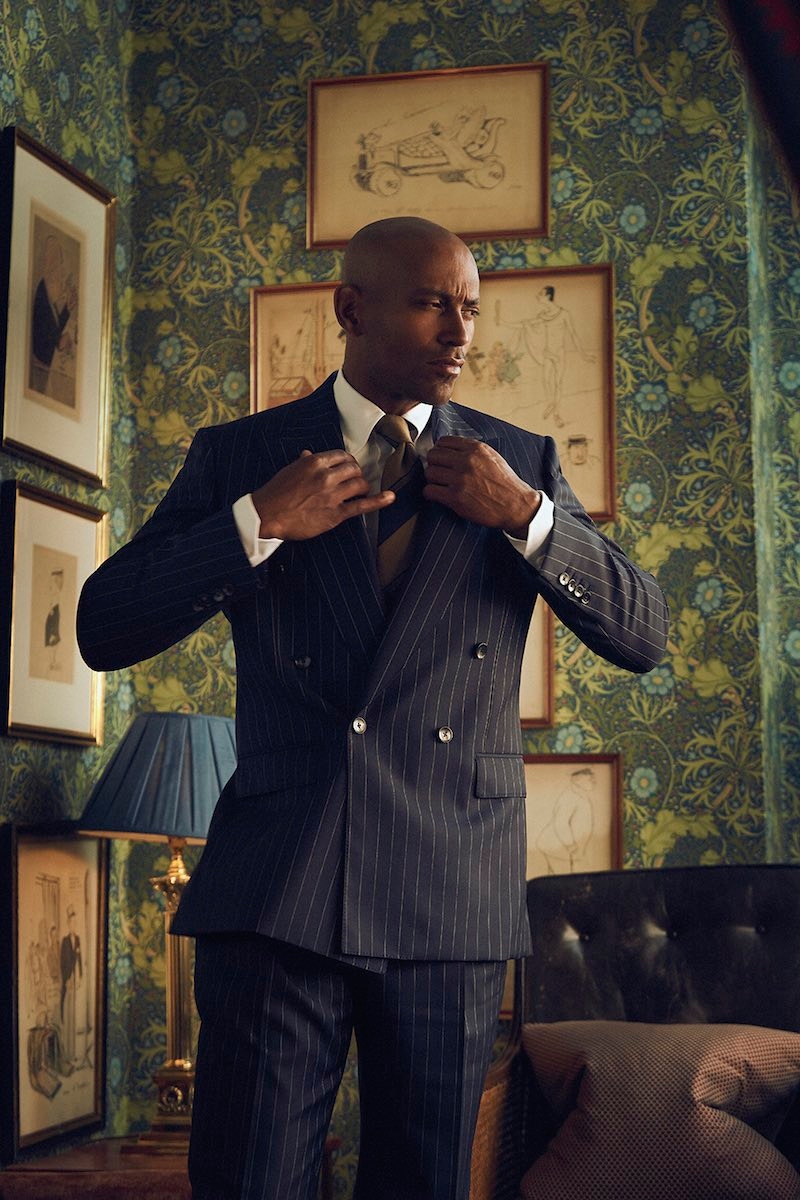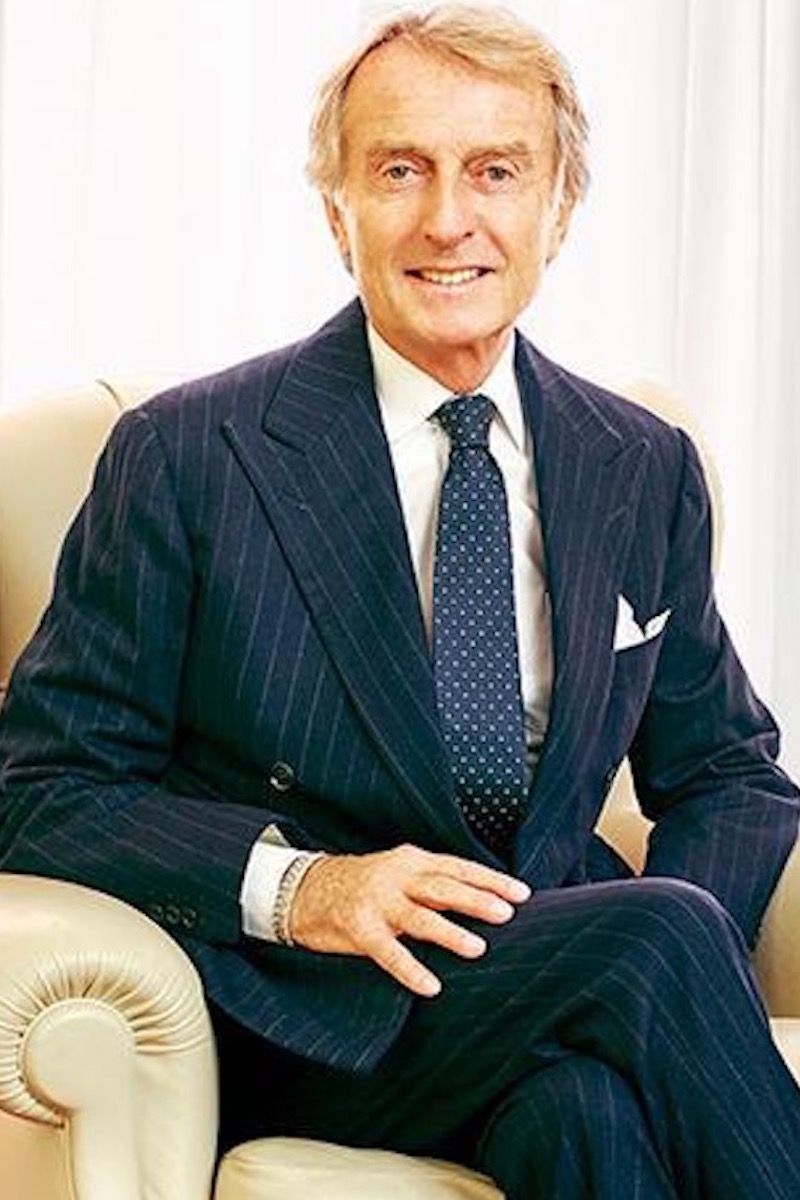 With innovation in mind, The Rake Tailored Garments have removed the stiff, restrictive padding and layers of horsehair found in traditional tailoring, plus inserted reverse double-pleats into the trousers and implemented a wider than usual peak lapel. This fusion of English, Italian and French tailoring techniques has been carefully curated so that the garments are comfortable, whilst giving tremendous scope for freedom of expression. The navy pinstripe suit is a beautiful example of this fusion, where the sleeveheads evince the beautifully rippled effect of the Neapolitan spalla camicia, a technique for fitting a larger upper sleeve into a smaller armhole. But these sleeves narrow to a cleaner and more shaped cuff typical of French tailoring. However, the strategically applied cloth has meant that no excessive volume has been added, but instead applied it innovatively to allow ease of movement and added drape. The half-canvassed 6x1 jacket, made in Italy using a beautiful 9oz. 100% worsted wool by none other than Vitale Barberis Canonico. Luca donned his pinstripe with a smart shirt and tie with effortless charm, but with the added drape and fine silhouette, there is many ways to wear a pinstripe with aplomb. Options include wearing the double-breasted jacket open, with just a jumper underneath. The characterful wide peak lapels also allow you a myriad of shirting options with a variety of collars. A camp-collar would overlap beautifully on the wide peak lapels for some '70s flair. This freedom of expression is not at the costs of the suit's authenticity and originality. It comprises all of the refined features that you would expect with impeccably tailored suits, where high-quality shirt and tie accompaniments also look extremely suave – just like one of Italy's most revered businessman did.