The Rake's Guide to Hong Kong
Hong Kong is in turmoil right now, but don't let that stop you visiting one of the most culturally vibrant cities in all of Asia.
Hong Kong is all over the news right now. You can hardly have failed to notice — millions of disgruntled residents have taken to the streets in an ongoing series of protests. But we'll leave reporting on political unrest and civil turmoil to the broadsheets. Instead, let's look at some of the other remarkable things happening in this vibrant, far eastern metropolis. The biggest hotel launch to occur in HK for many years, the new St Regis opened its doors in April. Though it happened to be hospitality giant Marriott Group's 7,000
th
property, the St Regis is anything but a corporate cookie-cutter operation, focusing on warm, personalised service and aesthetically, evincing a real sense of its location. This is in large part thanks to its interiors, overseen by distinguished local architect and designer, André Fu. Hong Kong born, British educated Fu's work is often described as having an east-meets-west, 'zen' aesthetic — a look that is increasingly dominant in luxury hospitality. Today, Fu says, "People are looking for more genuine experiences. They don't want frills. They want authenticity, honesty. Luxury is no longer about visual opulence… It's like a beautifully tailored suit – it's not about adding lots of unnecessary details. If it's beautifully cut and a beautiful cloth, that's all that counts, that's all that's needed." He says that although the St Regis brand is rooted in New York and traditional, velvety luxury, with the HK iteration, "We've taken a fairly modern approach to embrace the essence of the brand but in a different way." Fu has integrated subtle silhouettes and motifs of Hong Kong — inspired, for instance, by the gateways of sixties apartment buildings and the 19
th
century gas lamps of historic Duddell Street — in order to "celebrate the city and its romantic, cinematic qualities."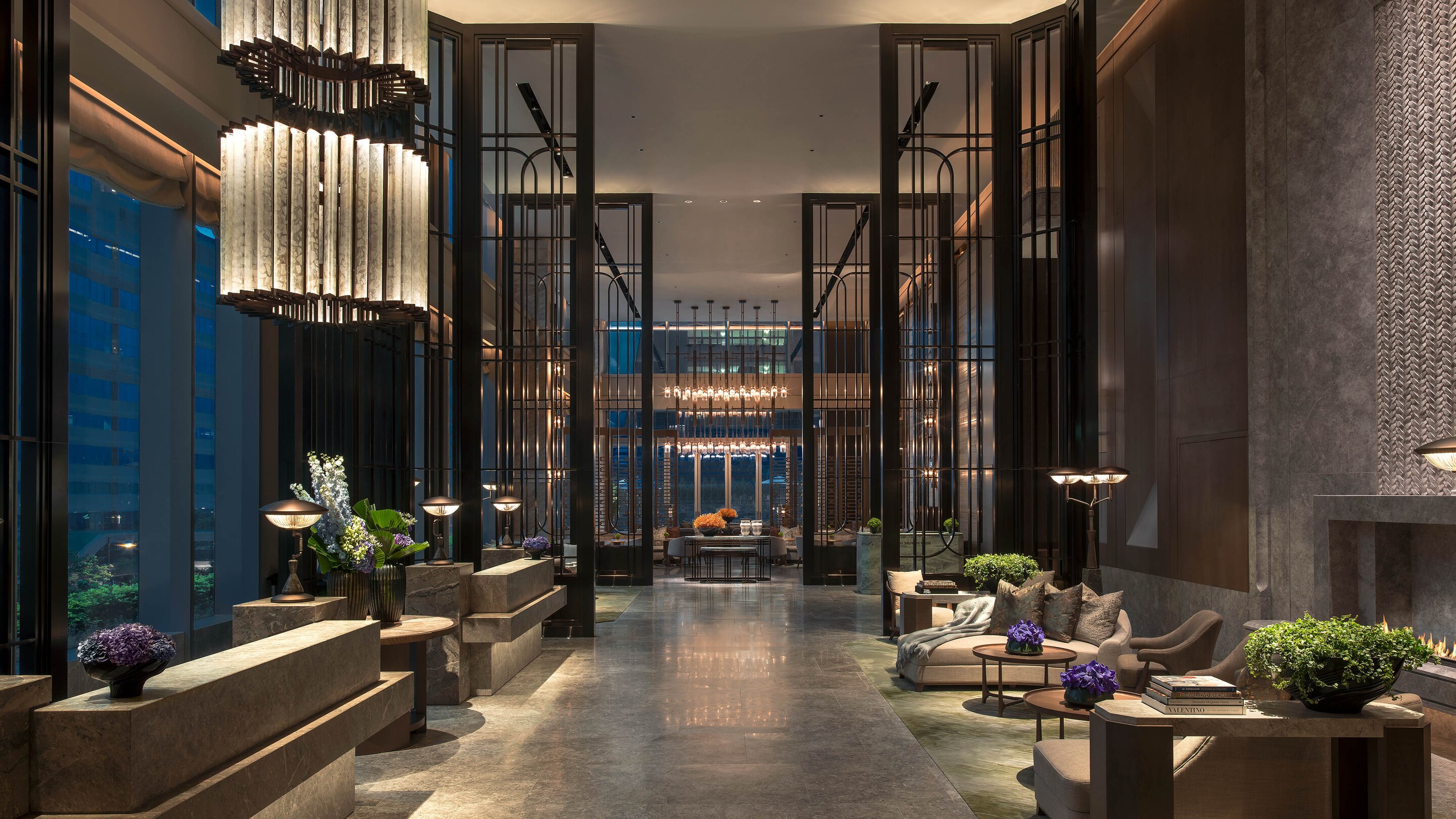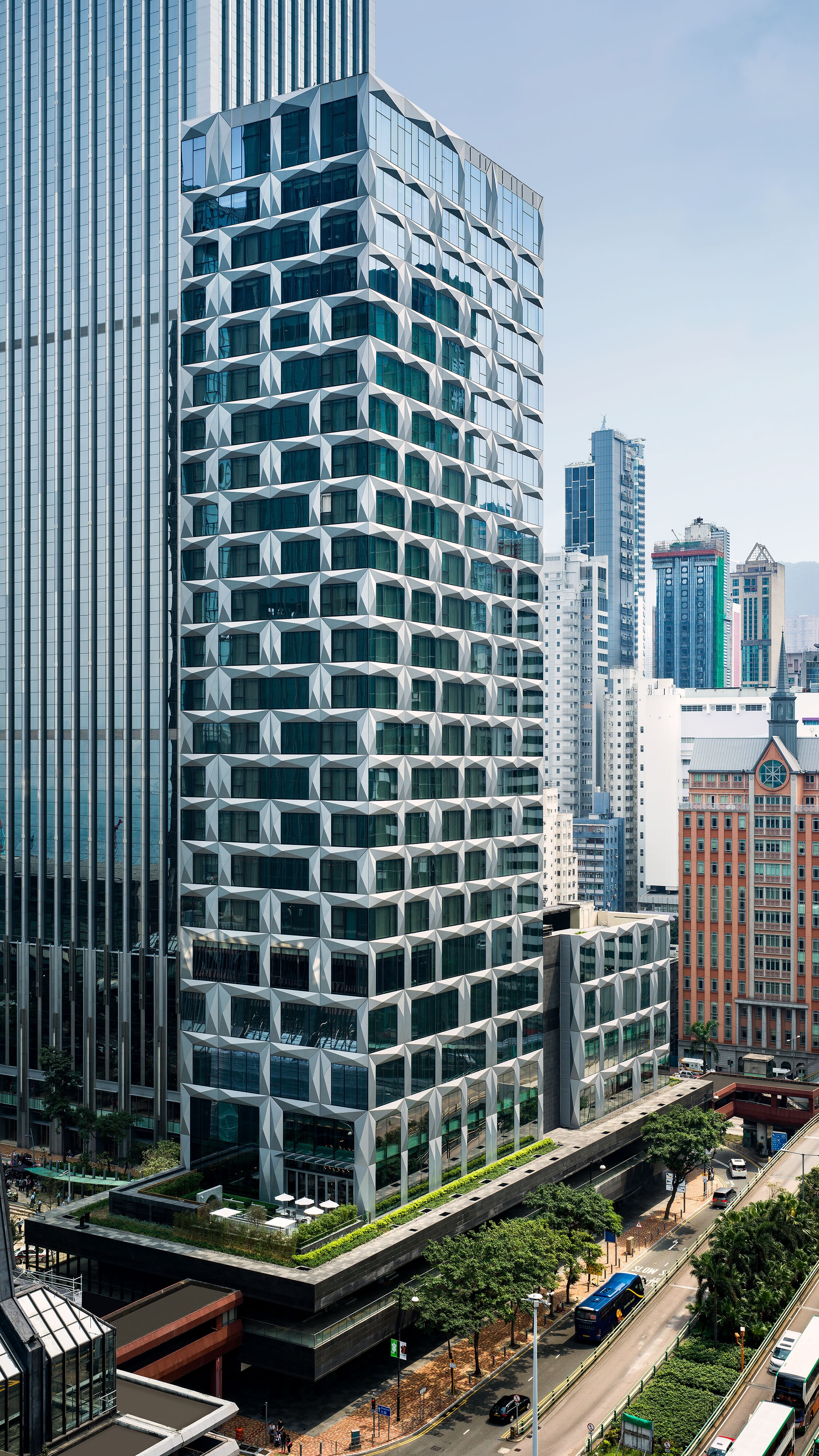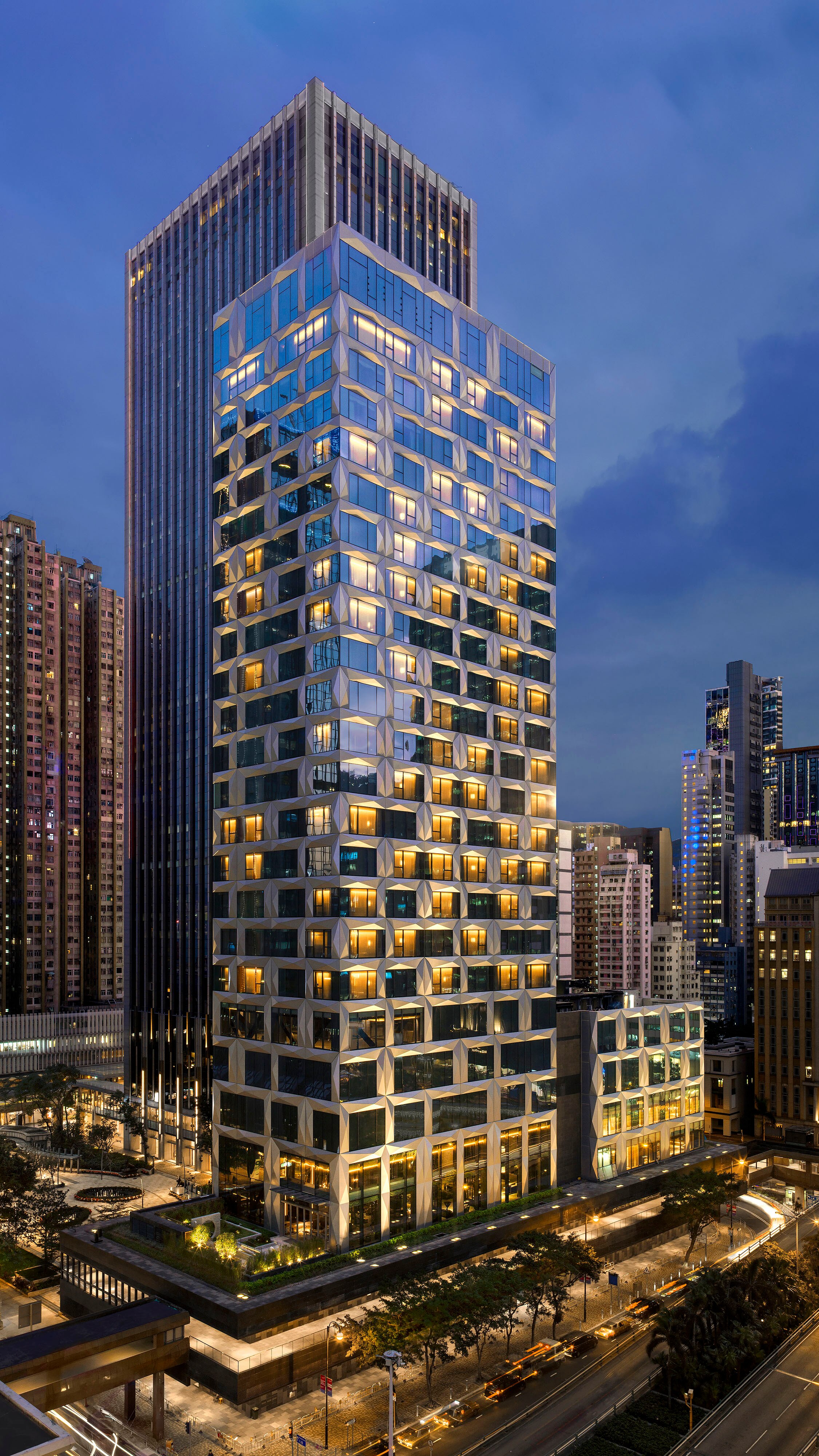 Another of The Rake's favourite Hong Kong hotels, the Upper House was the project that made Fu's name. "That property is entrenched in a lot of people's minds as the embodiment of what André Fu represents," the designer says of the hotel, which opened in 2009. Converted from serviced apartments, its 117 minimalist-modernist rooms are among the largest you'll find in Hong Kong. With expansive windows (note: the glass is not one-way, so be mindful of modesty), each boasts an incredible view of the city, hills and/or harbour. "Many hotels have 'bad rooms' looking onto a poky interior courtyard, an alley, a driveway, a loading dock. We do not. There are no bad rooms at the Upper House," general manager Marcel Thoma proudly points out. The outlook from top-floor restaurant Café Gray Deluxe, meanwhile, is nothing short of spectacular — a fantastic spot to get a handle on the lay of the land. (Oh, and the food's superb, too.) While more recent entries to the Hong Kong hospitality field certainly impress, the city's pioneering Mandarin Oriental is determined to retain tai-pan status, going to great lengths to preserve retro appeal while simultaneously staying in step with the 21
st
century. For throwback vibes at the original Connaught Road hotel, order up an old fashioned at the Captain's Bar (which despite a refurb a decade or so ago, continues to hark back to the Mad Men era), before settling in for a traditional shave and haircut within the deco Chinoiserie surrounds of the Mandarin Barber, also established back in the 1960s (pictured below).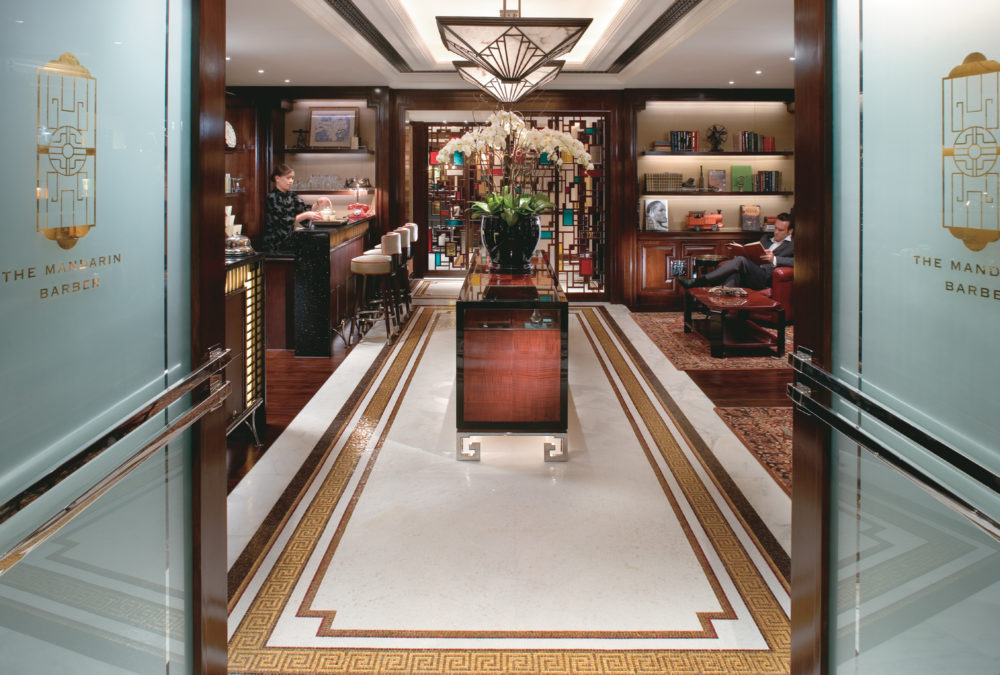 Meanwhile, modernity takes the lead at the Landmark Mandarin Oriental — the group's newer property that was launched a block away from Connaught Road to accommodate 'fans' during its sibling's shutdown for a $150 million renovation in 2005. Complementing the hotel's contemporary accommodations, at the Landmark Mandarin, cuisine is marked by a forward-thinking approach. The property's flagship Michelin two-star restaurant Amber reopened earlier this year after a comprehensive revamp, Dutch chef Richard Ekkebus not only pushing the boundaries with his fresh, light and vegetable-centric cooking, but also rethinking the dining experience, part of which takes place in the beautifully appointed kitchen.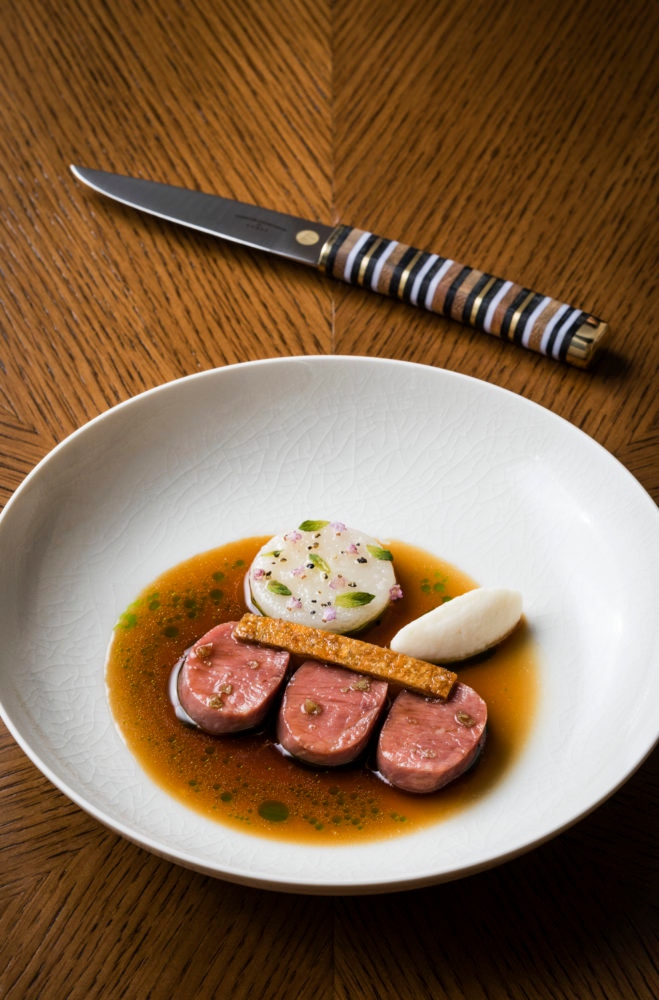 Post-meal, pop down to the two-storey Ralph Lauren store in Landmark, which focuses on Purple Label and carries one of the most extensive ranges from RL's top-tier line you'll find outside New York's Rhinelander Mansion. The shop is not only one of the brand's most beautiful, but ever so graciously, features a lovely clubby bar where clients can relax and contemplate a purchase over a complimentary whisky. (Hibiki? How hospitable. Here's to you, Mr. Lauren, sir.) For a taste of homegrown Hong Kong men's style, peruse the prêt-à-porter wares of local label Magnus & Novus at Lane Crawford, or better yet, stop by their highrise atelier on Connaught Road to commission custom-tailored garments. We're big fans of the brand's self-belted shorts and trousers, one-piece collar 'leisure' shirts, and classic unstructured sports coats, all of which are available made-to-measure (while ready-to-wear iterations can be ordered from therake.com).
Their garments proudly handcrafted in China, Magnus & Novus consider it their mission to revitalise artisanal skills on the mainland. Says founder Ethan Rye, "We had a vision for preserving craftsmanship in China, to bring back fine hand-craft that has existed in China for thousands of years, but has been lost over the past eight decades since the revolution." He says master tailors and skilled craftspeople are increasingly rare in China, a situation Magnus & Novus aims to help reverse. Rye describes the company as a 'humanist enterprise'. He explains, "We focus on ethical production, preserving these skills, and developing and training apprentices in our workshop in Shenzhen, where most of our products are made." Of course, no menswear aficionado's trip to HK would be complete without a visit to The Armoury. At the seminal store in the Pedder Building or the more recently established shop in the newly minted menswear mecca that is the Landmark basement, you'll find a fabulous array of garments and accessories from Ring Jacket, Liverano & Liverano, Drake's, Tie Your Tie, Ascot Chang, Nackymade and numerous others. If you time your visit right, perhaps you'll even have the chance to commission bespoke Ambrosi trousers, shoes from Yohei Fukuda, or tailoring from Ciccio, Orazio Luciano and Liverano during one of the regular trunk shows hosted here.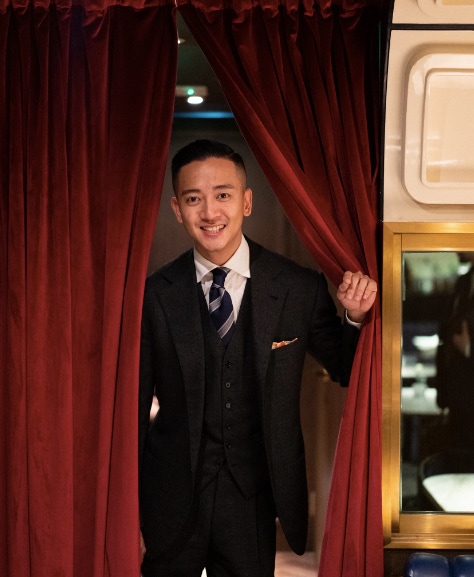 Armoury cofounder Alan See doesn't only provide excellent sartorial counsel — he also seriously knows his way around HK's F&B scene. "For old-school dim sum, Luk Yu Teahouse is great," See says (a statement this writer will happily second). At night, he suggests Foxglove, a stylish, stealthy Duddell Street lounge bar disguised as an umbrella shop, and says "Ho Lee Fook is fun for Chinese food in more casual surroundings." For ultra-casual culinary keepin'-it-realness, See says, "Go to Hillier Street, where there are lots of local cafeterias." Tai Kwun — the repurposed former police headquarters, which now houses various arts and culture venues, bars and restaurants such as the chi-chi Madame Fu — is another of See's must-sees. The garments featured herein will serve you splendidly on a journey to Hong Kong, where we trust the only thing you'll demonstrate is great taste.