The Rakes of the Year
The Rake honours those who in 2021 personified our definition of Rakehood with their elegance, charm and kindness — and, most importantly, their strength of character.
The Headmaster: Nick Foulkes
by Tom Chamberlin
El Jefe, Generalissimo, Presidente, Boss, Head Boy... whatever title you think befits Nick Foulkes this year, it cannot be considered hyperbole. It almost feels like the universe is willing him into high office all over the place. His appointment to the post of president of the jury for the 2021 Grand Prix d'Horlogerie de Genève felt like a vindication. For those of us who know Nick, we have never really made up our minds about a watch (or anything tasteful, for that matter) without knowing how he feels about it. If imitation is the greatest form of flattery, a yearning for Nick's input must come a close second. Why Nick? Well, he was the first to write about this stuff, in the eighties. Back then, people got overexcited about the latest electrical gadget out of Japan, and pop culture was in charge of fashion. The number of people taking an interest in mechanical watchmaking was so low that there was a panic in Switzerland known as the quartz crisis. The revival of Savile Row in the seventies had died down and wouldn't get much airtime until the nineties and the 'new bespoke movement'. Ever since Nick decided to fill that particular niche, he has done something rather clever and seldom been wrong about things. In general, I am in favour of the honours system here in the U.K., but at a push, if you were to ask me why I might have reason to mistrust it, it is because of the continued and bizarre omission of Nick's name. His taste is impeccable and redoubtable, and the demand for his expertise is both well earned and watertight. What more could they want?In the meantime, and as mentioned, the learned folk in Switzerland asked Nick to preside over their 2021 jury, a jury he was also asked to compile. Unsurprisingly, he chose some brilliant horological minds, including our own founder, Wei Koh, and his fellow Rake of the Year Ahmed Shary Rahman. The winners were worthy, the triumph was theirs, but Nick casting his Meyrowitz-dressed eyes over proceedings was his triumph, which was as deserved as any of the awards issued on the night. Bear in mind the obscene shooting schedule for his Foulkes & Sons cigar review series — the only television show that gives
Ted Lasso
a run for its money in the positivity stakes — and you'll wonder how he manages it. I can't be sure if it's from telling time or that time will tell. I do, however, speak with immense pride that Nick's mind, that precious mind of his, stuffed as it is with all manner of kindnesses and generosity, is now being rewarded for its genius.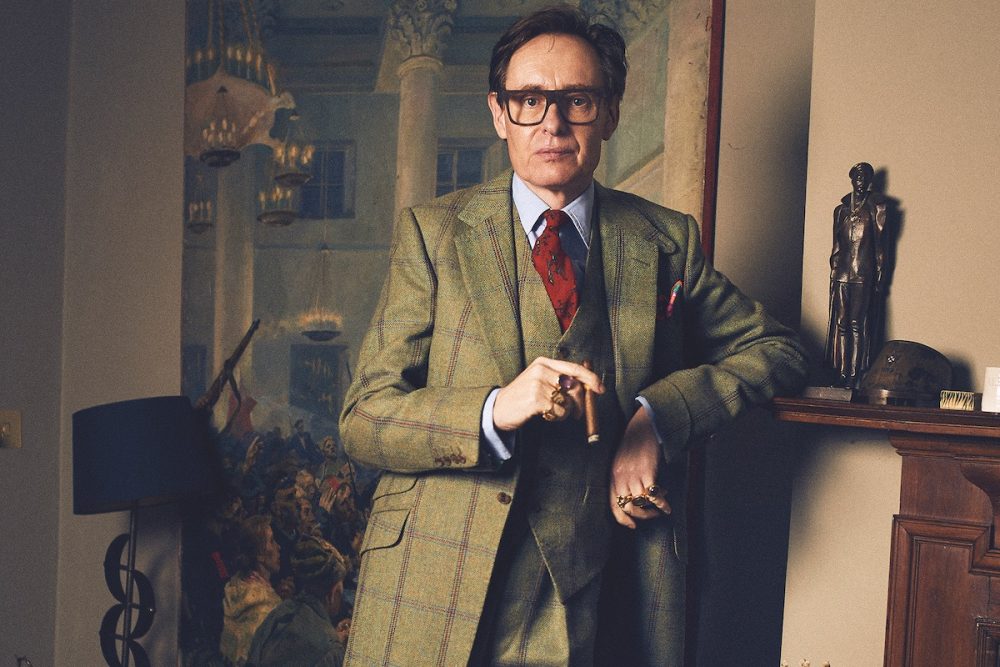 The Benefactor: Hani Farsi
by Tom Chamberlin
Hani Farsi puts other people before him: it is as simple as that. I have seen his generosity too many times to think it could be some kind of sales tactic or façade. His presence soothes and his intellect stimulates. He rejects mediocrity in himself but is patient with others. As a father he knows the value of patience and the benefits of showing love and seeing it returned. It is also as a son to an extraordinary man that he engages with life, ready to support and help where he is needed. This year has been one that, when spelled out, doesn't seem possible. He had five films (yes, five) show at Cannes; manufactured gin; began the process of creating a mini-series; helped negotiate the further expansion of his health club, Workshop, to Paris and Los Angeles; oversaw production of a candle that is perfect for cigar smoking (see page 170); and continued his extensive portfolio of philanthropic work through the Mohamed S. Farsi Foundation. The foundation's activities include offering scholarships to major universities in the U.S., helping to feed and educate underprivileged children in Africa, and supporting the arts in the Middle East. Hani's umbrella is vast, and those who take shelter underneath it are enlightened by the experience. Either that or they have to get used to losing to him at backgammon. What stands out is that Hani does all this without seeking recognition for it. We love to sing his praises at
The Rake
, though his response to his inclusion in our Rakes of the Year feature will be formulated by his humility rather than his ego (or lack thereof). We all wish to see achievements in others, and we hope they are suitably praised. But when others' achievements inspire us to do more than just applaud, when they make us push that bit further, reach that bit higher, set expectations for ourselves that we are otherwise too scared to set for fear of failure, one becomes an icon, a totem or a talisman for more anxious souls. As much as Hani Farsi's work deserves our highest praise, it is more for what he helps bring out in the rest of us that cements his inclusion in this year's Rakes of the Year list.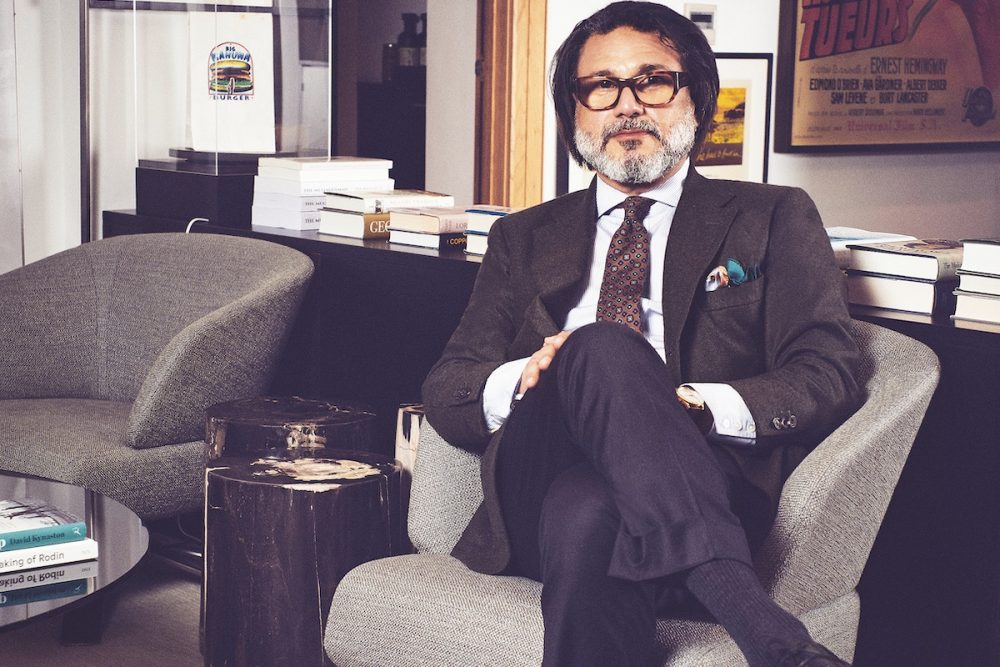 The Emperors: Karl-Friedrich & Karl-Fritz Scheufele
by Wei Koh
The following anecdote serves to illustrate the character of Karl-Friedrich Scheufele, the gentleman, entrepreneur and watchmaking pioneer. In 2017, an awkward moment beset the jury of Geneva's Grand Prix d'Horlogerie. Nick Foulkes, the author and jury member, says, "We were assessing the finalists for the grand prize when it came time to examine Chopard's Full Strike." The watch was a tour de force representation of Chopard and, in particular, Karl-Friedrich's spirit of groundbreaking innovation. But it just so happened that Scheufele was part of the jury that year, as he had won the grand prize in 2016 for a constant-force tourbillon from his second brand, Ferdinand Berthoud. Foulkes continues: "The tradition is that the winner becomes part of the jury the following year. No one really knew what to do because it was historically unprecedented. But even before anyone could raise the issue, and seeing that it was time to judge his watch, Karl-Friedrich stood up from his seat. He looked calmly at us, his fellow jurors, and said, 'Ladies and gentlemen, as I have a small role in the creation of this next timepiece, please allow me to excuse myself so that you may judge and discuss it with total objectivity'. And that's what I love about him. He is a gentleman. No, more than that, he is the consummate gentleman and an example to us all that leadership, humility, elegance and grace can all go hand in hand." Indeed, 25 years after the creation of Chopard L.U.C, and 40 years after the creation of his first Chopard watch (the highly successful St. Moritz), Scheufele remains an exemplary leader in Swiss high watchmaking. He is also a man of profound understated elegance and rare humility. It is in his creation of a vision for game-changing in-house manufacturing and technical innovation that he deserves his place among horology's greatest leaders. As with every successful leader of a family-owned company, it was Scheufele's sincerest hope that one of his progeny would follow in his footsteps. It seems God has chosen to smile on him, because, unbeknown to Scheufele, a few years ago his son Karl-Fritz, recognising the demand in the market, enacted a secret project alongside his grandfather and aunt to create a new integrated-bracelet sports-chic watch based on his father's iconic St. Moritz. The resulting Alpine Eagle collection has become one of Chopard's bestsellers, and is a sign that the future of Chopard is assured. Like his father, Karl-Fritz is a model of understatement and humility despite having created a bonafide horological hit in his early twenties, all while opening and running Geneva's best wine bar, Chez Bacchus. For all these reasons, father-and-son Scheufele are Rakes of the Year.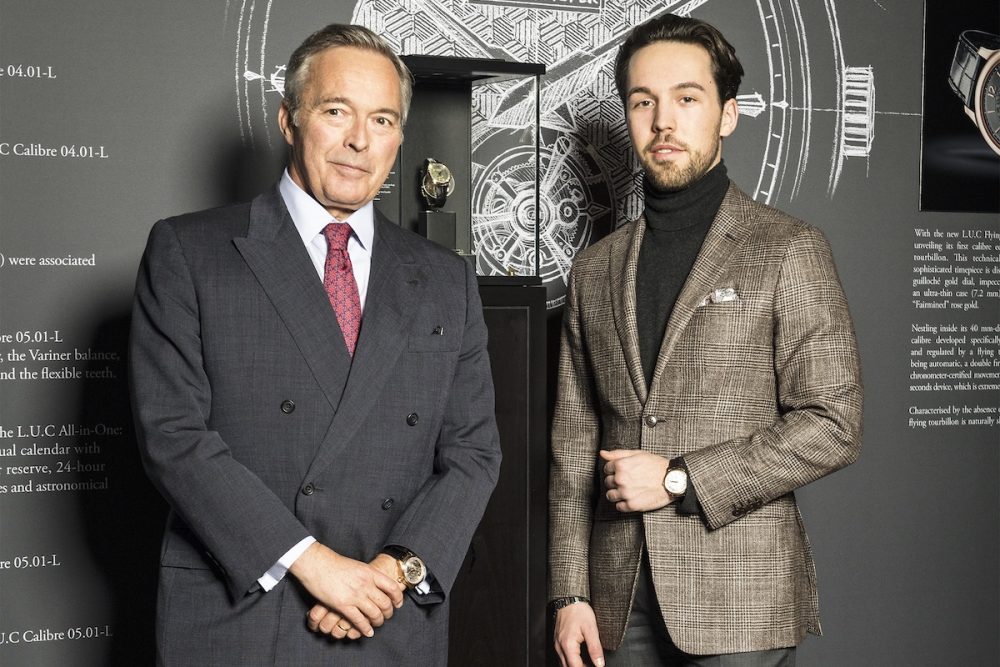 The Enrichers: Paul & Laurie Feig
by Tom Chamberlin
I believe in marriage. It is easily pooh-poohed as merely a piece of paper, something that gives you a new tax status with the government. Any mention of a spiritual aspect is
infra dig
to the largely secular society in which we live. Clinging on to vague ideas of what marriage can be is lovely, but seeing it work out in real life is the best way to foster optimism and hope. Which makes my knowing Paul and Laurie Feig that much more gratifying. You may remember that when Paul featured on the cover of the magazine last year, I asked whether he had learnt anything valuable during Covid. His response: "That my marriage was really strong." Plenty of people, me included, would probably have come up with something much more pretentious, but Paul kept it personal, reflecting on what was most important in his life and that it was in a great place. Laurie is a force of nature, the kind of person you want to have your back. She is quick-witted and creative, and has the American trait I fear Britons lack all too frequently: open affection. She is good at making people feel special. She has not wasted a moment of being in London recently, lending her skills to the likes of Annabel's and getting chummy with practically everyone she meets. Admirably, I spotted her supporting the cause of Nazanin Zaghari-Ratcliffe and her husband Richard's hunger strike outside the U.K. Foreign Office. The same can be said of Paul, whose kindness undermines the Hollywood stereotype. He is without doubt one of the most influential people in comedy, and he has managed to continue to produce, write and direct films and television shows in spite of the pandemic. They include
Love Life
, on HBO Max, and
The School for Good and Evil
(which counts Charlize Theron among its cast), the filming and editing of which has kept him in London lately. If the new world of work is aiding mental health and the work-life balance, as well as helping to detoxify power structures, all that is happening is that everyone is catching up to what Paul has been doing for years. Wherever Paul and Laurie go together, the rest of the world looks on with envy and longing. Like a drunk best man, I raise my glass and say, "To the adorable couple!"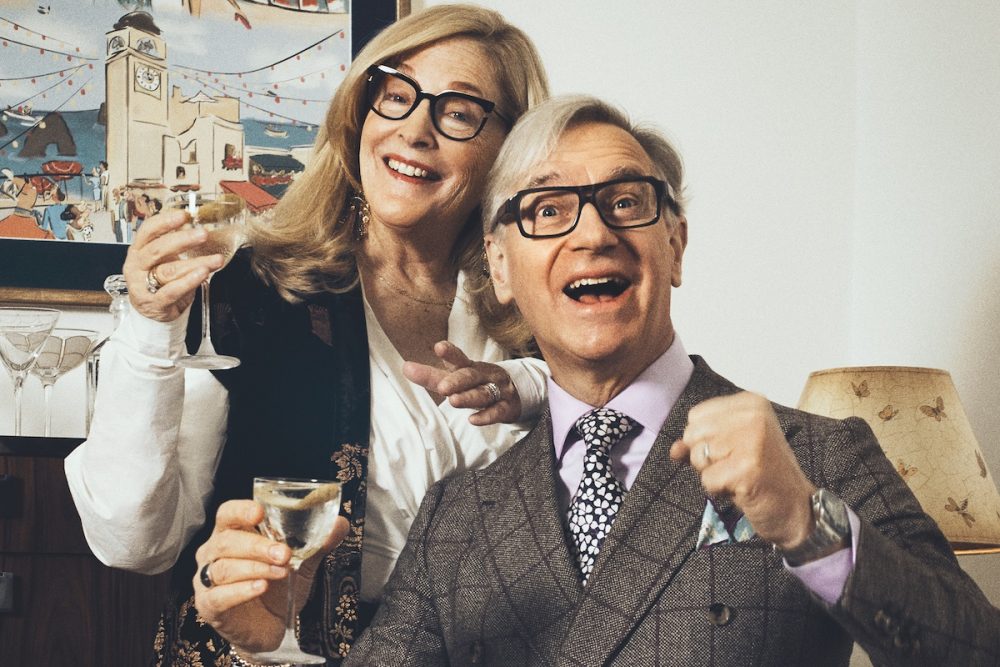 The Saviour: Amo Völker
by Wei Koh
Over the past two years, no one has done more to restore my faith in humanity than Amo Völker. How else could you characterise a woman who, at the height of her success as a model, decided to fulfil her life's ambition and become a certified paramedic amid the throes of a pandemic? Völker came to my attention when she starred in the maiden campaign for The Deck, the Savile Row-based women's tailoring brand created by Daisy Knatchbull, her fellow Rake of the Year. "I had just created The Deck when Amo reached out to me," Knatchbull says. "She believed in what I was doing. What was amazing was the way she set the tone of the shoot, demonstrating to the other models that wearing a suit could be feminine yet powerful, contemporary yet timeless. I would say she had a strong influence in the art direction of the shoot that set the tone for who we are today." I discovered that Völker's great aunt had been a photographer of some repute in early 20th-century Germany, and that Amo was interested in following in her footsteps. When the idea of a photoshoot that celebrated the new female visionaries transforming British tailoring was proposed, I could think of no person better suited to helming the project. Amo undertook a relentless research process to prepare her shoot. On the day itself, she wielded her camera with calm, poise and perfect leadership, including capturing the image of Daisy you'll find on page 115.
The Rake's
Editor-in-Chief, Tom Chamberlin, says: "What is really impressive about Amo is her capacity to create trust. I suppose her time in front of the camera has given her the ability to coach others who are not used to being photographed. But more than that, she has a charisma that is infectious." I am in full agreement, and would point out that while others have a charm based on the force of their personality or their physical presence, Amo's charisma is based on her desire to help others discover their own beauty. Alain Gafundi, the Chief Executive of
The Rake
, says: "I remember one evening, after a
Rake
event, a few of us had gone to the bar at the Connaught hotel. Amo noticed that someone who had attended our party had followed us, and had kept looking over but was sitting by himself not daring to speak to us. So she went over and invited him to join us. That's the kind of person she is." Amo conceptualised and directed our first true post-Covid campaign in Patina Maldives, where
The Rake
has its first men's and women's stores. She led the project — which expresses the theme of human beings reawakening to the world and recognising the beauty in it after such a dark time — with what can only be described as a Herculean work ethic that saw the team shooting from sunrise to the middle of the night on multiple days. The images are some of the most evocative we've ever published. Since then, Amo has gone on to conceptualise and co-design a limited-edition watch inspired by the idea of resilience rooted in her native Berlin; she will also helm the communications campaign for it. That she has accomplished all this in less than two years with her typical grace, intelligence and kindness made her inclusion in these pages not just a choice but an ethical imperative — and, it must be said, an indisputable pleasure.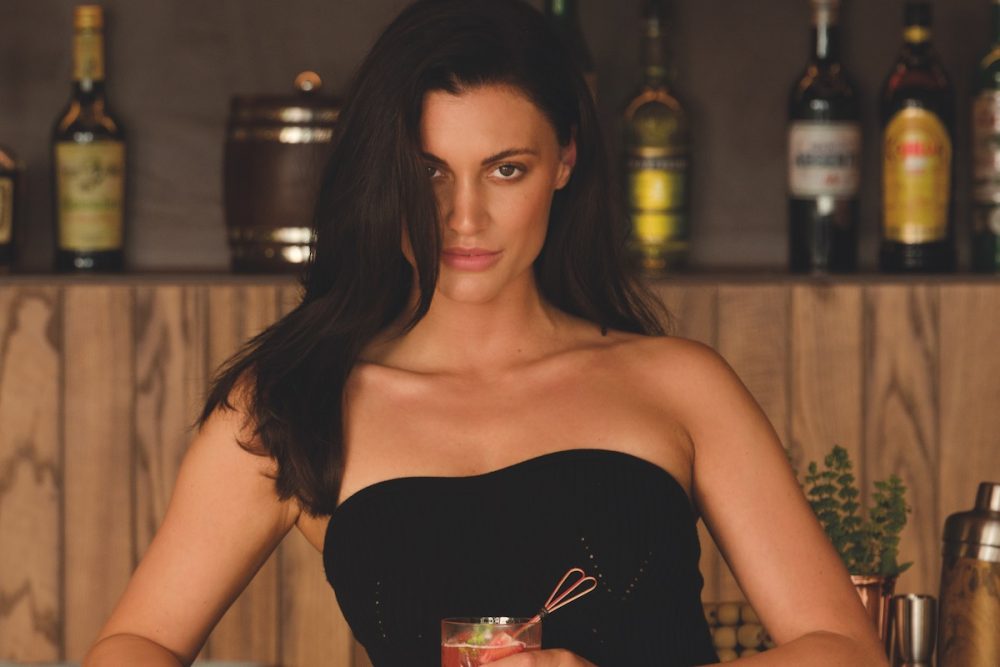 The Uplifter: Ahmed 'Shary' Rahman
by Tom Chamberlin
Shary is not a stranger to
The Rake
. We gladly and vocally regard him as a close friend who possesses the values and qualities we associate with and aspire to. Everyone cites a different aspect of his character that they most admire. His unerring generosity, an undiminished smile, formidable energy and endurance — you will be the first to go home on a night out, trust me. I have told this story a million times, though not in print. When I started at
The Rake
, in 2014 (in fact, it was before I had signed the contract), I went to one of the magazine's legendary parties in Claridge's penthouse. During the festivities this ebullient chap with strikingly framed spectacles congratulated me on my new appointment. This same gentleman (Shary, if you hadn't guessed) sent me an email inviting me to an Annabel's cigar dinner during my first week in the job. I knew he was friends with the magazine's founder. At the dinner there was a cigar on arrival, a cigar for sitting down at the table, and a double corona for pudding. Bear in mind that this is a nicotine intake akin to approximately five packets of cigarettes; you will forgive me for not sleeping particularly well that night. Yes, this was my hazing, and it was carried out by one of the kindest and most generous men I have ever met. More pertinently here, Shary is a connoisseur and not a fan. His personal style is beautifully curated and perfectly accessorised and co-ordinated. He knows every tailor, shirtmaker and cordwainer in the business, and has tried most. Though if you were to press people for an answer as to where his knowledge is most potent and exercised, it would be: in watches. He is a prolific collector, and his love for haute horlogerie is not superficial: he understands what lies beneath the dial, and has a capacity to reel off reference numbers as if they were his children's birthdays. This year his passion was publicly (and justly) rewarded with a place on the jury of the Grand Prix d'Horlogerie de Genève. It is not a position he would ever have sought, owing to his modesty and good nature, but the jury president, Nick Foulkes, knows great talent when he sees it, and this milestone for such a private man deserves amplifying. The world is in need of decent people like Shary. Our gratitude in knowing him makes his inclusion here a matter of national importance.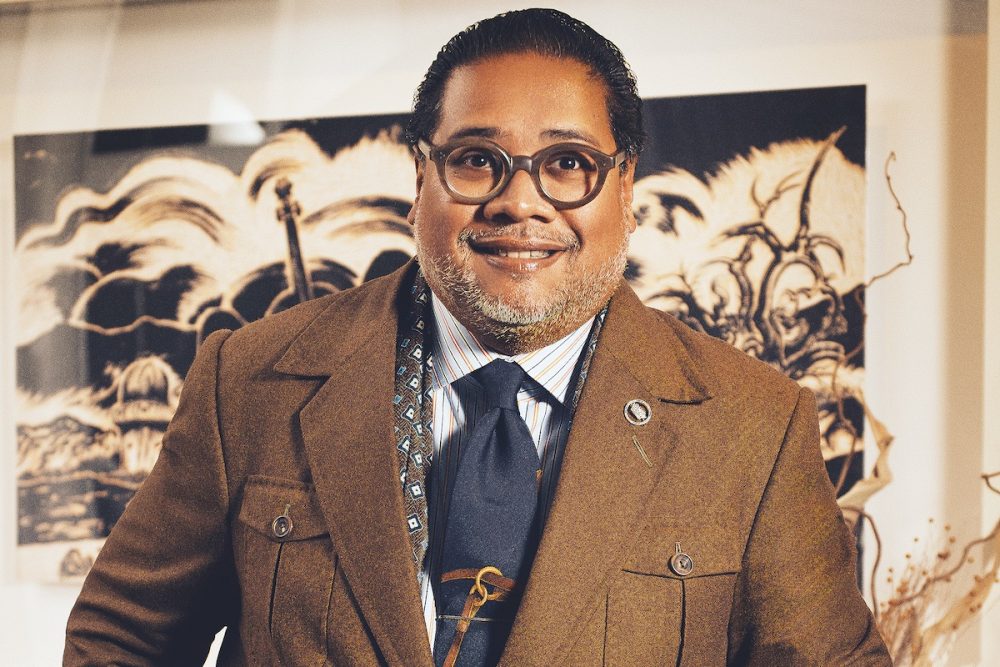 The Collaborator: Mo Coppoletta
by Tom Chamberlin
I have no tattoos; it would, perhaps, be a bit off-brand for me. I think my wife might find it sexy, but I remain bare and unaltered by the precision of a tattooist's needle. When I started at
The Rake
, Wei, the magazine's founder, said he thought it might be interesting to document a tattoo being designed and made by a consummate artist — with me as the cadaver. The artist he had in mind for the task was Mo Coppoletta, the founder of The Family Business in Clerkenwell, north London (the old Little Italy of the Big Smoke) and Coppoletta Designs. As any decent Englishman would in this scenario, I got flustered and hoped it would go away. For several years thereafter, when I saw Mo at an event, I observed him as some kind of threat, the man who might make my mother upset for defiling her son. The reality, however, is quite different. Mo Coppoletta has become a man I admire beyond his credentials with regards to body art. Recently he had his paintings on display at Harry's Bar and designed a limited-edition run of 10 Octo Finissimo watches with Bulgari. He created the label for our very own Rake Tailored Beverage Negroni No.1, designed a helmet for the Distinguished Gentleman's Ride, and has enjoyed collaborations with Rolls-Royce, 58Gin, and many others. On a personal note, I should declare that I no longer view the great man as a threat. His gentleness and infectious smile is a guarantee of an evening well spent in London, but primarily I respect and admire him as an artist. I lament the modern world of art and design, and the cynic in me sees minimalism as laziness. What Mo does is a throwback to the sexiness and flair of Art Deco. His dramatic illustrations can take hours to fully digest, given the amount of detail he incorporates in his grand image. I have never bought art. Instead, I have been the beneficiary of terrific original posters from the two wars, as well as pages from 1930s editions of
Esquire
, which are hanging on the walls, but I feel Mo's works will fit right in. The only annoying thing is that he is in such demand that I could never utter that smug line, "Oh, it's by some little-known artist I discovered". He has elevated his craft and is sought-after by anyone who wishes to garner a reputation for good taste.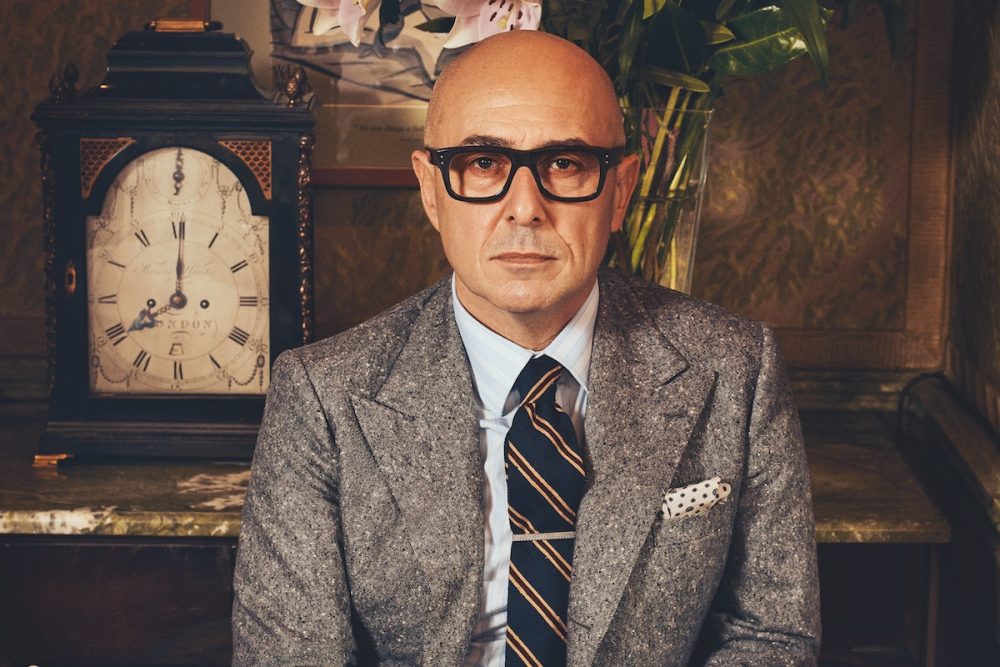 The Trailblazer: Daisy Knatchbull
by Tom Chamberlin
I should probably declare an interest. I have known Daisy's cousin Kelly since we were children. Apparently — though I cannot imagine doing something so beastly — my twin brother, Joe, and I broke Kelly's dollhouse. So the cynical among you might say that residual guilt now plays a part in Daisy's inclusion in our Rakes of the Year. Well, actually, no. No, it seems Daisy is insistent on cementing her credibility by doing very good stuff. We have waxed lyrical about her tailoring brand, The Deck, before; indeed, Daisy has previously been named on this list because of the fortitude she showed in opening on Savile Row during the pandemic. This is, of course, to be lauded and praised in perpetuity. Women's tailoring should be supported as much as possible, especially as women seem to be gravitating towards power suiting. The fact that Daisy has also decamped from dry land to a boat — where presumably she sits and drinks tea made on the wood-burning stove while ruminating on plans that will continue her trajectory towards sartorial nirvana — creates a particularly delicious meta scenario, given the name of her brand. One plan cooked up that has come to fruition is a collaboration with Turnbull & Asser. It is a limited-edition collection with four individually unique shirts: the Romantic, the Minimalist, the Expressionist and the Traditionalist. The naming is part of The Deck's ethos (Daisy has given names like this to her suits, too, as a way of heightening the narrative romance of the offering). Collaborations are a terrific way for brands to expand their remit while staying true to their mission, and whether Daisy decides next to go with scarves, shoes, jewellery or hats, the sky is the limit. What she is doing is exciting not just for the sartorial scene but for womenswear in general — see Hannah Waddingham, of
Ted Lasso
fame, decked out (see what I did there) in a terrific waistcoat and trousers on the cover of
The Times Magazine
. Managing to hold fast during Covid is one thing; it's quite another to shoot out of the traps faster than anyone else. It could be argued that this is not objective praise, so, to bring it right back to basics: it is an objective fact that, despite its being against her nature, Daisy Knatchbull can be very proud of herself this year.
The Edifier: Kirby Allison
by Tom Chamberlin
Kirby Allison's story is whiplash inducing. For a while he was known for selling the world's most luxurious hangers. This idea has merit: after all, you spend a vast amount of money on clothes, so they should be held in your wardrobe on great hangers. What apparently didn't convince people was the Texan's second act, in which he used YouTube to attract the sartorial cognoscenti and followers who wished either to be informed or to spectate on all things "quality, craftsmanship and tradition", as Kirby puts it. But, boy, were the naysayers wrong. Not only has Kirby consolidated that crowd, he is making every blogger, podcaster, writer and journalist kick themselves that they didn't think of the idea first. The 12m views that were recorded for Eddie Sahakian's one-minute cigar-cutting video on Kirby's channel is irrefutable evidence that video content on mass-market websites has room for a luxury audience. When Kirby came to London, and he and I spent a lovely day together, he was stopped at least six times by people wanting a picture or to shake his hand. One man even stopped traffic, bringing his vintage Mercedes to a halt on Burlington Gardens with an irritated rubbish-truck driver and taxi behind him. I don't think there will be many of you, but for the uninitiated: on Kirby's channel you can find unboxing videos of wonderful bespoke shoes, suits and shirts. There are guides to wet shaving, to shoe polishing, and, of course, cigar smoking. There are even some videos with yours truly. He is not claiming to be the world's expert (though by default he has become that) — he is genuinely delivering his passion for "quality, craftsmanship and tradition" that so many of us want to hear more about. He is a fellow traveller who sees tailors and artisans as artists, albeit more practical ones. For a few years now he has been putting out videos with steadily growing interest and esteem; in this fairly uncompromising world, which doesn't accept newcomers with ease, it is a significant achievement. In 2021, and despite living in Texas for most of the year, he has been at the centre of the bed, and his inclusion in this celebration hopefully ties his successful year in a rakish ribbon.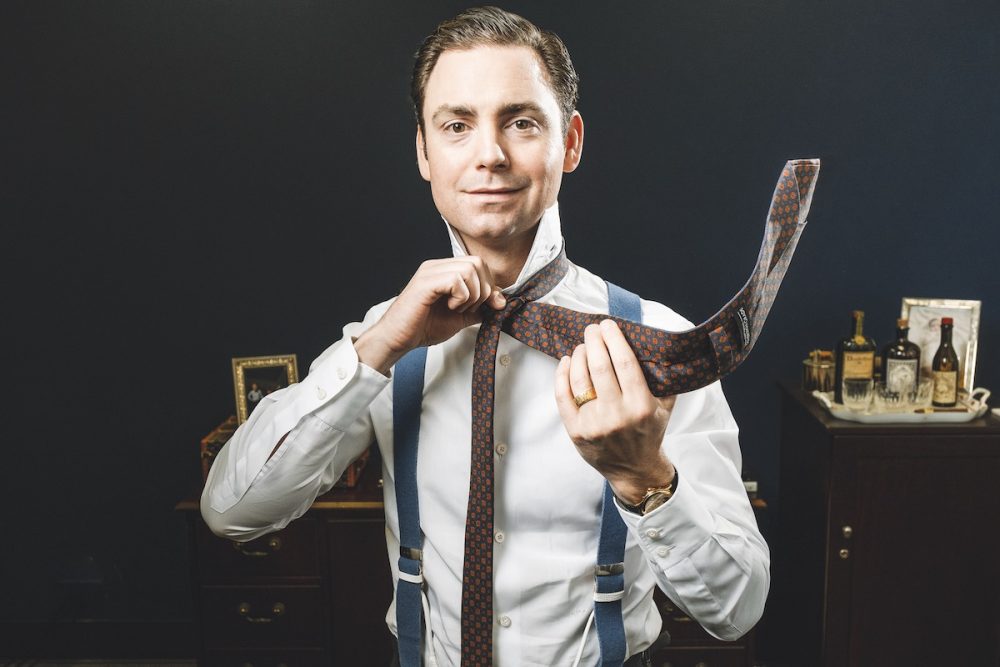 The Comforter: Paolo Lorenzoni
by Wei Koh
As a young man I first travelled to Venice in the company of my boss, the film director Kathryn Bigelow, who was part of the jury at the Biennale, the city's famous film festival. Though we stayed at the now defunct Grand Hotel des Bains, the fabled hotel where Thomas Mann wrote
Death in Venice
, and where Luchino Visconti set his film based on the novella, one evening we ventured to Venice proper and had dinner at the Gritti Palace. I was ignorant of the Gritti's extraordinary history, as the location where Hemingway wrote
Over the River and Into the Trees
and where Somerset Maugham would often be found. But what I knew immediately was that I was in love with the place. At the time, in my early twenties, I promised myself that when I was older I would stay there and become one of its habitués. Years later, I would have the great fortune to make this dream a reality, but my experience of the Gritti — which I consider less a hotel and more an unofficial members' club — was transformed by the arrival of its General Manager, Paolo Lorenzoni. His status as the man who painstakingly renovated Venice's — if not the world's — most legendary hotel does not fully encapsulate the status of Lorenzoni among the denizens of La Serenissima. So much so that I often think of Paolo as Venice's unofficial mayor. He is unable to walk the circuitous steps of Venice without being stopped by a friend and associate; he pauses elegantly to kiss a cheek, always dressed in immaculate finery tailored for him by Venice's legendary Franco Puppato. So stylish is Lorenzoni that he acts as a missionary, converting the uninitiated to the deft sartorial alchemy of the Puppato father-and-son team. As we emerged from the Covid pandemic, I was impressed by Lorenzoni's efforts to re-inject life, happiness and optimism into the world by again making the Gritti Palace the epicentre of all that is beatific and bucolic. It was, of course, to the Gritti Palace that I travelled when borders opened up again. I spent three magical days there with my friends Hani Farsi and Paul and Laurie Feig. We were in awe of Lorenzoni as he acted as the conductor of all life among the glitterati who descended on Venice. They included Domenico Dolce and Stefano Gabbana and their Alta Moda and Alta Sartoria guests, as well as the attendees of the Venice film festival. Throughout this time Paolo would welcome guests, resolve any issue, and attend every major event in the city with an energy that would be admirable in a man half his age. For his role in bringing inordinate joy back to the world, we feel that Paolo, a hotelier and ambassador of beneficence, could not be more deserving of a place in the pantheon of our Rakes of the Year.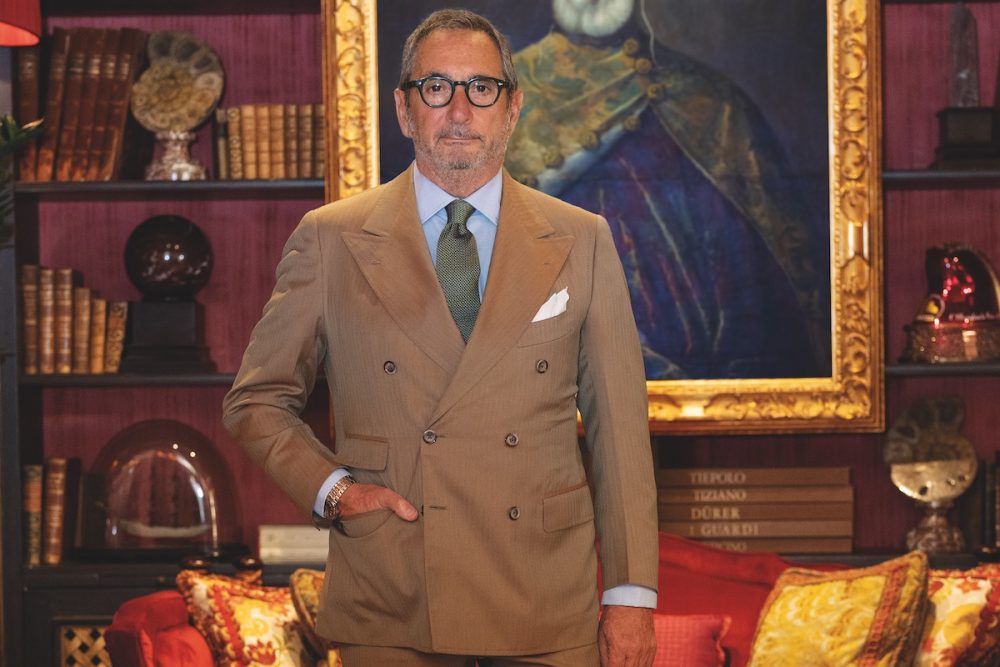 The Hall of Famer: The Ralph Lauren Polo Bear
by Nick Scott
Anthropomorphic rakes? Discuss. Felines have an excellent showing in the cultural canon, possibly thanks to the word 'cat' entering common parlance during the 1940s jazz scene. Make-believe ursines, conversely, tend to lean towards mawkishness — see Pooh, Paddington and Rupert, to name just three. But what if a fictional bear could embody innocent, benevolent charm as well as boundless cool and stylistic nous? Welcome to the stage, then, the Polo Bear. The Polo Bear entered the world of high fashion in 1991. The story begins with Jerry Lauren, Ralph Lauren's brother and the Creative Director of Men's Design, and his assortment of 30-40 teddy bears made by the German firm Steiff. Noting their boss's fondness for the furry animals, staff at the label had Steiff kit out two bears in ensembles resembling those of Ralph and Jerry (western apparel in the former's case; a preppy look in the latter's), and gave them to the brothers as gifts. Ralph's decision to start selling them as toys in stores proved characteristically astute: the first run of 200 — Preppy Bear, clad in items made on the same production line as the garments for humans — sold out in a single weekend. A Polo Bear sweater followed, and before long the fluffily fashionable creature went on to appear in garments (including tuxedos, holding a martini) and on pieces, including T-shirts, hats, ties and jackets. Steiff produced 19 teddy bears in all, "dressed", as Ralph put it in 2001, "in clothes that I wear — the same materials, the same craftsmanship, right down to the last detail". The relationship with Steiff ended in 2001, but they say you can't keep a good man down, and the same applies to bears. Bolstered by celebrity endorsements from John Mayer, Drake and Kanye West, the creature remained such a cult figure that he was back in the fold by 2013. The most collectable of all the garments to date is the Never-Ending Bear sweater: a mise-en-abîme concept featuring the Polo Bear wearing a Polo Bear sweater of the Bear... and so on. The Polo Bear proved just as much of a hit in horological circles when limited runs of four Swiss-made pieces, emblazoned with Flag Bear, Martini Bear, Preppy Bear and Spectator Bear, were snapped up with the same hunger as were those debut bears 30 years ago. It is the bear's aforementioned benevolence and innocence, such a tonic in these challenging times, that qualify him for this celebration, as well as the chameleon-like sartorial perspicacity he has inherited from his creators.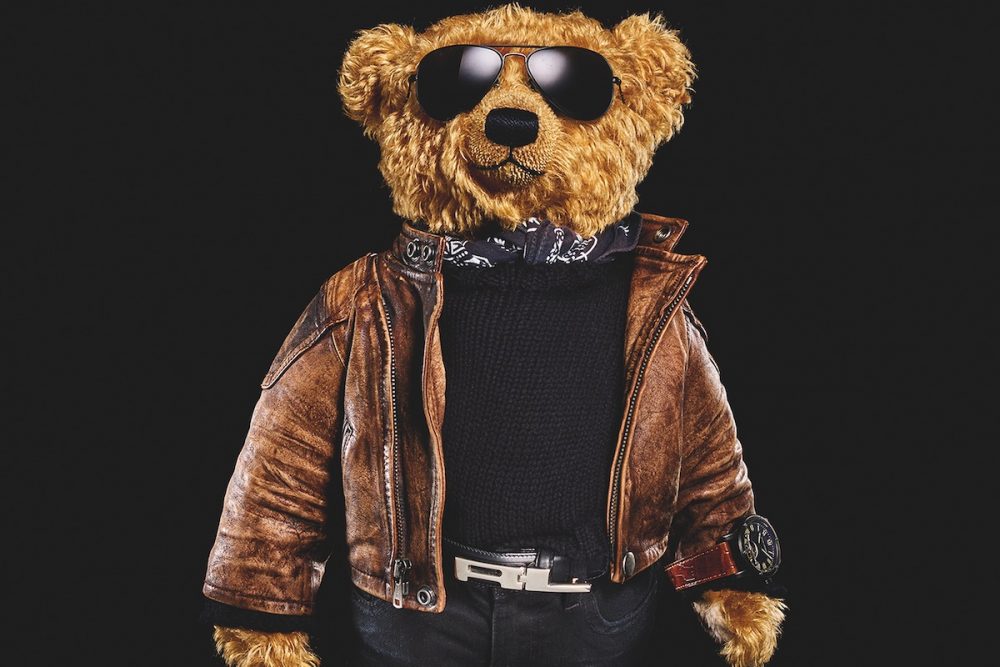 The Informer: Mark Cho
by Wei Koh
Through the precarious tempest of the Covid pandemic, and despite the political insurrection and chaos that has beset his home city of Hong Kong, Mark Cho has been the very model of a gentleman who seeks to inspire, uplift, edify and charm the world. Cho possesses various qualities in inordinate measure to complement his ineffable and irrepressible style. To say that dressing immaculately comes effortlessly to Cho would be like saying the world's fastest fish (the sailfish, at 68mph) is not too bad at swimming. Like British officers of a bygone era shaving and polishing their livery until it gleamed before facing a final charge against the enemy, Mark Cho reminds us that elegance is a tremendously effective weapon against fear and anxiety. And for this we love him. At the outbreak of the pandemic, at a time when as a species we didn't fully comprehend what it was we were facing, Mark took to his Instagram account and indulged us in the elemental art of how to dress. He walked us through shirt-and-tie combinations, he demonstrated his preternatural ability in pattern matching, and he unveiled the different blocks of the jackets and trousers that he had created at the Armoury, all the while acting as a beacon of guidance and calm, redirecting our minds away from the global events that were transpiring on every other screen around us. Not content with this, he started producing some of the best watch-related content, distinguished by his hyper-macro lens imagery of watch movements, which kept the horologically inclined among us more than riveted. But hang on, because that's only half the story. At a time when the majority of brick-and-mortar retailers were flailing, with many succumbing to the financial burden caused by Covid, Cho kept two Drake's stores (one in Soho in Manhattan and his massive Savile Row flagship) open, staffed his Armoury shops in New York's Tribeca and Upper East Side, and ensured his original Hong Kong flagship was fully operational. I can only imagine the burden this must have exerted. For his ceaseless acts of what my Jewish friends would call
menschlichkeit
, Mark more than earns his place among our Rakes of the Year. In fact, he defines the essence of what it means to be a rake and a gentleman.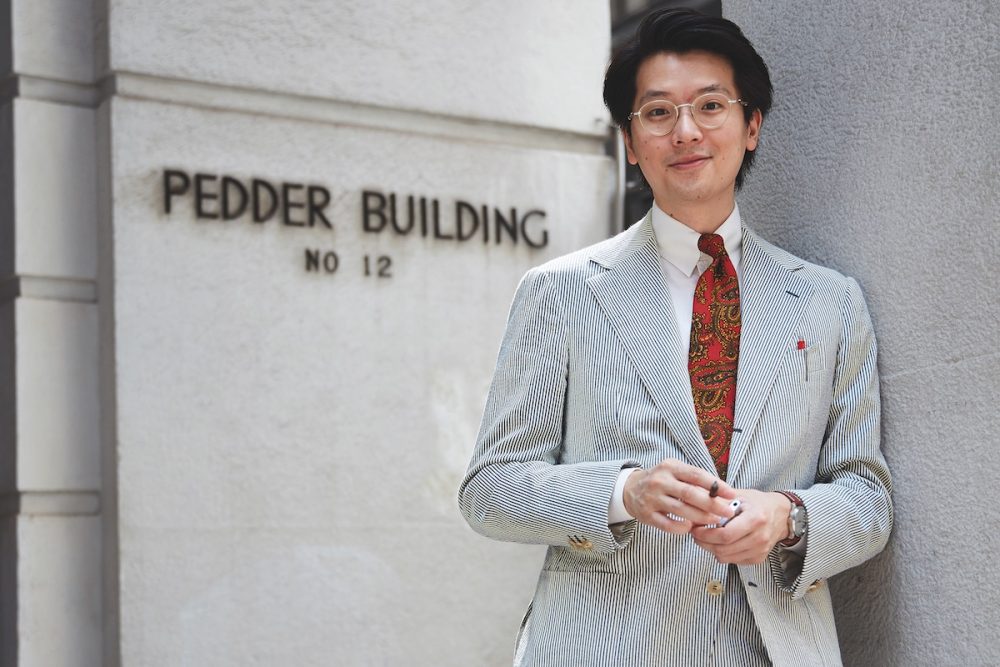 The Invigorator: Luciano Porcu
by Tom Chamberlin
Luciano is a debutant in our Rakes of the Year celebration, but that is our fault, not his. To many people Luciano is a heroic figure. He is the unassuming master of elegance, hospitality and sophistication in W1K (to the uninitiated, this is the nicer part of Mayfair), where you will find Harry's Bar, Luciano's fiefdom, his sanctum sanctorum. Those fortunate enough to be allowed in will know new horizons in civility when dining, and can be assured they are among fellow members of the highest calibre. My two latest dinners there had contrasting outcomes, but both were equally as enjoyable. One was spent on the terrace smoking cigars and playing a full 11 rounds of backgammon (which left me battered, bruised and discombobulated but ultimately victorious). The next night was spent with two fellow inductees in this year's Rakes of the Year list (Kirby Allison and Shary Rahman) — this time it was indoors, as the seasons had changed, and the atmosphere was verging on raucous, though everyone was in on it. The genius is that when you stroll down South Audley Street, you could be forgiven for thinking Harry's Bar is an extension of the public library next door. This is intentional: there is no point making a haven that everyone knows about. Luciano's great skill is in making everyone who walks through the door feel like the most special person in the room. The almost inhuman capacity to remember names and details of members, to speak to all of them about their interests as if he were an old friend (which, to be fair, for a large number of long-term members, he is), defies logic. He runs the room like the conductor of the Royal Concertgebouw, but even at full capacity he will not blink at an off-menu request for
cacio e pepe
, which he will make next to your table as if he were rustling up scrambled eggs. Luciano is full of charm and finesse, as proven in this image of him, resplendent in head-to-toe Turnbull & Asser. He is the person to whom we turn to be uplifted and entertained. Safe hands are few and far between these days; you want to know that as nights out become precious commodities, there is someone ready to take care of business for you. Luciano has done this above all others. He is someone who understands his craft — and it is a craft — inspiring those who work for him to match his standard. We, the punters — well, we watch in awe, as much as humanly possible, and we can't get enough of him.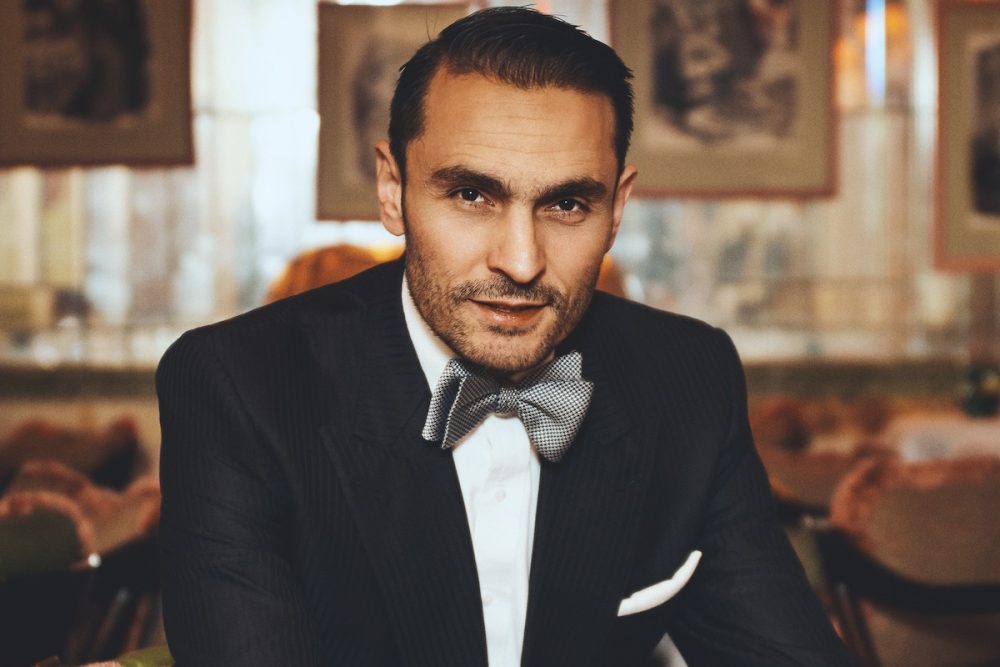 The Sartorialiser: Lorenzo Cifonelli
by Nick Scott
If a bespoke tailoring hall of fame were to be established, saluting the legends who have shaped the history of garment making, it's a safe bet that one of the first names on the list of inductees would be that of Lorenzo Cifonelli, the great-great-grandson of Giuseppe Cifonelli, who created the eponymous house in Rome in 1880. Lorenzo, a master tailor, helms the family business today with his cousin Massimo. Lorenzo would cite his grandfather Arturo and Cary Grant (in
North by Northwest
) as his personal style icon, but the truth is, he has carved out a sartorial niche all of his own, becoming a key protagonist in the stylistic narratives of all who have entered the atelier at Rue du Faubourg Saint-Honoré in Paris (Cifonelli's clientele, to date, includes the aforementioned Grant as well as François Mitterrand, Karl Lagerfeld, and contemporary style devotees such as Alexander Kraft). Lorenzo's genius — and that is the apposite word — is twofold. As a designer, he has offered his own take on the arsenal of house signatures — wide, high-peaked lapel; high armhole; shorter skirt for double-breasted jackets — that ensures sartorialists can spot the silhouette of garments made there as effortlessly as the classical music scholar can assert that a lost requiem was written by Mozart from just two bars of its marching, homophonic rhythm. As a tailor, Lorenzo has deftly applied haute-couture principles to bespoke tailoring — from well-known trademarks such as the Milanese buttonhole and the cigarette shoulder to lesser known trickery, such as the unique way the linings are attached by hand. The latter of these is, in Lorenzo's hands, like an inner puppetry that brings to life inanimate cloth, imbuing it with character and nuance, just as the foremost geniuses of the Renaissance personified hunks of Carrara marble. "The name Cifonelli has always been well respected in the tailoring world for their fastidious approach to quality, but it wasn't until the early days of
The Rake
that I was exposed to their superb taste and innovative approach to design," Christopher Modoo, the founder of Kit Blake, once told this magazine. "Their tailoring leapt from the pages thanks to their superb cuts, with occasional idiosyncratic touches, made from the most wonderful cloths... They understand how structure can be accommodated into the contemporary wardrobe, and are the masters of the New Formal." Lorenzo earns his place in this year's Rakes of the Year not only for his stylistic exuberance (and, indeed, inner graciousness), but for that which he bestows upon others.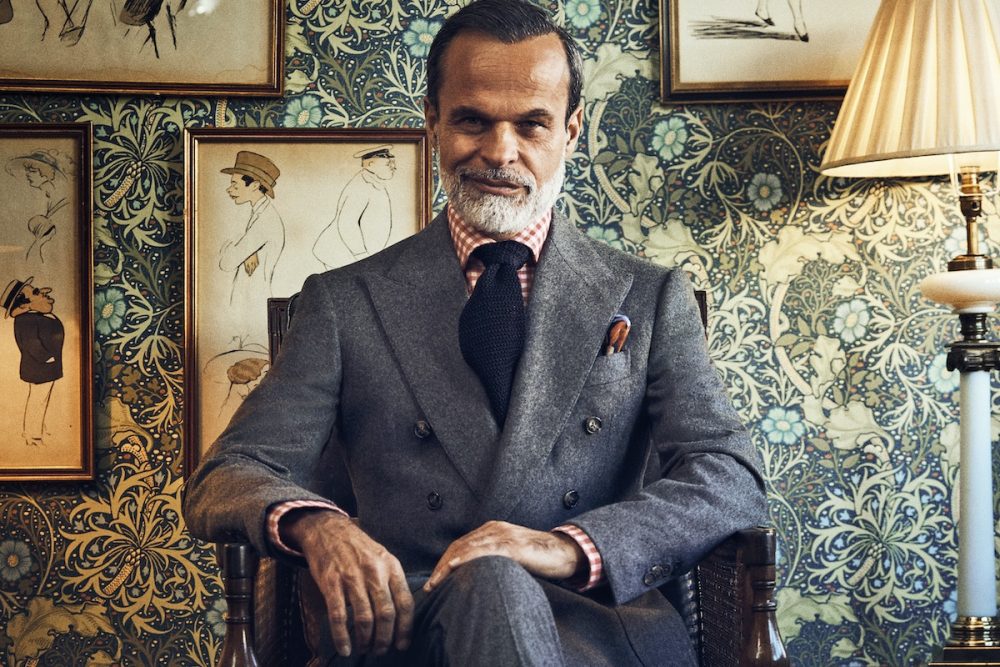 The Unifiers: Sergio and Sebastiano Guardì & Alessandro Pagliacci
by Nick Scott
"You are not what you wear — you wear what you are." So the Sicilian style maven Sergio Guardì — one third of the triumvirate behind Barbanera, alongside his brother, Sebastiano, and their friend Alessandro Pagliacci — once told
The Rake
. And, beholding any portrait of the Guardì brothers, including the one featured here, the veracity of that notion — that style is an internal force, expressed externally — becomes more profound with each passing second. Barbanera were founded in 2011 as shoemakers devoted to Italian artisanal tradition. Here, though, the unquestioning devotion to the past ends. The brand's motto is 'truth and culture', and the second part of that maxim has many tributaries: the antiques and vintage furniture around which the brothers, whose father was an artist, grew up; their shared fondness for motorcycles; and Sergio's stint as a professional musician in Berlin and love of psychedelic rock among them. Hence the name Barbanera, Italian for 'Blackbeard', a reference to this swashbuckling brand's tendency to loot influences from eclectic sources. It's also an ethos that has continued to reign supreme with the trio's move into ready-to-wear garments. "From the beginning, the idea was to create a brand, and express our idea of style, our unique concept and mood, with 360-degree vision and in a way that bypasses the usual distinction between classic menswear and fashion," Sergio has said. All of which is why, in plundering the Barbanera collections, the sartorial privateer might find himself pairing a dark green Harlock double-breasted military-style coat with black deerskin and suede Sperelli brogues or light-brown roughout suede Cormac desert boots; similarly, the shearling-lined bud Trucker jacket could find itself juxtaposed with either a cashmere long-sleeve polo or an edgier sweatshirt emblazoned with a skull-and-lightning bolt graphic. It's a brand for whom 'harmonious cacophony' is no oxymoron, one that is furrowing a niche in which flannel chalkstripe suits pack the most bravado when worn atop western-style shirts in corduroy or denim; in which bolo ties and cowboy boots are playmates alongside Prince of Wales fabric. If you want to summarise their approach in a single word, the eternally affable (and unfailingly droll) Sergio has even coined a portmanteau for the brand's refusal to see even the more brutal tenets of rock 'n' roll aesthetics and classic tailoring as belonging in separate silos: 'badassic'. It's a natty neologism, and one that epitomises the reason why they are included in the Rakes of the Year line-up at this point in our own sartorial journey.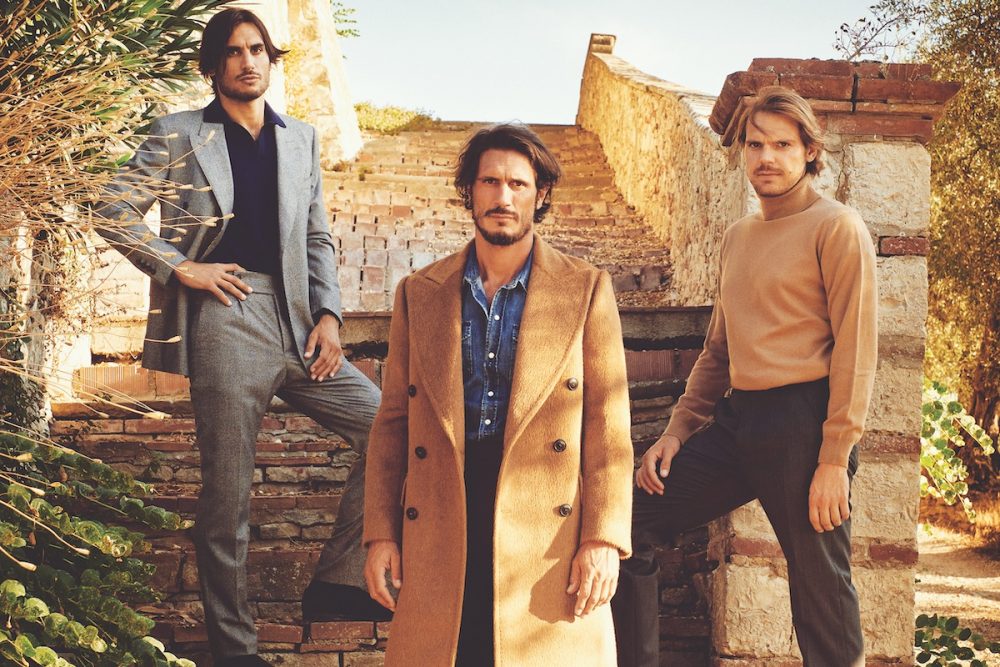 You can also read this feature in Issue 79 of
The Rake
- on newsstands now. Available to buy immediately now on TheRake.com as
single issue
,
12 month subscription
or
24 month subscription.
Subscribers, please allow up to 3 weeks to receive your magazine.