The Right Trousers for Your Body Type
Forget fashion's whims — your choice of trouser style should be dictated by no body but your own.
Fashion magazines are fond of pondering whether slim-cut or full-cut trousers will come to dominate the future of menswear. However, to expect one idealised style of trousers to suit the myriad of male body types is patently myopic, bordering on ridiculous. Just as with the suit coat, the cut, style, colour and fabric of your trousers can be manipulated to help you overcome any limitations decreed by your body type. And again, as with the suit coat, the perfect pair of trousers is never about extremes. It's about creating proportion and suiting the needs of your frame.
THE STOUT MAN
A larger gent should always seek out trousers that stretch out his vertical line. One common mistake made by bigger men is to wear their trousers too low. This has the negative effect of pushing the crotch of their trousers lower, thus diminishing the length of their legs. Worse still, when the waistband hits below the natural waist, they fall victim to having their belly roll over it in a truly unsightly manner. Thus, the larger man must have the waistband of his trousers sit higher, at his natural waist, which will immediately provide greater comfort. His trousers will sit securely, rather than be compelled downwards by the evils of gravity and the egg-shaped structure of his torso.
Furthermore, a larger man must have the fork of his trousers as high as possible to lengthen his leg line and create that invaluable commodity of daylight between his legs to define them. Reverse pleats (facing the pockets) can enhance the vertical line of his trousers and also allow greater comfort when he is seated.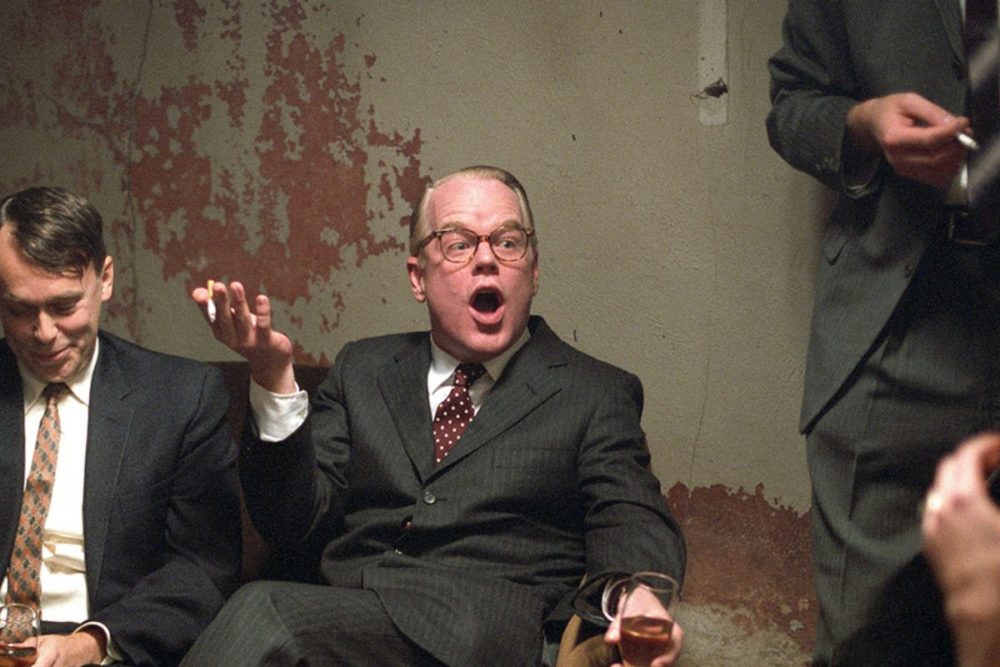 The stout man must choose fabrics that drape well and allow for a strong crease to remain in place over the front of his trousers, again, to enhance his vertical line. This crease should err toward the inside of the leg to create a narrowing effect. However, fabrics should not be overly heavy. Colours should be dark and solid, or with subtle vertical patterns such as mini herringbone or faint pinstripes. Some experts advise big men to "dress large" and take fuller-cut trousers ending with a cuff that helps anchor the trouser bottom. However, a more fitted trouser leg, particularly from the knee downwards, can create a sleek transition from trouser leg to shoe. While cuffs can bring the required weight to anchor the front crease, they may also add bulk. Ultimately, the need for them depends on the style of the suit and the type of shoes you favour. In both instances, the more structured your style, the greater the inclination towards cuffs. Finally, trousers with larger waist sizes often have correspondingly wide hems that, if left unaltered, can devour your shoes. It is important that the hem of the trousers be altered to correspond with the larger man's shoe size. Avoid too great a break, as this builds up volume in the lower part of the leg.
THE LEAN MAN
Fred Astaire was one of the most stylish men who ever lived. According to his biographer G. Bruce Boyer, "No other man has influenced American style more profoundly than Fred Astaire. Replacing the stiff-suited, aristocratic uniform of the day with his looser, more democratic look of tweed sport jackets and easy-cut flannels, Astaire became a new model for the Century. Nonchalance, natural charm and effortlessness would now replace the pomp and circumstance of men's style that preceded it." But what you don't notice, unless you catch a glimpse of Astaire in a rare moment of dishabille, is how incredibly thin he is.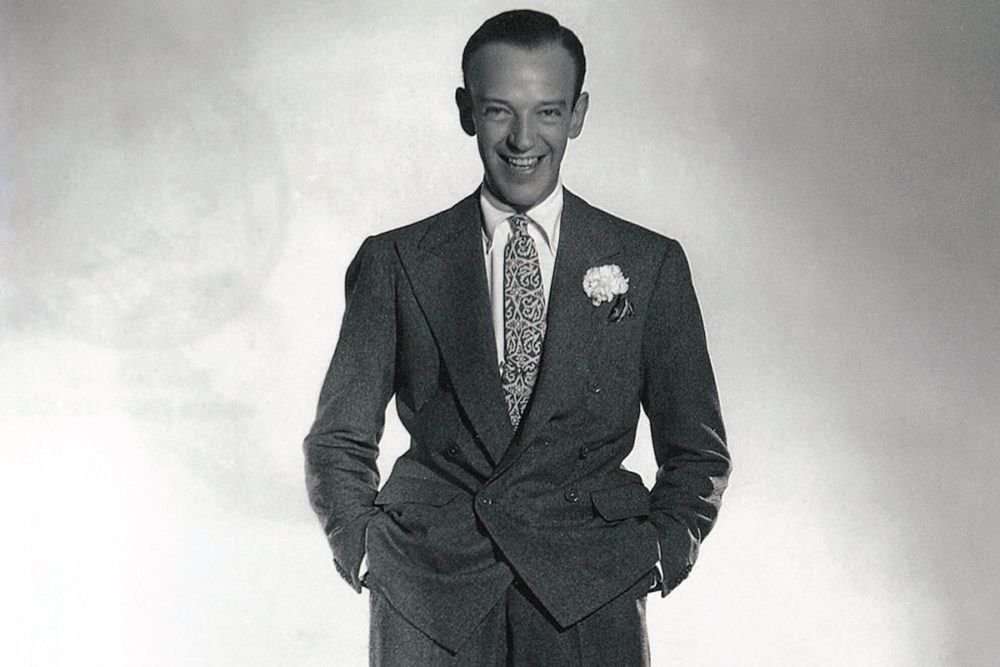 That's because Astaire was a master of using clothes to create a greater sense of muscularity to his whippet-like frame. When it came to trousers, he favoured cuts that created a greater sense of bulk. He wore his pants at his natural waist to endow his 5'9" frame with greater height. He favoured forward pleats that add a certain soft volume to the hip area, and his trousers were full-cut but well proportioned. They ended invariably in substantial cuffs complemented by sturdy lace-up shoes.
THE STATUESQUE MAN
Actor Gary Cooper stood at 6'3", but because of a lean frame and athletic shoulders, he had a tendency to photograph much taller. Even before Fred Astaire made his way to Anderson & Sheppard, Cooper was already a customer of the Mayfair firm renowned for its legendary drape cut, which creates volume that is perfect for leaner, taller men. Full-cut trousers help give a tall man a sense of dynamic muscularity.
Tall, slender men should select coats with elements that emphasise horizontal lines, such as bolder patterns, patched pockets, additional ticket pockets and even turn-back sleeve cuffs. Similarly, they should look for trousers that are slightly more generous in cut. Taller men can also afford larger-diameter cuffs and slightly longer breaks across their shoes. However, their trouser hems should always be in proportion to their shoe size.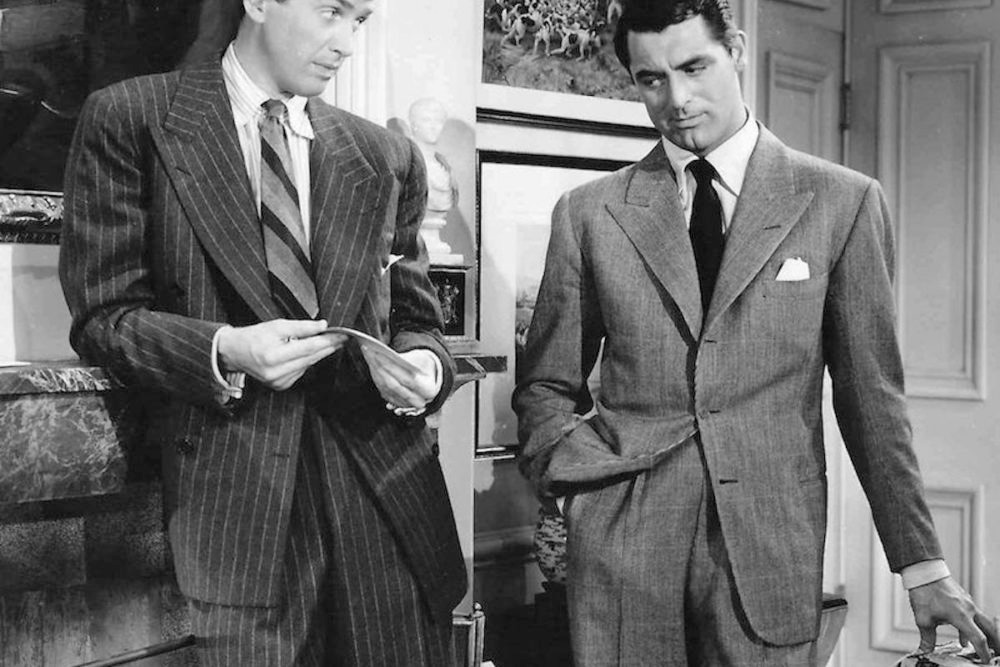 THE ATHLETIC MAN
For those of you who've honed your physique in the swimming pool, boxing ring or on the rugby pitch, your underlying physique, with shoulders and chest far larger than your waist and hips, should already provide you with an Atlas-shaped silhouette. So, why would you want to hide all your hard work? Says Joe Morgan of Chittleborough & Morgan, Savile Row's most body-conscious structuralists, "We've seen a lot of men coming in who've worked hard on their physiques, so correspondingly, they want clothes that show off this hard work." An athletic man benefits from being able to perpetuate different styles. His silhouette will be flattered by fuller cuts, sitting at the natural waistline. But an athletic man can also wear slim-cut trousers with equal aplomb, and he can sport forward- or reverse-pleated trousers, plain-front trousers, cuffless or cuffed hems, according to his whims and fancies. Many of these decisions will be related to the style and level of structure of his coat, and how the silhouette of his trousers can complement rather than detract from this.
THE COMPACT MAN
Similar to the larger man, the objective of a shorter gentleman is to always emphasise vertical lines. However, unlike the larger man, the short man should stay away from 'dressing big'. His clothes should fit him like a second skin. In this regard, he may be better off selecting clothing from an Italian brand or tailor, who tend to cut closer-fitting coats and trousers. As pleats tend to add weight to the hips in trousers, a short man is often best served by a close-fitted plain front. Trousers should strike at, or just below, the natural waist. Too high a waistline may create the appearance that the trousers are devouring the torso. It is also important that the fork of the trousers be as high as possible, and that the front creases of the trousers are both sharp and veer towards the inside. When buying trousers off the rack, there is a tendency to size up and have them taken in at the waistband and across the centre seam of the seat. But this is bad for a shorter man, because taking in trousers here has a tendency to pull the front creases of the trousers further apart. To create a narrower, leaner look, it is advisable to buy a size down in trousers and open the waistband up to add room. This will bring the front creases of the trousers closer together, which creates a narrower silhouette, while the smaller-sized trousers will also feature leaner-fitting legs.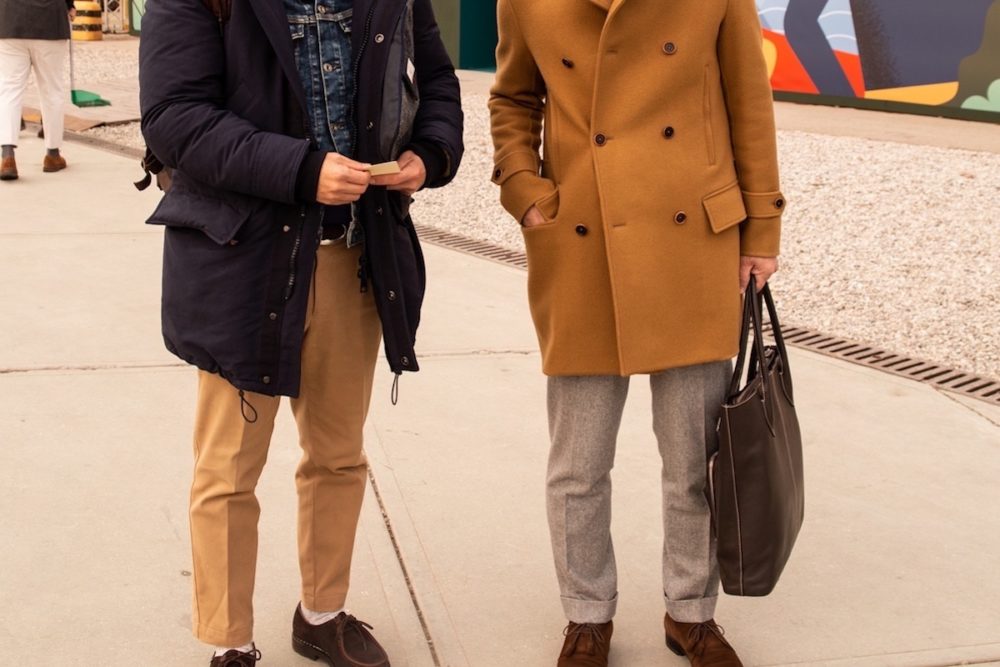 There is one particular style of trousers that best suits the shorter man. Popularised in Italy, these trousers fall just below the natural waist but above the hips, and are extremely fitted throughout the legs, ending in very narrow hems between 7½ to 8 inches wide. The result is the appearance of extremely lean legs, which can add significant height to the shorter man. These trousers are always worn with absolutely no break. A short man should always hem his trousers with less of a break, in the same way that he should always endeavour to show a bit of shirt cuff, because of the lengthening effect of both on his limbs.