Gain a Foothold at Home: Slippers
The new-found adaptability of the slipper has seen it embraced by a mixture of groups, and is playing a comforting and timely role in the home.
Ravaged by a potent virus, which still grips the UK; it rapidly changed the course of the ground on which we walked in 2020. A tough year for many types of footwear, the new year hasn't exactly set a premise for the duty of an Oxford shoe or brogue to be reinstated. Everything is cyclical of course – and through sombre circumstances the popularity of the slipper has surged. It's not a new phenomenon, the appetite for a slipper of vaunted finery has evidently taken off in the last decade, as people have found different uses for it; primarily using its credentials as a style statement. Opulent slippers – adorned with symbols of power, such as dragons were worn in Chinese courts as early as 4700 BC, but it would take until Victorian times for the discerning gentleman's house shoe to gain wider prominence. Thought to have designed it himself, The Prince Albert slipper as it's otherwise known became synonymous, by being the preserve of courtly figures in velvet smoking jackets, propping up fireplaces in stately homes or reclining in armchairs in Pall Mall's gentlemen's clubs. Effectively smoking shoes, matching them to velvet smoking jackets is one modus operandi, but with dinner suits they add a soupçon of playboy élan with a whiff of dandy elegance; especially if monogrammed to good taste.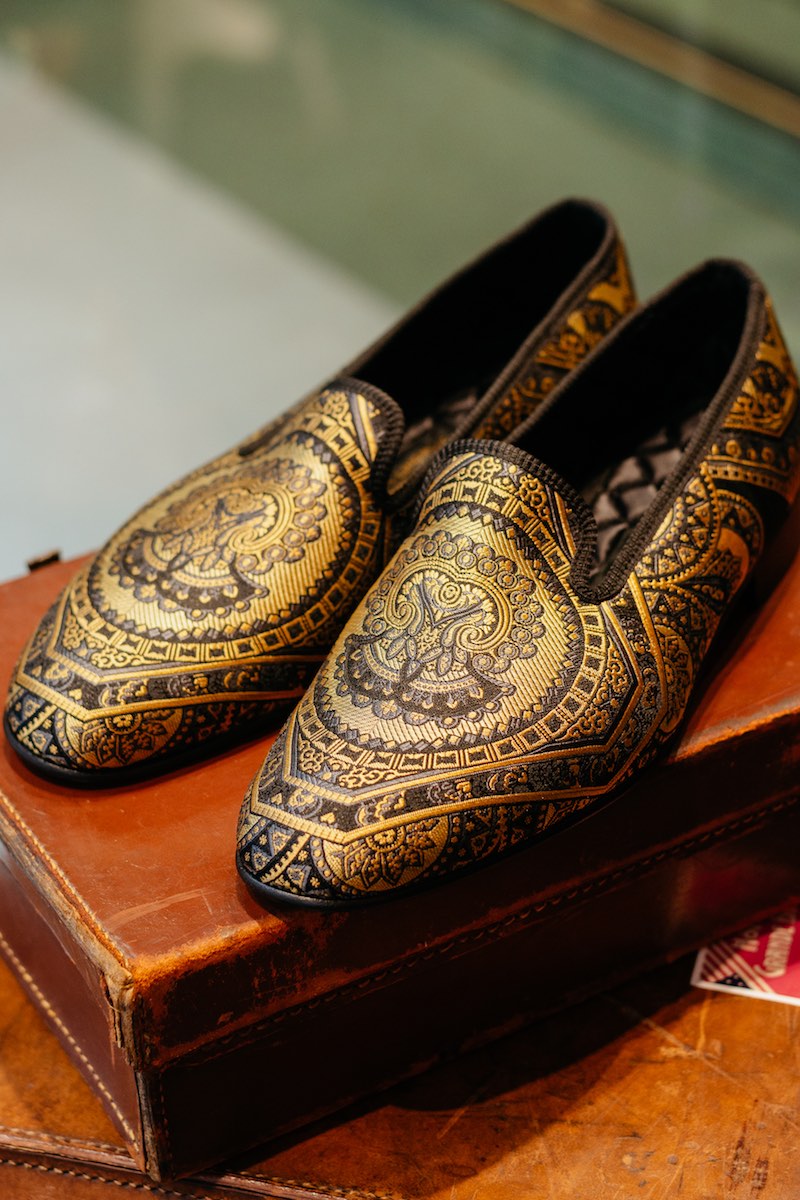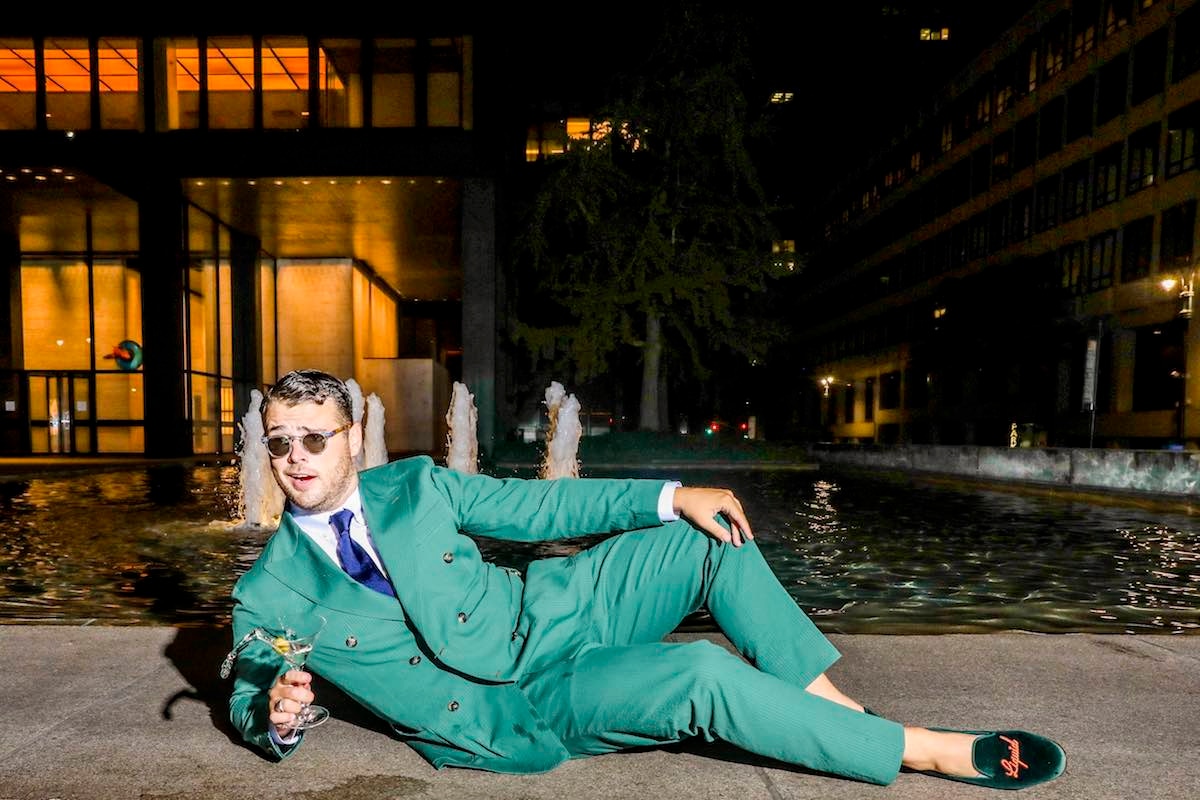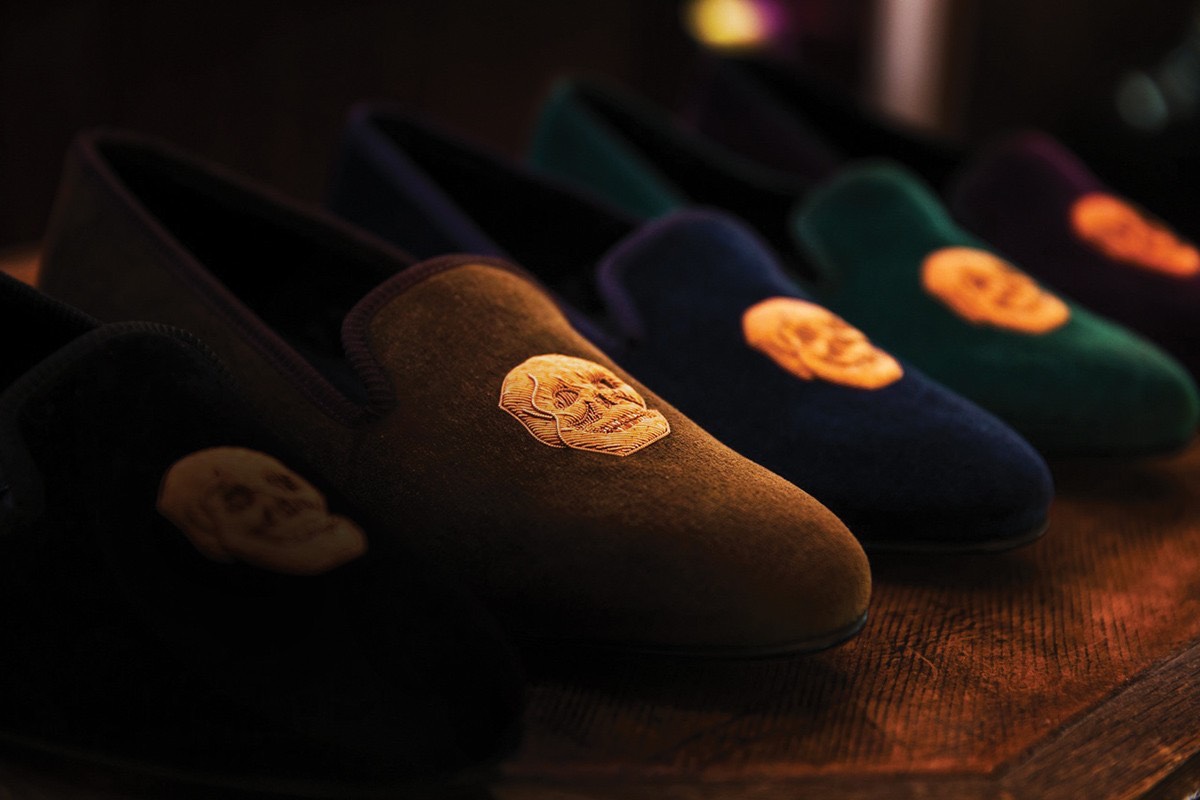 Now recognized as an all-purpose shoe, thanks in part to the creative contributions of Mr. Percy Steinhart, the founder of Stubbs & Wootton, who goes onto say: "Our slippers can be worn with jeans to tweeds, blazers, suits and of course dinner clothes – from day to dawn". The slipper can be worn well with the aforementioned accoutrements, but try to avoid falling into the trap of it being a questionable style attempt by duplicating Kanye West's experiment. As Old Master paintings in stately ballrooms gather dust – and red velvet curtains in opera houses remain closed, this is when the more informal attributes of the slipper come to the fore. Inside the home they can be a more versatile option than the warm sheepskin designs. This is not to knock the alluringly soft and snug versions; the Inuit and Aleut people still make beautiful slippers from smoked hare hide to protect their feet from frozen ground inside their homes, but they might get a little scuffed when taking the kids to nursery, our Editor confirms this.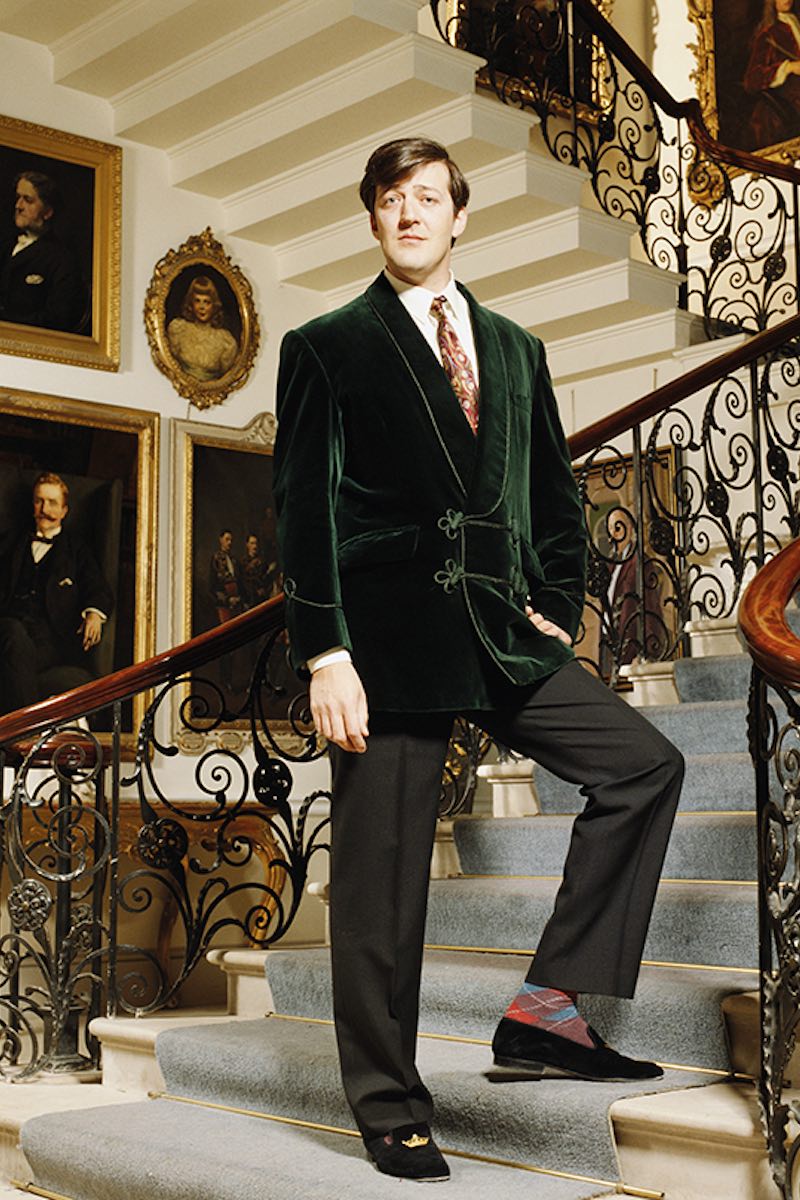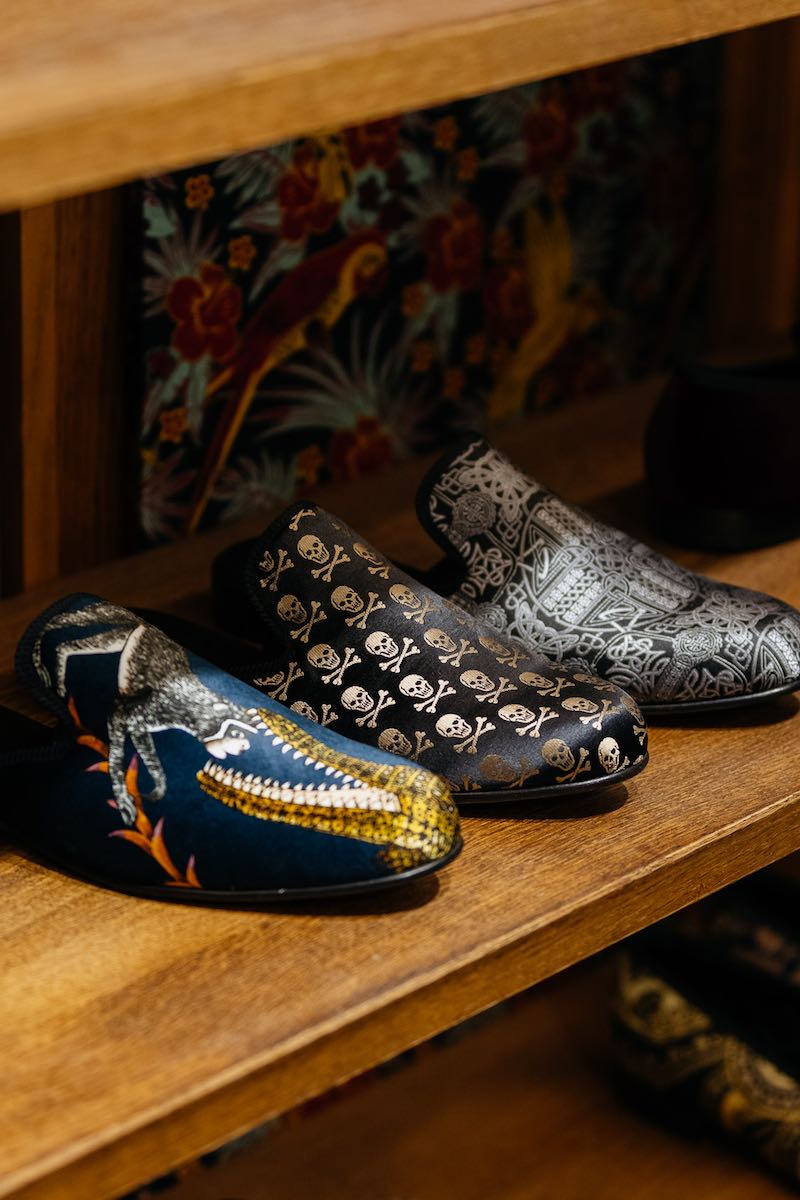 Right on cue for producing something that people are missing – Stubbs & Wootton have collaborated with bona fide man-about-town Zachary Weiss, to present a collection that pays homage to the elements of travel and hotel living. With light-hearted humour at play you can opt for their black velvet slippers with champagne motif. It is an ode to when Weiss was taught how to sabre a bottle of champagne by the head barman at the St. Regis, New York; whilst the Negroni-embroidered slippers remind you of that soothing sharpener, enjoyed before dinner. All said, there's no need to replace these slippers after your Negroni as they work best after hours for a touch of nocturnal loucheness. Hand-constructed in Spain in supple leather each design is embroidered with a whimsical motif, that might just bring a few mild laughs at home, in this woeful interval of life. Equally substantial, but perhaps a slightly louder statement are their resplendent needlepoint cotton slippers, whilst their more minimalistic leather versions – are perfect to wear when walking to the newsagent's if you don't fancy the hassle of changing your shoes. So highly regarded as one of the finest purveyors of slippers, Percy Steinhart was also responsible for making the elegant slippers under the Alexander Kraft Monte Carlo label, which have proved immensely popular on 
TheRake.com
.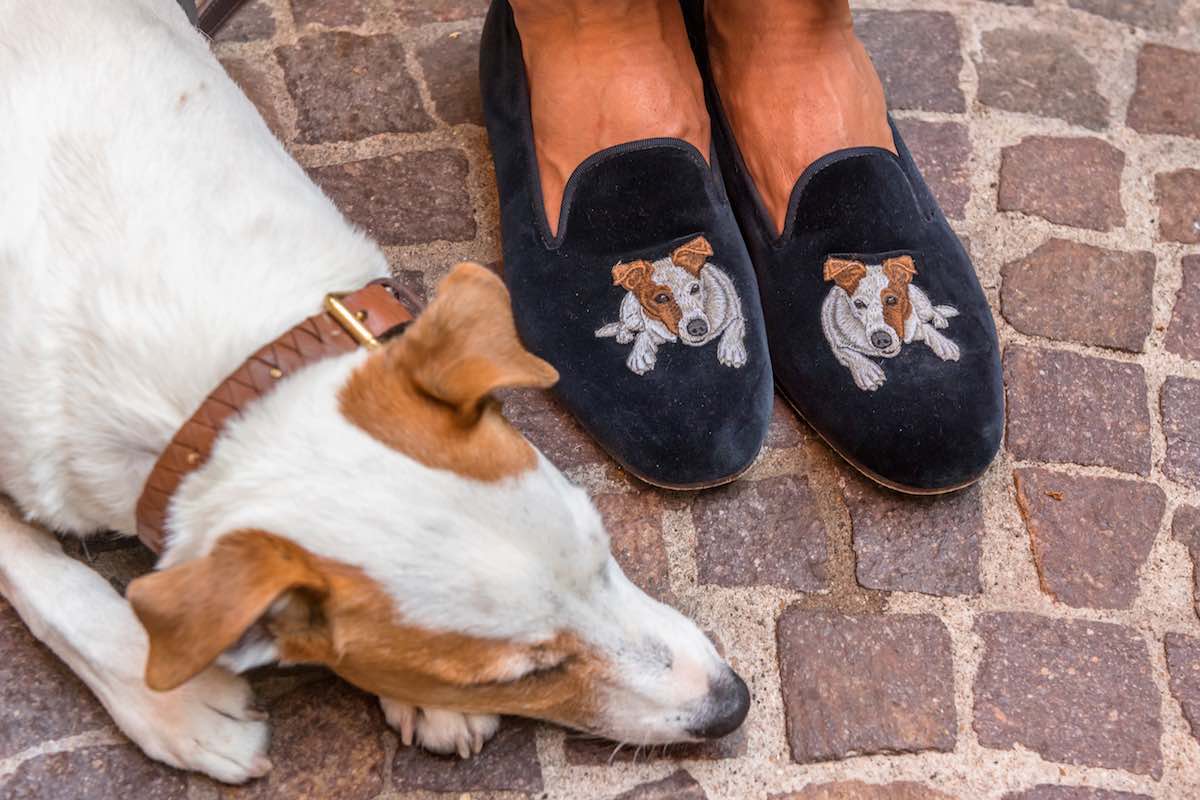 For something a little more understated, but imbuing a classic charm you can turn your attention to Bowhill & Elliott. Handmade at their factory, in the heart of Norwich's historic shoe quarter, their plain cotton/velvet Signature slipper, which come in either black or brown have an ultra-comfortable quilted lining and slugged-leather sole, which make them the perfect every-day shoes to wear around the house. To add a touch of detail, their Coronet slippers, with either a crown or cabaret skeleton embroidered on the pair are also charming options. Wear with comfortable trousers and a knitted jumper – and you won't want to take them off to go outside. Well-known to infuse decoration from artistic movements such as Baroque, Rococo and Art Deco in their dressing gowns, New & Lingwood's slippers permeate equally ornate patterns. Featuring a subtle heel, round toe and elegant cushioned interior for comfort and style, you will be well-prepared mentally and of course slipper-prepped for when that invitation arrives on your dresser to go to a lavish ball. Finally, there is a classic and sophisticated slipper from Edward Green, and for something that feels less formal, accessories specialist Serà Fine Silk's kaleidoscopic slippers have a smooth leather lining, which makes it equally comfortable, with or without socks.