This Week We're Channelling: Frank Slade in Scent of a Woman
In Scent of a Woman, for which Al Pacino won his only Academy Award, there's a particularly special scene whereby he performs the tango in a three-piece Prince of Wales check suit. Here's how to channel the look.
When it comes to performances that transfix you due to the convincing portrayal of a particularly complicated character, Al Pacino as Lieutenant Colonel Frank Slade in Scent of a Woman (1992) sits at the vertex of the thespian mountain. His performance is method acting at its finest. Also, in a career that spans six decades, it's his best one to date, if his sole Academy Award for Best Actor qualifies for such an achievement.
Frank Slade has more than a few complexities – he's blind and suicidal,  yet has the flair of a crude poet. This has, in turn, morphed him into a bitter, drunk and erratic old man who's dependent on Jack (but to Slade, it's John "when you've known him as long as I have") Daniels and loves a wisdom-dripping monologue. The plot is one of a stimulant-fuelled adventure that sees him take, against his will, a young Chris O'Donnell — a private school boy who innocently volunteers to babysit the retired officer so to earn money for a ticket home for Christmas — to New York City "on a tour of pleasures".
Staying in a suite at the Waldorf Astoria, the young schoolboy wakes up to find Frank Slade in the midst of a fitting. Slade's adventure rakishly starts with a fitting for a made-to-measure suit designed by the defining authority of classical menswear, Alan Flusser (who also designed the wardrobe for Michael Douglas as Gordon Gekko in Wall Street).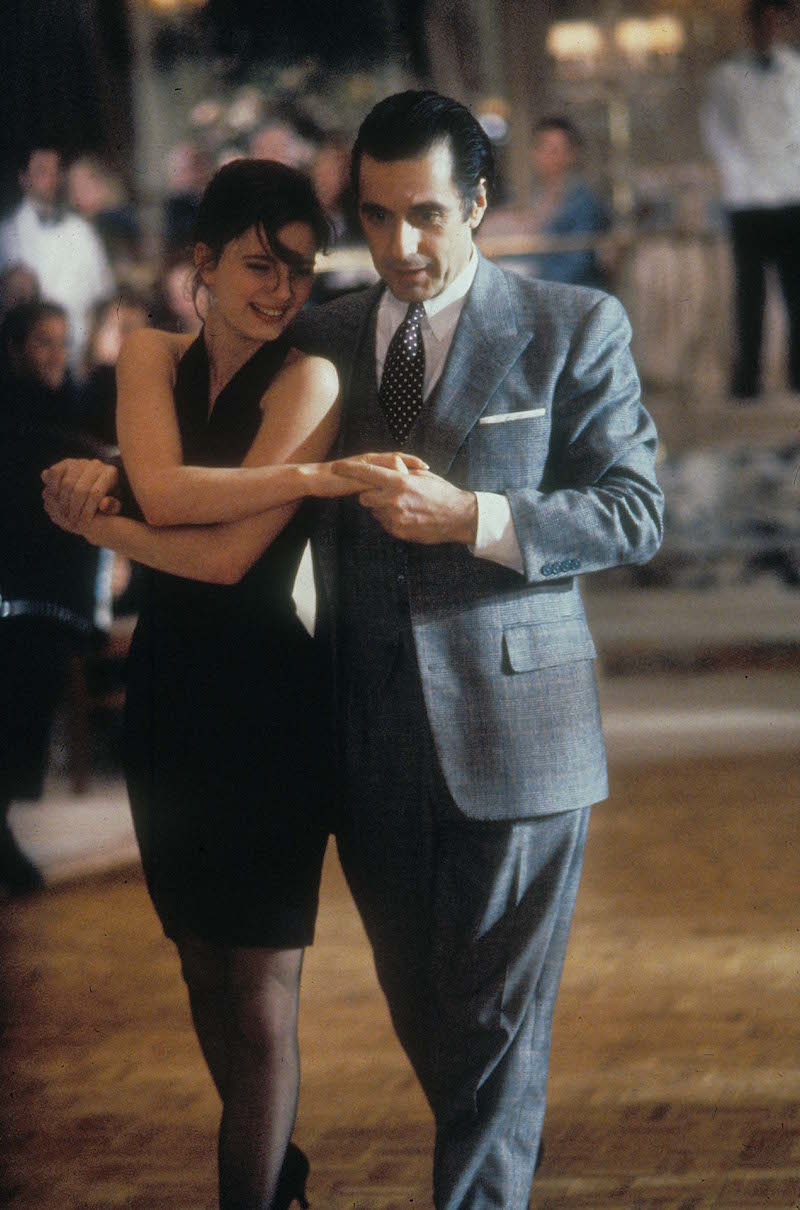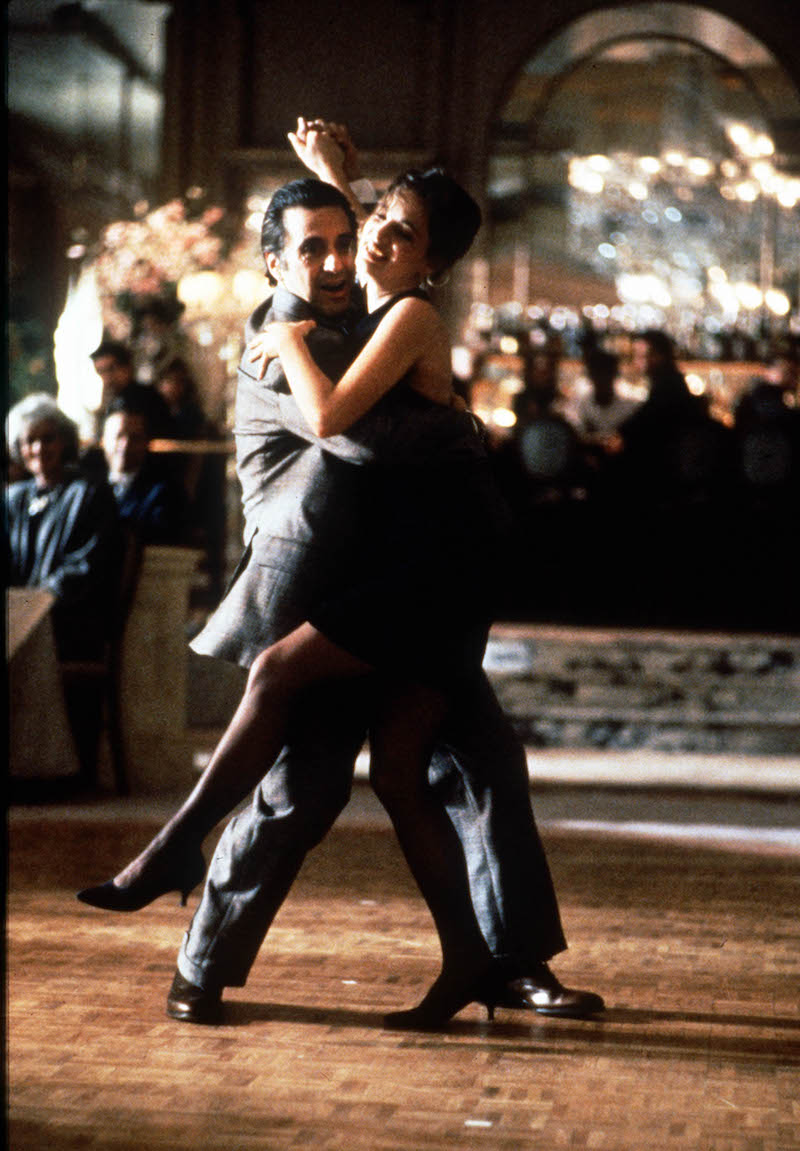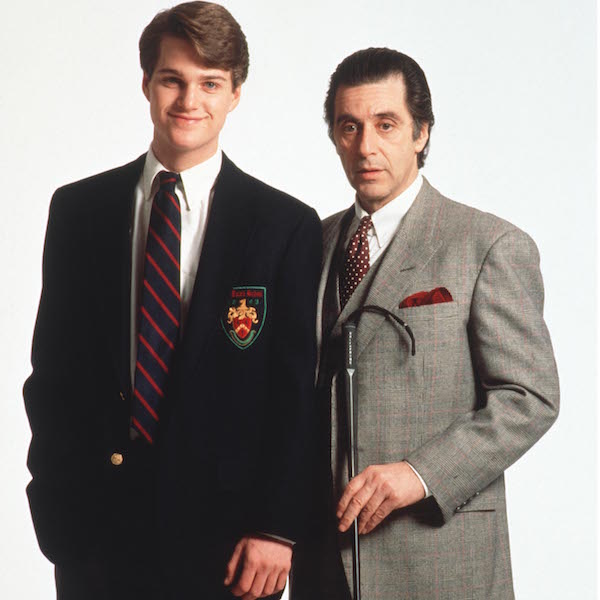 He bespeaks a three-piece, single-breasted Prince of Wales check suit with lovely, subtle and fine tangerine overcheck which adds a touch of pizzazz to what is a very traditional pattern. The jacket is cut with peak lapels and a high break, both of which accentuate an elegant roll that stems from a two button configuration. The coat itself is long, coming to an end below the seat while the fit is generous (which is to be expected of American tailoring circa 1992). The shoulders are strong with a roped sleeve head that evokes a sense of masculinity, which is appropriate considering his military roots. His trousers are loose and feature single, forward-facing pleats. Anchoring the ensemble is a white tab-collar shirt, the collar of which is slightly creased which, perhaps unintentionally, is a nod to sprezzatura. In the breast pocket is a simple, plain white square, while between the collar is a burgundy polka dot tie with an acute dimple. It's perfectly balanced and is one hell of a statement.
It all comes to life in one of the most iconic dance scenes in cinematic history in the grand old European-style Pierre Hotel. "You know, I detect a fragrance in the air," he says as he approaches a table where the beautiful Donna, played Gabrielle Anwar, who's alone and is sitting poised as she waits for her other half. "Don't tell me what it is… Ogleby Sisters Soap?" "Ah, that's amazing," she responds and to which he quickly replies, "I'm in the amazing business!" He then proceeds to flatter her and embarrass Charlie before persuading her with imbued self-confidence to dance the tango with him. She innocently agrees to dance with the blind, courteous man. Slade gets to his feet, and asks Charlie, "I need some coordinates here, son." Before stepping on to the empty ballroom floor that's surrounded by diners. I'll leave it there, as I cannot do the scene (which took two weeks of practice and three days to film) justice. It's simply magnificent and is only heightened by his immaculate dress.