This Week We're Channelling: Don Shirley in Green Book
Peter Farrelly's Oscar-winning Green Book is serving up serious '60s sartorial inspiration. This week we turn to its protagonist Don Shirley for a lesson in refined elegance.
It was hardly a surprise that Peter Farrelly's highly acclaimed hit Green Book (2018) walked away with the Academy Award for Best Picture at the 2019 Oscars. Both
heartwarming and thought-provoking
, the film chronicles the unlikely friendship that blossoms between African-American pianist
Don Shirley
(played by
Mahershala Ali
) and his working-class Italian-American chauffeur
driver Tony Lip (played by
Viggo Mortensen
) as the pair travel together on a tour through the American South in the early 1960s.
With criticisms of it being a
saccharine and rose-tinted interpretation of racial tensions,
the film has recently found itself at the centre of much debate. Amidst the controversy however, there is one thing that we can all agree on: Green Book's styling is spot on. Betsy Heimann is to thank for the costume design, which reflects a distinct 60s quality in a way that feels timeless and accessible.
Having polar opposite characters presented the opportunity to create starkly contrasting wardrobes, a challenge so eloquently embraced by Heimann, who depicted Don Shirley's affluence and high social status through his refined and sophisticated sense of dress while giving Tony Lip a more middle-America look.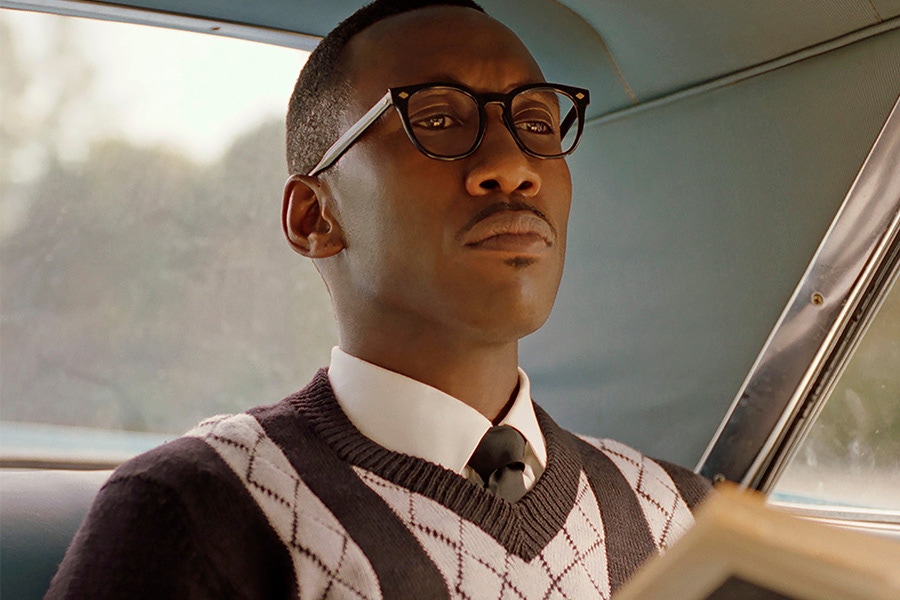 In line with his quiet elegance,
Don Shirley sports a series of sharply tailored suits, classic tuxedos, preppy knits and fitted turtlenecks. In an interview with Gold Derby, Heimann said (
referring to a scene in which Don is denied service in a store because he's black)
:
"I just think he had style and he had the money to show his style and it was very important for him, especially in the South, to walk into that clothing store and say, 'I'm a well-dressed man and I'm entitled to the things you're selling and if you don't wish to sell them to me, then I'll just leave.'" This sense of self-assurance is conveyed through his polished aesthetic, which extends from his immaculate grooming to his considered colour coordination. His pairing of a checked blazer and fine knit turtleneck - both mustard - immediately makes us want to fill our wardrobes with the tricky hue, while the slim silhouettes of his suiting have us nostalgic for the clean minimalism of 60s styling.
The overall feel of Don's outfitting is distinctly vintage, but there's a certain freshness that easily translates to today's trends. When it comes to channelling his suave look, keep things refined and contemporary by investing in key staples - like quality shirts, versatile jackets and luxurious knits. Smart accessories will elevate an otherwise low-key outfit, bringing an extra layer of formality: think plain white pocket squares, skinny leather belts and silk bow ties. Look to labels that specialise in particular products to ensure garments of the highest quality craftsmanship: Walker Slater for tailoring, Turnbull & Asser for shirting and Gieves & Hawkes for eveningwear.