This Week We're Channelling: George Falconer in A Single Man
George Falconer in Tom Ford's A Single Man may be tragically depressed, but his polished style hints at a man in control...
It was inevitable that Tom Ford's directorial debut, the highly acclaimed A Single Man, would be a
downright
visual feast. The 2009 film is so tastefully executed that it could only be the work of someone with an acute sense of the aesthetic - a man who has dedicated his life to the pursuit
and provision
of beauty - a fashion designer, no less. Equal parts style and substance, it follows a single day in the life of gay college professor George Falconer (played by Colin Firth) as he plans his suicide, following the tragic death of the love of his life. With a supporting cast that includes the wonderful Julianne Moore as George's eccentric best friend and Nicholas Hoult as his curious and bright-eyed student, the film makes for an enthralling cinematic experience that brings the viewer along for the ride. This feeling is only heightened through fastidious attention to detail and an exquisite
sense of precision
. Its early 1960s Southern Californian backdrop lends itself to the most sumptuous of settings, p
rops
and costumes. Even the dreamlike quality of the cinematography is carefully considered, creating a nostalgic and melancholic atmosphere as the colour shifts between
soft
and saturated,
dependent on the emotional tone at that moment.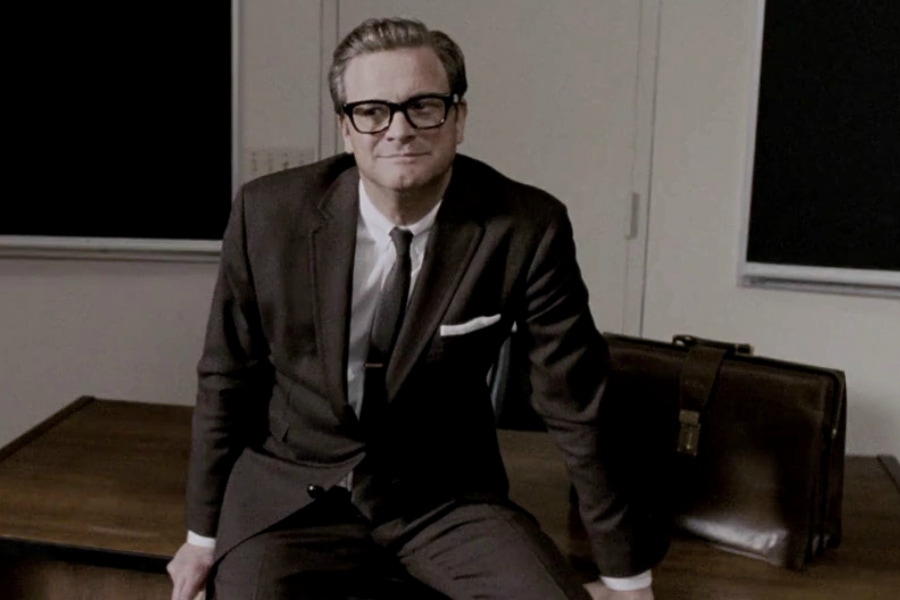 With
its underlying self awareness and aesthetic indulgence
, it also happens to provide a valuable lesson in
impeccable
'60s-inspired dressing. Costume designer Arianne Phillips worked with Mr. Ford to dress the characters: the result was styling as elegant and meticulously
considered
as the designer's own collections. With the film's chain of events occurring over the space of a single day, there is little variation in each character's attire,
thus placing more power in their singular outfits.
In George's case, it is a simple dark brown suit: a classic piece of menswear that is too often overlooked in favour of its navy and charcoal counterparts, which are deemed by many as more wearable. Yet there is something to be said for the unpretentious professorial quality of a brown suit. George's version - slim fitting, sharply tailored and perfectly cut - acts as a sort of armour, revealing little of his desperate emotional state. It's paired with a crisp white Oxford shirt and a skinny tie in a shade similar to that of the suit, complete with a tie bar that only reinforces the facade of control. The classicality of George's look extends to his footwear: he sports a sharp, polished pair of cap-toed Oxfords - both stylish and supremely practical, a versatile staple of any man's wardrobe. Finally, the outfit wouldn't be complete without his black thick-rimmed glasses, which exude a sense of cultivated bookishness.
Overall, George's look is one that is certainly rooted in the 60s, but with a timelessness that lends it currency. Channel his style (not his state of mind) by investing in key pieces that will stand the test of time. Look to established tailoring houses for well-fitting and quality-made suiting and shirting: some of our favourites at The Rake include the family-run
Naples-based label De Petrillo, master shirtmaker Emma Willis and artisanal haberdashers Drake's.