This Week We're Channelling: Indiana Jones in Raiders of the Lost Ark
Indiana Jones has become renowned as one of the most iconic characters in cinematic history, not least for his trademark outfitting.
Ask around and it becomes quickly apparent: there are few fictional characters as widely worshipped as Indiana Jones. The heroic archaeologist and adventurer, characterised by Harrison Ford in four films and counting, endures as a cultural icon thanks to his typification of that romanticised notion of the all-American male and his associated traits - brains, brawn and bravery.
A large part of Indiana Jones' enduring appeal can be attributed to his beloved trademark
style
, which was expertly
developed
by costume designer Deborah Nadoolman Landis and
debuted
in the first of the franchise's films, Steven Spielberg's 
Raiders of the Lost Ark
(1981)
. Defined by a fabled felt fedora,
battered
brown leather jacket and sweat-stained linen shirt, it's a look that has become firmly ingrained in popular culture and appropriated time and again, whether on the runway or at Halloween parties.
It should be acknowledged that
 Nadoolman Landis took inspiration for Indy's costuming from Charlton Heston's hardened adventurer character Harry Steele in
Secret of the Incas
(1954), but her adaptation of the outfit to the significantly more relatable character of 'Indy' was what made the ensemble so iconic - it represented a simultaneous softness and valiance.
"He's in brown because he works in the Earth; he's brown because he's approachable and vulnerable," she told The Daily Beast. "He and the dust are the same colour."
There's a certain timelessness to the earth tones and military-inspired details of Indiana Jones' outfitting, allowing for easy replication – so while you may not possess the same whip-cracking skills as our hero, channelling such
rugged
style is perhaps the closest you'll get to embodying
him
.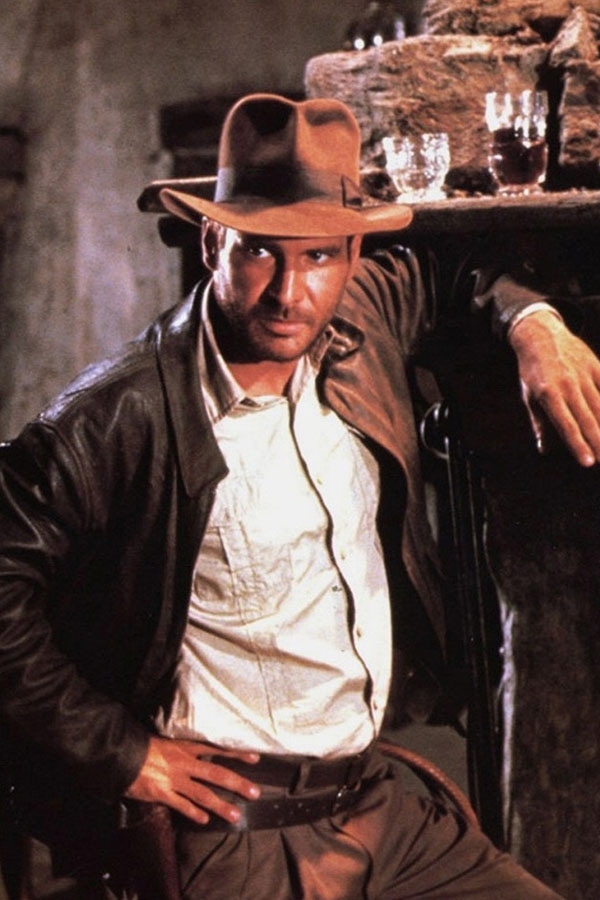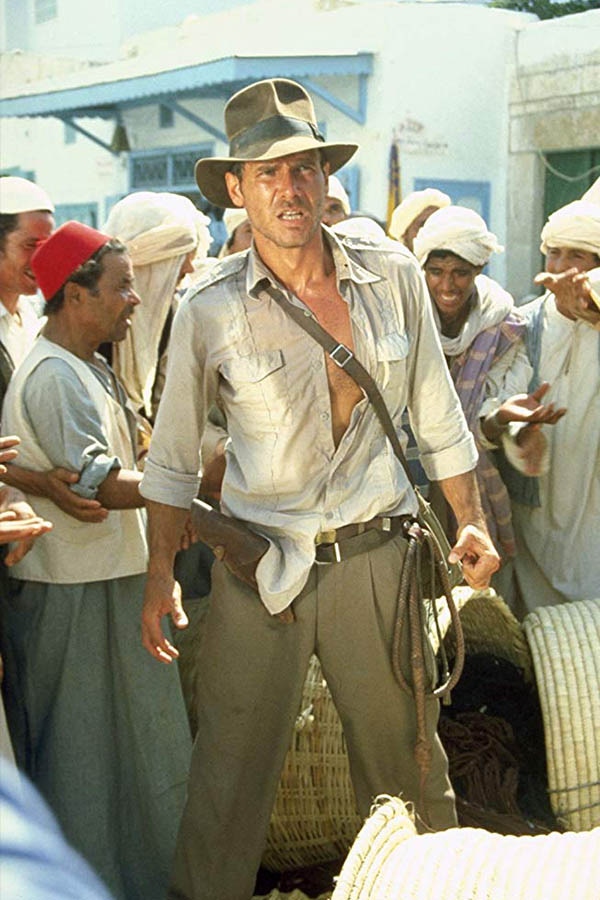 Do note, however, the importance of restraint: adapt such a look to the everyday by keeping your style understated and opting for a few key pieces rather than a head-to-toe adventurer aesthetic. The key is balance - pairing contrasting fabrics like leather and linen and carefully combining varying tones of tan, brown and khaki will elevate your look from one of childish pastiche to casual sophistication, whether you're embracing the great outdoors or pounding the city pavement.  
When it comes to channelling our dear Indy, it pays to invest in versatile and classic pieces that you'll wear time and again in various iterations: a worn-in vintage-inspired leather jacket - like this one from renowned leather brand Stewart Italy, thrown nonchalantly over a safari shirt and worn with smartly cut tailored trousers (as opposed to the looser version sported by Indiana Jones) makes for a simple yet elegant base. For footwear, opt for sturdy rubber-soled work boots as an alternative to Indy's Alden 405 ankle boots: Italian footwear brand Barbanera specialises in contemporary workwear, whilst maintaining the highest standards of traditional craftsmanship. Accessorise with a brown leather belt and – this is key if you are to truly encapsulate the style of
Indiana Jones
 – a signature hat, such as Lock & Co's classic felt fedora.