This Week We're Channelling: Truman Capote in Capote
This week, Philip Seymour Hoffman's embodiment of the ever-rakish Truman Capote is providing us a lesson in refined elegance and classic layering.
It is no secret why Philip Seymour Hoffman took out an Academy Award for his role in Bennett Miller's 2005 biopic Capote: his performance as the illustrious, eccentric, unscrupulous and ultimately miserable American author doesn't fall short of phenomenal. The film's narrative itself - a retelling of the crucial period of Capote's life during which he researched for and wrote his 1966 novel In Cold Blood - is riveting, wonderfully encapsulating the tension, betrayal and
heartbreak
of those years.
Yet, as captivated as we were by Hoffman's acting prowess and the film's intriguing series of events, there was another essential element that kept us glued to the screen. The styling of Hoffman as the
sartorially adept
Capote - renowned for his mastery of high-class socialite sophistication - is source for serious inspiration. The film's costumer Kasia Walicka-Maimone successfully managed to
replicate
the author's understated aesthetic through her considered combination of sharply tailored suits, elegant outerwear and luxurious knits.
The film opens at the peak of Capote's career: as he glides through glittering soirees, flourishing his cigarette with one hand, languidly sipping whisky with the other, his polished dress reveals a man of confidence and composure; straight off the back of his success with Breakfast at Tiffany's, he is preened to perfection in pinstriped suits, replete with wide lapels and classic silk ties. Even throughout his downfall in the film's second half, he remains firmly in control of his style; such dapper and preppy attire perhaps acting as a front for his manipulative ways.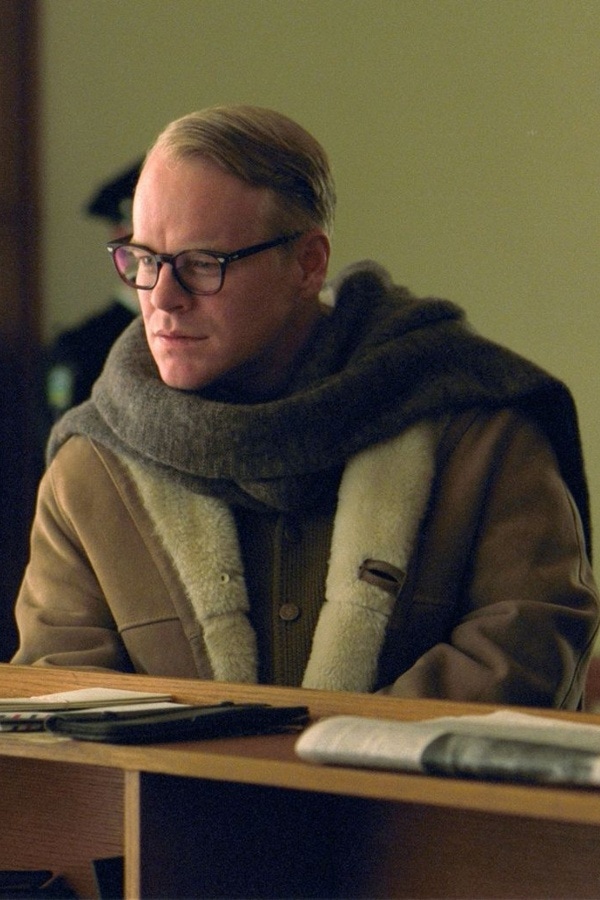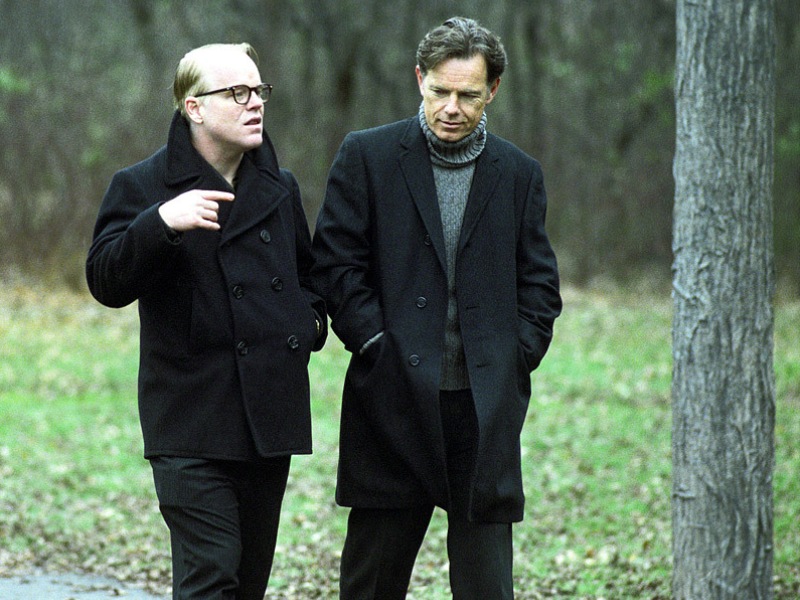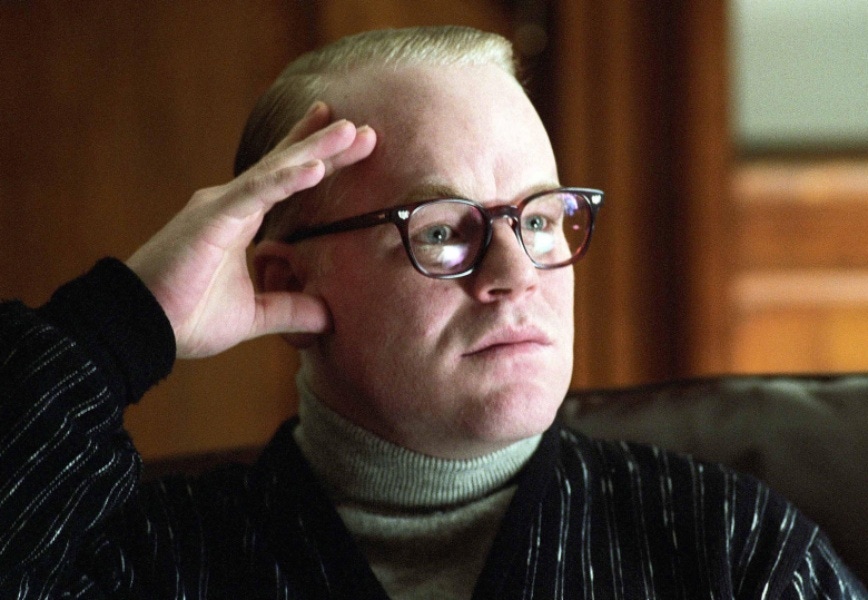 Despite the flamboyance for which he is renowned, Capote's style is notably refined: colour and adornment take a back seat to shape and cut, a worthwhile philosophy we will no doubt be adopting this coming season. Such minimalism is particularly evident in the enviable array of coats on rotation: from a floor-length camel number to a navy double-breasted pea coat and a sumptuous shearling coat, ample winter wear stimulus is provided - the common denominator being simplicity and an effortlessness of wear. The look is rakishly topped off with a cashmere scarf draped artfully over both shoulders and - in classic Capote fashion - a pair of tortoiseshell horn-rimmed glasses.
When it comes to channelling such an iconic look this coming autumn/winter, we will be turning to brands that champion quality craftsmanship and classical elegance, such as Neapolitan tailoring houses Orazio Luciano and Rubinacci, renowned shirtmaking label Turnbull & Asser and experts in outerwear Grenfell. The key is in the versatility and timelessness of your pieces: opt for clean cuts, minimal design and high quality fabrics to ensure long lasting wear.