Timothy Everest: Scaling new heights
The originator of the 'new bespoke movement', Timothy Everest is on a new course and we very much like the direction it's going...
It's always a strange one when the founder of a brand departs his or her eponymously named company. Helmut Lang and Jil Sander and both cases in point. Lang's departure spelled the death knell for his namesake label, whereas Sander (the label) has continued to remain strong and true to its founder's original ethos. Brands, are often wrapped up in the personalities of the founders, and Timothy Everest was one such larger than life character. Everest is no longer a part of the label, but what is interesting here is that those given charge of perpetuating the legacy have done so with aplomb, honouring the brand heritage while also driving it forward in a complementary direction.
For that we can thank General Manager Lee Rekert, who has been with the company for over 15 years, and head cutter Fred Nieddu who has quietly gained a reputation as one of London's most underrated bespoke tailors. Unlike most Savile Row tailors, who are intent on perpetuating a 'house style', Everest has always opted for a more client-centric approach, literally tailoring their cuts for each and every person who walks through the day.  As a result, the brand's ready to wear is full of character and pleasant surprises. This season is no different, especially when it comes to the more casual elements of the collection. For their Autumn Winter 19 collection, they took inspiration from the world of pottery and ceramics and in particular the work by the British studio potters 
Lucie Rie and Hans Coper. 
Both potters were known for their modernist approach, bringing bright colours, natural textures and abstract form into their work; an experimental practise considered very ahead of their time.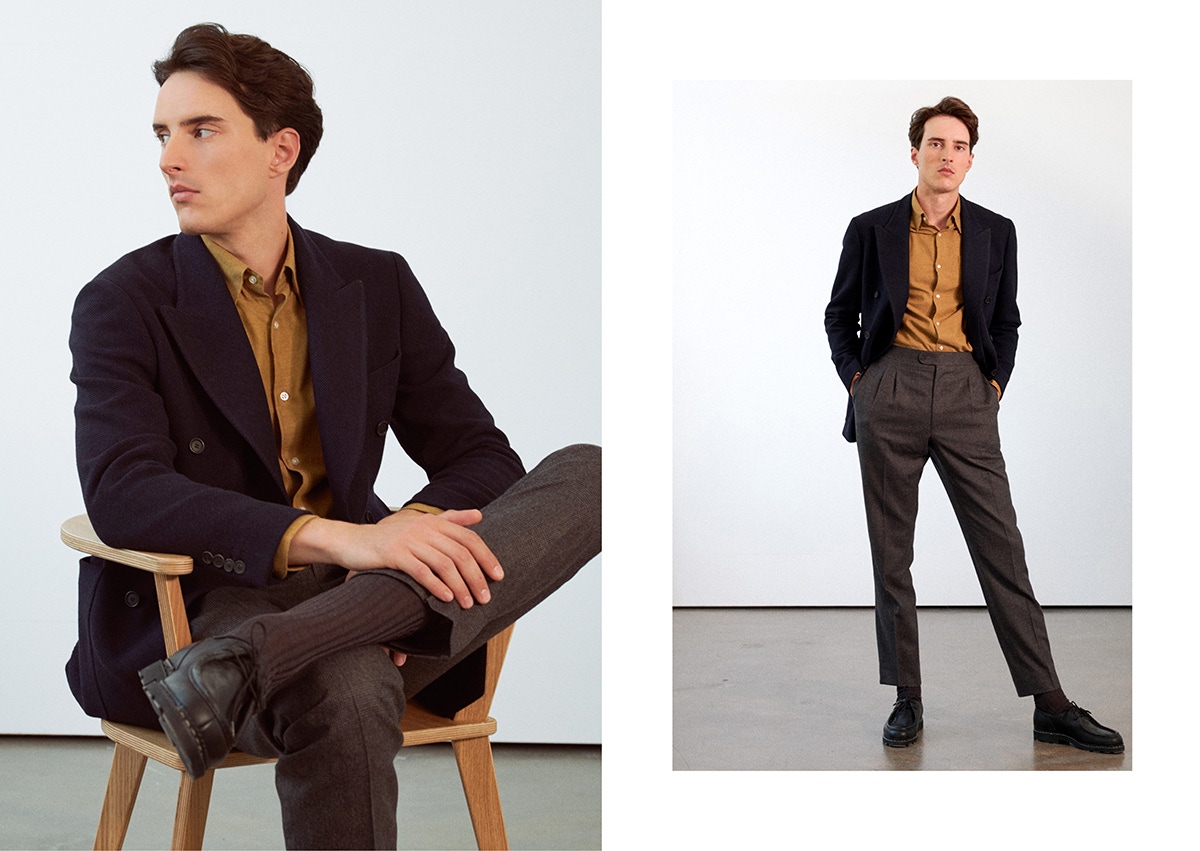 The collection's title 
'Perfect Imperfection' 
comes from the idea that a small imperfection in pottery can be seen as a beautiful mistake and could have been intended by the potter to create a sense of authenticity and uniqueness. This is also a nod towards the Japanese aesthetic of 
Wabi-Sabi; 
a
beauty of things modest and humble. The fabrics used in the collection follow this theme, with details in the textures and structures of the yarns mimicking the surface composition and colours used by Coper and Rie. Chocolate brown is a key colour in the collection, adding a lifted sense of warmth. The choice of paprika, dark ochre and thyme green used in knitwear and shirts, combine with highlight colours in the fabrics creating a balance with the richer hues of navy, chocolate and charcoal. The collection has been designed to evoke heritage and nostalgia. The rich colours and warm handle of the fabrics emphasise this. The result is an effortless, easily styled and unique collection, with a sense of meaning and purpose. We're huge fans as you tell. The collection is extremely versatile and there are so many pieces that can form integral parts of your winter wardrobe this season. We especially love the handle on the cotton/Tencel and cotton/silk shirts, while the shawl neck cardigans represent amazing value for money.
SHOP THE TIMOTHY EVEREST COLLECTION HERE.