Turnbull & Asser By Appointment
Turnbull & Asser's bi-annual 'By Appointment' trunk show is about to hit the road so make sure you don't miss it...
We're very happy to tell you that our good friends at Turnbull & Asser have announced the dates of their bi-annual touring trunk show. I can personally recommend their bespoke shirting service having been fitted late last year for the formal dress shirts of all evening shirts (well, at least I think so!) If you don't know, Turnbull & Asser is a British shirtmaker founded in 1885. Priding itself on superior craftsmanship and personal service, these qualities were recognised by HRH The Prince of Wales with the bestowal of a Royal Warrant in 1980. Rich in history and yet forward thinking, Turnbull has dressed influential men and women including royalty and captains of industry to artists and stars of stage and screen in beautifully made English shirts. Today, the heritage brand continues to focus on ready-to-wear, Made to Measure, and Bespoke shirts and ties at the centre of its clothing range for individuals that appreciate quality and craftsmanship. Turnbull's unrivalled expertise as a bespoke shirtmaker has seen customers extend from its London and New York flagship stores across the world. Twice a year, the British heritage brand brings its bespoke specialists to key cities around the world through a series of international By Appointment trunk shows. For those that cannot visit the Turnbull stores, By Appointment is the perfect opportunity to get the true bespoke shirtmaking experience.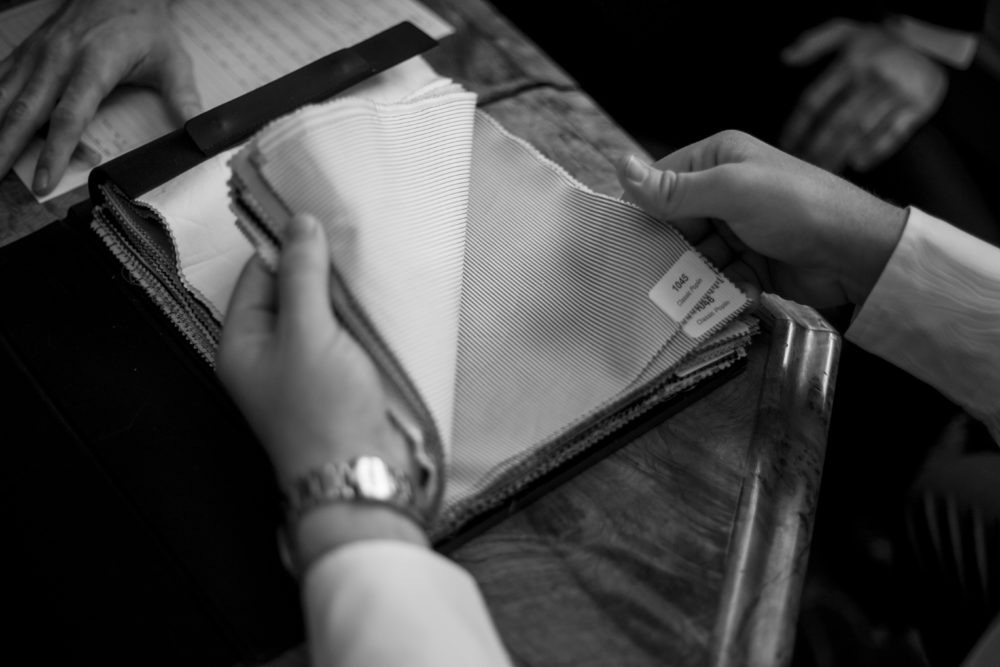 Their Bespoke specialists will take you through the process of creating your shirts, from the initial 18-23 measurements to selecting your fabrics, collar and cuff options plus added personalisation. Your  bespoke pattern will then get sent to their workroom in Gloucester where a sample shirt will be made. After wearing and laundering it three times, the shirt fit will be true to size. Once you are happy with the sample, the remaining shirts will be created and sent to you (the By Appointment trunk show has a two-shirt minimum order). If you are interested in discovering more about Turnbull & Asser's By Appointment trunk shows or would like to request an appointment, use the contact details next to your nearest trunk show venue below:
9TH SEPTEMBER - THE RITZ-CARLTON, DALLAS d.stroupe@turnbullandasser.com 11TH SEPTEMBER - THE FOUR SEASONS, HOUSTON d.stroupe@turnbullandasser.com 13TH SEPTEMBER - THE FOUR SEASONS, CHICAGO d.stroupe@turnbullandasser.com 15TH SEPTEMBER - THE FOUR SEASONS, BOSTON d.stroupe@turnbullandasser.com 21ST SEPTEMBER - THE FOUR SEASONS, TORONTO d.stroupe@turnbullandasser.com 27TH & 28TH SEPTEMBER - THE BEVERLY WILTSHIRE, LOS ANGELES d.stroupe@turnbullandasser.com 27TH & 28TH SEPTEMBER - LADAGE & OELKE, HAMBURG kontact@ladage-oelke.de 28TH SEPTEMBER - THE FOUR SEASONS, ATLANTA d.stroupe@turnbullandasser.com 30TH SEPTEMBER - THE RED, DÜSSELDORF byappointment@turnbullandasser.co.uk 30TH SEPTEMBER & 1ST OCTOBER - THE RITZ-CARLTON, SAN FRANCISCO d.stroupe@turnbullandasser.com 1ST (PM) & 2ND (AM) OCTOBER - HOTEL STEIGENBERGER METROPOLITAN, FRANKFURT byappointment@turnbullandasser.co.uk 3RD OCTOBER - HOTEL EXCELSIOR, MUNICH byappointment@turnbullandasser.co.uk 5TH OCTOBER - HOTEL ST. GOTTHARD, ZÜRICH byappointment@turnbullandasser.co.uk 6TH (PM) & 7TH (AM) OCTOBER - HOTEL ROTARY MGALLERY, GENEVA byappointment@turnbullandasser.co.uk 8TH OCTOBER - THE JEFFERSON HOTEL, WASHINGTON D.C. d.stroupe@turnbullandasser.com  26TH OCTOBER - STORE MITSUKOSHI, NIHOMBASHI MAIN BUILDING 2ND FLR, TOKYO 00813 3241 3311 27TH & 28TH OCTOBER - STORE ISETAN MENS, SHINJUKU, TOKYO 00813 3352 1111 31ST OCTOBER TOKYO - JAPAN VULCANIZE GINZA, TOKYO vulcanize-ginza@blbg.co.jp 1ST & 2ND NOVEMBER - JAPAN VULCANIZE AOYAMA, TOKYO vulcanize-aoyama@blbg.co.jp 3RD NOVEMBER - JAPAN VULCANIZE GINZA, TOKYO vulcanize-ginza@blbg.co.jp 4TH & 5TH NOVEMBER - JAPAN VULCANIZE OSAKA, OSAKA vulcanize-osaka@blbg.co.jp 6TH NOVEMBER - JAPAN VULCANIZE NAGOYA, NAGOYA vulcanize-nagoya@blbg.co.jp 8TH NOVEMBER - TAILORABLE, SEOUL info@tailorable.co.kr 9TH & 10TH NOVEMBER - HOTEL SHILLA, SEOUL enapoli@enapoli.kr 11TH NOVEMBER (PM) - ATTIRE HOUSE, HONG KONG info@attire-house.com 13TH & 14TH NOVEMBER - THE FOUR SEASONS, SINGAPORE byappointment@turnbullandasser.co.uk