This Week We're Channelling: Carl Showalter in Fargo
Steve Buscemi's character in the Coen brothers' classic film Fargo is incapable in every respect except style. This week, we unpack his unintentional sartorial prowess.
Over 20 years since its release, Joel and Ethan Coen's Fargo (1996) is widely considered a cinematic classic, renowned for its dark humour and captivating narrative. It's an equal parts hilarious and violent depiction of disorganised crime - an absurd and somewhat twisted telling of events with a bunch of oddball characters at the heart, played by a stellar cast featuring the likes of Frances McDormand, William H. Macy and Steve Buscemi. Its storyline aside, Fargo provides sartorial inspiration in spades, thanks mostly to the film's stark and icy Minnesotan backdrop, which calls for suitably wintry costuming. Perhaps best encapsulating rakish winter wear is Buscemi as the bumbling and amateurish small-time criminal Carl Showalter. Despite his general incompetence in most aspects of daily life, style is something he seems to have a strong grasp of, however unintentional his mastery may be. It's his naive and unassuming approach to clothing that appeals to us: he treats fashion as an afterthought, a means to an end. Yet, somehow he manages to succeed in the style stakes, pulling his outfits off with aplomb and garnering a status as an accidental icon.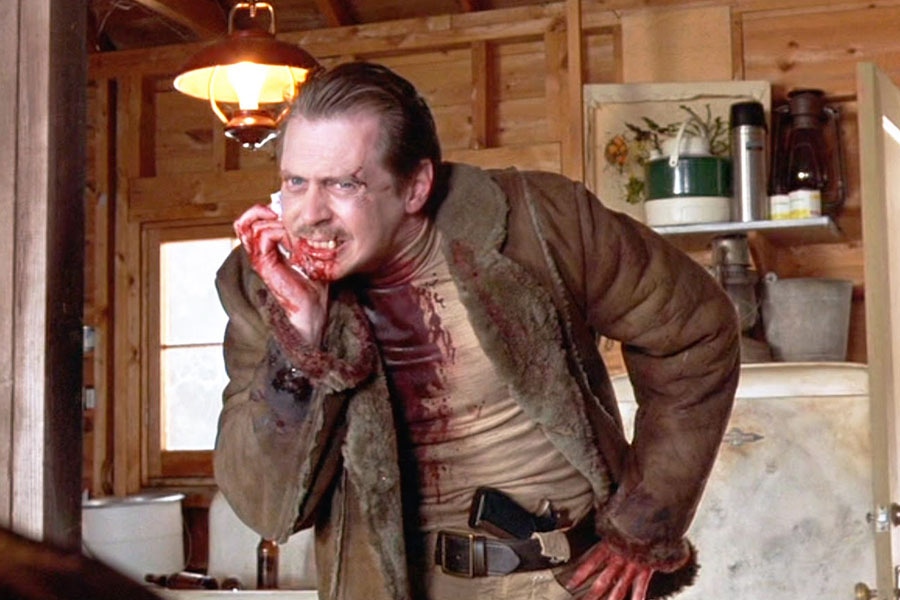 The film is set in 1987, but Showalter's outfitting takes cues from quintessential '70s styling, a reminder of the enduring influence of the decade's fashion, which persists today. He adheres to a uniform based around rich textures and colour blocking, relying on classic winter staples such as the ever-stylish shearling coat - an ideal antidote to the biting cold. Beneath the all-important outerwear, Buscemi's Showalter sports a rotation of ribbed turtlenecks, his rust orange
version
of particular note. High-waisted trousers rendered in corduroy - this season's star fabric - constitute the bottom half of his outfit, and are worn with a wide chestnut leather belt that breaks up the monotone palette. The leather accessories extend to his feet, in the form of simple black buckled boots, and his hands, on which he sports a pair of slick driving gloves - a universal staple of on-screen criminals.
Channelling Showalter's look is a matter of following a simple formula. Layers, luxurious textures and quality fabrics are key for braving the elements and doing so in style. Opt for elegant cuts and minimal accessories: the effectiveness of such an approach lies in the classicality of iconic '70s attire. Cromford Leather Company's double-breasted shearling coat is a wardrobe
staple
that will inevitably stand the test of time. Pair it with New & Lingwood trousers and an elegant cashmere turtleneck from Rubinacci. Italian shoemakers Scarosso have footwear covered, and Omega Srl and Elliot Rhodes are reliable go-to labels for quality leather accessories. Just ensure that your emulation of Showalter ends with his wardrobe, unless you desire a less-than-pleasant death-by-axe.