Uncommon Scents: Le Labo
As we continue our celebration of 'America The Beautiful', we ask you to lend not your eyes, but your nose, to Le Labo, a perfumery brand whose motto is, "focus on creation and hope for business."
Perfumery's popularity is certainly at its zenith. Now more than ever men are upping their 'scent game' with a range of fragrances to choose from, whether it be seasonal, occasional or for almost any plausible reason. Since designer brands started extending their lines of offerings with masstige perfumes, armed with canny marketing ploys, bold package design and celebrity endorsed advertising campaigns (mainly in the 1990s), there is something deeply admirable about a brand that strives to create a product that is authentic, keeps it simple and offers an emotional connection to their range. So, allow me to introduce you to Le Labo — meaning "The Lab" — the prosopopoeia of downtown New York cool.
Founded by Fabrice Penot and Eddie Roschi in 2006, the duo quickly found their niche in the perfumery market and opened their first store in New York that year (they now have four in the city). They tell me that their motto is, "Focus on creation, hope for business." Penot then elaborates, "We are not obsessed by creating best sellers, we are obsessed by moving people. Sometimes we fail, sometimes it works. But, success is a by-product of creating something that means something, yet you never consider it before it eventually happens." That may come across as a risky mentality, but they clearly have an arsenal of goods that back up the motto-come-business-ethos.
"Our labs [stores] are like an entertainment park for the nose, and the perfume you bring home is a souvenir", Penot explains. Unlike many of their competitors, Le Labo refrain from selling pre-blended perfume. All Le Labo perfumes are made-to-order and are left right up to the last moment before combining the essential oils, alcohol and water — you're not witnessing a creation of perfume per se, rather the blending of one, which is an experience that you won't witness to in a regular store or concessionary. Roschi jumps in to inform me that the Le Labo technicians "follow the same strict protocol when compounding a perfume, therefore, the concentration does not vary from one location to the other or, from one bottle to the other, they cannot change the formula. As we have four locations in New York, we can say that a parts of our fragrances are produced, or more precisely compounded, in New York."
What Le Labo are in fact doing is reconnecting consumers with the lost art of perfumery creation, adding an understanding of the highly skilled and trained craft to the end-consumer's conscience, and thus growing their loyal following. You might think that that's the most important set of skills a laboratory technician embodies, the smelling techniques and essential oil knowledge, yet Penot reveals that "the most important part of their job is not being experts in the perfumes themselves, it is to be capable of true empathy, and deep psychology, and to be able to connect deeply with our clients."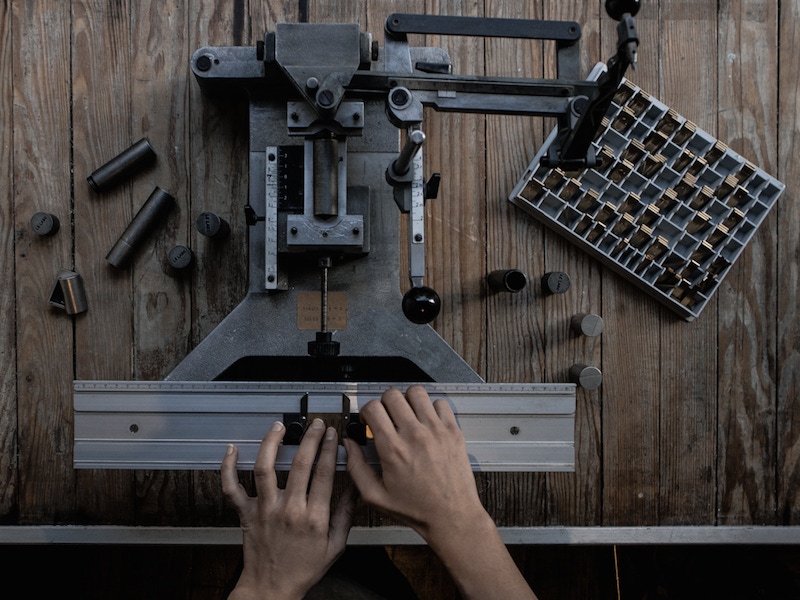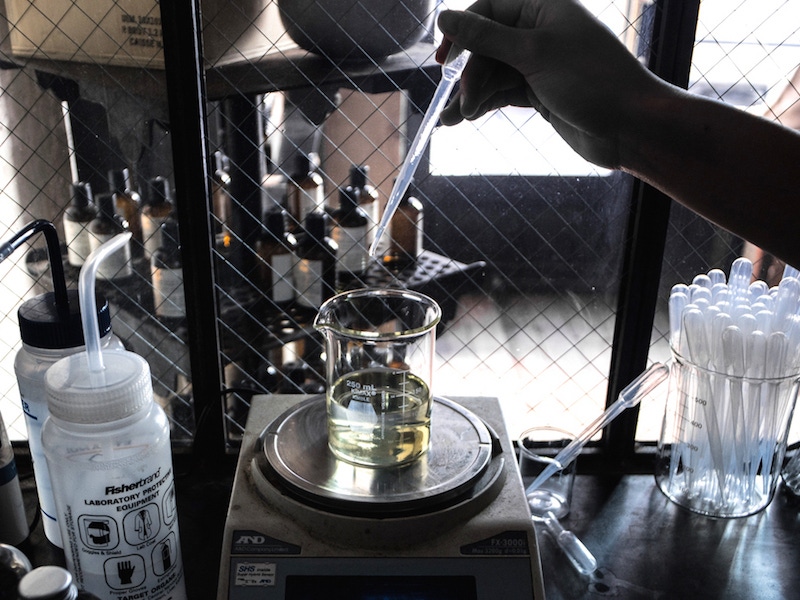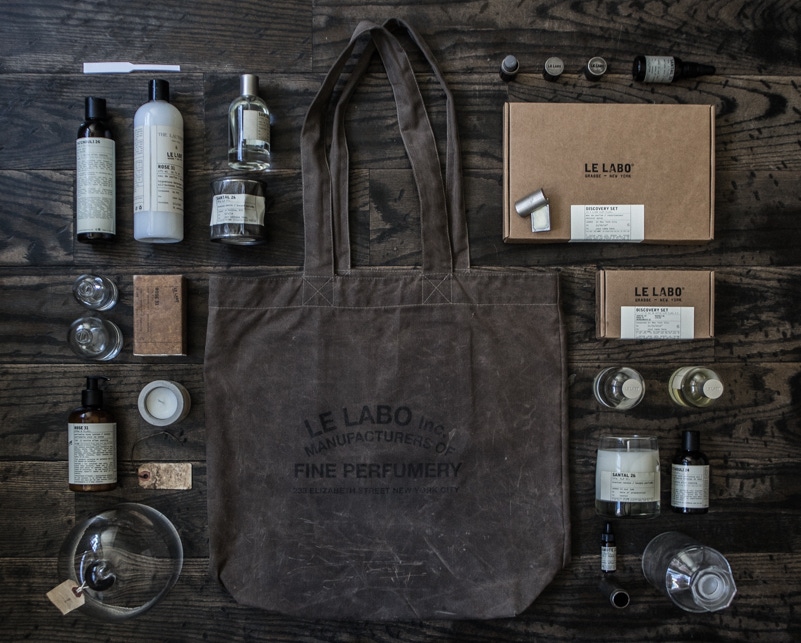 A common thread that we, The Rake, share with Le Labo is the understanding that luxury is defined by craftsmanship. True luxury is in fact, distinguishable by details, and in this case, the quality of ingredients and levels of craftsmanship which are of the highest standards. In essence (pun intended), perfumery is the coming together of materials from across the world and into a perfect unison of calculated chemistry. Le Labo personify that quest, sourcing the most expensive and luxurious materials in the world, such as "sandalwood from Australia, vetiver from Haiti, tubéreuse from India and rose from France." Each of Le Labo's perfumes are built around a main ingredient such as those I have just mentioned, and they then come together across fifteen perfumes and nine "City Exclusive" blends, which make your specific purchase highly exclusive and precious, whilst the featured number on the minimalist label relates to the number of ingredients inside the simplistic bottle casing, which draws focus to the perfume.
Le Labo opened their first store in downtown Manhattan on Elizabeth Street, and whilst their bottles are minimalist, the bricks and motor of Le Labo's stores epitomise the downtown aesthete of New York — trendy industrial chic and utilitarian cool — that has another level of charm your olfaction senses are enjoyably witness to. Roschi explains when asked why set up shop in New York (both Penot and Roschi, hailing from Europe, are veterans in the game having worked under the Armani umbrella in the fragrance department)? "We wanted the quickness of what New York is all about and also the aesthetics and the aptitude to embrace novelty, which New York is associated with and is actually a reality there. We felt that what we had to say and how we wanted to say it was more adequate to be done in New York. We like to say we were born in Grasse, and raised in New York." Each Le Labo store, of which there are 21 across the world, has its own fragrance lab which encourages customers to touch, smell and test the science behind the compounding of materials where there are over 600 ingredients behind the counter.
Whilst the prices of their products are high, one needs to take into consideration that not only are the ingredients of the highest calibre — the process of compounding the fragrance together there and then whilst you wait, is an experience that you simply don't get anywhere else. Further more, the personalisation of their goods — ranging from perfume to body lotions, candles and soaps — come with the choice of up to 23 characters, as you can see, my Santal 33 came with 'The Rake' printed on the label (although it doesn't stop my colleagues from 'testing' it) is an added bonus. It's these little touches that make the purchase of Le Labo goods, totally unique and that little bit sweeter and perfect for gifting friends and family, or just to mark your stamp on it. As we draw to a close on our discussion it turns to the future, which is extremely bright for the niche perfumery brand, with undoubtedly plans for more stores, although I wasn't privy to such information. Yet, their loyal following is certainly going to increase, all the while their products will retain their special, highly thought and carefully selected materials.
www.lelabofragrances.com