Unrivaled Dress Watch: The Reverso
At almost 90 years old, the Jaeger-LeCoultre Reverso still retains its charm and an unrivaled case design.
Every respectable watch enthusiast or collector must have a great dress watch. For those formal occasions such as weddings or black tie events, a sports watch used for daily wear simply doesn't cut it. Instead, the perfect wrist companion is often a timepiece that is a bit more discreet, thin, elegant, maybe even in gold, and which would easily slide under a cuff but always make an impression when it is revealed. There are many choices available on the market when it comes to dressy timepieces, but some just have an aura around them. The watch we are talking about today is one of them: The Jaeger-LeCoultre Reverso.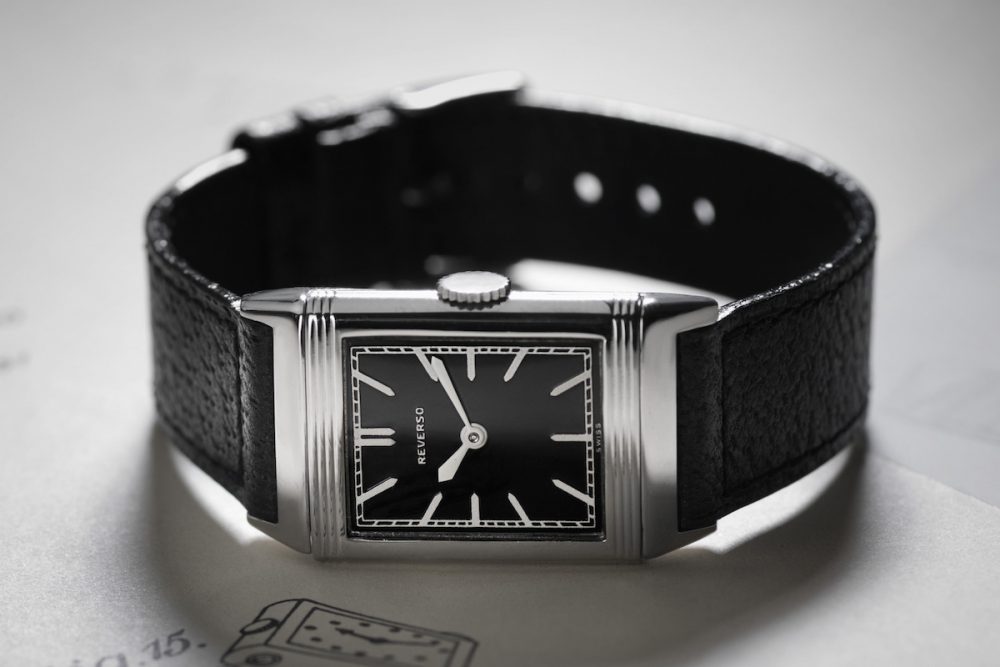 Origins in Sports
The fabled story of the Reverso started at the beginning of the 1930s far away from the green pastures of Switzerland and straight in the middle of a polo field in British-ruled India. British Army officers posted in the country would enjoy spending their down time playing polo. The 1930s was an era of change in social norms and more men were seen wearing wristwatches. A problem arose when the aforementioned polo players would experience the struggle of having their watch crystals shattered while playing the game.
This issue was brought to the attention of Swiss businessman and watch trader César de Trey while he was visiting India. Players wanted a timepiece they could wear which was strong enough to withstand the numerous beatings given out by the gentlemen's mallets. Upon his return to Switzerland, he reached out to his good friend Jacques-David LeCoultre to task him with coming up with a solution. LeCoultre partnered with Edmond Jaeger and his company to create the case design that would solve the issue. René-Alfred Chauvot was the French engineer in charge of the development of this new watch case and on March 4th, 1931 the patent n.712.868 was submitted to the Paris patent office for a watch whose case could reverse and flip 180 degrees so as to protect the fragile front glass of the timepiece.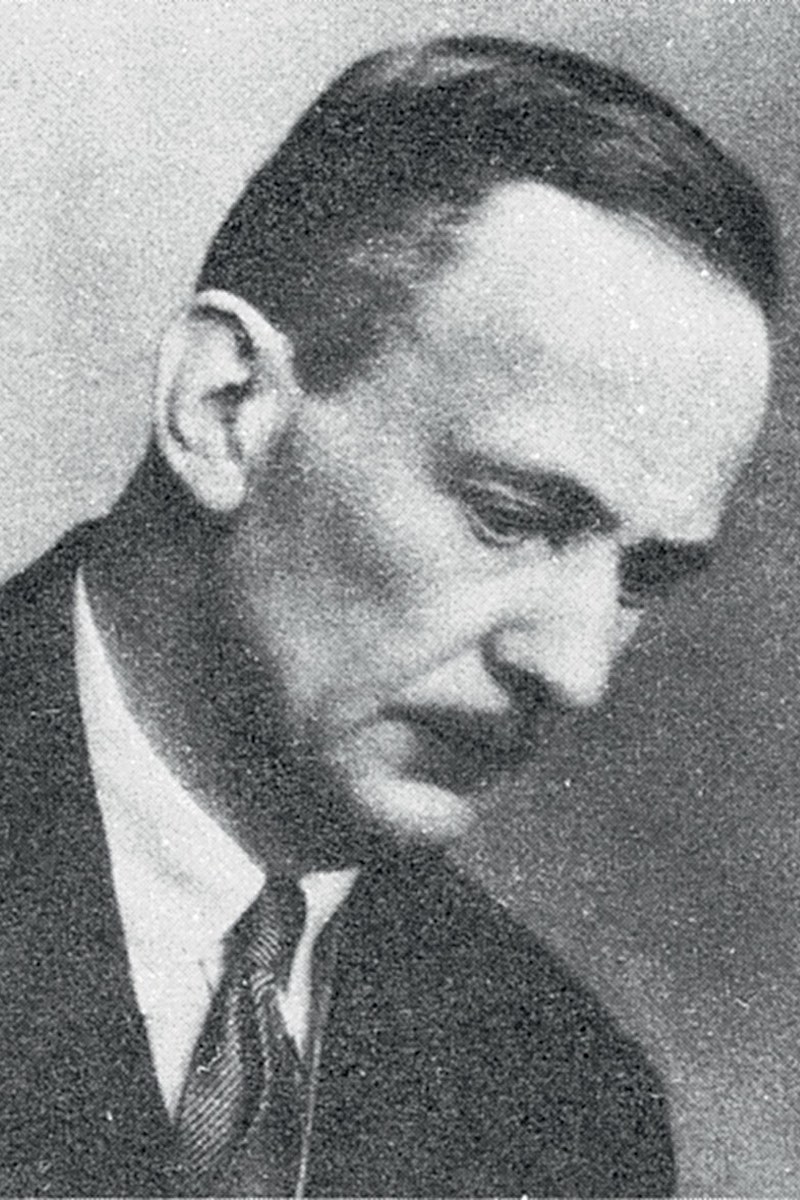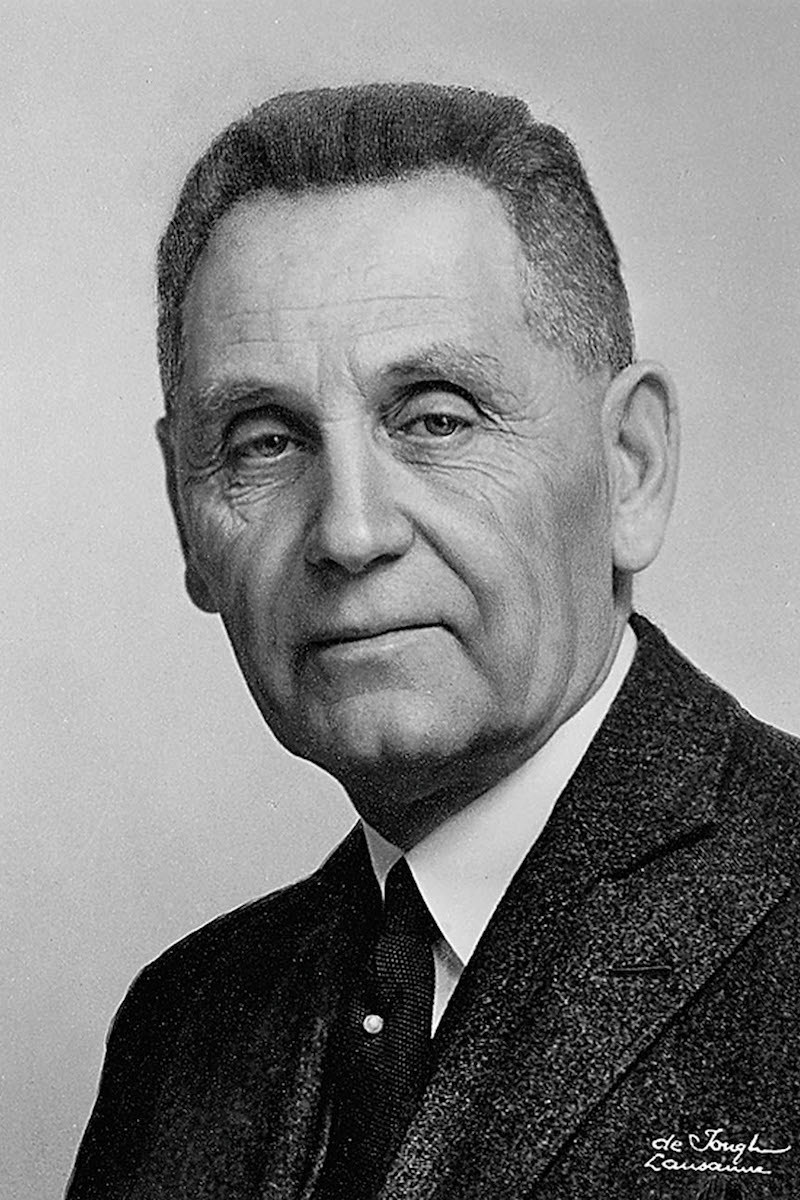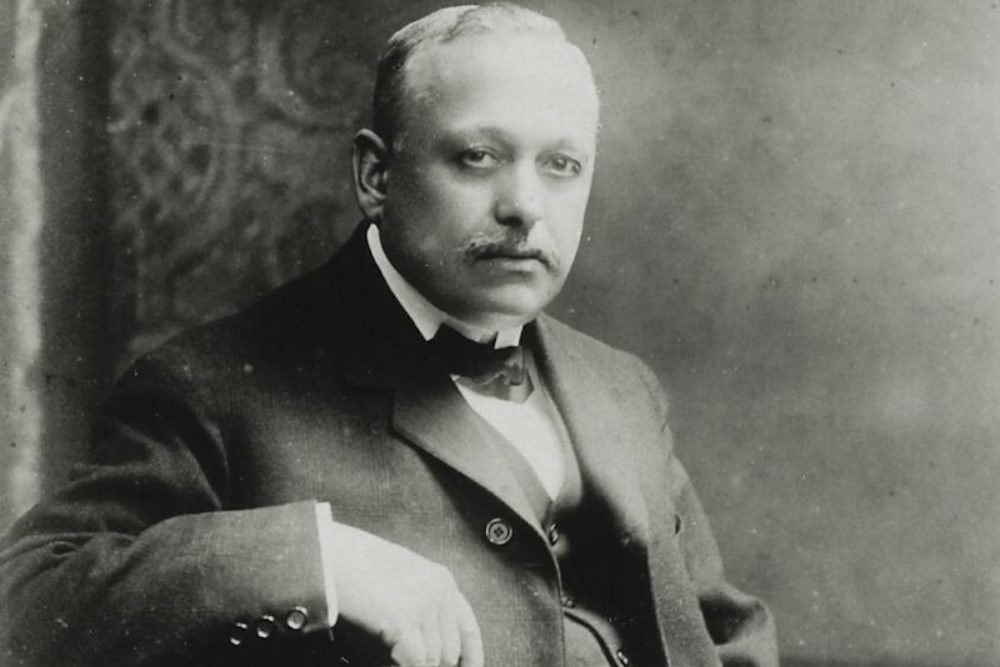 Apart from the protective aspect of the swivelling case, what Chauvot accomplished is nothing short of a tour-de-force. Take into consideration that the idea is fairly simple and the action happens in a few seconds when you click it open, flip it around, and click it home again. Yet, the balance of the tactile and audible feedback is utterly flawless and unseen in any other timepiece. It is addictive and infinitely satisfying.
Unique Personalisations
Much is made of the set of decorative skills that can transform the Reverso from an ordinary watch into a piece of art. Indeed, the Reverso, better than any other watch, presents the finest available blank canvas, upon which the owner and artisan alike may demonstrate their appreciation and patronage of high craft.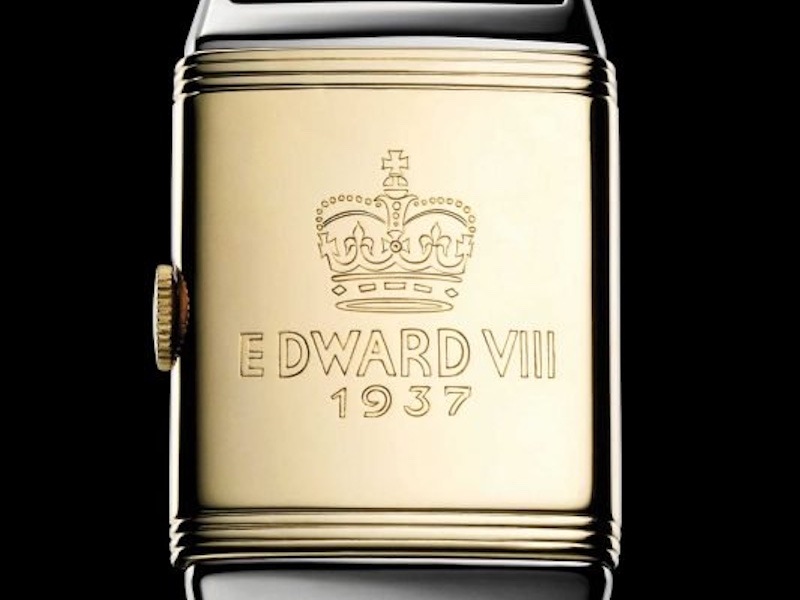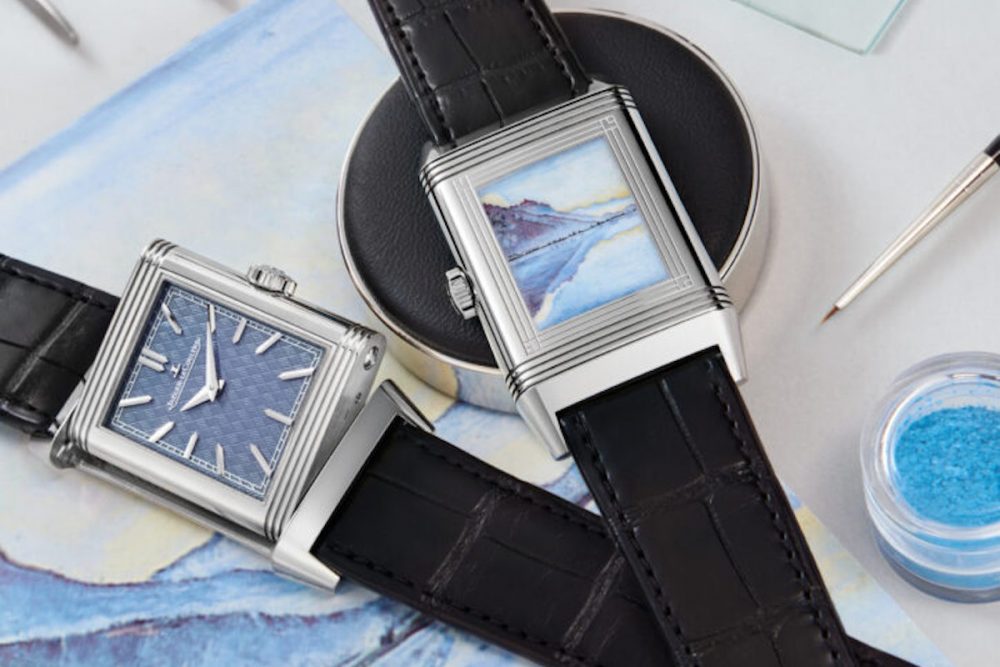 Some collectors ascribe great value to the narrative that may flow from a simple monogram (for example, on The Duke of Windsor's watch), others can go so far as to have portraits of their favorite pet engraved. The counter to this is that it renders the watch so permanently "yours". The case back is virtually begging to be personalised. Which makes it a perfect watch to give to a family member or a loved one, but also to mark special events in one's life such as weddings. As vivid as the personalisation can be, the beauty is there's no need to have it permanently on display – unlike the flames painted down the side of your car, or that rather prominent tattoo. Render it visible to admirers with a mere press of a fingertip, and then flip it round again, safely and securely secreted away within an impenetrable metal sandwich.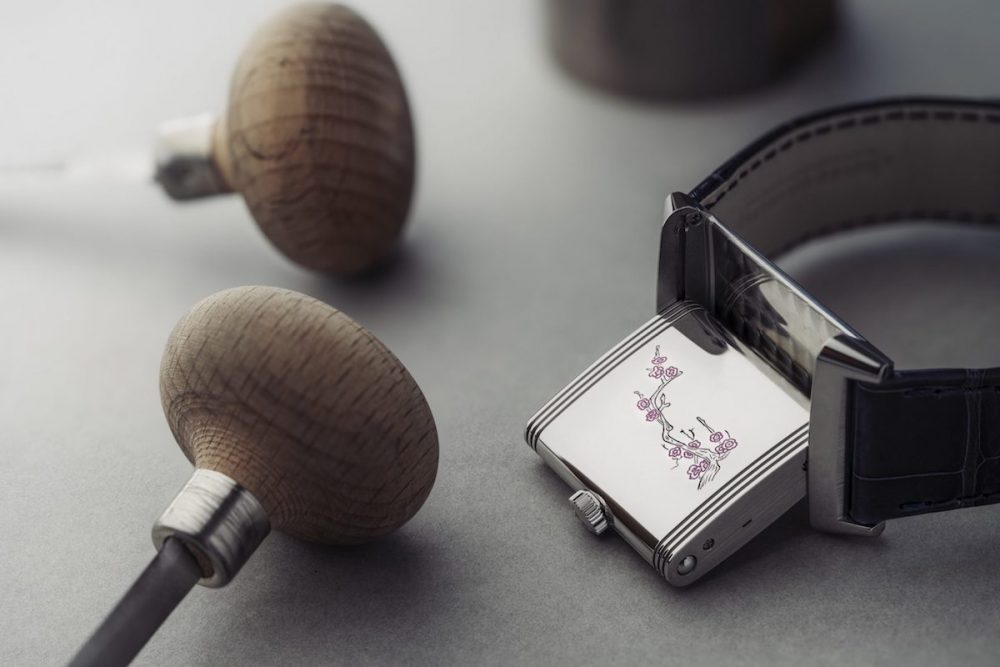 Two Watches for One
The Reverso is all about flipping the watch around so as to protect one side or the other. As originally, conceived, it was the glass front that was meant to be protected. Now, we've discovered that the back of the Reverso is a fun place to put all sorts of interesting things. But if miniature enamels and engraving aren't your bag, then what about a whole other watch?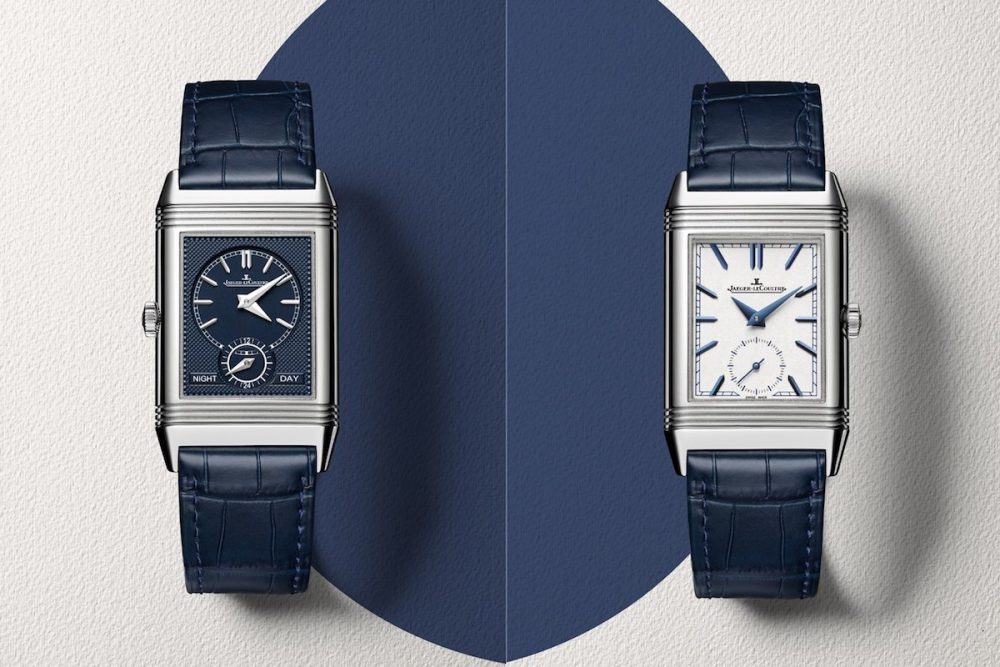 The Reverso Duo, and the smaller Duetto, are among the model's most popular-ever iterations. Not quite "business at the front, party at the back", it is nevertheless alluring because of the ability to have two entirely different watch dials in one package. The larger version of the watch also has the ability to switch the time display in one-hour increments. This is perfect for travellers, because you can simultaneously track two time zones without the added clutter of a dedicated GMT hand. The Duo is but one of a long line of inventive and successful Reverso watches that has included ladies' models such as the Reverso Cordonnet from 1938, the astonishing Grande Complication à Triptyque, which presented a concerted perpetual calendar display spanning all three available surfaces of the watch, and the Gyrotourbillon 2 with its JLC calibre 174, which in 2009 won the precision timekeeping contest, Concours International de Chronométrie.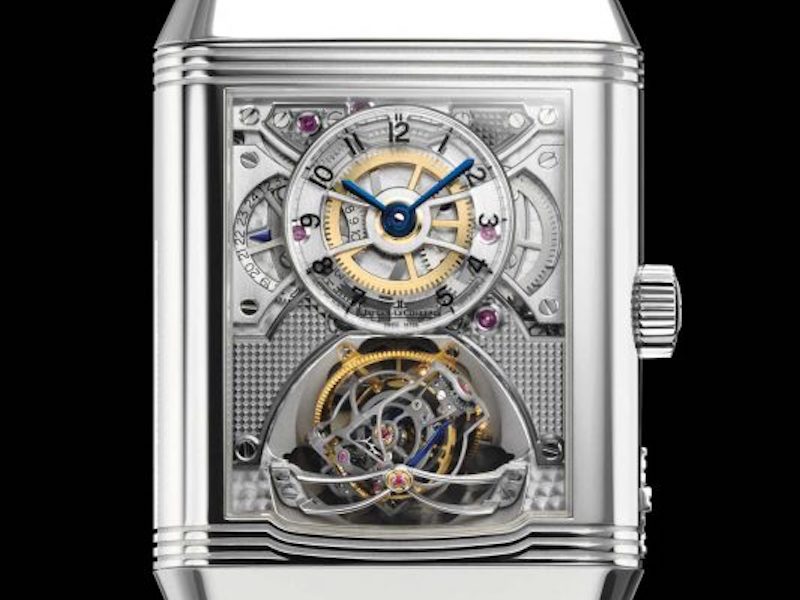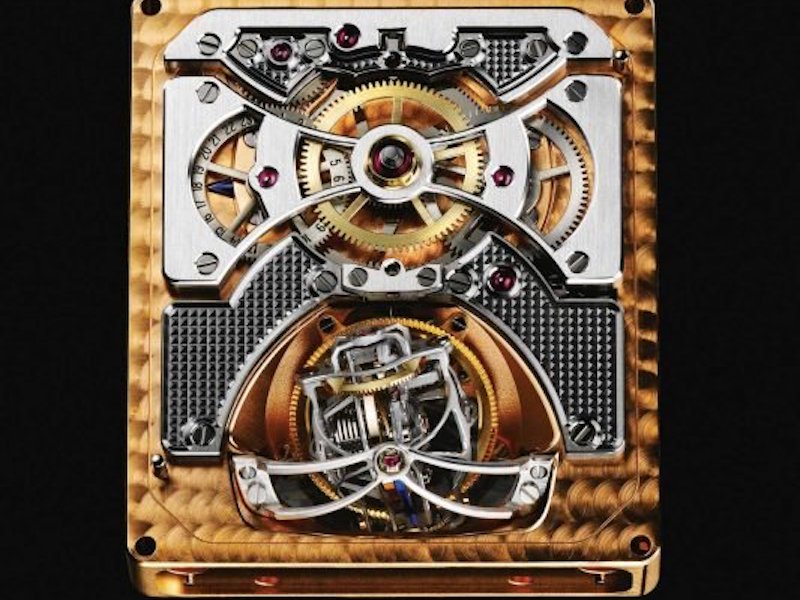 An Icon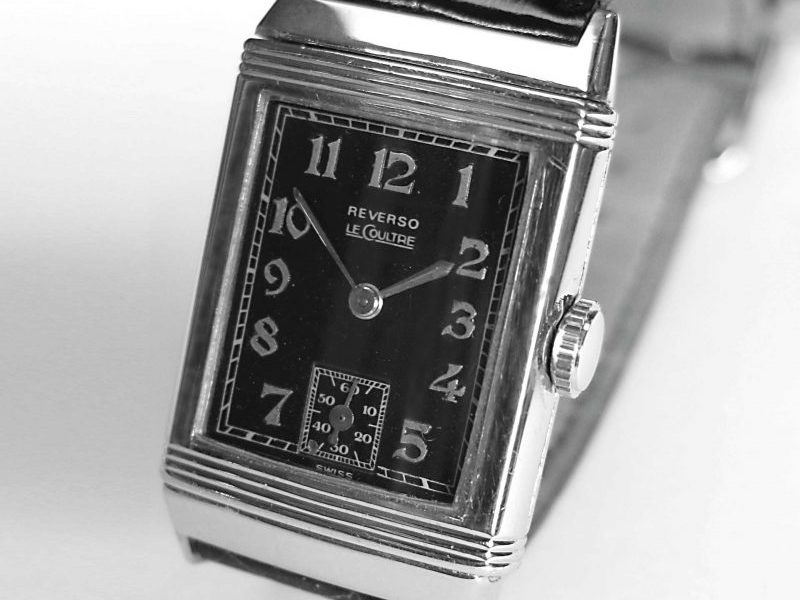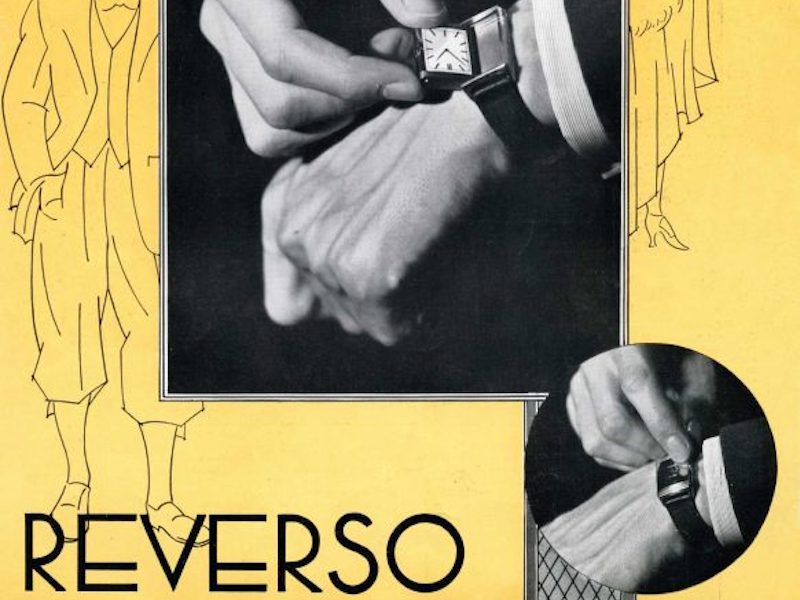 With all these wonderful associations, it may be easy to lose sight of just what a superb product the Reverso actually is. In engineering terms, that swivelling case utterly outstrips anything in its class, and requires quite staggering amounts of technical input. It is also a design that is unrivaled to this day and cements its almost 90 years reign as one of the most iconic one. During the burgeoning period of wristwatch development that was the 1930s, the nascent watch-case industry had very little to go on when it came to style and technique. Most manufacturers scaled down pocket watches and added wire lugs onto them. When most other wristwatches were cased in what amounted to little more than elaborate sweethearts' lockets, the Reverso case was a pinnacle of technical ingenuity. Ever since, Jaeger-LeCoultre has been sensitive to the design cues laid down by the man who originally commissioned the Reverso, César De Trey. The grooved bands at the head and tail of the case have remained extant in just about every edition of the Reverso. People love to recall the Art Deco aspect of these rectilinear details. With such powerful design cues and associations, the Reverso's guardians have had to weigh their responsibility carefully, so as to preserve the spirit of the thing without transforming it into a pastiche. This is one of the reasons why the Reverso has remained a reliable and rewarding watch, not only in its style, but especially in its value. The Reverso is all things to all men – and women. It's the epitome of Art Deco style, and yet not obnoxiously so. It is at once a high-precision instrument and a diverting toy, capable of captivating its owner and all whom he or she meets. I am not at all surprised that almost 90 years on, the love affair collectors have with the Reverso is as strong as ever.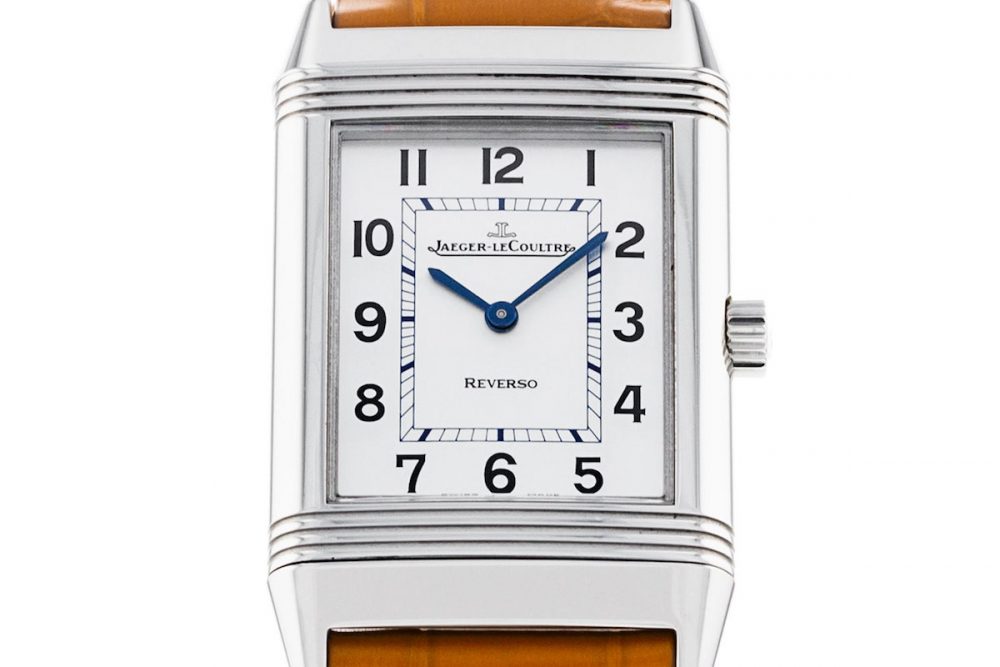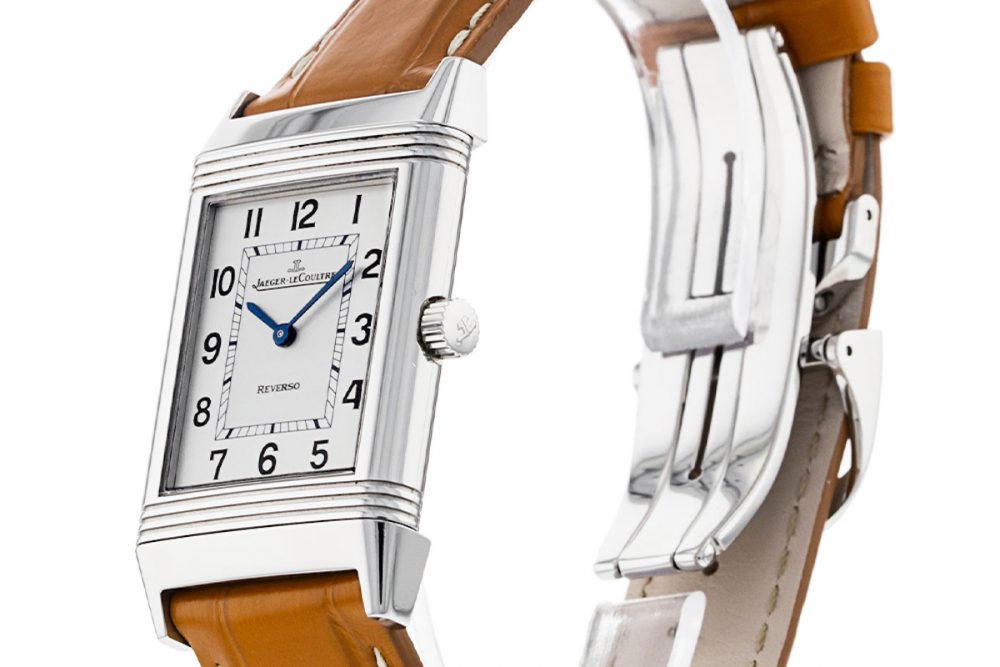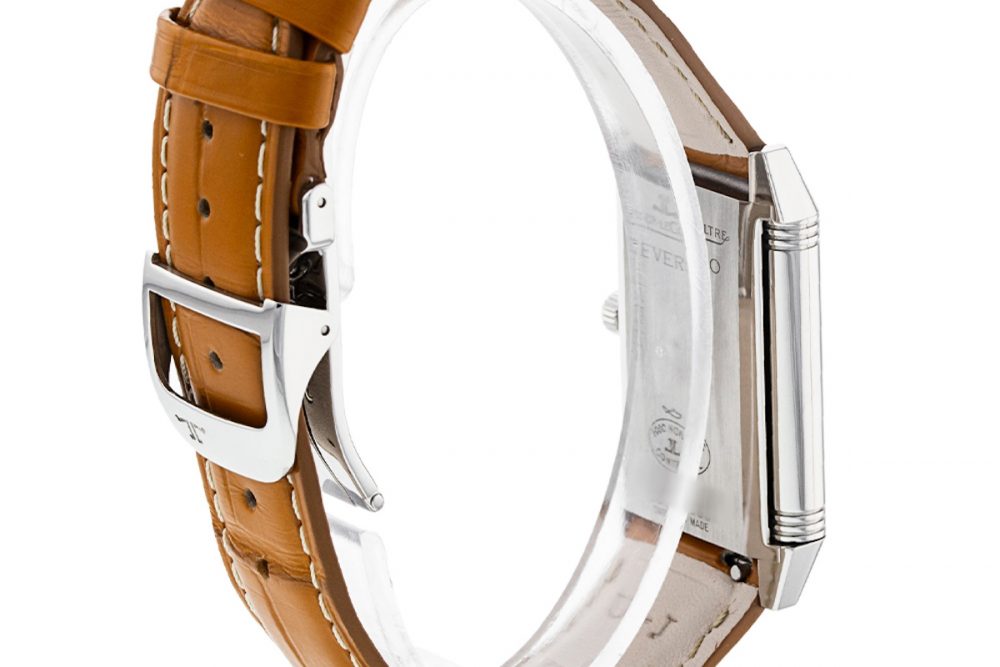 The Jaeger-LeCoultre Reverso Classique is one of the least expensive ways to wear a watch from this grande maison. Although you could consider it the entry-level Reverso, no corners were cut to create this watch. The Classique is as pure as you can get for a Reverso. Its dimensions may sound modest, at 23.1mm wide and 38.5mm long, yet that is also part of its strength. It oozes the style of decades long gone, but obviously not forgotten. The dial engages in a subtle play with light, revealing textures and colors you didn't think were in the dial. This really gives the watch depth and amplifies that Art Deco style so closely associated with the timepiece.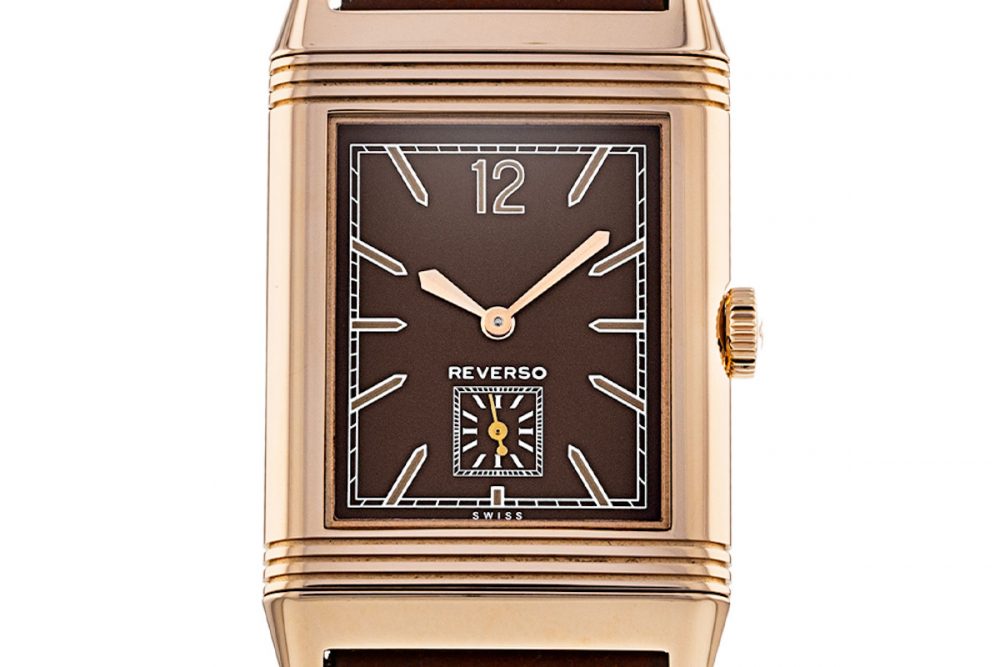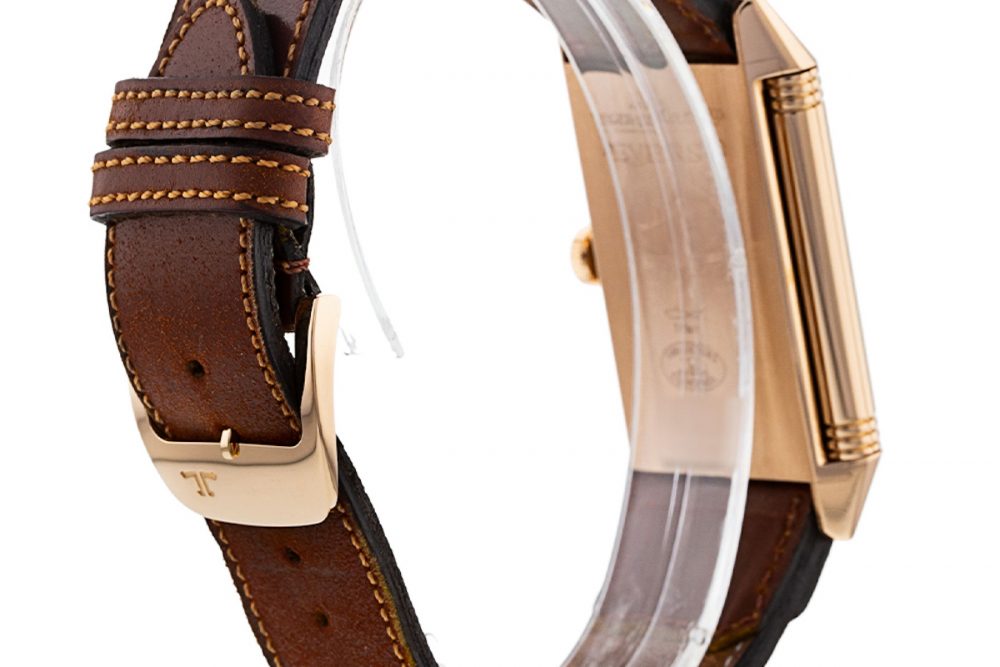 Chocolate dials have become something of a niche lately, with more and more brands adopting them. The results of this vary per watch, and that makes the approach that Jaeger-LeCoultre has selected all the more interesting. They went for a matte brown, changed the metal for the case from stainless steel to pink gold and fitted it with a more robust, and may I say even, sporty strap. The result is a stunning version of the Grande Reverso Ultra Thin 1931. The matte chocolate dial gets a nice vintage touch from the Art-Deco styled, yellowish numeral and hour markers, and of course greatly compliments the pink gold case, with its warm glow. Pink gold can be a bit in your face when used on a more robust, larger watch, and that is why it works so well on the Grande Reverso Ultra Thin 1931. With an overall height of 7.3mm it is slender, especially when you take into account that this includes the swivel mechanism of the case. Measurements for the watch are 46.8 x 27.4 mm which gives the case a nice presence, but is not even as Grande on most wrists as you might expect. Inside the watch is caliber 822/2 responsible for the timekeeping of this Reverso. About this movement there is not much to say. Jaeger-LeCoultre has already established itself as the Manufacture among Manufactures a long time ago and caliber 822/2 is exactly one of the reasons why. A form-shaped manual wind movement, with an elegant bridge-construction, top-notch finishing and just under 3mm in height, makes it a companion that is as beautiful as it is precise and reliable. With the strap, Jaeger-LeCoultre is showing once again it's polo-heritage, since it is made by none other than Casa Fagliano, Argentina's premier manufacturer for polo equipment, mainly leather boots and knee-pads. Although already a beautiful brown-red color, one can expect that its patina will only deepen over time. Please see
here
for the full Watchfinder assortment.