Walker Slater's Winter Tailoring
How Walker Slater rendered us lost for words (no, really) with its latest drop of dramatic greatcoats and warm winter suiting
The past few years has seen a transformational shift in the way we see, wear and talk about tweed. What was once an outdated, unfashionable cloth worn only in the country became an interesting, contemporary fabric with a textured heritage and appearance. Largely responsible for the shift is Walker Slater, a Scottish tailoring and textiles specialist, which began designing tweed suits in the late Nineties and soon developed a close relationship with the Hebrides' Harris Tweed.
By persistently pushing innovation and pioneering contemporary yarns and patterns, Walker Slater has driven tweed into the 21st Century. Its cloths are engaging, tactile illustrations of a mill that doesn't wait around for inspiration to strike, but seeks it out in nature, literature and history.
Geographically and culturally, the brand is also inherently British, and holds British tailoring values close enough to honour them without smothering themselves with restrictions – a little rakish rule-breaking never hurt anybody, especially when it comes to rewriting the rules of getting dressed. For this very reason, in 2018 The Rake collaborated with Walker Slater on an exclusive, limited edition blazer, The Ronan. So named after the son of Brian Wilson, Chairman of Harris Tweed, the jacket was cut in an olive and grey windowpane wool tweed with a fitted silhouette, high armhole, slightly padded shoulder and pattern-matched pockets (and is available to shop here).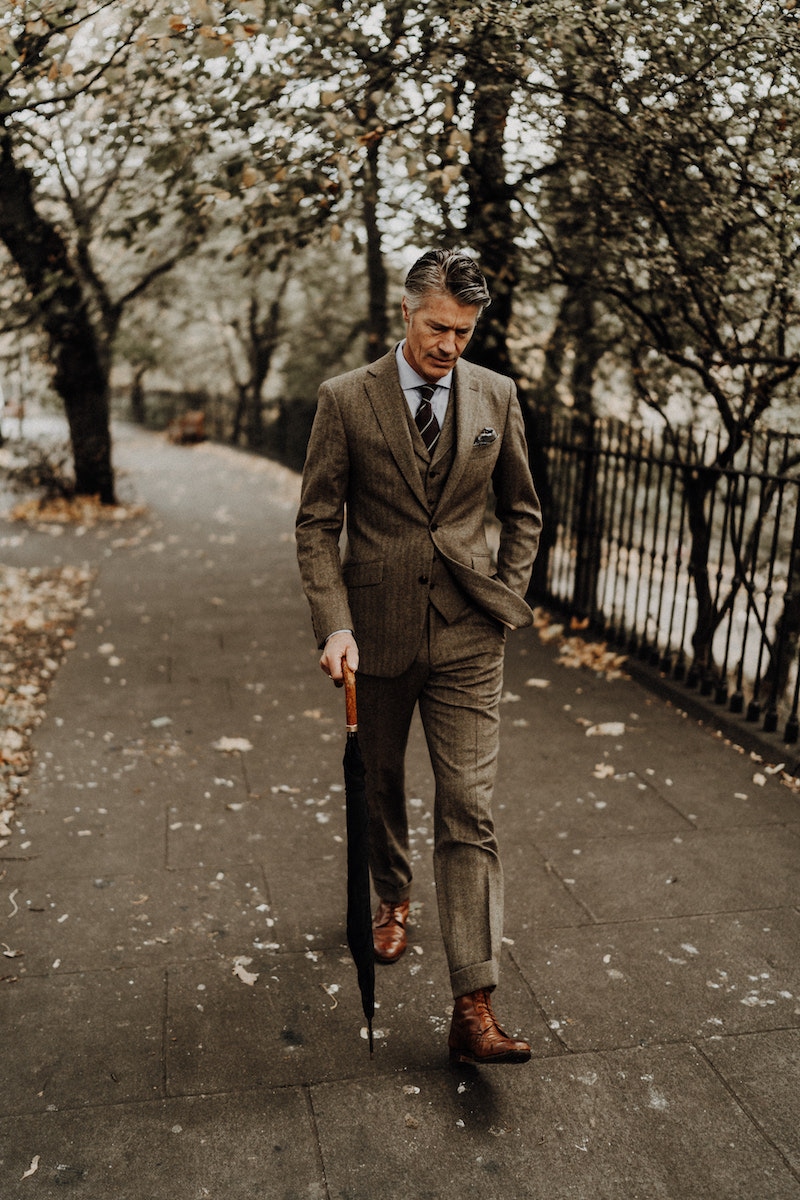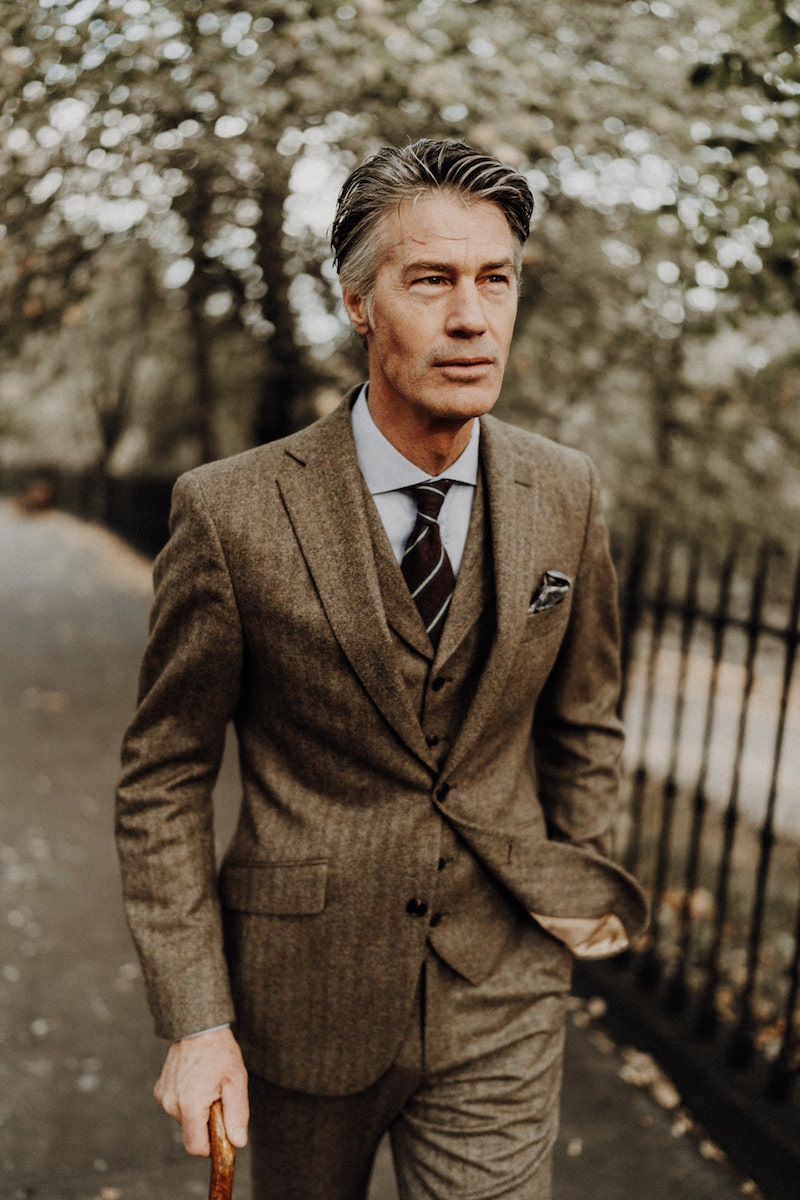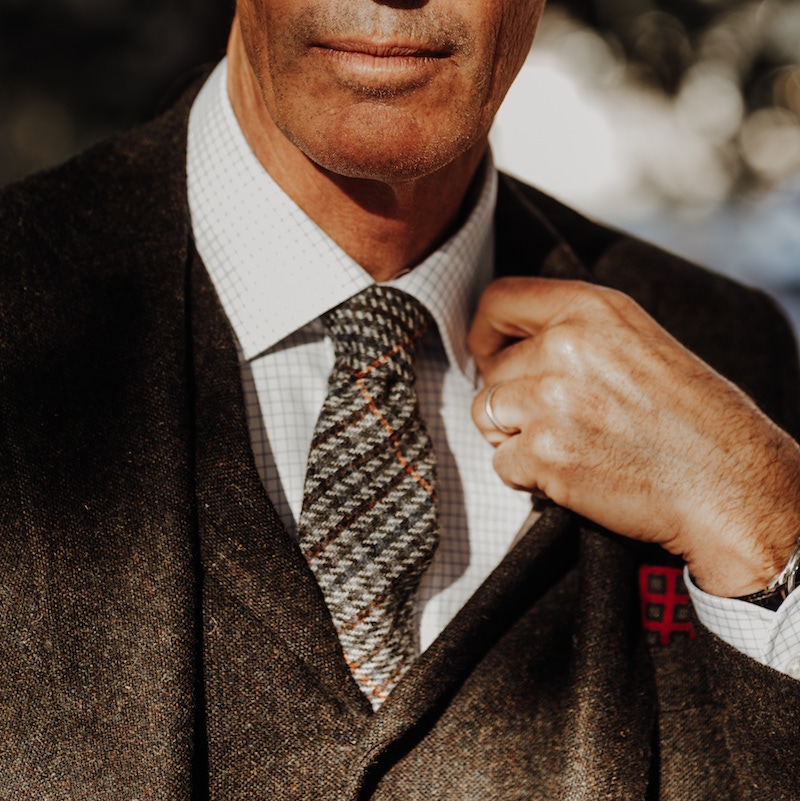 This year, Walker Slater's powerful greatcoat has been cut in a gorgeous shade of rust with chocolate, chilli, gold and tan flecks. Its warm, seasonal tone is deliciously uplifting, like coming across a sole carnelian tree at its autumnal peak in an evergreen forest. Unusually, its double-breasted closure features a reduced space between the top two rows of buttons, which creates the illusion of an amplified chest without bulking up the structure or widening the lapels, and simultaneously nips in the waist. Harris Tweed's hard-wearing, warm and water-resistant properties make it an unrivalled choice for winter, too.
In typical Walker Slater fashion, they've also created a three-piece (available as separates) in a beautiful greeny-brown Shetland wool, a cloth with such complexity that the English language can't adequately describe its colour. The soft grey cashmere three-piece is a little easier to identify, in a twill weave that lends a subtle stripe to the cloth. Honouring the bucolic associations we often make with tweed are three shooting jackets, but delivered in modern Prince of Wales checks, they'd look just as good on the Hammersmith & City line as they would on the Hebrides. Tweed is more relevant than ever, and this AW20 drop is the freshest of the bunch. Shop the full Walker Slater collection here.