Walking in Clover: An Ode to the Urban Commando Boot
Now that November has arrived the weather has officially gone to pot – which of course means one thing in The Rake's mind – time to boot-up. Fortunately, our exclusive Urban Commando Boots, made in collaboration with Gaziano & Girling, are as impressive as boots can be.
With winter setting in, and the weather becoming ever more unpredictable with each passing day, it is time – at long last – to think about beefing up one's footwear. Whether a marching boot, motorcycle or jodhpur boot, ankle boots are about to come into their own for the season – robust and rugged enough to withstand all weather conditions, easily paired with all manner of formal or casual looks and hardy under foot as they are. Readers will doubtless remember that this time last year, we launched one of our very first retail collaborations with contemporary Northampton shoemaking titans, Gaziano & Girling – the Urban Commando Boot. As the name suggests, these are designed to fulfill a rather specific purpose; that of storming the city in fine style. The project came about following a frank discussion between our Founder Wei Koh, Tony Gaziano and Dean Girling about the need for a boot capable of delivering all the durability and sturdiness of a commando boot, but which was appropriate for modern urban living. In the wake of an ever-faster pace of work, life, international travel schedules and the often relentless pace of modern lifestyles,
The Rake
felt that it was time to create a boot built to beat the throng of the city and to make light work of manoeuvring through inhospitable urban streets, from meeting to meeting or from day to evening. To this end, the Urban Commando boot was created in the finest tradition of luxury Northampton shoemaking, using Gaziano & Girling's gloriously svelte 'Deco' last, with a sharp chiseled toe and slim waist, yielding a pair of boots which, when viewed from above, feel particularly dressy and elegant – ideal for pairing with business suiting or tailored separates. And yet, beneath this vision in mahogany, dwells a foundation as tough as a Hebridean bar-brawler; a unique heavy-duty rubber commando sole, which provides traction, weather-resistance and attitude in equal measure. The soles were developed exclusively for this project, having never before been produced for such a slim-waisted boot. Clicked in the finest full-grain mahogany Alpine calf, chosen for its toughness and weather-resistant properties, a
glossy cedar-calf version
is also available for something a touch dressier.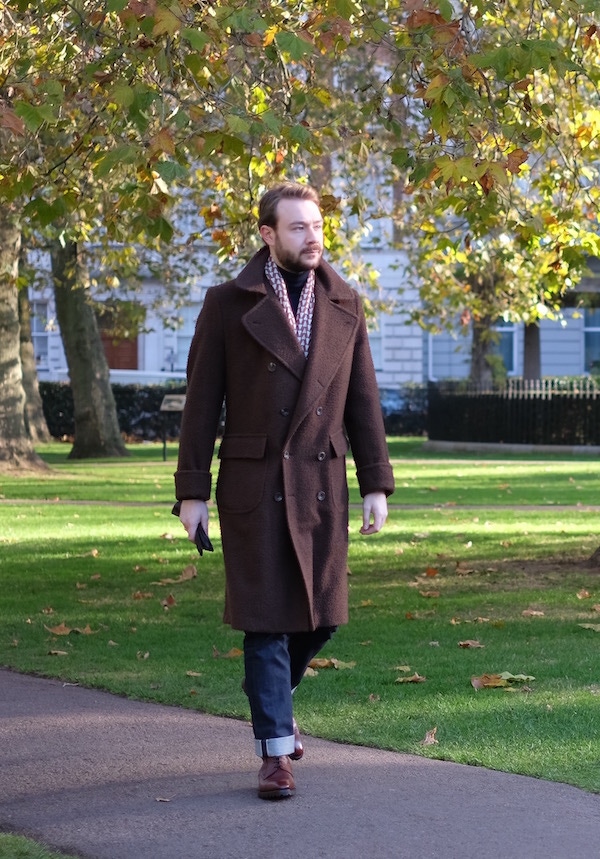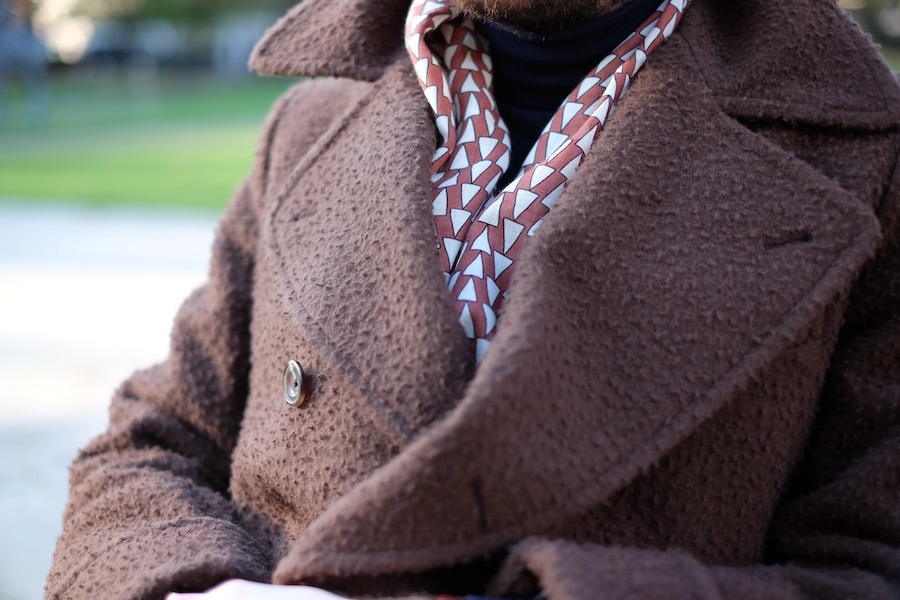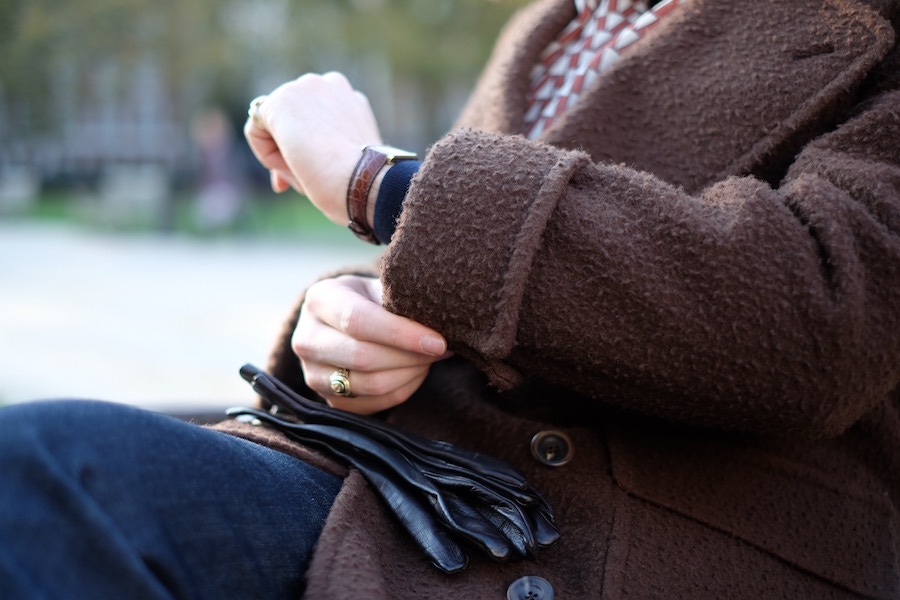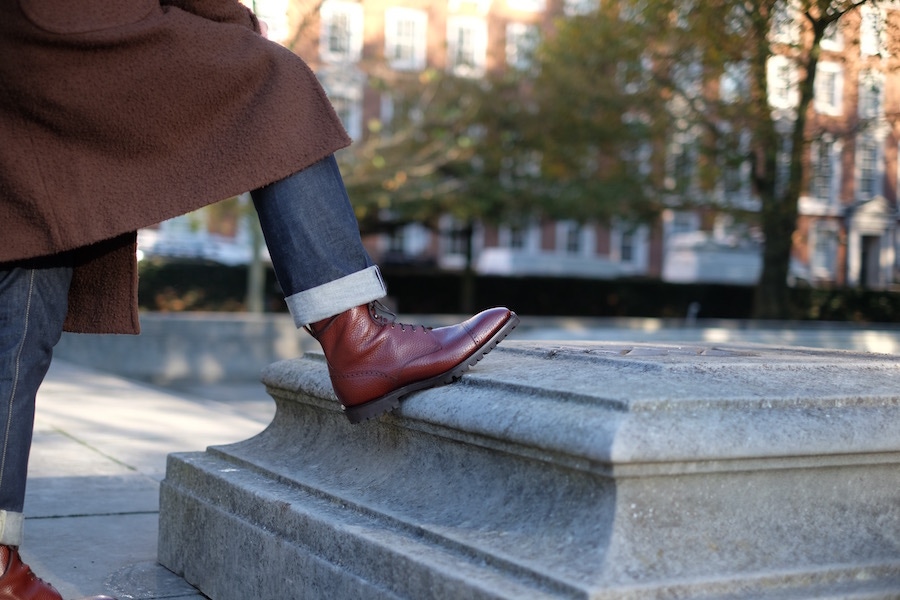 Wearing the boots is a surreal experience. I'm not used to utility boots, and one always imagines that such things will be deeply uncomfortable, blister-bestowing monstrosities. In the case of the Urban Commando Boot, this could not be further from the truth. The boots are incredibly comfortable thanks to the malleability of the Alpine calf from which they are made, that brings with it a natural softness and malleability – making it the ideal leather for hardy boots which remain forgiving on the feet. The rubber commando soles really do make light work of the city streets, absorbing all manner of shocks; lumps and bumps, pounding through puddles and straddling cracked paving slabs with ease. They lend a definite spring to one's step and are if anything more comfortable than conventional tanned leather soles, thanks to the natural bounce of their high-density rubber composition. Indeed, our Founder has been wearing his in Singapore come rain or shine of late – and finds them equally comfortable in heat wave or tropical downpour alike. You might have noticed that one other garment has a starring role in these photographs, namely the coat – the Rubinacci Casentino Ulster Coat to be precise. A Rubinacci signature, it is moreover the first ready-to-wear Ulster coat that the house has ever produced, featuring a brand new pattern cut by Mariano Rubinacci himself. It is in many ways the seminal expression of the Neapolitan overcoat, generous in its proportions, soft in its construction, imposing and yet deceptively easy to wear. It comes in three colours (the others are navy and forest green) and is exclusive to
The Rake
. What's more, it is possibly the ideal coat to pair with the Urban Commando Boots in order to storm the city; robust, practical, shower-proof (like good tweed, Casentino possesses natural water-resistance), the Casentino coat is just the thing with which to brave the cold, damp air of a miserable winter morning. The cloth takes its name from the Tuscan Casentino valley, through which the river Arno runs – hardy, warming woollen cloths have been produced in this valley for centuries, of which the eponymous raw Casentino wool overcoating is the best known. The coats are coming to shop.TheRake.com very soon, but you'll have to wait a week or two yet, keep your eyes peeled. Those keen to register their interest can do so by emailing
shop@therakemagazine.com.
And as for the Urban Commando boots, they are of course available on our online atelier at this very moment and you can find them
here
. There are less than ten pairs left in each colour, so those in need of a boot at its most serious, stylish and practical, are advised to place an order sooner rather than later.