Walsh: The Best English Sneaker Brand You've Never Heard Of
Made in Bolton, England, Walsh is a little-known sneaker brand that occupies a space between fashion and sports footwear.
In January this year, I attended Pitti Uomo and made the rookie mistake of wearing leather soled shoes for the most part of the show. Taking into consideration that I averaged 15 kilometres of walking each day, I had my wits about me in June, and took a pair of Walsh sneakers out with me and it was a completely different experience this time around. My admiration for Walsh transcends the safety blanket of comfort, though, as it's a little-known brand with a brilliant tale that boasts a 100% Made in England ethos.
Much in the same way that Northampton is lauded for producing fine men's dress shoes, Bolton is known for sports shoes. Walsh's tale starts in 1895 with Joseph William Foster. He invented a running shoe that was fitted with metal spikes on the soles to improve the athlete's traction both for track and fell running. He then founded the company that takes his name in 1900 and from that point on and until 1958, the Foster family continued to produce performance enhancing footwear for runners, footballers, rugby players and golfers and is infinitely tied to many of Britain's sporting records.
Much of J.W Foster & Son's ingenuity came with the arrival of Norman Walsh, a Bolton-based cobbler, who joined the company in 1945. It didn't take long for his prowess to be recognised and three years later he made shoes for the 1948 British Olympic team and in 1954, he made the running spikes for Roger Bannister, who broke the four-minute mile record at Iffley Road Track, Oxfordshire.
Towards the end of the 1950s, J.W Foster & Sons was in a state of decline and in 1958 the business became Reebok. In 1961 Walsh founded his eponymous company and throughout the 1960s, he continued to produce footwear that met the needs of athletes who achieved monumental feats and scored equally monumental goals in FA Cup Finals. "The diversity of the shoes Norman made was incredible," says Jason Crompton, who bought Walsh with his brother in 1996 following Norman's well-deserved retirement. "He made shoes for absolutely anything really: high jump, long jump, cricket, rugby and fell running. If you could name a sport he probably made a shoe for it. He supplied everyone from school kids to professional athletes alike."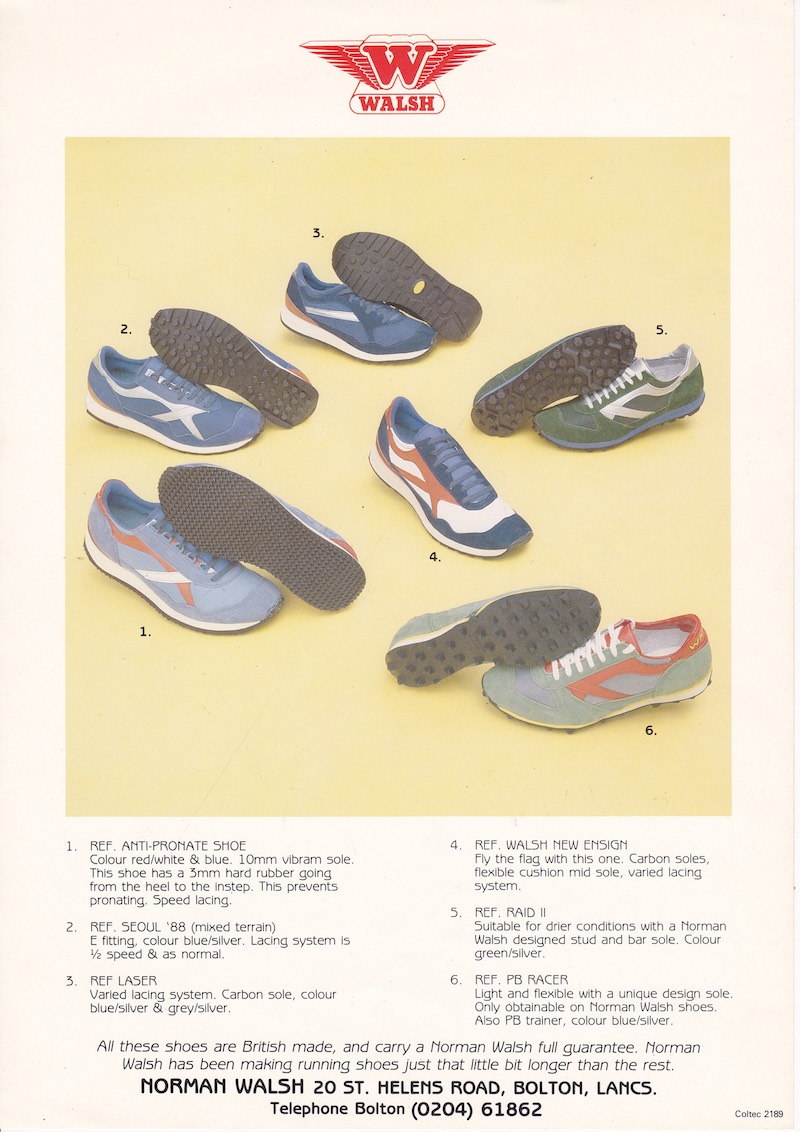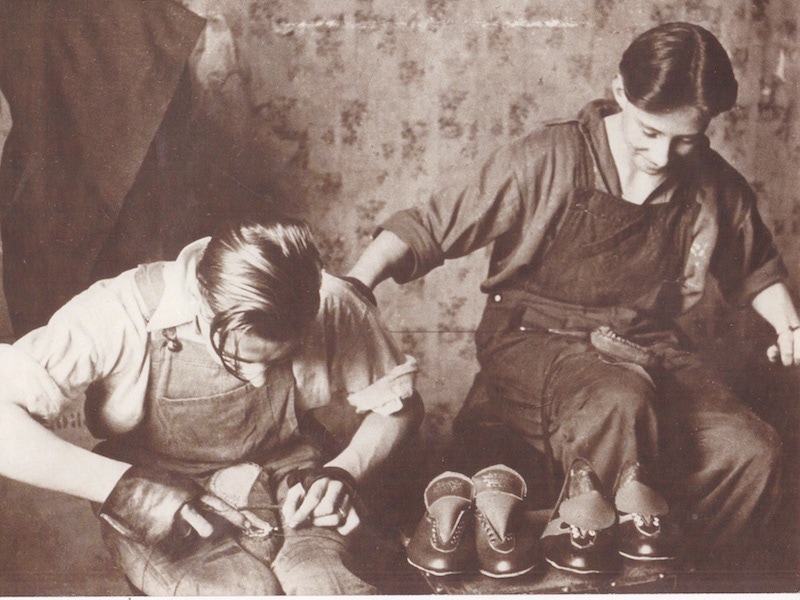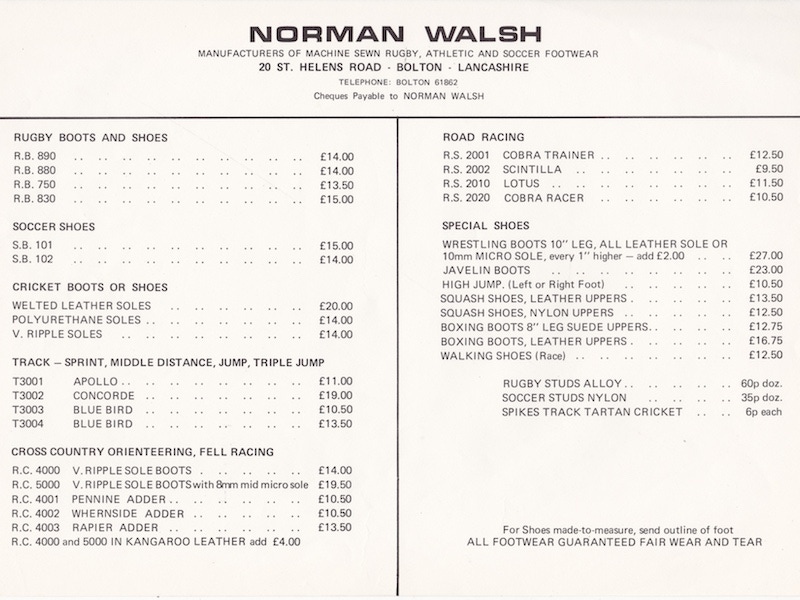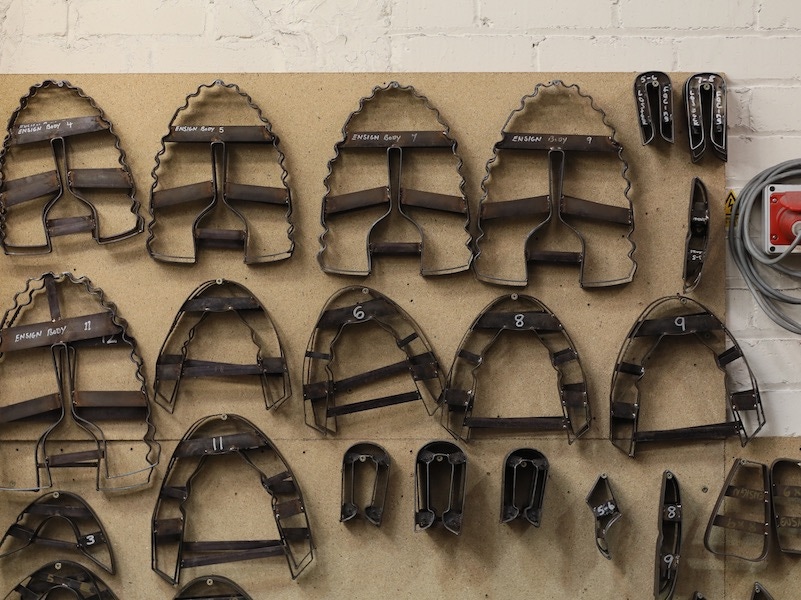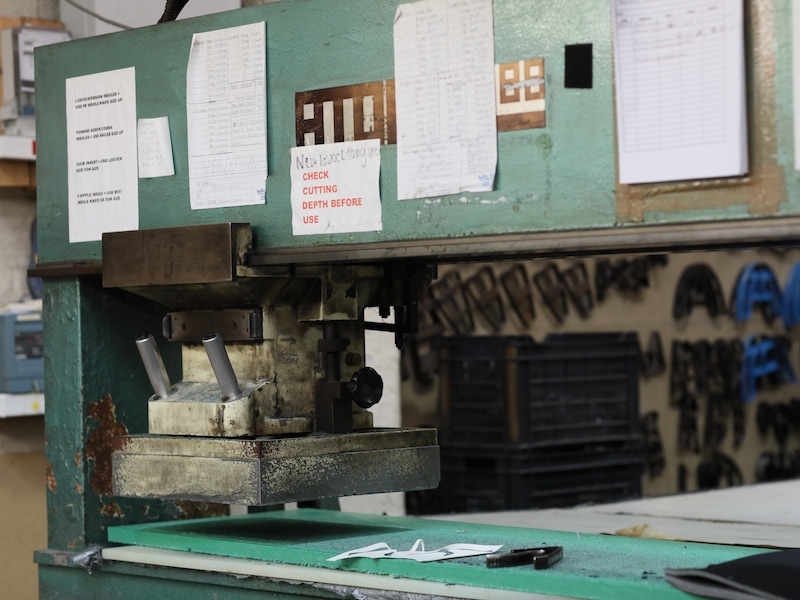 Today, the sneaker world is a multi-billion dollar industry that's in a constant state of evolution. However, Walsh has brilliantly stuck to its ways and this is due to the Crompton family's respect and admiration for Walsh's work. It continues to produce shoes that have remained stylistically the same and are inspired by popular models from the brand's heyday yet now with a more contemporary colour palette and blend of materials, both natural and synthetic. "We stick to the original silhouettes – we have a sporting perspective to all the shoes. They're still made in the same way as the 1970s and 1980s," Jason tells me. Their style could be called classic-retro; they're sleek, flexible, insanely comfortable, surprisingly light and well-made. I was genuinely surprised when I learned of the manufacturing process. Having visited many Northampton-based shoemakers, such as
Tricker's
and
Edward Green
, Walsh's sneakers are made in the same way, but with just a little less handwork. This shouldn't come as a surprise considering the very attractive price point. The uppers and quarters are machine pressed and then sewn together via a single seamstress who uses a Singer machine. They're then machine lasted, which requires trained hands before various steps of tidying up the shoes before inspection and packaging.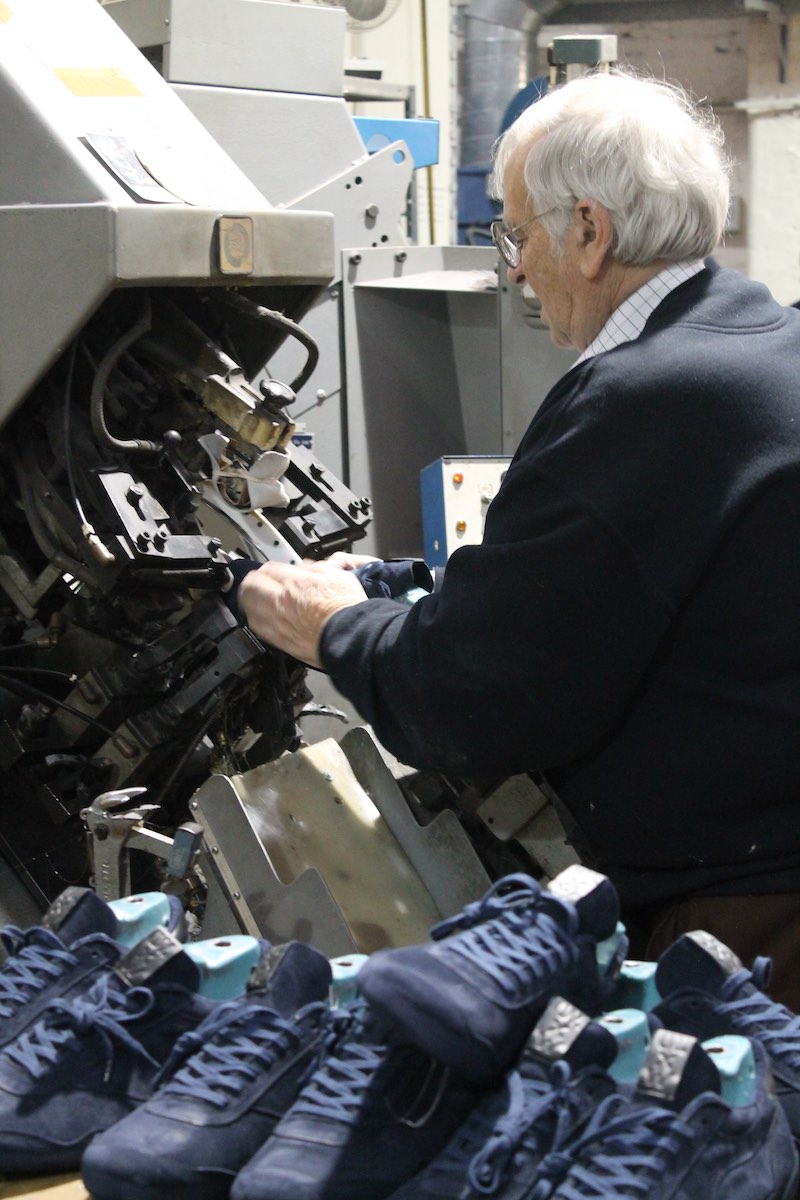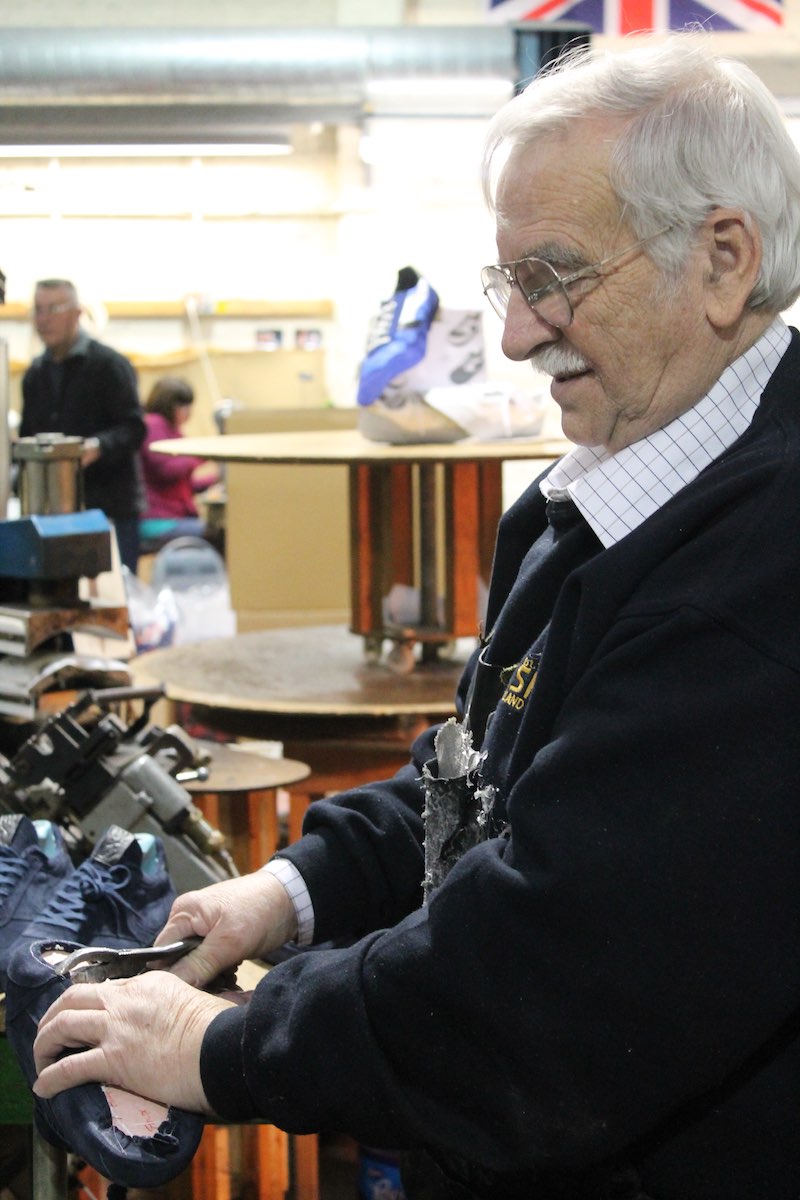 The Rake is currently offering three pairs of Walsh sneakers, two of which are the Ensign model. This was developed by Walsh in 1981 for the Bolton Harriers, Bolton's oldest running club founded in 1908, which was competing in the New York marathon that year. It features a gripping Vibram sole, while the uppers are a hybrid of nubuck and waxed cotton from British Millerain. On the tongue (and loud and proud) is the Union Jack, which clearly underlines the brand's impressive heritage, while the inside of the shoe is lined in melton wool, care of Hainsworth. It should come as no surprise, then, that Walsh attempts to use British made materials across its range. The Ensign model comes in an attractive olive and slate grey. The other model The Rake is currently offering is the Tornado. Stylistically, there's a more pronounced and sharper heel and materialistically it features pig suede and Ventile, which is another British innovation that was developed just south of Bolton in Manchester during World War Two. It was, and still is, used by the military and is favoured due to its densely woven nature which allows excellent breathability, insulation and waterproofing potential.
There's no denying that brands such as Walsh are a dying breed and you'd be pressed to find another company that still produces entirely in Britain and supports British manufacturing. It sits in an unoccupied space in the market, somewhere between sportswear and fashion footwear. This, Jason says, "allows us to experiment, which is what I think makes the brand a bit more special". When looking at Adidas and Nike and taking into consideration their duopoly on the market, Walsh is a breath of fresh air and continues to make strides in the right direction, away from mass-production.
Whether you've succumbed to wearing
sneakers with your tailoring
due to the benefits of comfort or are in need of a pair for an easy-going weekend, Walsh is versatile in both respects. If you're relatively new to wearing sneakers for non-sporting purposes and need some inspiration, we've chronicled the many ways in which you can wear sneakers
here
.