Watch Accessories Edit
Fast forward your thinking by doubling up on artisanal watch accessories to help declutter your collection. And perhaps more importantly for peace of mind that they're safe and kept good order.
Watch Winders
An automatic watch is a precision piece of engineering, and like your car it benefits from being used rather than left idle. Inside your watch, the many cogs, levers and springs are all lubricated by a very fine oil that keeps the watch functioning at optimal performance. It may be that you have an extensive collection and wear different watches for different occasions. For peace of mind – a watch winder acts as a safe haven for your watches, whilst you can be confident the time is correct. A vital accessory for a watch collecting enthusiast, there's only a handful of brands who specialise in such items, one of which is Rapport, founded in 1898 by ambitious 20-year-old watchmaker by the name of A. Rapport. The brand's brown walnut 9-watch paramount winder, which marries together the skills of a cabinet maker, clock maker and electronic engineer is something of an
objet d'art. Back lighting and an LCD touchscreen allow you to control each individual watch. Finished with a quality lacquer, Rapport's crimson wood watch winder is less technical, but a cool looking contraption and at a very accessible price point. Wolf, another heritage brand supplying watch accessories are well-renowned for their cutting-edge design. Made by hand their copper axis double winder also has 3-piece watch storage. This model comes in a variety of sizes, but if this isn't quite what you're looking for, by perusing the complete WOLF selection it will be tough not to be cajoled by at least one of their breathtaking inventions.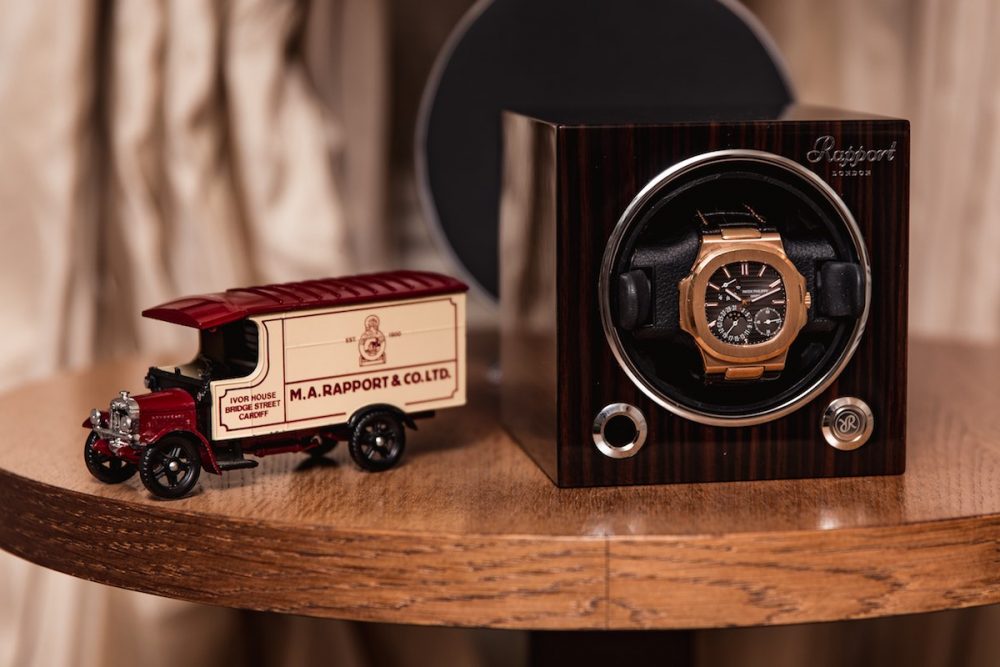 Watch Rolls
Watches are instruments of accuracy. Whether used for storage in the home or when travelling, the usefulness of a high-quality watch roll cannot be overstated. It's the same two aforementioned timepiece accessory giants who roll out splendid watch rolls.
WOLF's
tan python skin is an exotic and chic iteration, whilst Rapport's denim canvas design adds a touch of '80s drama to your hoard of timepiece apparatus. Alternatively,
WOLF's
Navigator range are comprised of luxury versions featuring the world's greatest and most stylish travel destinations.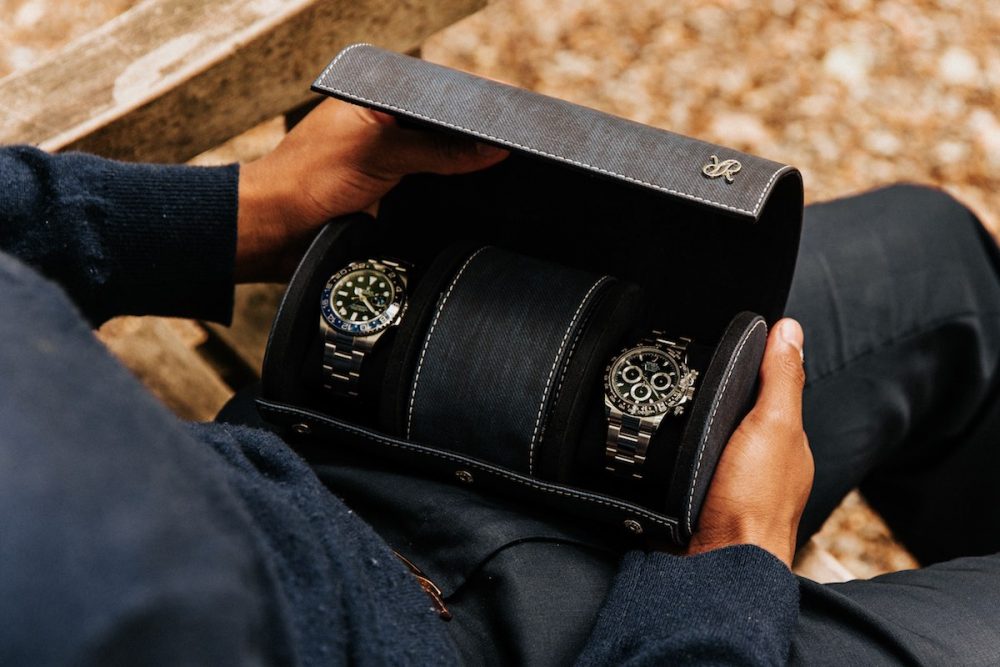 Watch Straps
Watches are items of innovative mastery, but not always sensitive to the details of beauty or even imbuing a little pizzazz and panache. A new watch strap if appropriate can add a little more comfort and character to your sublime timepiece. Exclusive to The Rake and handmade by a lone artisan in Italy, any one of Huitcinq 1988's selection of marine animal skin creations are a whimsical choice. For a slightly more understated but vintage feel, the watch straps from Fears are crafted in robust goat leather in Belgium with pin buckle fastening and are simple yet stylish option.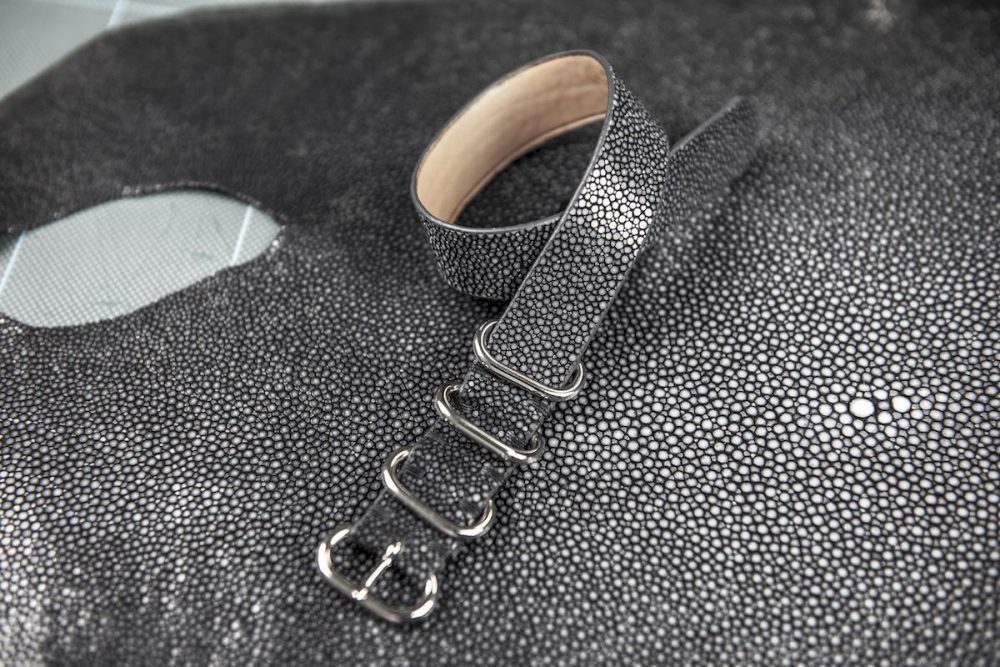 Watch Boxes
Keep your watches safe in fine style with a geometric pattern Henley box in real Macassar wood from Linley. For a slightly more futuristic take on a watch box, luggage pioneers Charles Simon have created a watch case in aluminium and bull leather. Rapport's navy leather two-watch Kensington box or white wood and glass two-watch optic box are perfect for the more part-time watch admirers.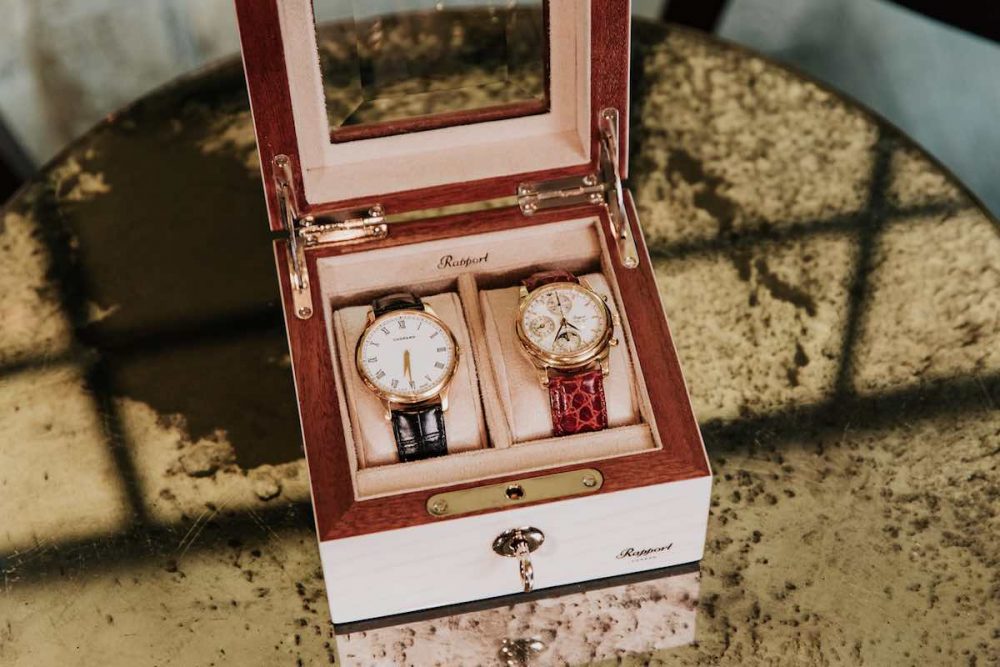 Watch Trays
When it comes to travel accessories in leather, British heritage brand Ettinger should be your first port of call. Their selection of collapsible trays are well-suited for storing watches whilst travelling for work. Nowadays, you may not have a valet, but it's still inestimably useful to have a tray for your daily essentials. With its top grain leather fabrication and bold chrome accents, the Blake valet tray with cuff from
WOLF
in a variety of colours will serve as a supremely stylish receptacle for your watches.