Watching The Detectives: Film Noir's Enduring Influence on Style
Josh Sims tips his hat to a cinematic era in which style told half the story.
There is a reason the detectives of 1940s and 1950s film noir always seem to wear a trench-coat. In film noir, it always seems to be threatening to rain. Darkness prevails - both climatologically and psychologically speaking. There are no heroes, just men and women trying to get ahead and, when that fails, as it usually does, going back to just trying to get along. Some are hiding, some are chasing. And tables turn.
"They're all true - booze, brawls, broads, all true. Make up some more if you want to". Robert Mitchum - who was born a century ago this year - was speaking of his own life, but might just as well have been speaking of the noir characters - and in suitably hard-boiled language too - that defined his early career, in films the likes of
Out of the Past
and
The Big Steal
. Here, after all, was a man who did prison time for drug possession - he described jail as being "like Palm Springs, but without the riff-raff".
"When I realised I could get Robert Mitchum in the film, it became the movie of my dreams," said Dick Richards, director of the 1975 version of
Farewell, My Lovely,
which marked the actor's return to Noir. "I always felt that [author Raymond] Chandler had Mitchum in mind when he developed the Philip Marlowe character. Mitchum is Marlowe - he's that way in real life."
Mitchum was less taken with his first spell of on-screen drinking, fighting, schmoozing and occasional detecting. It was a period of his life that he noted as being characterised by "the same suit for six years, the same Burberry trench coat - and the same dialogue". But that suit - as well as the ones wore by the likes of Humphrey Bogart, Robert Montgomery and Dick Powell - also defined a menswear archetype: the tough detective, sometimes on the force, more often of the private variety, always world-weary and typically less than enamoured of human nature. "All we've got is that maybe you love me and maybe I love you," as Bogart's Sam Spade notes in
The Maltese Falcon
(1941), often cited as the first of the film noir movies.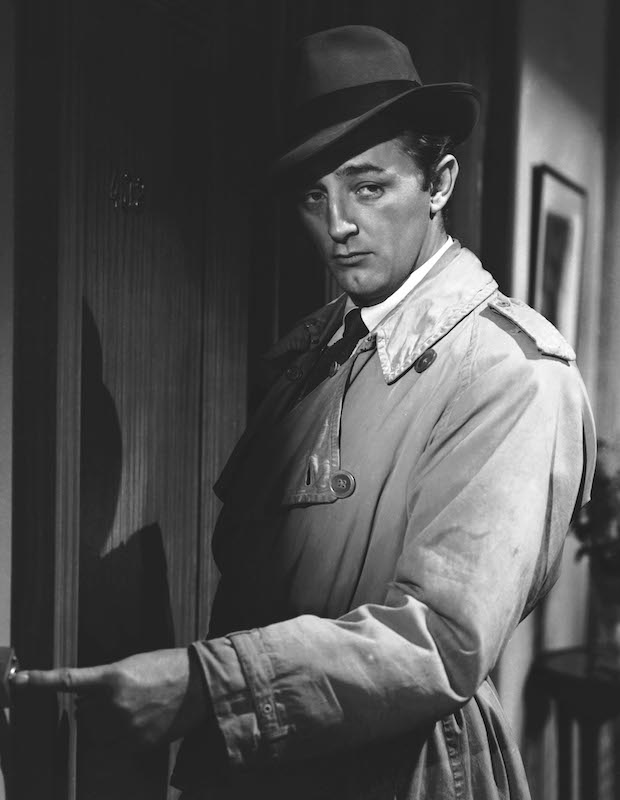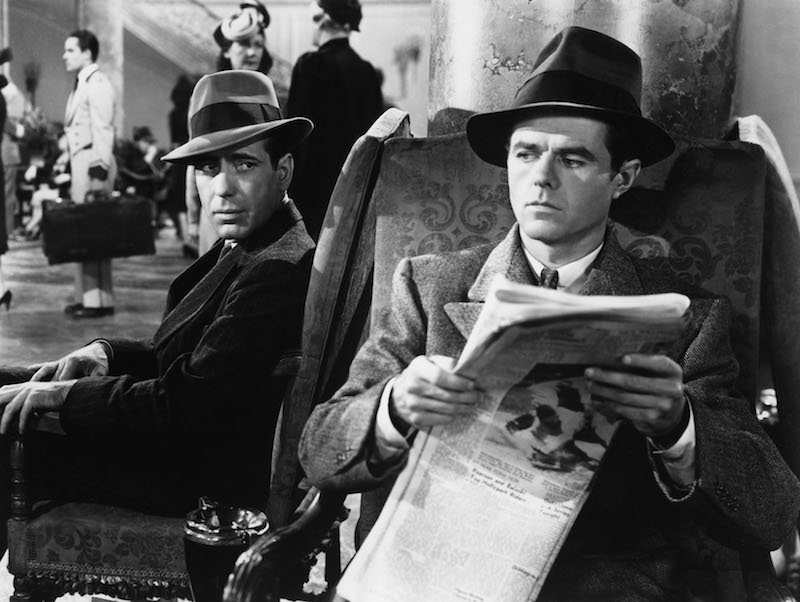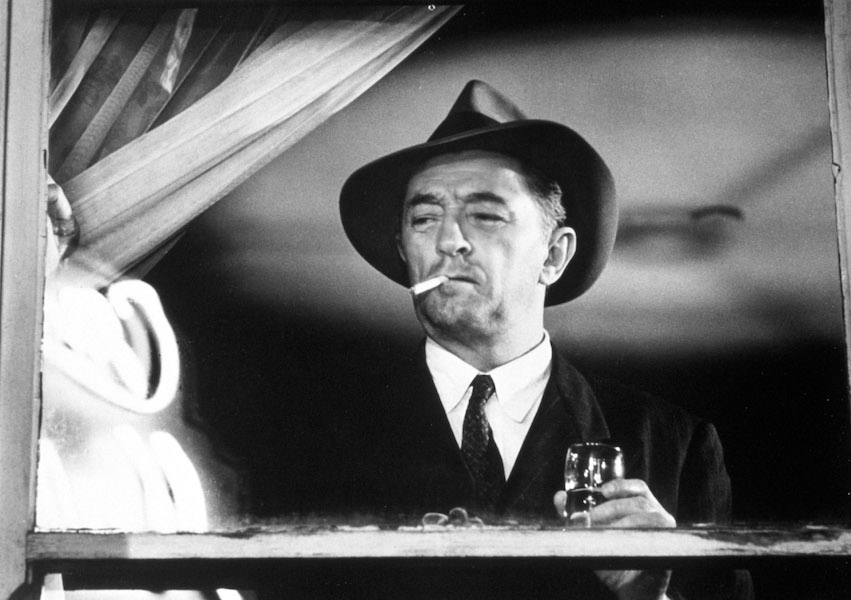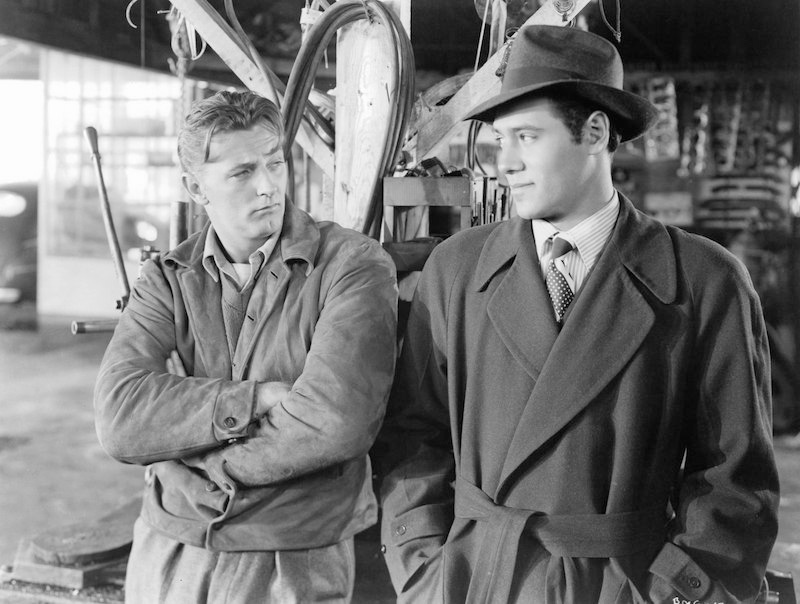 If the femme fatales were all long glossy hair, nipped waists, slinky dresses and cigarette smoke, the men were typically defined by a shabbiness that echoed their cynicism. If, contrasted with 'the good woman', the female lead's magnetically dubious morality was signalled by her smoking, the PI always had a match to facilitate it, and his own downfall. His broad-shouldered, peak-lapelled pin-striped suits were always sharp, but the tie was loose - tough days were capped with a shot from the bottle kept in the bottom desk drawer - the fedora pushed back and the mac or overcoat crumpled, with collar upturned, as though he just may have slept in it. It was, as Dick Tracy's wardrobe suggested, a look that applied even in comic strips. Originally titled 'Plainclothes Tracy', perhaps his creators realised that his custard yellow mac and emerald green fedora made him anything but.
Indeed, the reason Jack Nicholson's Jake Gittes in the modern noir picture Chinatown works, stylistically, is that it plays against type: he cares about his immaculate attire. "Son of a bitch! [That was a] goddamn Florsheim shoe!" he exclaims when an altercation ruins the pair he's wearing. The same might be said of Peter Sellers' Inspector Clouseau, whose tightly-belted Aquascutum mac and tweed bucket hat stood in a gentle parody of noir style.
But what detective style offered, and why perhaps it has lasted, is that it embodies a no nonsense masculinity, independence, sexuality and physicality - underscored by the hyper-femininity with which it's typically set in opposition - all without need to reference uniforms, military, sporting or otherwise. That its appeal still holds true today is perhaps down to its very ordinariness - a product of the fact that the noir detective was rarely presented as being anything more than Mr. Average, compromised and confused and negotiating the world as best he can. The detective was a protagonist to identify, unlike previous versions of the detective trope - the likes of the cinematic Sherlock Holmes, for example, inhumanly intellectual and not a little curiously dressed in cape and deerstalker.
The noir detective may seem to live a life of toil and loneliness - experiences most men get to enjoy come middle-age - but he also lives - as Mitchum seemed to do in real life - outside of the realm of domesticity, as reassuring and as dull as that may be. "I came back from the war and ugly heroes were in," as Mitchum noted - and he didn't necessarily mean aesthetically. The Second World War ushered in a long period of self-reflection and a painful acceptance that the morally-upright, conventional life, so aspirational before 1939, was not so clear cut in its worth after it.
It was an idea the very form of film noir embodied too: complex, often fragmented and disjointed narrative; flashbacks, bringing with them a sense of irrevocably lost time; first-person voice-over, with its sense of predestination and lack of control over events; and deep, deep shadows. In film noir nothing is black and white. Everything is grey. That discomforting notion took hold in society as much as on screen. The detective's attitude, his half done-up, half-undone tie, his mac, the fedora - maybe these are the means of weathering it.