This Week We're Channelling: Anton Chigurh in No Country for Old Men
Channelling a villain is always fun, particularly one as stylish as Javier Bardem's Anton Chigurh in the Coen brothers' critically acclaimed neo-western, No Country for Old Men.
No Country for Old Men (2007) is one of Joel and Ethan Coen's most highly acclaimed pieces of work, and
it's not difficult to see why
. The Oscar-winning film, based on Cormac McCarthy's novel about a drug deal gone terribly wrong, has it all: violence, humour and fast-paced action, not to mention lashings of style. Set in the Texan dessert in 1980, it features many of the hallmarks of a classic western, albeit with added elements of film noir. Such an idiosyncratic intersection of genres makes for brilliant styling that reflects the intricately layered narrative: costume designer Mary Zophres was responsible for crafting
an aesthetic manifestation of
each character's distinct roles, qualities and motivations, drawing attention to their underlying complexities and providing ample sartorial inspiration in the process.
When it comes to channelling the style in No Country for Old Men, there's one particular wardrobe we're inclined to covet - that of the chillingly remorseless hit-man Anton Chigurh, portrayed tremendously by the inimitable Javier Bardem. In typical villainous fashion, Chigurh's unchanging ensemble is dark and unembellished: he's the perfect embodiment of an archetypal 'bad guy' - albeit a supremely stylish one.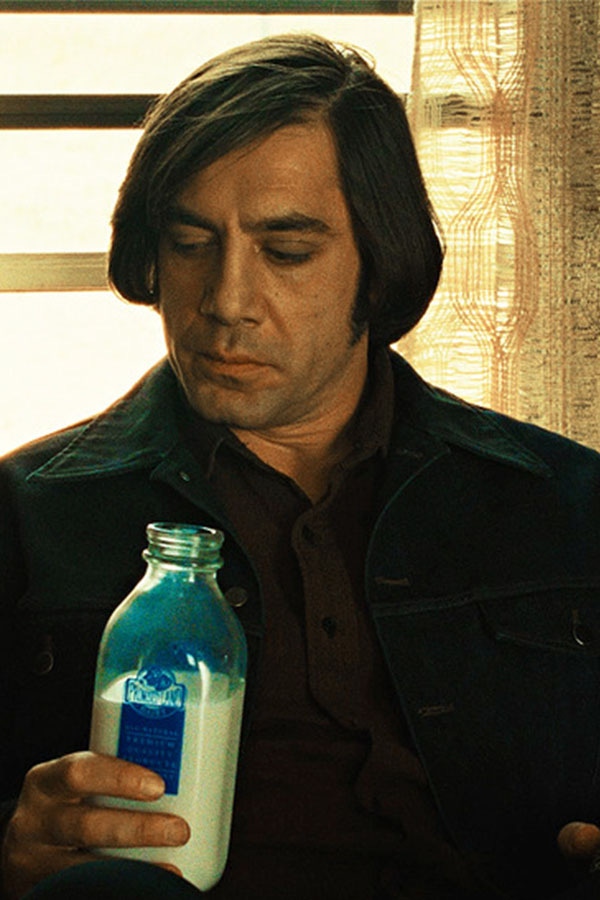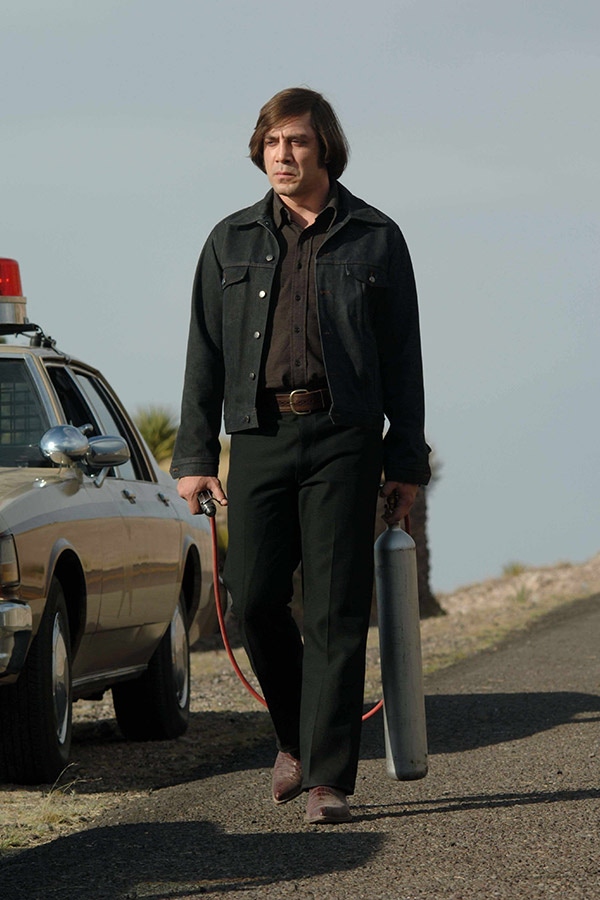 The characterisation of Chigurh as a stone-cold killer is made all the more explicit through the stark contrast of his
sombre attire
against the pale, washed-out shades of the desert environment and the predominantly beige-toned outfits of the other characters. There's an incongruity here: eschewing traditional western wear in favour of dark colours and strong lines, Chigurh is made to seem eerily out of place. An evident proponent of understated minimalism, he sports a dark, almost black denim jacket, sharply cut with a wide, pointed collar, which - despite the scorching desert heat - he never removes. Underneath is a dark brown button-down shirt, which he pairs with a simple pair of navy trousers and maroon snakeskin boots - the only subtle nod to western style.
It could be easy to dismiss Chigurh's styling as overly simplistic, but such a fail-safe minimalist look has proven timeless, and it's an approach that we'll no doubt be embracing this season. Heavy materials such as corduroy and denim are king in this instance: look to brands such as Anderson & Sheppard and Barbanera to stock up on versatile and durable workwear-inspired staples that will see you through the winter months. Italian tailoring house Rubinacci is our definitive go-to for luxurious shirting: its brown cashmere offering will work wonderfully with a casual ensemble of jeans and boots as well as more formal suiting. Tie it all together with a pair of Belsire boots in supple brown suede and a chocolate brown belt from leather experts Elliot Rhodes and you'll have yourself a criminally rakish ensemble.