What Makes Santoni Shoes Special
Introducing The Rake's comprehensive collection of wardrobe-enhancing beauties from Italian footwear masters Santoni.
A brilliant-white, three-storey building close to the central Italian town of Corridonia is pretty much a consecrated building to shoe intelligentsia. It is here, at the Santoni shoe factory, that high-precision methods of artisanal shoemaking – the rigorous standards one would expect from top-draw bespoke shoes – are applied to large-scale production, with results that delight the most stringent of cordwaining snobs.
It's a place where elegantly masculine design is a divine calling; where leathers are scrutinized painstakingly for suppleness, consistency, grain and a lack of imperfections that could later be exposed with a stroke of a patina artist's brush; where centuries-old
artisanal methods – hand-stitching, upper-cutting, outsole shaping, Goodyear welting - are executed with state-of-the-art technology, but never at the expense of the human touch.
The Rake was more than a little spoilt for choice when it came to curating a repertoire of Santoni's current offerings, across the formality spectrum, to feature here: but have hopefully come up with a selection, any pair of which would furnish the most exhaustive of wardrobes with extra panache – and, crucially, options.
No gentleman should be without at least one pair of double monks – the "little black skirt" of men's footwear, when it comes to versatility and eye-catching elegance. "It's our icon, our signature model," CEO Giuseppe Santoni – whose father, Andrea, founded the company in 1975 – tells The Rake of the company's Carter model. "It embodies the essence of men's elegance, especially in its more classic and authentic version. The shape is slightly sharp and elegant, and the Goodyear construction confers comfort, durability and preciousness." Leather soled with a reversed toe cap, the Carter comes in varying, hand-applied shades of blue and brown calfskin. It's hard to think of an ensemble – assuming one's shins aren't exposed – that these wouldn't complement, and a blue pair with chinos or jeans and a smart blazer is just one staple deployment.
The lace-up calfskin version of the Carter (which comes in the same hues) also suits casual get-ups, while the brown shades add a flourish to less-than-strict formalwear – as does the Oscar model: a calfskin Oxford, also hand coloured and polished with Goodyear construction and leather sole, in tones of black and brown. The exquisite wingtip, perforations and fretwork, on close examination, really show off the level of artisanal flair that goes on each day in
Corridonia.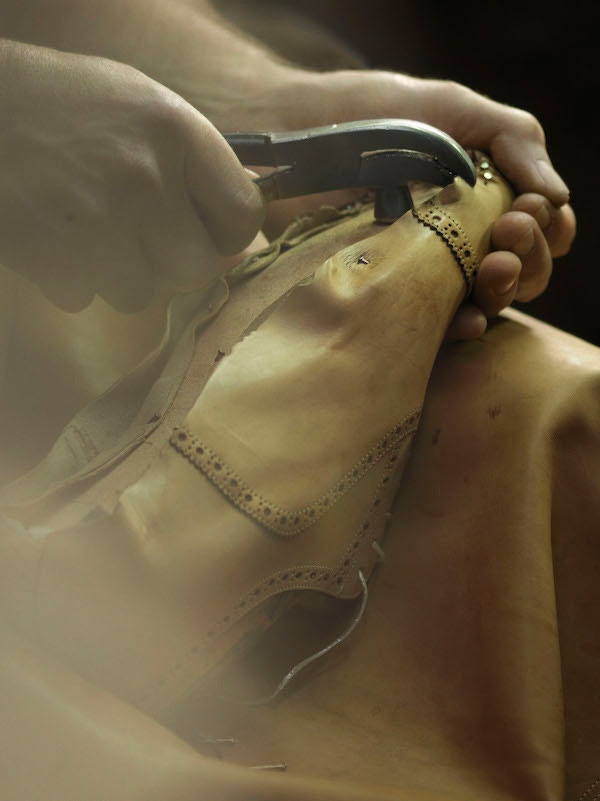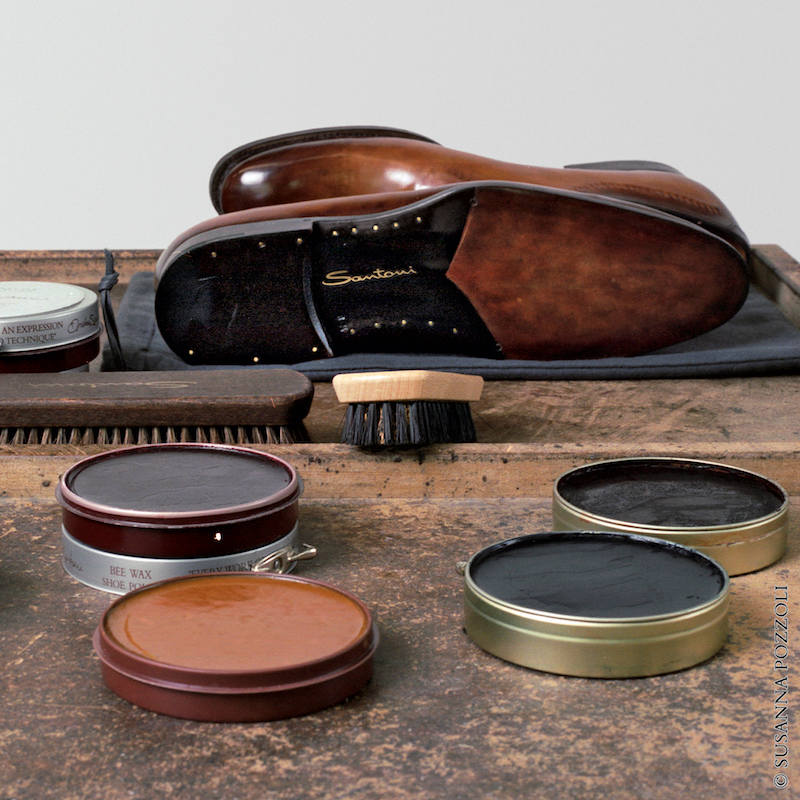 Moving towards the more conventionally casual end of the spectrum, the Wilson moccasin in rich autumnal, reddish brown with tassels and threading is an invaluably flamboyant addition to the repertoire of anyone planning a sockless summer, as is the Hill – a comfortable slipper in calfskin, hand coloured and polished, whose wingtip, perforations, fringe and tassels make it a testimony to Santoni designers' ability to go big on embellishments without the slightest compromising of sophistication. Like the Carter and Oxford, they come in opulent shades of brown and blue.
Perhaps the most flamboyant offering from The Rake's new Santoni range is the Carlos: a loafer/slipper which features a fringe and double monk buckle, also in calfskin. "It represents a modern interpretation of our more classic double monk shoe," explains Santoni of the Carlos, which comes in shades of blue and burnt brown. "The shape is completely different - the buckles are round rather than square, and that exaggerated fringe adds an important style detail. The colour, enhanced by hand, also augments the design of this shoe."
This being a shoemaker which is betrothed to the zeitgeist as well as tradition, Santoni is also applying its shoemaking excellence to serving au courant men's newfound engagement with trainers: hence the Clean IC, a sneaker in soft calfskin, which comes in varying shades of black and white. "It's our icon in the sportswear collection," says Santoni. "This sneaker is conceived to be different, stylish and refined. It has neat and essential lines. It's unstructured and unlined so extremely soft and comfortable, and it's also extra light thanks to the EVA sole. In its all-white version it's extremely sophisticated and it can be worn also in a formal outfit." We concur: if the suit-and-trainers look with a feet-first approach rocks your boat, this is the footwear to be fishing out of your wardrobe.
"Making things more cheaply won't sell more shoes," Giuseppe Santoni told The Rake when we visited the
Corridonia factory
. "What sells more is making them right, making them beautiful, making them different. In short, making them special."
The selection here is testimony, surely, to the diligence with which the Santoni artisans are executing this philosophy today.