Where to Go: Bath & Racquets Club in Mayfair, London
Fitness first? Well, yes — but of mind and soul as well as body. The Bath & Racquets Club in Mayfair is the last of its kind, a gentlemen's health club where social and intellectual nourishment are part of the exquisite service.
They don't make them like they used to, they say. This maxim chimes with the radical obsession with modernising everything, which even a casual glance at older cars, clothes and magazines shows is a vain pursuit. Supposedly technology is a conduit to making our lives simpler, but let me put it to you this way: how many of you get away from work on leaving the office? Your phone is a portable computer, which means you are contactable from the moment you wake up until you go to sleep. Do you ever get time to yourself? In high-intensity lives, is there a place any more for privacy, independent thought or self-improvement? How about the gym? Perhaps it is the perfect place for this sort of thing. Your self-discipline will determine the results, and it is a great way to detach yourself from the drudgery of working/family life. What if I were to tell you that the gym had a distinctly social and intellectual capacity at its inception? The Greeks would use gymnasia as places to escape to, usually on the outskirts of a city, to engage not only in exercise but philosophical conversation. Even today in European nations, a gymnasium is a type of school, the name not solely associated with the concupiscent crucible of clanking steel, thudding treadmills, sweat-soaked back rests, unreturned free-weights, hogged benches and ever-more-bizarre-looking pieces of apparatus that are meant to aid the unceasing pursuit of the perfect 'bod' at your local Fitness First. What if there were remnants of this ancient tradition of a Corinthian gym? A place where both exercise and interesting conversation, comfort, privacy and detachment can be achieved? Would you feel inclined towards it? Perhaps you find the protein-shaked modernity of KX or Equinox to be a little soulless, a bit Instagrammy? To many, the idea of a proper gentlemen's gymnasium, where the comfort and service (not to mention clientele) of the best members' clubs are as important as the ability to keep fit, is anathema. Then again, these people haven't heard of the Bath & Racquets Club, an arm of the Birley empire and certainly the last of its kind. Perhaps unsurprisingly, it was London that had the lion's share of this kind of establishment, with
New York
playing second fiddle. The Bath & Racquets Club is a lasting reminder that taste and elegance are available to those sophisticated enough to employ them. The club itself is snuck into Brooks Mews, the alley running behind Claridge's in Mayfair. The blink-and-you'll-miss-it entrance is intentional, but as soon as you get in, you appreciate how your discretion is rewarded with a society of modern-day Corinthian men. It is not a surprise that the club is part of the Birley group — all the tasteful touches that Mark Birley has left the world are very much in place, without a whiff of compromise. The excellence and sophistication here is so woefully lacking in many other supposedly luxurious institutions.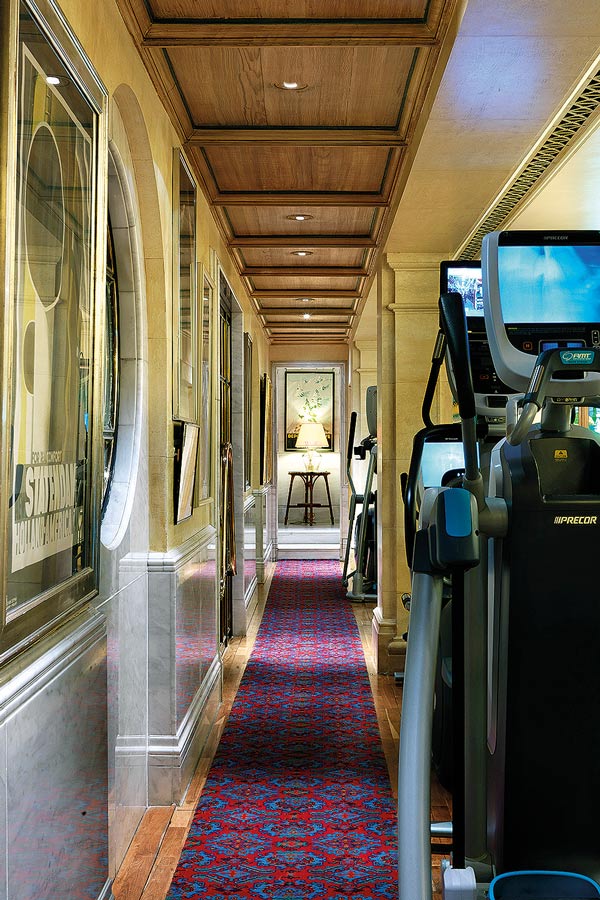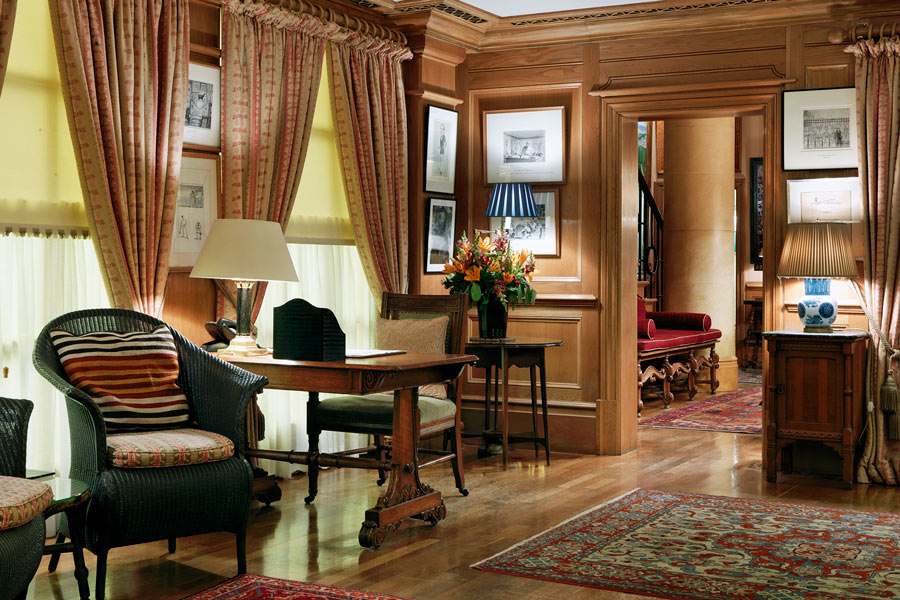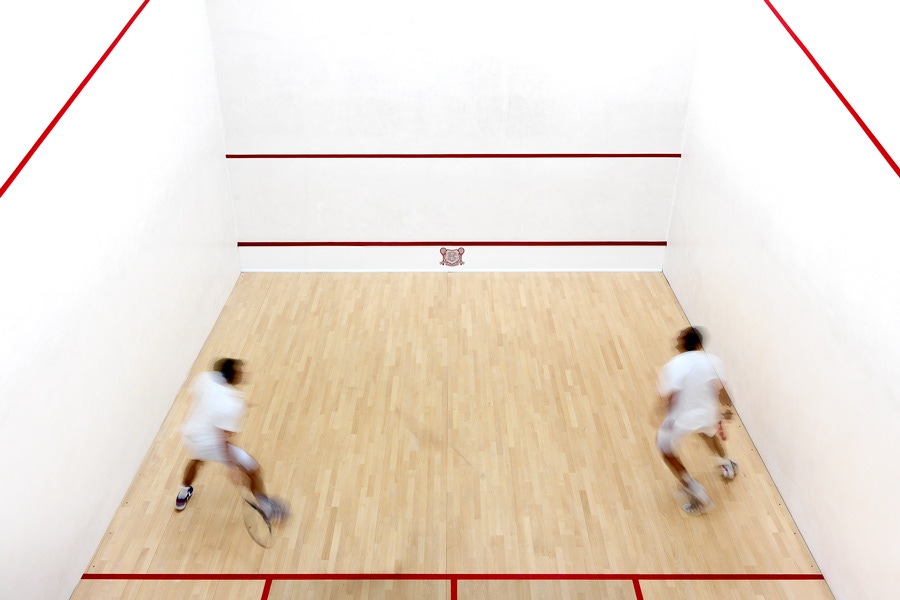 This is the last of its kind, but it is not the first. Arguably, the Bath Club that had been in place here is the natural predecessor; however, the precedent of the style that Mark Birley employed came from another London-based health club, called Slim Jims. At this point I should declare an interest and say that the Slim Jims founder is Nick Chamberlin, my father. Nevertheless, the story holds true whether I tell it or not. Slim Jims was founded on the premise that in 1970, when it opened, most men in the City (near Moorgate) would most likely have been in the army. So a gym set-up with all the trappings of an officer's mess, and the chance to regain the fitness levels required of sprightly subalterns, was a stroke of marketing genius, and membership there acquired a sort of social status. Everything was carried out with precision and in the interests of comfort, and there was an eye for detail, from the regimental guidons to the squash courts, rest area, restaurant and the Bateman cartoons on the walls. When Mr. Birley was given the opportunity to open his own health club, he called on Nick — a friend from the early seventies, and a friendly adversary from the Annabel's vs Slim Jims squash competitions — to see if he could join for lunch and get an eye for what Nick was doing right. "By all means, when would you like to come down?" Chamberlin said. "Today," Birley replied. Nick adds now: "We had a busy day. He saw everyone wearing white kit [which the club insisted upon], and he said that it was exactly the sort of set-up he had in mind in Mayfair." He said that he was going to go ahead and do this, but 'I won't unless you're prepared to work beside me on it'. Which, of course, I was very happy to do. I asked for no sort of fee but absolutely didn't want anything to do with the finances. So I was there to guide on things like equipment, the percentage of space one should put in for changing room versus facilities, and the club kit." Kit is one of the distinguishing components of the club. There is no need to turn up to the gym with any of your own kit, as your trainers are left at the club to be collected alongside the standard issue apparel of air-tech shirt, shorts, socks, and something to hold everything... ahem... in place. After your work-out, the kit goes into the basket, you enjoy one of Gus's restorative cocktails, alcoholic or not (ask for the Ginger Bomb, if you want my advice), and the clothes are washed in-house by the laundry team. The showers are built using the last of the onyx marble available in the U.K., and the result is pretty magnificent — spacious, grand, and walking there in the club dressing gown does give a whiff of homeliness, which is, by and large, the point.