Light Footed: Winning White Sneakers
With Wimbledon fast approaching, Charlie Thomas takes a look at the white sneakers winning game, set and match this summer.
For many decades proper, welted leather shoes were de rigeur for the well-dressed man. Whether Oxfords, brogues or loafers, they were the only option for those wanting to look put together and respectable. Now though, brands and customers alike are recognising the sartorial potential of clean, simple trainers. When chosen well a pair of trainers can transform your tailoring - taking it from corporate and stuffy to elegant and contemporary - as well as add a sporting element to denim and weekend wear, not to mention their extremely comfortable qualities. Due to their burgeoning popularity, numerous brands are producing attractively designed trainers that are noted for their exceptional versatility and lack of extraneous details. In other words, perfect for the modern rake. Here are five that have caught our attention.
1. Brunello Cucinelli
If there is one word to describe the garments created by Brunello Cucinelli in his Italian Solomeo workshops, it would be 'soft'. Well known for crafting some of the finest, most luxurious cashmere, which he's been doing for quite some time now, Cucinelli produce exemplary tailoring that feels more like knitwear than traditional suiting, mostly because of their soft construction and use of innovative cashmere/silk/wool blend fabrics. These trainers fit the bill too, made from butter-soft white grain leather that will take minimal effort to break in. Unlined and light in weight, they feature impressive detailing in the use of suede on the tongue and heel but most impressive is their simplicity.
£460.00, www.brunellocucinelli.com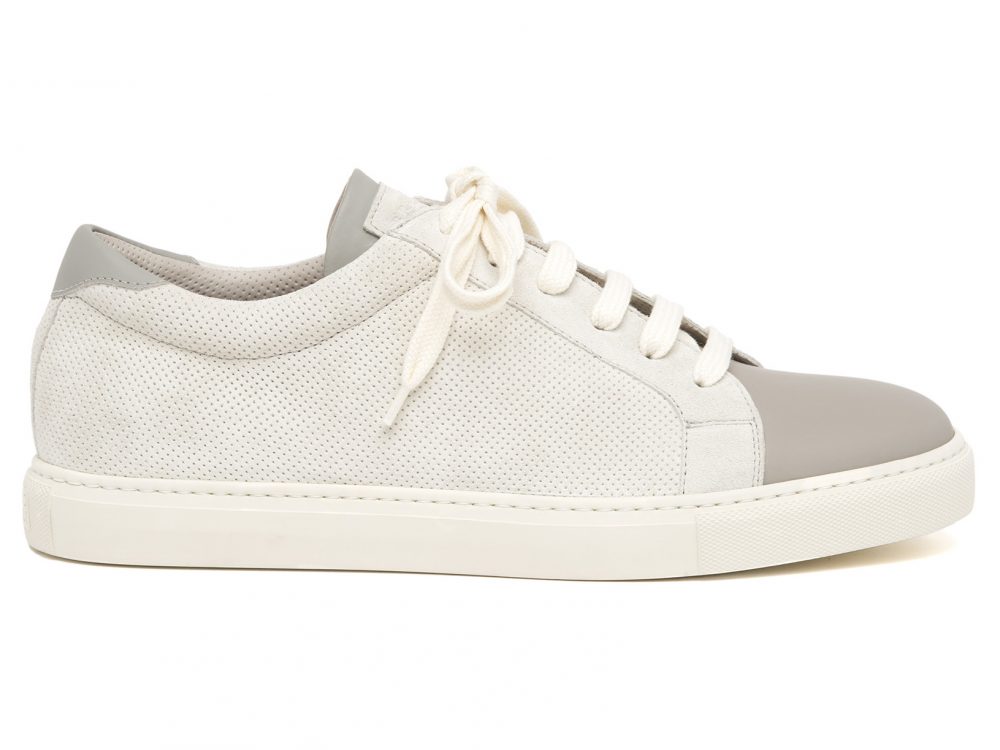 2.Ludwig Reiter
The fourth generation family-owned Austrian shoemakers Ludwig Reiter are a favourite of The Rake. We sell their beastly
Husaren boot
through our online atelier and have always marvelled at the exquisite handiwork that goes in to each shoe they produce in their intimate workrooms. Although known for their Goodyear-welted Viennese style shoes, Ludwig Reiter also produce a range of sporty trainers that are equally magnificent. These white nappa leather trainers are a case in point, utilising the brand's quality manufacturing with a sleek silhouette that would pair well with summer tailoring.
€279.00, www.ludwig-reiter.com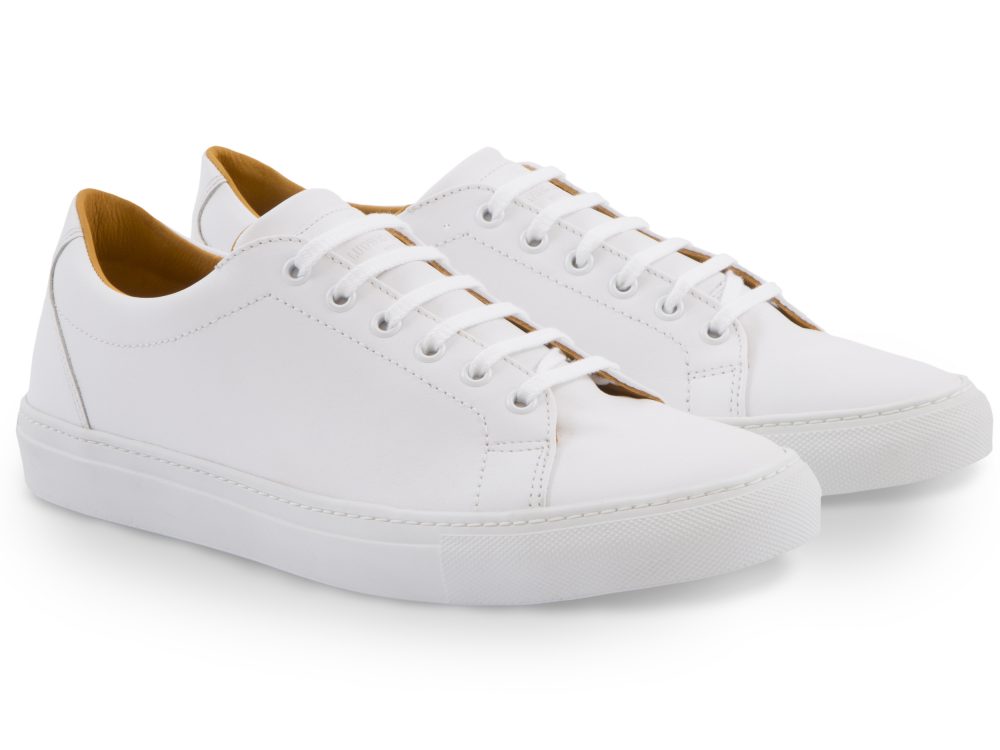 3. Converse
Plimsolls first started appearing in the late 19th century and were called as such because the coloured band that joined the sole to the upper reminded one of the Plimsoll water line on the hull of a ship. Due to their light weight, durability and comfort they were adopted by both sportsman and the military, and certain brands capitalised on their simple construction and utilitarian design. Converse were one such brand, producing tennis shoes as early as 1915 and their signature Chuck Taylor All Stars since 1917. Another of their famous models, the Jack Purcell can be traced back to 1935, although it was the eponymous badminton champion who designed these and not Converse. The design is virtually unchanged to this day, and although they were meant for the badminton courts, Jack Purcells cater especially well to tailoring thanks to their slim silhouette. Spec yours in tumbled white leather for a luxurious take on a classic.
£80.00, www.converse.com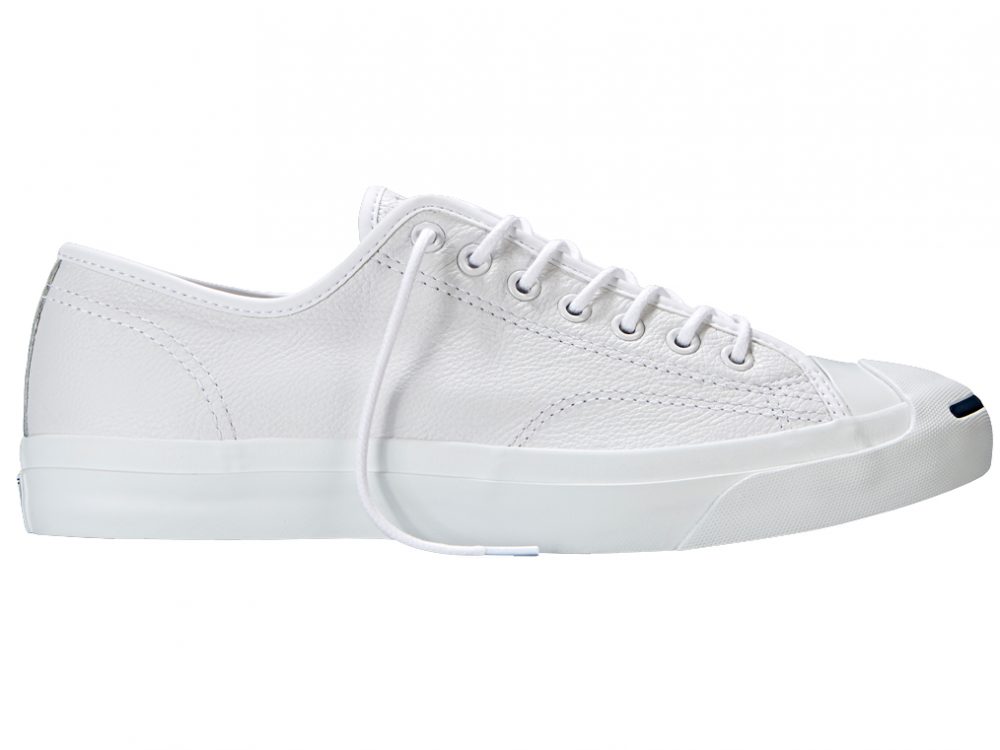 4. Adidas
The ubiquitous Stan Smith sneaker by Adidas was originally called the 'Robert Haillet', after he was approached by Adidas to endorse their first leather tennis shoe back in 1965. This all changed though when he retired, as two-time major winner Stan Smith was offered a shoe deal in his place, stealing poor Robert's thunder. Like most 'tennis' shoes today, Stan Smiths are not worn for competition, but rather by those who favour clean, contemporary design. Indeed, it's most impressive how this shoe's design is over 50 years old yet it looks entirely modern and adaptable, perfect for a wide array of looks.
£70.00, www.adidas.co.uk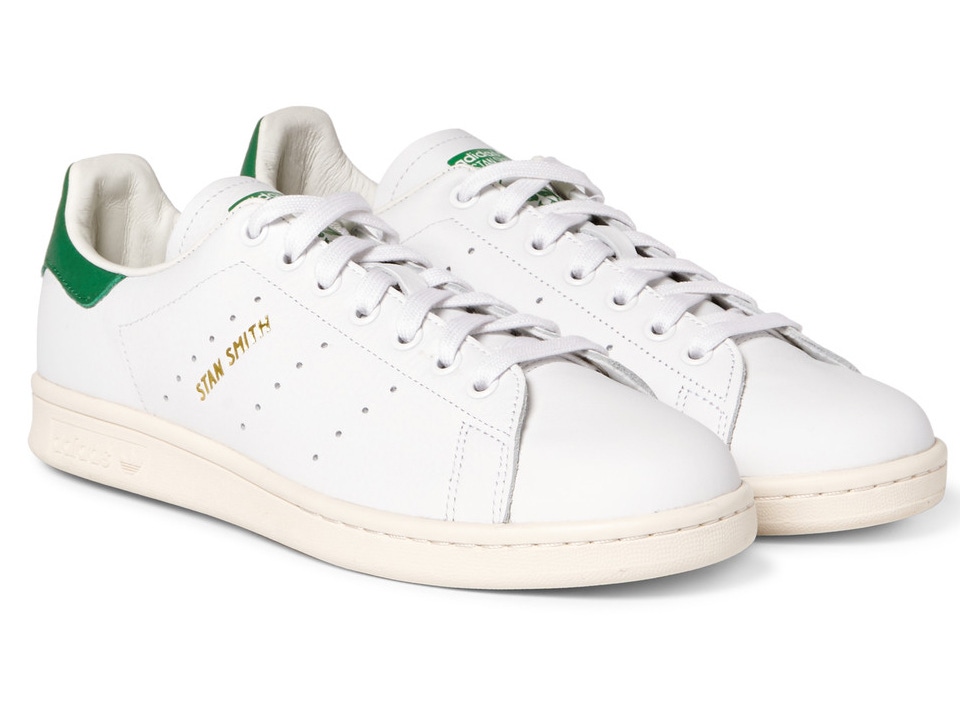 5. Common Projects
Behold, the king of minimalist sneaks; Common Projects. It isn't entirely clear which brand was the first to produce pared back luxury trainers, but Common Projects certainly pioneered them. They've been featured extensively on numerous fashion websites and blogs and have gained somewhat of a cult following for their elegant simplicity and quality Italian construction. Also note the signature gold serial number stamped onto the edge of each pair, an easy identifier. Every brand and their mother produce minimal white trainers now, but Common Projects are among the very best.
£275.00, www.mrporter.com