Windows On The World
When you need a rakish home from home, or just another perspective on life, these six hotels — recommended by our writers across the globe — will provide you with the R&R you deserve...
When you need a rakish home from home, or just another perspective on life, these six hotels — recommended by our writers across the globe — will provide you with the R&R you deserve...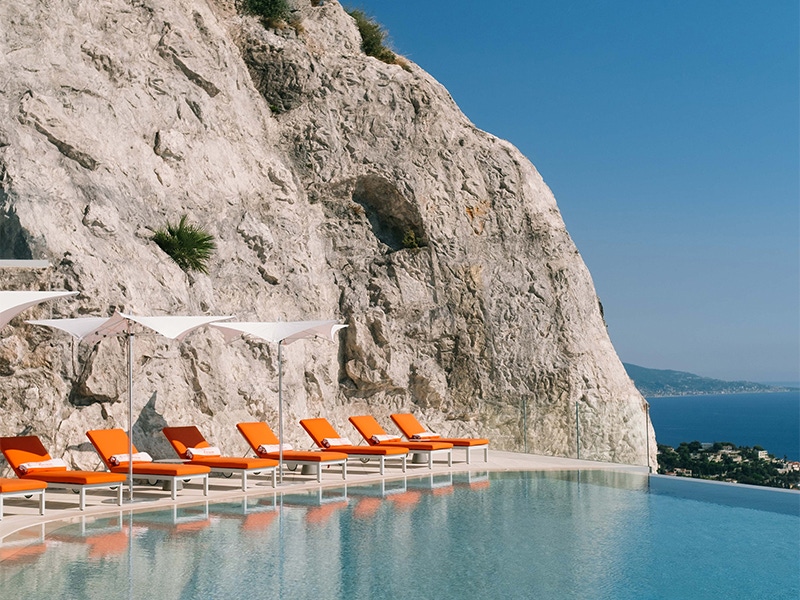 SEEING IS BELIEVING
Breathtakingly positioned a thousand feet above the Mediterranean is the Côte D'Azur's latest jewel: the Maybourne Riviera. As The Rake discovered, there is no need to ask for a room with a view.
It's a stretch of coastline that lives in legend and lore, one that has inspired countless artists, from Renoir and Cézanne to Picasso and Matisse. The latter summed up its appeal by asking, "Do you remember the light through the shutters? It came from below, as if from theatre footlights. Everything was fake, absurd, amazing, delicious." That intangible interplay between land and sea along the French Riviera that so beguiled the creative cognoscenti has also attracted innumerable hoteliers over the past century. They came to fashion either instant icons (think Hôtel du Cap-Eden-Roc, The Carlton, The Negresco, and Grand-Hôtel du Cap-Ferrat, to name just four) or bijoux properties that have slowly adopted that status (La Réserve Hotel Ramatuelle comes to mind). The latest to join the constellation of five-star beauties strung along the Côte d'Azur from the Italian border west towards Saint- Tropez is The Maybourne Riviera (maybourneriviera.com), a sister hotel to London's Claridge's that occupies the former site of Vista Palace, itself a 1930s resort that became popular among the stylish set, including Coco Chanel and Le Corbusier, before it fell into disrepair and was closed for a decade.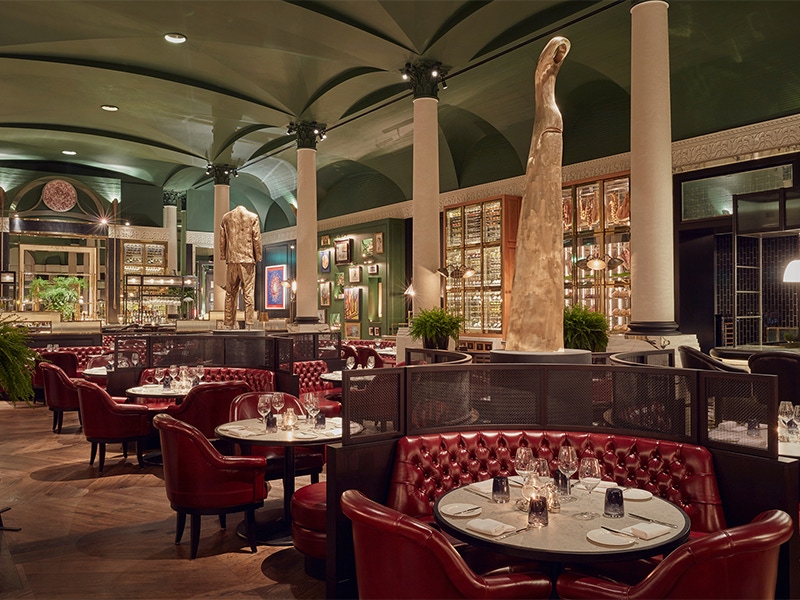 THE CORINTHIA SPIRIT
No matter how hard you try, there is no escaping the attractions of London's Corinthia hotel. The conclusion, therefore, is why would you try?
Recently a Hollywood film star, a matinee idol of the first order, came to London as part of a promotional tour. In a flight of fancy he broke from the pack and booked himself into an old-fashioned hotel, presumably to get a taste of the London experience that otherwise would have eluded him (and which, naturally, you could not find anywhere else in the world, certainly not Los Angeles). However, within an hour or so he knew a mistake had been made, and so headed to the most reliable hotel in London for the Tinseltown set: Corinthia London. The Corinthia is the archetype of holistic and efficient hospitality. The General Manager is the great Thomas Kochs, who is preoccupied in his pursuit of perfection in the client experience. He is so well known for this that he has had at least three camera crews from various British television channels shadow him on the job. The hotel is spacious, comfortable and easy to navigate, and the food is tremendous. Thomas Kerridge's restaurant took over the popular Massimo's a few years ago, which was a huge risk at the time, but it has also proved to be extremely popular and in keeping with the hotel's milieu.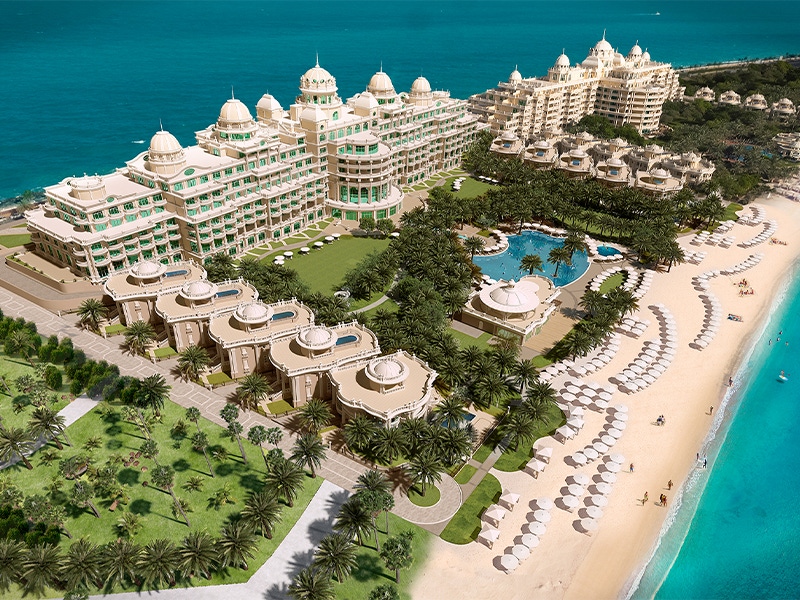 SUN AND SOLACE
Raffles on the Palm takes the best of Dubai and adds another, rare ingredient to produce an Arabian haven.
I can't be sure I was 100 per cent prepared for Raffles on the Palm. That might have been because I was not 100 per cent prepared for Dubai. The journey was straightforward and the airport was mightily slick; it was on the car journey across the emirate that this rather sheltered 36-year-old Londoner experienced a culture shock. It is discombobulating to be somewhere that, architecturally speaking, merges Las Vegas and Canary Wharf on what is essentially a beach. Plenty has been written about Dubai, so I shan't dwell: the point is that it is a place where boundaries seek to be pushed and limits scrutinised. And on arriving at Raffles — it is located on the outer bough of the Palm Jumeirah islands, and is the most classical-looking of Dubai's hotels, with its five-domed roof and almost cathedral-like scale — you feel a sense of calm from the hustle and bustle. That is not to say the hotel is serenely decorated: it is opulent, and the detailing in the décor is impressive. A Blüthner piano (which was designed for the hotel) and a portrait of Julius Blüthner are exactly the kind of Easter eggs a hotel should be offering. My room was comfortable and spacious, with a terrific bathroom and space for clothing and essentials. The balcony overlooked the Arab peninsula: had I spent any longer there, it would have turned me into the Francis Bourgeois of shipping. From there, in form completely unique to Dubai, I could enjoy my cigars at leisure while finishing off my best man's speech for my twin brother. I try my best not to be over-prepared, so writing the speech three hours before the wedding was a risk, but my Bolívar Libertador, a belter of an iced latte (delivered to the room), my Caran d'Ache pen and the sea view could not have served me better for such a task.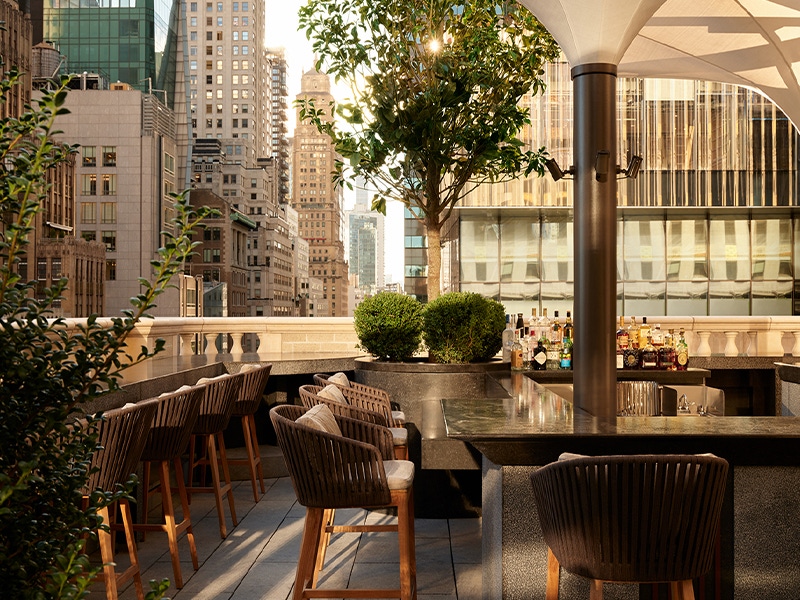 SERENITY NOW
When is a hotel not just a hotel? When it's the rarefied world of Aman New York, an homage to tranquillity in that most famous of retiring towns.
In a city that's all about boastful, over-the-top superlatives (the biggest, the highest, the glitziest), it can be virtually impossible to set yourself apart if you're a newcomer, particularly if you're in the hospitality sector. But with their latest outpost, the Swiss- based Aman Group have taken a counterintuitive approach to their paradigm-shifting property on arguably the most vaunted and valued intersection of the Big Apple: the corner of 57th Street and Fifth Avenue in the heart of Midtown. Housed in the Beaux-Arts Crown Building, Aman New York is the group's second urban offering (after Tokyo) and, in the months since it debuted, has already created its own discreet vortex by eschewing all the baseless hyperbole and instead purveying something altogether novel: a calm, collected and considered under-the-radar approach that also abjures the previously established norms for how a hotel ought to operate. For starters, the property, which is across the street from the just-refurbished Tiffany & Co. flagship, is virtually inaccessible to anyone who hasn't booked one of the 83 suites. That's because, in addition to being a hideaway, like the ones Aman operates in places such as Venice and Kyoto but also in locales such as Bhutan, Laos, Cambodia and the Philippines, this particular refuge also doubles as a members' club and boasts 22 residences, including some of the most expensive apartments to have been sold in the city.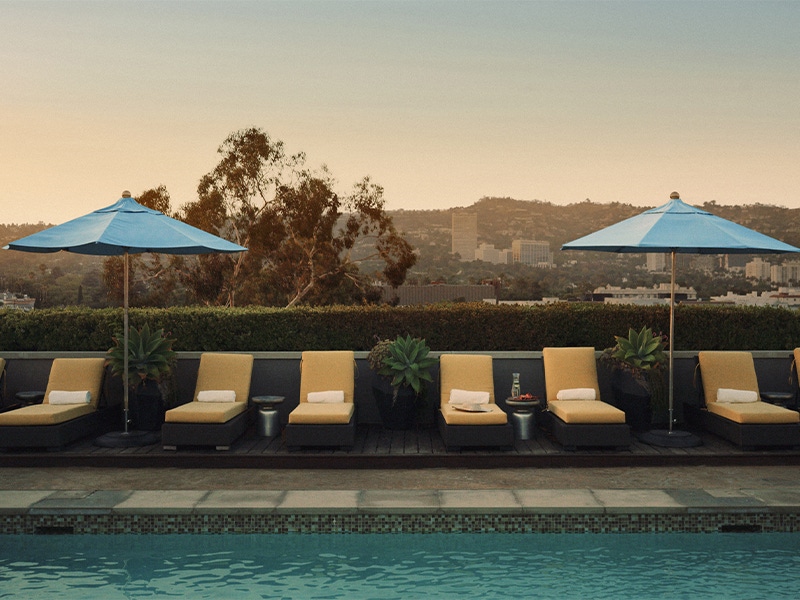 L'BUSINESS
Listen, there's Hollywood and there's the American film community. The two things are not the same. L'Ermitage in Beverly Hills will show you why.
It is easy to get lost in Los Angeles. Unlike most of the great American cities, it is not laid out in a neatly navigable grid, nor is it friendly to travellers with no internal compass. L.A. is a sprawl of micro-neighbourhoods and winding roads divided by a complex highway system, valleys and low mountains. Many see this as a bug when it can so easily be a feature. The joy of Los Angeles is in getting lost, in letting yourself wander the labyrinth. Rather than attempting to locate its mythic centre (that one restaurant or bar where you'll catch a glimpse of the celebrity you've heard sometimes makes appearances at a table in the back), you're far better off wandering the maze and seeing where it takes you. Most of the dead- ends at the very least have great tacos. Once you find your way out, though, you'll need a home base to return to. Los Angeles has no shortage of stunning hotels, many of which have reputations that rival some of the city's more notorious residents. Still, as tempting as it may be to book a suite, I'd gently advise that the legend never quite lives up to the stay (though a reservation at one of their restaurants or bars is often a far more fulfilling way to scratch the itch). No, for an experience that will leave you feeling like an A-list star in ways you didn't realise you could, the hotel you're looking for is tucked away in a nondescript side street in Beverly Hills. Welcome to L'Ermitage.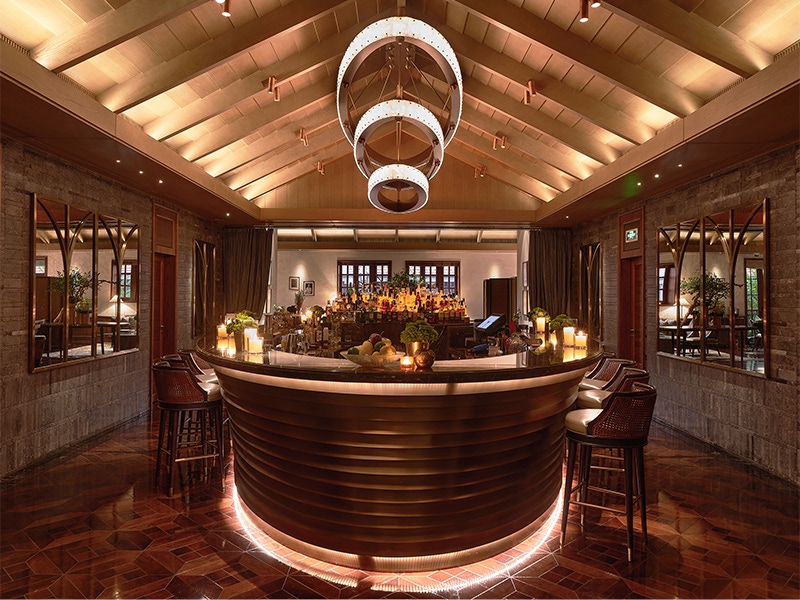 GLORY DAYS
It might be a cliché to say that when you step inside the Capella Shanghai you are transported back in time, but that doesn't mean it is false.
About a year ago, when the restrictive measures designed by the Chinese government to curb the spread of the coronavirus had reached their most fevered stage, lives were mostly confined to the home. The world was not only minimised, it seemed to have left us behind. The idea of travel, even domestically, was a fantasy. Despite the ability to leave, being able to get into another country had its own set of challenges. It was in such circumstances that the idea of a 'staycation', a concept now well established in most metropolises, began to gain acceptance in China. In what seemed like a matter of weeks, 'resort' hotels popped up in rural areas all over the country. While this type of retreat offered an opportunity to 'escape', they left plenty to be desired in terms of amenities and services. In fact, the concept of luxury is nowhere to be found in the experiences offered. Developing a luxury hotel in an urban metropolis is, of course, a complex process in terms of cost, design and bureaucracy, but luckily for the residents of Shanghai, there is an existing property that is particularly apt for a stylish staycation. The Capella Shanghai, which opened in 2017, is a unique property ideally situated in the former concession area of Shanghai, within walking distance to the most happening neighbourhoods of the city yet just close enough to the fringe where a sense of tranquillity can be found. Among the many historic architectures in the surrounding area, the Capella compound itself is developed from a residential complex built by French developers in the 1930s. Constructed as shikumen townhouses, an architectural style fusing western and eastern elements that appeared in Shanghai in the late 1800s, the style reached its peak as the glory days of old Shanghai were winding down. It might be a cliché to say that when you step inside the Capella compound you are transported back in history, but in this case, as these shikumen suites can testify, it feels true.
Read the full story in Issue 88, available to purchase on TheRake.com and on newsstands worldwide now.
Subscribers, please allow up to 3 weeks to receive your magazine.