Winter Fabrics You Need This Season
From double-faced cashmere to heavyweight alpaca, these are the winter fabrics you should consider for this season and beyond.
With the cooler winter months finally here, there are plenty of opportunities to break out your cold-weather wardrobe. If that means wearing the same navy overcoat with your all-season suit you are missing out, as winter allows us to indulge in some truly luxurious fabrics. The variety of coating fabrics has vastly improved in the past few years, with Vitale Barberis Canonico, for example, creating some stunning textured cloths in blends of wool, silk and alpaca as well as a durable double-faced melton. These cloths can be fashioned into garments that can be worn less formally too.
A pure cashmere overcoat is a beautiful thing as it keeps the wearer warm without weight. Italian mills Loro Piana and Piacenza always create an incredible palette of colours in cashmere, although camels and natural shades are increasingly popular. British luxury mill, Joshua Ellis, specialise in a double-faced pure cashmere that weighs in at a mighty 720g. This would be very heavy if made into a traditional overcoat, and ideal for a Siberian winter, but when fashioned into a modern, unlined and unstructured garment it is both comfortable and wearable. 
Unstructured tailoring is often associated with lighter weight summer cloths but they are just as relevant, if not more relevant, when heavier cloths are used as the fabric itself can give the garment structure. On the contrary, the super lightweight fabrics often require a fusible membrane to be applied to give the cloth enough 'body' to tailor.
Heavier weight suitings are rarely used on the high street, it makes commercial sense to keep inventory 'seasonless' and when they do offer a winter cloth it is usually an insipid worsted 'flannel' with only a suggestion of milling. You rarely see proper cloths like those woven by Fox Brothers of Somerset – its flannels are the real thing and have a superior drape. None more so than its Heritage Flannel collection, which is based on a genuine 1930s quality. At 500g it is heavier than most high street overcoats but is gaining a cult status with tailors and aficionados. As Fox Brother's Douglas Cordeaux explained at the recent Permanent Style Savile Row pop-up, "these are heirloom pieces that are being created". In a world of disposable fashion, there is a satisfaction that comes with commissioning something that could be passed onto future generations.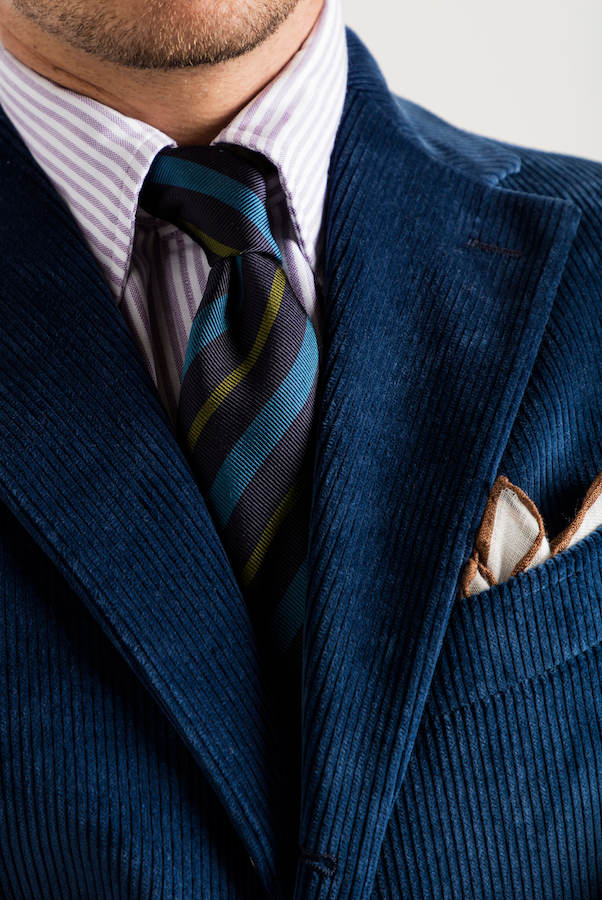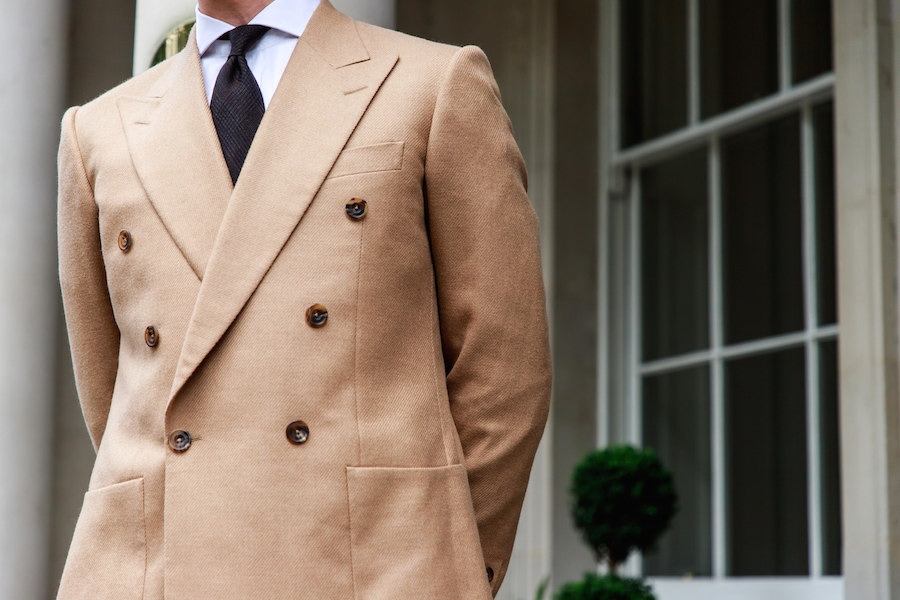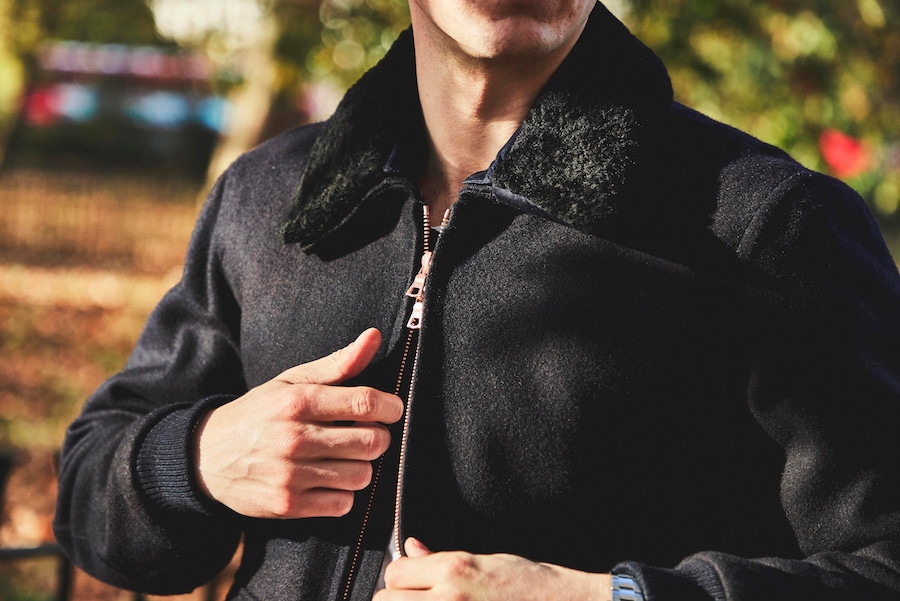 Whilst it is the British who are famous for weaving heavier cloths, they are in demand around the world. Robert Charnock of Huddersfield cloth house, Dugdale Bros & Co., exports their heavy worsteds to New York, Naples and Shanghai. In fact, they are currently developing a 500g traditional serge for a Chinese bespoke tailor which is based on an original 1920s quality. It is a compact quality that is thinner than you might expect and has a contrasting barathea weave on the underside. The drape is magnificent and the cloth will hold its shape. I would recommend going a little heavier than usual for your next bespoke suit, perhaps not as heavy as 500g, but there are plenty of good options from Draperia, Lessers and Scabal. On a side note, if you are not quite ready for a suit in this weight, consider a jacket or a pair of trousers in a traditional weighted flannel.
The ultimate winter jacketing has to be tweed. Available in a wide range of colours and designs, no winter wardrobe should be considered complete without some tweed in it. The best traditional varieties are still woven in Scotland. Many of the classic designs originated as Estate plaids used to identify staff on country estates; the colours selected to harmonise with the rural setting. Although they can be quite a statement in metropolitan settings paired with grey flannels and suede chukka boots. Tweed is an opportunity to wear bold colours and patterns so don't be timid when choosing your next tweed jacket and heed the words of the late Duke of Windsor when discussing the matter; "the louder they are, the better I like 'em!"