WRITING TIME, MAKING HISTORY
It's been almost 50 years since the birth of the Rolex Cosmograph Daytona, but the allure of this iconic sports watch shows no sign of abating.
Thinking about it, you can understand why da Vinci's Mona Lisa wears a long-suffering smile. She survived theft in 1911 by a demented Italian nationalist named Vincenzo Peruggia intent on repatriating her to their homeland. During the search, police detained and questioned the poet Guillaume Apollinaire because he called for the Louvre to be 'burnt down'. Apparently fearing the negative effects of a police truncheon on both his tender, romantic soul and his prostate, he quickly recanted and fingered a wide array of suspects, including Pablo Picasso. No thanks to Apollinaire, the Mona Lisa was eventually recovered after Peruggia misguidedly attempted to hock 'La Gioconda' to the directors of the Uffizi Gallery in Florence. In 1956, the painting was doused with acid by a vandal, and later that year, a Bolivian national, undoubtedly being weaned off his nation's famous marching powder, flung a rock at her. In 1974, a handicapped Japanese woman upset at the disabled policies at Tokyo's National Museum made like a latter-day Zorro and tagged her with red spray paint. Finally, in 2009, a Russian woman enraged at having her citizenship wisely denied by the French government, flung a mug at her. Yet all of these acts of vandalism pale in comparison to one enacted during the filming of Quentin Tarantino's celluloid masterpiece Kill Bill. The film's perfection, its flawless blood-soaked narrative, is irreconcilably fractured by the appearance of a fake Rolex Daytona chronograph upon Uma Thurman's wrist. What's worse is that, for legions of watch fans, an insult heaped upon the Rolex Daytona is an insult upon one of the most legendary timepieces of all time. Indeed, the three syllables 'Day-toh-na' are revered everywhere from the farthest reaches of the African continent (where the watches are considered to be a better-than-gold-standard currency) to deepest, darkest Napoli (where wearing one in public can mean having your hand separated from your body). Why is the Rolex Daytona such a revered icon, the horological equivalent, as it were, of da Vinci's Mona Lisa? Like the famous painting, it is a supreme act of aesthetics that has never been surpassed in human culture. But looking back at the history of the Rolex Daytona, there is one particular model, the manual-wound 6265 with screw-down pushers made from 1970 until 1988, that represents the perfect alignment between classic design and supreme functionalism. A chronograph is not only a watch that tells time, it also allows you to measure the duration of an independent event. And men love chronographs because, first, there's the romantic association with adventure. From the Breitling Navitimer chronographs worn by pilots, to the Omega Speedmasters that enabled the Apollo 13 astronauts to navigate their crippled spacecraft safely back home, chronographs have given us empowerment over time and even saved lives. Chronographs can help us calculate pulse rates, the speed of objects over one kilometre, and the distance of an approaching storm. But beyond all this pragmatism, there is a more poetic side to the chronograph that taps directly into our human experience - in an existence comprised of fleeting moments, the chronograph lets us freeze a moment of eternity and remember it forever. The term 'chronograph' comes from the Greek words 'chronos' (time) and 'graphos' (to write). Although British clockmaker George Graham invented the first clock that measured elapsed time in the 1700s, the first real chronograph was created by Frenchman Nicolas Rieussec in 1821. This was a clock that wrote out the elapsed time on paper, using ink and a series of coloured dots. The first chronograph with a sweeping seconds hand that could be started, stopped and reset to zero was created in 1862 by Adolphe Nicole in Switzerland. Around 1910, companies began to miniaturise pocket watches into wrist chronographs. These wrist chronographs gained in popularity as a result of demand from the military, aviation and auto-racing fields. In 1933, Breitling patented the first chronograph system that used separate start/stop and reset buttons. It was during the late 1930s that Rolex began to offer chronographs to meet the demands of auto and horse racing. According to Rolex historian James Dowling, Rolex's chronograph development happened at a rather rapid rate. In a 1934 catalogue, there are precisely zero time writers, whereas the 1937 Rolex catalogue shows up to seven different chronograph models, all using Valjoux movements. But Rolex's chronograph models didn't quite catch on, and it wasn't until the late '50s that Rolex created a watch, the model 6238, which would form the design underpinning the legendary Daytona. The 6238, also known amongst collectors as the 'pre-Daytona' chronograph, is a threecounter chronograph with a tachymetric scale printed on the dial, and its subdials matching the hue of the dial. As with all Rolex chronographs, its value has climbed steadily, though it still does not match that of the iconic model that would soon replace it. The birth of the Cosmograph came as a response to the growing popularity of Omega's Speedmaster, which placed its tachymeter on the watch bezel both for visual clarity and to create a modern look. Ever pragmatic, Rolex responded in kind. The first modern Rolex Cosmograph Daytona model 6239 was introduced in 1960. It was, simply put, a spectacular-looking watch with a beautiful, clean expanse of dial framing three clearly marked subdials - two related to chronograph elapsed minutes and hours, and one to show continuous seconds. The 6239 was followed shortly afterwards by the 6241. While the former sported a solid steel bezel, the latter had a steel ring fitted with an acrylic insert.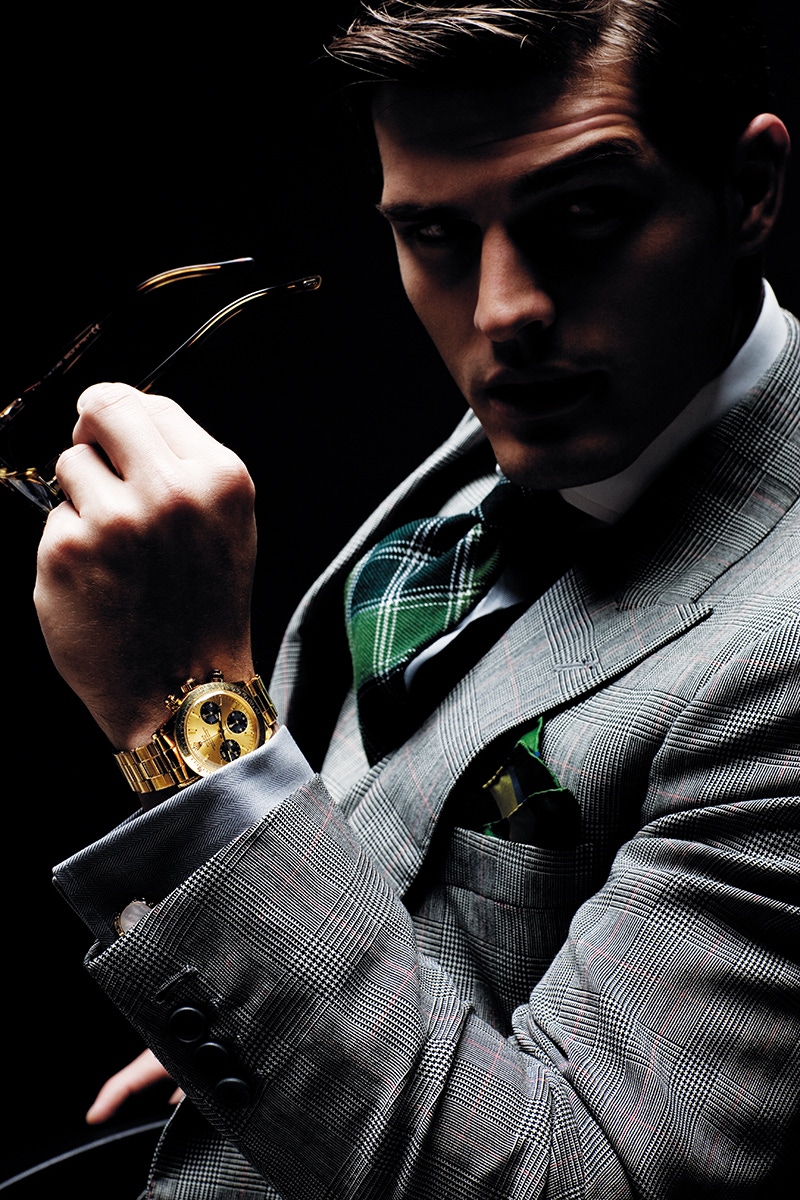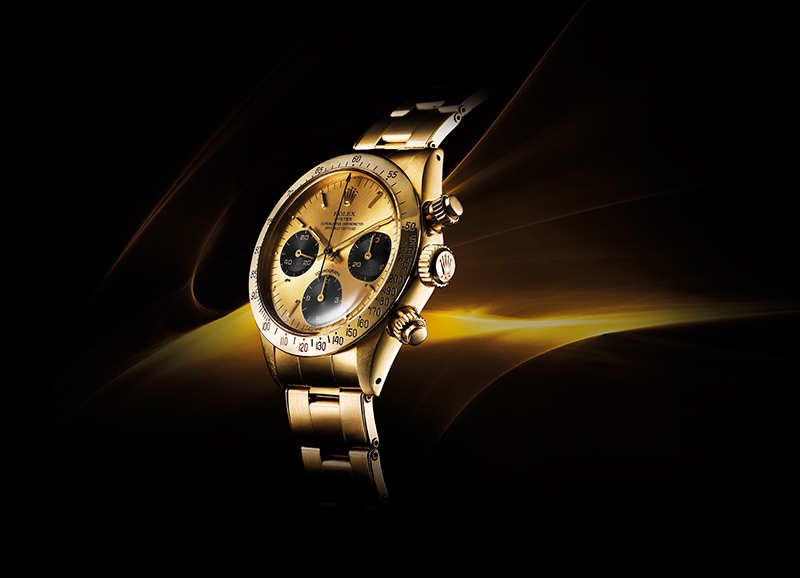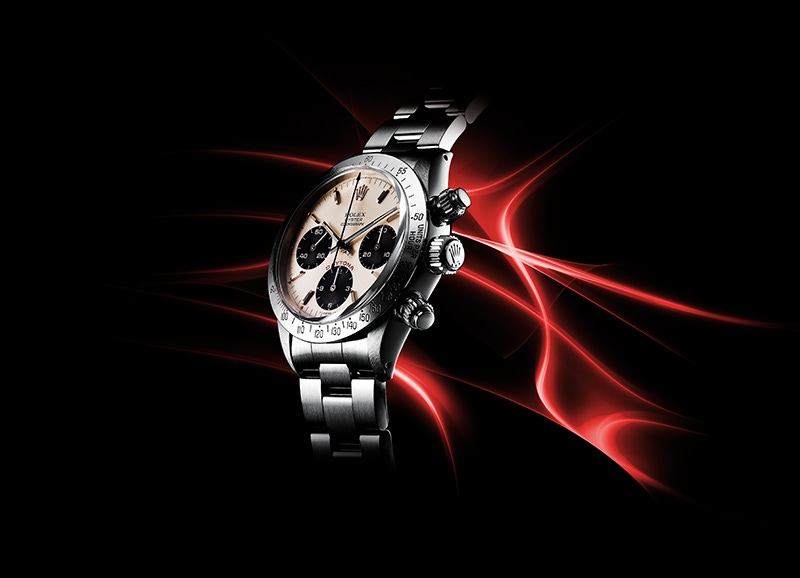 Initially, these watches were known as 'Cosmographs', doubtlessly to tap into the global interest in space or 'cosmic' exploration. But because of the watch's popularity among North American auto enthusiasts, it was soon dubbed the 'Daytona' after Florida's rich Daytona Beach motor-racing scene. As such, the name 'Daytona' began to appear on dials around the hour counter, while the word 'Cosmograph' was relegated to the line under the Rolex logo. As handsome as these watches were, they shared one major drawback. While Rolex had made its reputation with a highly water-resistant case design named the Oyster, the 6239 and 6241 models were susceptible to intrusion by water. Although the watch's crown used Rolex's famous screw-down design, its chronograph stop/start and reset pushers used simple internal gaskets as sealing mechanisms. These proved somewhat problematic. Because of Rolex's lofty reputation for water resistance, Cosmograph customers often jumped to the erroneous conclusion that their timepieces were water resistant. After numerous watches were sent in for service with water inside their cases, Rolex realised that it had a problem on its hands. And as a result, in 1965, Rolex created the first 'Oyster' chronograph with screw-down pushers, the 6240, which, for the first time, provided true water resistance to this vulnerable area. In 1970, Rolex introduced the 6263 (which featured an acrylic bezel) and the 6265 (which featured a steel bezel), perhaps its most iconic Daytona models. Both models featured the screw-down pushers first introduced in the 6240. They were initially rated to 50 metres' water resistance, but a decade later, the rating was revised to 100 metres in a display of confidence in this system. The screw-down pushers also prevented the chronograph from being activated accidentally underwater and protected the delicate chronograph mechanism from direct shock resulting from accidental blows to the pushers. Both the 6263 and 6265 models were also the first to be equipped with the new larger Triplock winding crown. The 6263 and 6265 Rolex Oyster Cosmograph Daytonas were something of a revelation to sports enthusiasts, for the first time combining the practical advantage of elapsed timing ability with a truly shock- and water-resistant case. They used a slightly hot-rodded version of the Valjoux calibre 72 used in the 6239 and 6241. This new movement, designated the calibre 727, featured an increase in vibrational speed from 18,000 beats per hour to 21,600 beats per hour, elevating the watches' ability to divide time from one-fifth to one-sixth of a second. The faster speed also gave the watches better autonomy from shocks. Interestingly, a slightly different version of the calibre was used in gold versions of the 6263 and 6265. This movement was regulated to an even higher level and was chronometer certified. Accordingly, the gold models bear the words 'Superlative Chronometer Officially Certified' on their dials, and their status as Rolex's first-ever chronometer-certified chronographs makes these watches particularly collectible. The manual-wound, water-resistant Cosmographs were manufactured until 1988 when they were replaced with a larger automatic Oyster Cosmograph Daytona using a Zenith El Primero movement detuned from 36,000 vibrations an hour to 28,800 vibrations. Interestingly, demand for the manual-wound, waterresistant Rolex chronographs remained moderate until the late '80s, when it sky-rocketed due to a surge in demand from the Italian and Japanese collector markets. Today, their status as the most collectible of Rolex's sports chronographs is irrefutable, while their timeless designs, workhorse movements and highly resistant cases make them as relevant and irrepressibly suave as they were the day they were created.