A Bentley Flying Spur in Los Angeles
Like a true British gentleman, the new Bentley Flying Spur V8 is a real crowd pleaser, as The Rake found out when we took it to the streets of LA.
By all accounts Saint Peter, more specifically Pope Peter I of Alexandria, was something of an ecclesiastical badass. Imprisoned and sentenced to death during the Diocletian Persecution, the final and harshest persecution of Christians by the Roman Empire, a large group of his followers turned up at prison demanding to die in the place of their beloved Pope. So concerned was he for his flock, that he advised the soldiers guarding him to dig a hole in the prison wall through which he could be seconded to a private place and be martyred. Upon baring his neck to the sword he declared to the soldiers, "now, do as you have been commanded," demonstrating that though his head would soon be separated from his body, his enormous Nietzschean Ubermench sized testicles would remain resoundingly attached. San Pedro, the coastal community named for Saint Peter was consolidated into LA in 1909, and the hardscrabble, bare-knuckled life there has always necessitated a comparison with Peter I. Once the stomping grounds of the US Navy and still home to one of America's most famous prisons, its ethnicity is defined by a lively combination of Croatian, Hispanic and Asian cultures. And despite my timid and pacifistic nature it seemed that my fate and that of San Pedro's were intertwined because residing within it's geographical milieu was the studio of the man considered to be the greatest black and grey tattoo artist on the planet, Carlos Torres. My birthday, the 11
th
of November, is the same as my wife's birthday, which is also the date of our wedding anniversary. And somehow knowing we would be in Los Angeles on this date I convinced my wife to allow me to spend the entirety of this day gritting my teeth while getting ink pounded into my arm, by the Rembrandt of the needle, Mr. Torres. Getting an appointment with him had been something of a minor miracle considering his near three-year waiting list, but after I'd reminded his assistant Juliette of the time I'd flown Carlos to Singapore to produce my half sleeve, her response was, "of course he remembers you and has cleared the entire day for you." Excellent. And transport had also been procured in the form of a Harley Davidson Low Rider S motorcycle, which I had borrowed from the brand to cruise bucolically along the Pacific Coast Highway. However one major point of logic had escaped me. "You're getting a tattoo on your right forearm that will take about 10 hours to complete," my wife queried. "Indeed," I replied. "You don't think you'll have trouble holding onto the handlebars of the bike on the near one hour ride back." Damn logic and its wanton intrusions into my life. The irony that the chosen motif for my tattoo was a portrait of Athena the Greek Goddess of Wisdom was not lost on me. Commiserating with
The Rake's
editor
Tom Chamberlin
, based in London, during an early morning editorial tete a tetes on the day in question, he replied, "I'll sort it out." And literally an hour later the front desk of Shutters on the Beach in Santa Monica rang my room to declare, "Sir, your car has arrived." The tone they used was reverential and I wondered why.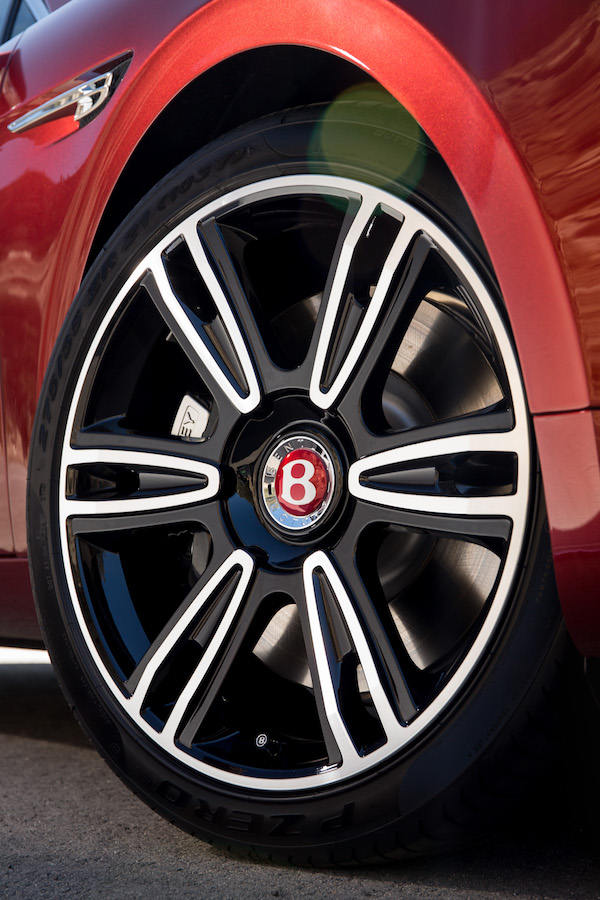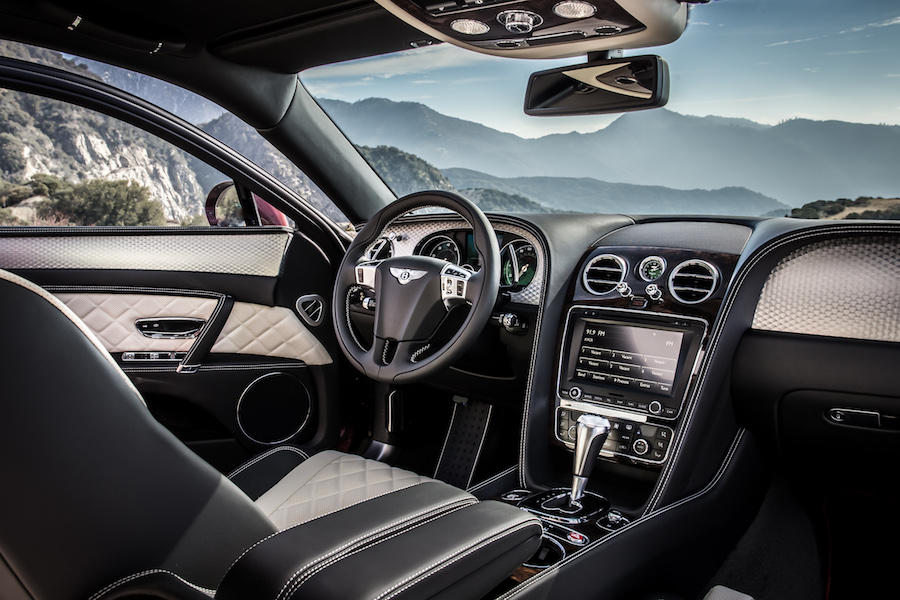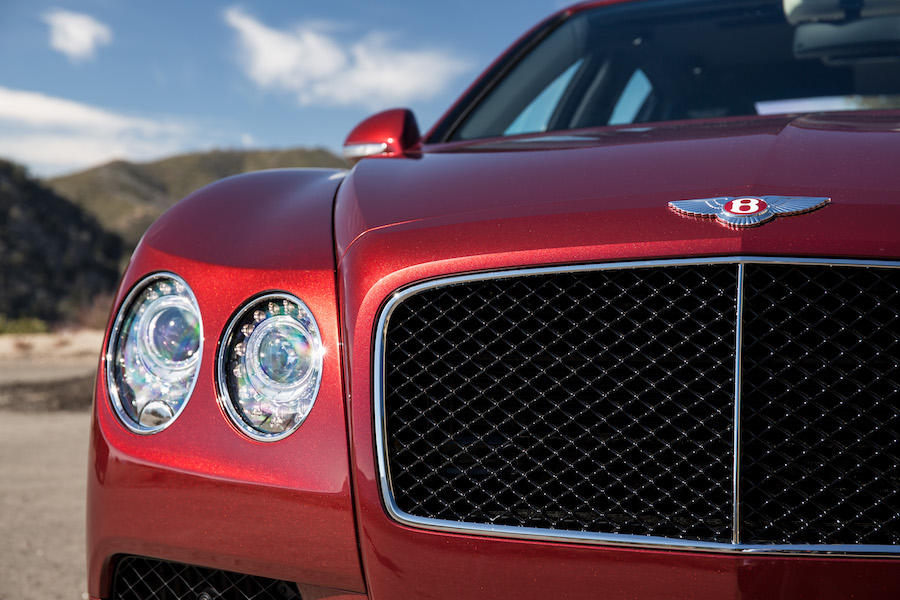 Minutes later I understood. Because, the first moment you set eyes on a Bentley Flying Spur V8 with the Californian sunlight refracting off its lush form, illuminating its curves like Botticelli's paint brush whilst accompanied by sweet music, it is quite something. Some soaring sonic panjandrum by Wagner perhaps? No, something lush and sensual to better suit the loose and easy LA vibe. Got it. Amusingly, the refrain from John Legend's All of Me, specifically the part about "loving your curves and edge," kept replaying in my head. Because though this song was inspired by the Norwegian Thai genetic miracle that is Chrissy Teigen, it also aptly describes the near hallucinatory and imposing beauty of the Bentley Flying Spur. Once he discovered the balmy climes of Los Angeles, actor Michael Caine never went back to England. To explain why he loved the city he would tell people. "In England if you drive by in a (luxury car) people give you the middle finger. In America they applaud." I had no idea how literally he meant this. And while I've had nice cars when I lived briefly in LA, a 1979 Porsche 930 Turbo specifically, I'd never witnessed the spontaneous reaction of people from all demographics pulling up besides me and giving me a thumbs up in because of the Bentley I was driving. A fact that I was at least initially oblivious too, daunted as I was to be piloting the Flying Spur. That was until it dawned on me that the Flying Spur was almost ridiculously easy to drive. What does it feel like behind the wheel? You feel ensconced on the world's most lavishly appointed sofa, or more a butter supple cowhide clad throne, until you prod the throttle and you start hurtling through space at a genuinely shocking rate of speed. Handling in particular was flawless and in many ways reminiscent of my Ducati Diavel, which looks like an imposing cruiser until you hit a set of bends and it magically transforms into a tarmac decimating sport bike.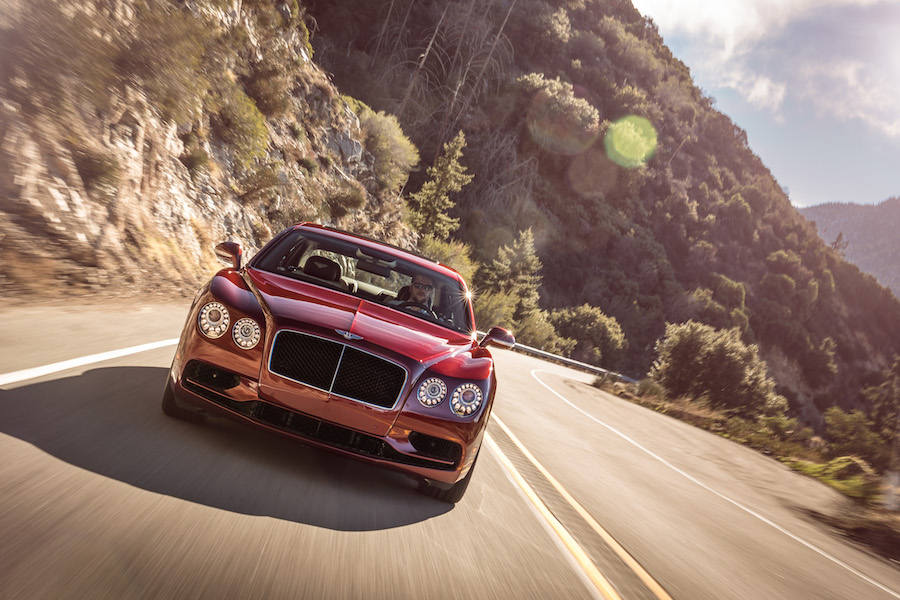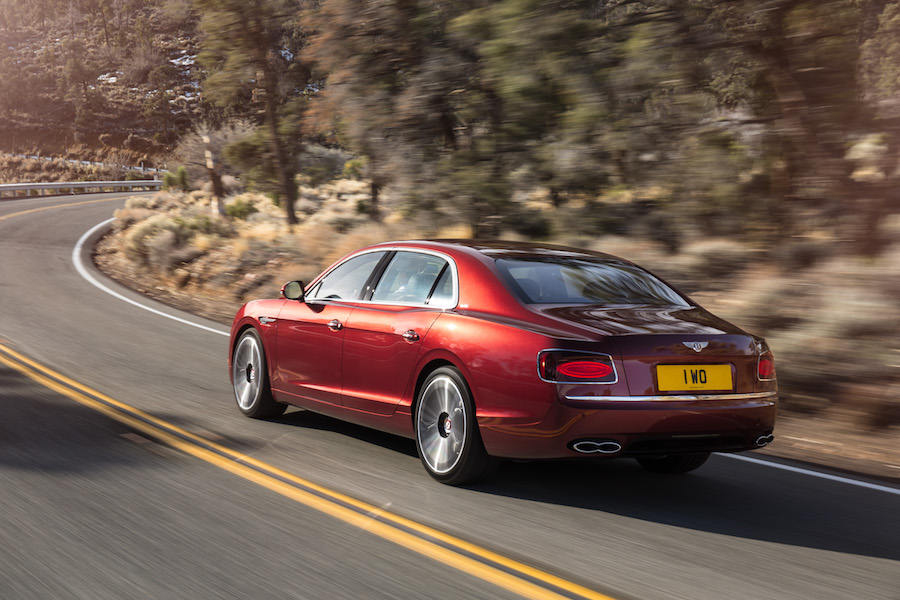 But the best part of the Flying Spur beyond the amazing combination of performance and comfort was the manner in which the characteristically extroverted populous of Los Angeles city reacted to it. On one occasion we navigated our way through San Pedro and to Carlos' shop before we stopped at a red light. Suddenly, like a gleaming shark surfacing in shallow water, a brilliant aquamarine low-rider pulled up beside us. "Wow, it's just like one of the cars in the movies about the LA gangs," enthused my wife, who whipped out her iPhone to capture the stenciled "Mi Vida Loca" motto emblazoned on one fender. "Stop it, put your phone away." I implored. "And look it's going up and down just like in the music videos," she said with delight, as the car began a hydraulic dance that being an aficionado of the aforementioned LA gang movies, I knew was tantamount to a bull pawing the ground before its inexorable charge. "No eye contact, no eye contact," I shouted, but then as if inexplicably drawn to staring down the barrel of my own demise I looked over at the car only to be baffled by the two men inside giving me the thumbs up. Dammit if all of Michael Caine wasn't absolutely one hundred percent right. But the final and most amusing Bentley Flying Spur anecdote occurred the following morning when my wife and I turned up at the gates of the Getty Villa, a museum dedicated to Jean Paul Getty's love for Etruscan and Greek antiquities. As we pulled up to the guard we embarrassingly realized that he was asking for tickets, which we had failed to reserve. He took one look at the car and procured two tickets from his own pocket, tore them in half and passed us the stubs. He looked at us for a moment then broke into a wide grin saying, "with a car like that, you just belong in here."