A Postcard from Harry's Bar, Venice
Chris Cotonou discovers why the Venice bar opened by Guiseppe Cipriani in 1931 remains to this day an institution for the world's well-heeled.
Frankly, it doesn't matter what gets written about Harry's Bar Cipriani, the first of the Cipriani family's many establishments opened in Venice in 1931; the legacy and reputation is as enduring as the great Floating City itself (but the hangovers will duly sink you). If you haven't been, chances are you have at least heard of it. What you probably already know: the Bellini cocktail (a mix of peach and prosecco) was invented there - as was the Carpaccio. Hemingway, Peggy Guggenheim, Orson Welles and other mid-century icons popped in to rub shoulders with Dukes and Countesses; and the service is bar none (so to speak). You might not be aware, however, that the Italian Ministry of Cultural Affairs declared Harry's a national landmark in 2001 - or that they make an excellent Negroni, as good as anywhere in Florence or Rome.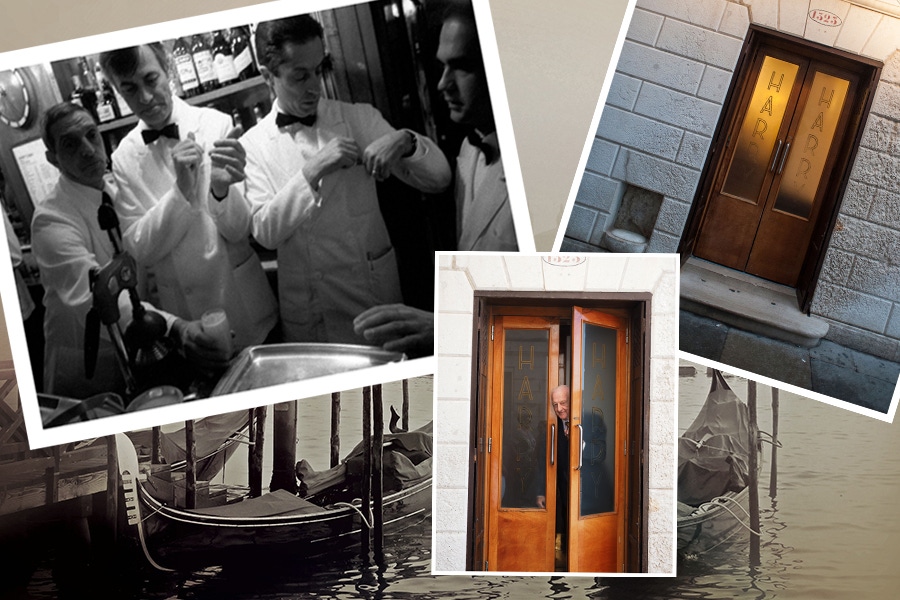 Harry's Bar is not big – perhaps twenty tables in the main bar room. Nothing is ornate, or ridiculously opulent (as with some other watering holes on the Hemingway drinking tour). The bar is trimmed with honeycomb wood. Stylish cushioned banquettes are placed laxly around. There is the impression the highest-level of attention has been paid, while everything seems exactly as you once left it. Harry's Bar feels like home – not a to-do-list pit stop.
Harry's Bar dress code is strictly 'no shorts', so when the mercury rises...
Staff, some of whom have apparently remained for decades, are classically polite in that professional type of way. And yes, the cocktails are worth the fuss. The Bellini – floral, pink, sweet (perhaps feminine) – could only have been devised in a city as swanlike as Venice. Their Negroni, thankfully well balanced, syrupy and bitter, sits in the same glasses as the Bellini, with a single cube of ice and a wedge of orange. By the time I'm halfway into a Negroni, my partner is already considering another Bellini. This is why I order the Negroni at Harry's bar. As delicious as the signature cocktail is, it's too easy to drown in its quick, indulgent pleasure (someone in the hotel suggested they were like a '
Venetian Courtesan'
). Where Bellinis are charmingly addictive, the Negroni is the meditative slow sipper, that is until you've drained the third, at which point the potential for events going awry increases manifold.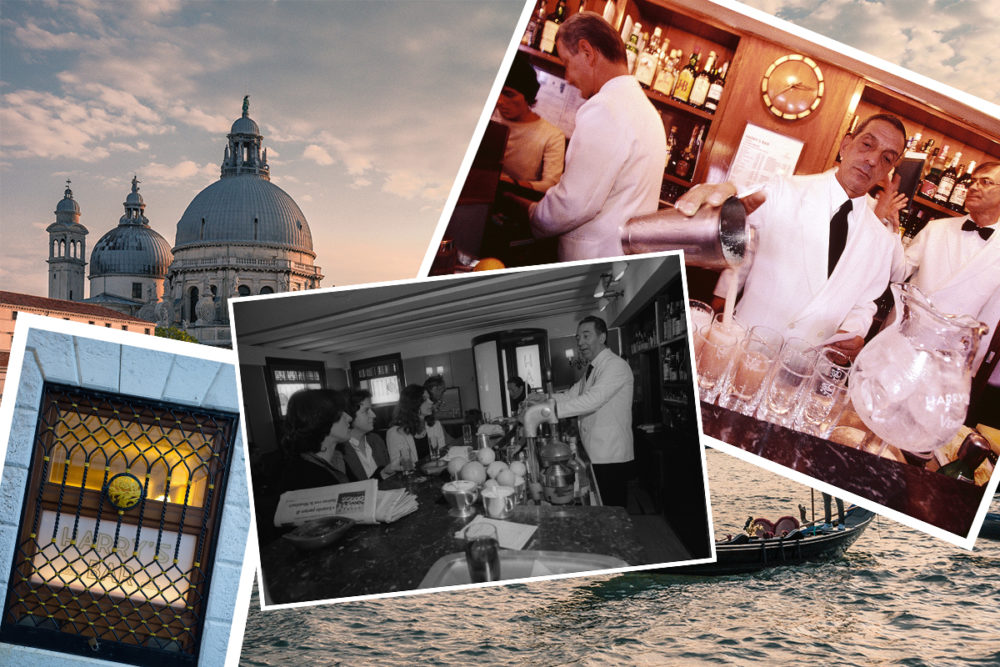 Taking it easy, for the first time all day, I nurse the drink and look around the bar; time to soak it all in. Details are noticed: the hung paintings and sketches, or the absurdly slick wooden clock that blends with the wall. As your Negroni drains, one starts to imagine who your fellow customers could be, where they might come from, and what led them here in the first. It's easy to see why Hemingway struggled to write much while in this town - he was too busy hanging out at Harry's.
For when the clock strikes Bellini o'clock...
As much as I love Venice, I'm not too eager to re-join the stampede of feet, or smooching couples, outside. Our white-tuxed waiter kindly brings over some snacks. There is no pressure to move, but we can't hang around forever (as Mr Hemingway himself must have learned). Within a few, slow movements, coats are on, the manager is shaking my hand, and, with a smile, we're told, 'It has been
our pleasure
'. Out on the street, Venice appears more intensely beautiful and energising than ever, as if we were seeing it for the first time. All I want to do is walk. If not in a straight line, then so be it. Harry's Bar in Venice is an oft-imitated, but rarely bettered example of what a classy institution is. As you already know, it is the birthplace of a wonderful cocktail, and a sanctuary from the modern world. As bars across Manhattan and Mayfair attempt to draw on its mid-century charms, piling in moustachioed barmen and buying art-deco props, they forgo one important ingredient: Character. Like the humble Negroni itself, it needn't have anything more than a few very good elements, done properly – and rarely changed over a long period of time. Having a Negroni at Harry's Bar Cipriani once again proves that when it comes to the classics, you can't beat them.