A Signet of The Times
Looking anew at that oft-maligned aristocratic favourite, the signet ring, our signet-neophyte fashion editor-at-large finds dipping his pinkie a precarious practice.
I slipped a signet ring from a jewellery shoot on my finger and forgot about it. I'd been looking for something to adorn my pinkie as I felt the time was right, just like the mood for ID bracelets and sovereign rings came in the past. I liked its appearance, and contemplated a suitable engraving. Like Frodo Baggins in reverse, I found myself suddenly very visible to certain people. Some were curious about a blank signet, others vocally unimpressed at my intention to rustle up a pertinent personal symbol. One or two were downright indignant, I was duly lambasted for flagrantly wearing this sacred item. The critic specified heraldic emblems carried on signets dating back to those on the shields of knights and noblemen who kindly rode into battle on the behalf of God, king and serfs alike. Closed shop? I fear my ancestors were very much of the muck- splattered, shit-kicking variety. Does this make signet ambition forbidden for a chap like me?
A signet is quite the most controversial bit of regalia I've got involved with. As most of you enlightened readers will be aware, signet rings are all about family traditions in the form of crests, emblems and heraldry, and very much a European thing. Predominantly, they're an elitist symbol of those with lineage to be proud of. They are gifted to a youngster of 16 or 18 years old. Traditional signet rings bare a reverse or 'seal-engraved' relief image. The reverse image allows one to wax signature seal correspondence with your family mark, hence 'signet'. You apply a small amount of oil from the tip of your nose and then emboss the wax that seals the envelope. Although it works, it is actually quite impractical, but that's the thinking. Most families would employ a larger stamp, so the ring is largely symbolic. It is not intended as a fashion item.
Michael Rose Jewellers of Burlington Arcade knows exactly what this sphere is all about, having provided signet requirements for the most noble families of England. I meekly sought counsel from its expert, Marcus Boothby. It deals almost entirely in classic circular and oval shapes known as Oxford and Cambridge 'head' styles, respectively.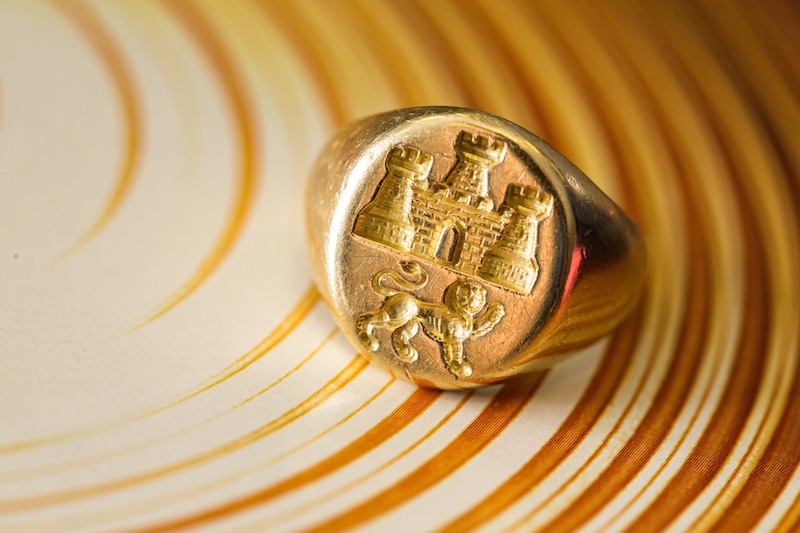 ---
'Signet rings are a bit of a contentious subject. I wear it because my father presented it to me at my 21st (as well as my 5 siblings at theirs) and his father did the same and so on and so on. I am well aware that it marks me in a category of Hooray Henry, jolly hockey-sticksness but that is not my fault (or style for that matter) but the fault of reverse snobbery and Made in Chelsea.
It is a lovely piece of jewellery and the last acceptable form of men's jewellery apart from the wedding ring. I intend to wear both when the time comes but this bears the same crest as the Norfolk Penny. It was made by a Birmingham jeweller named Edward Fraser by a man named Warwick Cook, one of the forms of the Birmingham Jewellery quarter.'
- Tom Chamberlin, The Rake Deputy Editor
---
These shapes complement differently proportioned hands. 'On a heavy hand, Cambridge is more flattering, creating length and elegance. On thinner hands, the Oxford can give substance,' Marcus explains. He also tells me of a tradition of deployment, mythologised and dating back to battle. 'Never bear arms to the enemy. Wear your ring with the seal facing you, not away. In skirmish, when rings were huge stone things, you didn't want the enemy to see who's coming. The theory being the signet is the most specific part of your outward identity, the enemy can't get personal, goading and taunting by name.' How awful to be called names just before your head's staved in by a mace. Another battle styling tradition states that the signet is always worn on the 'guard hand', the left, which is why it is often called a guard ring.
Most clients arrive with a wax seal in reverse for the engravers to work from, but some don't. The team will consult the Fairbairn's Book of Crests, a tome of heraldry that traces family crests by referencing names, places and marriages. I've asked that the Stubbses of Kennington, Brixton and Vauxhall be investigated. If this procedure yields no history, Marcus is very open to devising emblems or symbols from scratch, drawing on significant elements of your life. 'A Chinese gentleman came with his company logo, an insect, which was important to him. We created something very special for his own crest.'
Not all of the old guard I've met were quite so hardened about nouveau signetism. Robert Johnston, associate editor of British GQ, has plenty of very distinguished lineage, descending from the Johnston newspaper publishing dynasty of Edinburgh. But he is a complete revisionist on the matter. 'Every tradition has to begin somewhere, so start your own. All of Britain's history was about starting traditions. Most of these families with heritage only began theirs in Victorian times, once they became rich through the Industrial Revolution.' Robert wears a signet on each hand, one from the paternal and another from the maternal side of his family.
His first is the winged spur family motif, and the other is a monogrammed ring from his grandfather on his mother's side. As a devoutly stylish man, does it matter if the yellow gold of his signets are at odds with some of his extensive watch collection? 'It doesn't matter. They are emblematic, not strictly decorative. You can't match everything, practically speaking, and if you do try, you can look like you've walked out of Dubai's duty-free.' Although he's serious about his ancestry, the rings are more symbolic of emotional family gestures than bloodlines. Well-bred, sentimental and without prejudice: there is hope.
---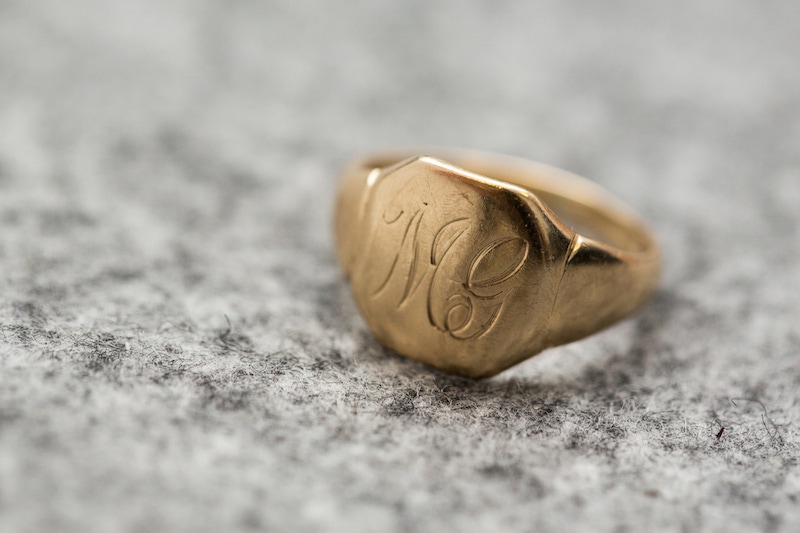 'I've had many rings on my finger but this is the only one that hasn't been attached to a woman. In all seriousness I think my signet ring may be the only possession I have belonging to my late father. Actually I've lied because I also have his golf clubs but I'd happily see the back of those because they're rubbish, or maybe it's just my golf swing that's rubbish. Anyway the point I'm making is that my signet ring carries huge sentimental value - hence it never leaves my finger (apart from the time I once broke the band trying to open a bottle of beer).
The ring was bought for my father as a 21st birthday present (from my mother) and was apparently purchased in a second hand jewellery shop in Herefordshire, when it was engraved with my fathers initials; 'M.G' (rather un-Rakishly my father had no middle names). I came in possession of the ring when I was 14, hence it needed to be re-sized to fit my small girly fingers, but sadly I'm now 33 and the rings still fits.'
- David Goodman, The Rake Vice President
---
Approaching the signet scene from a wholly different perspective is Hatton Garden jeweller Toby McLellan. McLellan's approach to style is all about personalisation on a grand scale; he's a man who thinks nothing of setting his own rose-gold Rolex Day-Date with rubies on the bezel, or commissioning red and green watch straps that transform his white-faced Panerai Luminor into 'Il Tricolore' (the Italian flag).
His signet ring shape is that of a stylised, almost cartoon-like shield, which he produces in a number of metals and with an option of an array of gem settings. 'I'm crossing the 'player's' pinkie ring with signet style. I don't want to say 'pimped up', but it's aimed at a style-led customer who likes to up the ante. The shape has an original feel, but versions set with coloured gems operate on a more fashion level. It's like a jazzed-up signet: a modern take on it,' McLellan confidently proclaims. What about emblems and heraldry? 'I'm a fan of monograms mounted on each other. It's a subtle way of personalising, making it yours, putting your stamp on a piece.'
McLellan's take on men's jewellery is a refreshingly masculine embrace of finery, where individuality and showing-off are celebrated. Other contemporary designers have also interpreted signet format in their house style to striking effect. Just for the record, note that a 'player' opts to wear his pinkie on his right hand.
Mr. Boothby has got back with his findings, and the London branch of the Stubbs emblem is not the rampant ferret image I suspected, but in fact, a maudlin tiger walking. That'll do for me. From where I'm standing, the signet ring appears to be an under-the-radar telegraph of status that many pedestrians are not au fait with. Those who have, already know. Those who don't, get involved if you fancy it. Many signet owners don't wear theirs as they feel it places them in a certain world; they're keeping their heritage on the down-low. For me, the best style is all about misappropriation. Many will think this is crass, but I'm saying signet and pinkie adornment is about to have a bit of a protracted moment. It's partly an excuse to wear jewellery - and God knows men need excuses - but it's also about a new egalitarian mood where anyone can take the trappings of any area of life should they desire. Pinkie signet chic: bring it on.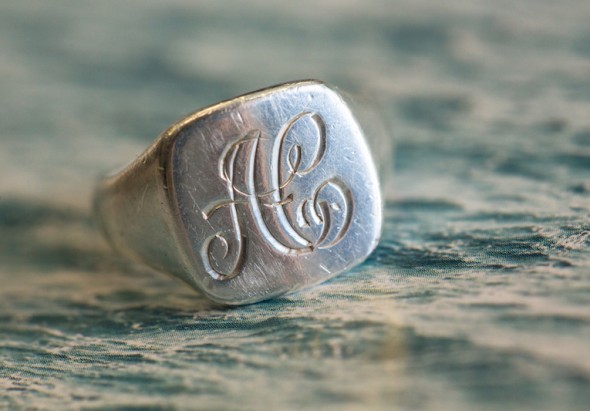 ---
'My signet ring was a shameless, but nonetheless satisfying acquisition - although I have to say that I'm utterly unqualified to wear one, lacking in thoroughbred aristocratic pedigree as I am.
I studied at a surprisingly posh college in a posh university and with many dozen rather charming and impressive well-brought up sorts a part of the scenery, I came down with an acute case of signet-ring-envy, the cure to which was obvious.
Having said that, I had been toying with the idea of wearing a signet ring before heading up to university; I just think a signet ring is a chic addition to one's look. I found this in a little jewellers in Henley, and I'd been on the look for a silver signet ring for a while, so had to snap it up right away. I also prefer the fact that its square, rather than round in shape.'
- Aleksandar Cvetkovic, The Rake Editorial Assistant
---
This feature first appeared in The Rake Issue 09.