AMELIA EARHART: A SYMBOL OF NEW WOMANHOOD
Amelia Earhart disarmed ideas about femininity in her manner and her attitude, and her legend is as strong today as it ever was.
In March 2018, an announcement was made that seemed to clear up a mystery that, despite persisting for the best part of a century, had lost none of its potency. The journal Forensic Anthropology claimed that an assortment of bones found on the eastern Pacific island of Nikumaroro in 1940, including a skull, were "a 99 per cent match" for those of Amelia Earhart, the pioneering aviator who had become the world's most famous missing person when she disappeared — along with her navigator, Fred Noonan — on July 2, 1937, during an attempt to circumnavigate the equator in her twin-engine Lockheed Electra. Alongside the bones were a woman's shoe, a navy tool used by Noonan, and a bottle of the herbal liqueur Benedictine — apparently Earhart's airborne beverage of choice. The original analysis had concluded that the bones were male, but Fordisc, a computer forensic anthropology programme, now posited that the remains belonged to a "taller-than-average woman of European descent" (Earhart was a little under five foot seven). There was just one glitch: the bones themselves had been lost, and so couldn't be re-analysed. The fact that closure hadn't quite been achieved was a boon to the continuing Earhart mythology industry, which has trafficked in everything from conspiracy theories (she was on a secret mission to spy for the Japanese, who interned her! She returned clandestinely to America and lived out her days as a housewife in New Jersey!) to cultural canonisation (in the 1990s, she appeared in both Gap and Apple ad campaigns, promoting khaki trousers in the former and embodying the latter's 'Think Different' slogan) via all manner of elegiac tributes, from Joni Mitchell's plaintive lament Amelia ("A ghost of aviation/She was swallowed by the sky/Or by the sea, like me she had a dream to fly") to Jane Mendelsohn's 1996 novel I Was Amelia Earhart, which imagines Earhart and Noonan's post-disappearance afterlife as a (Mrs.) Robinson Crusoe-style atoll romance, complete with fishing, foraging and "unencumbered" sex.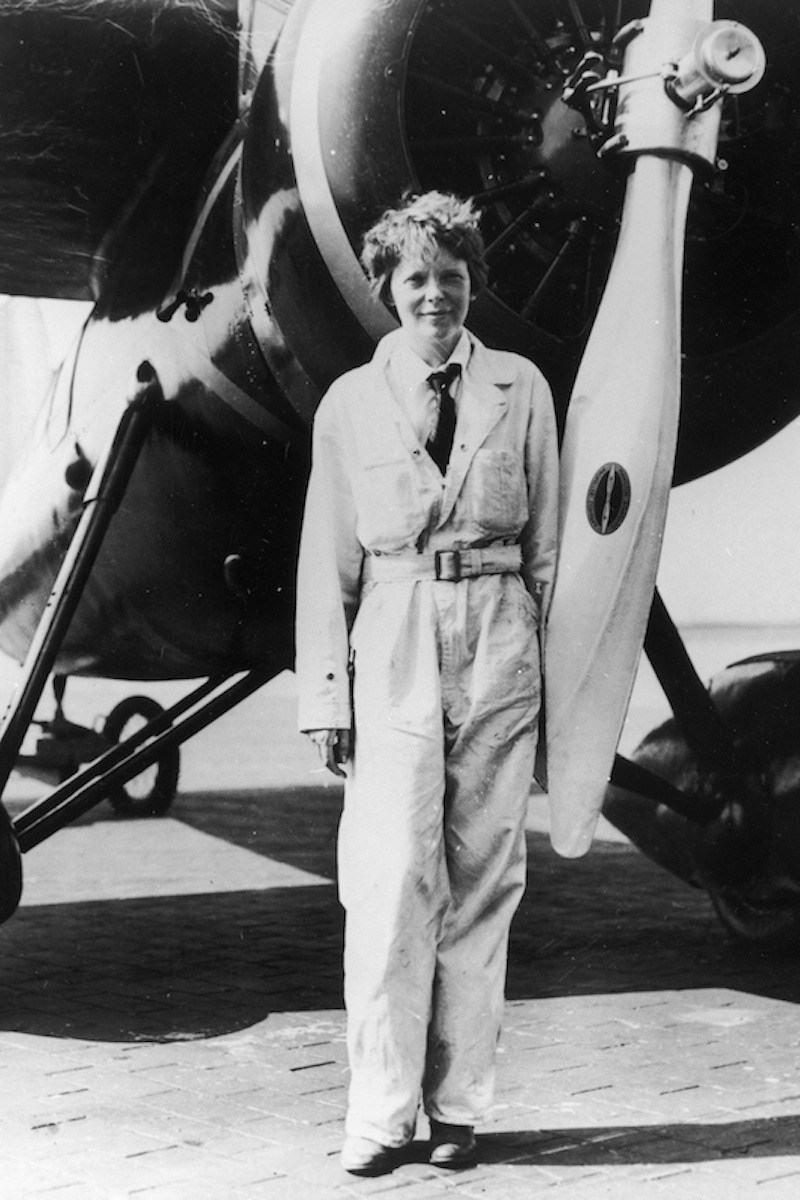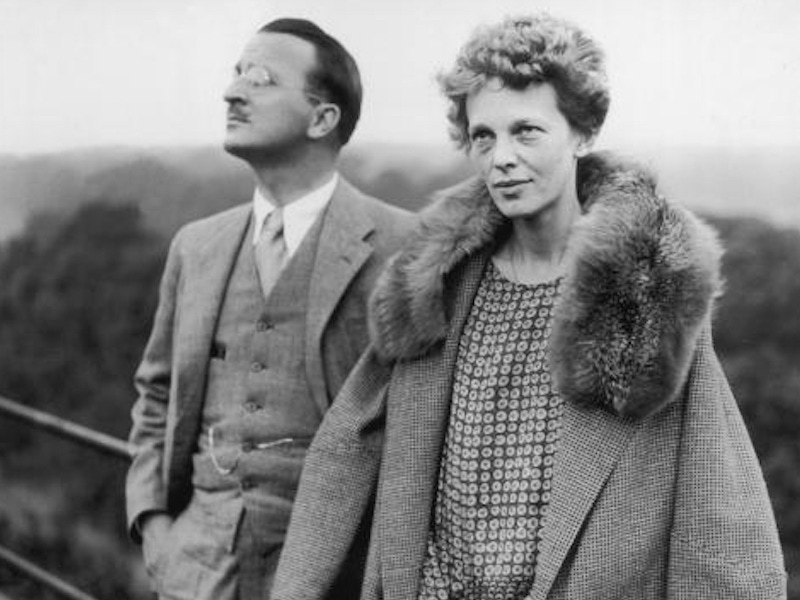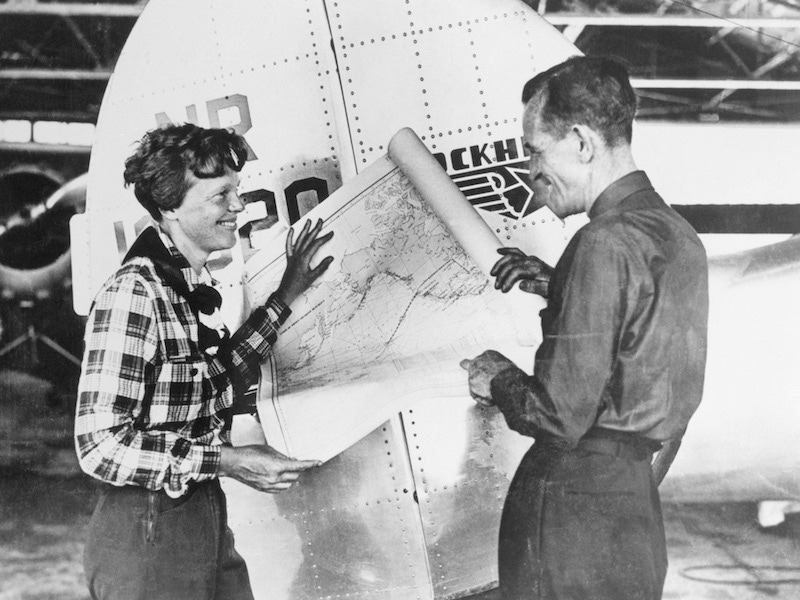 But then, Earhart's peculiar charisma had been recognised even before she began breaking aviation records. She disarmed received ideas about femininity both in her manner — a contemporary encomium declared that "hers is the healthy curiosity of the clean mind and the strong body… she will become a symbol of new womanhood" — and her attitude: when people asked her why she flew, she liked to say "for the fun of it", which became the title of her second book. But image also played a crucial part: by the time she became the first woman to fly the Atlantic on her own, in 1932, she was one of the most recognisable women in America, her publicity shots playing up her resemblance to fellow dashing aviator Charles Lindbergh (they were both lean, fair Midwesterners with engaging smiles, though Earhart came without the anti-semitic baggage). Photos of Earhart in her heyday — the slightly aloof air, the strong chin, the gawky, slightly awkward frame — are a testament to the fact that she refused to let her sex either limit or define her; she resembles an adolescent boy with a choppy self-administered haircut, and she looks more than ready to be portrayed in a film by Hilary Swank (which she eventually would be, in 2009's Amelia; Rosalind Russell, Diane Keaton and Amy Adams have also played her). Her androgyny was enhanced by her preferred flight gear — a jumpsuit or jodhpurs (which she called "breeks"), flat, lace-up knee boots, a white shirt and necktie, a shearling-collared bomber jacket or leather coat, a Biggles-style helmet and goggles, and, according to her biography, men's underpants, at least while in the air (so much more practical if you needed to relieve yourself mid-flight). Such snook-cocking at gender norms would lead to rumours of Earhart's bisexuality — this, after all, was the age of the Belle Epoque and its decadent flappers — but all her documented dalliances are with men: her supposed lover, Eugene Vidal, Olympic athlete, director of the Bureau of Air Commerce, and the father of Gore (whose speculations about the relationship helped fan the rumours), and her husband, George Palmer Putnam, an eminence of the publishing house G.P. Putnam's Sons, and one of the first P.R. maestros, who made Earhart his hottest property, brokering her lecture tours, book contracts, product endorsements and media exposure to such a proprietary degree that a rival of Earhart's described him as her Svengali. She was no one's puppet, however. On their wedding day in 1931, the 33-year-old bride handed the 43-year-old groom a letter, which read: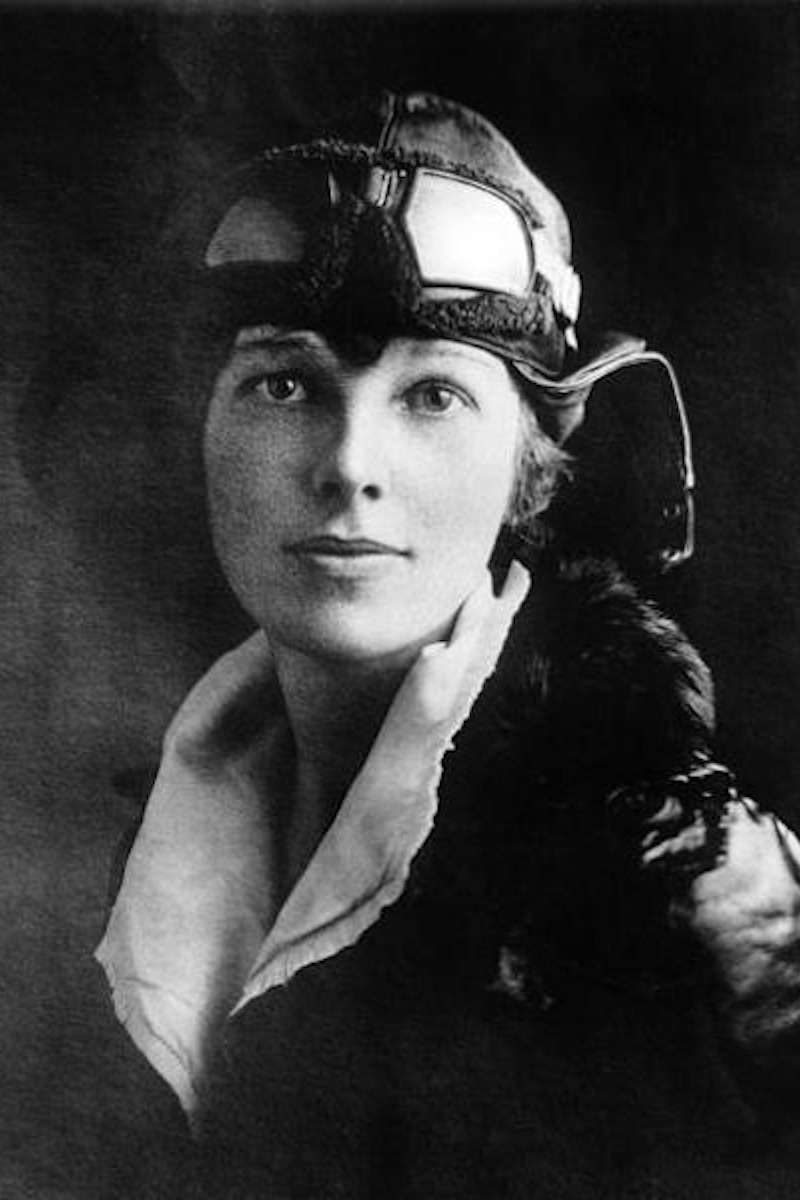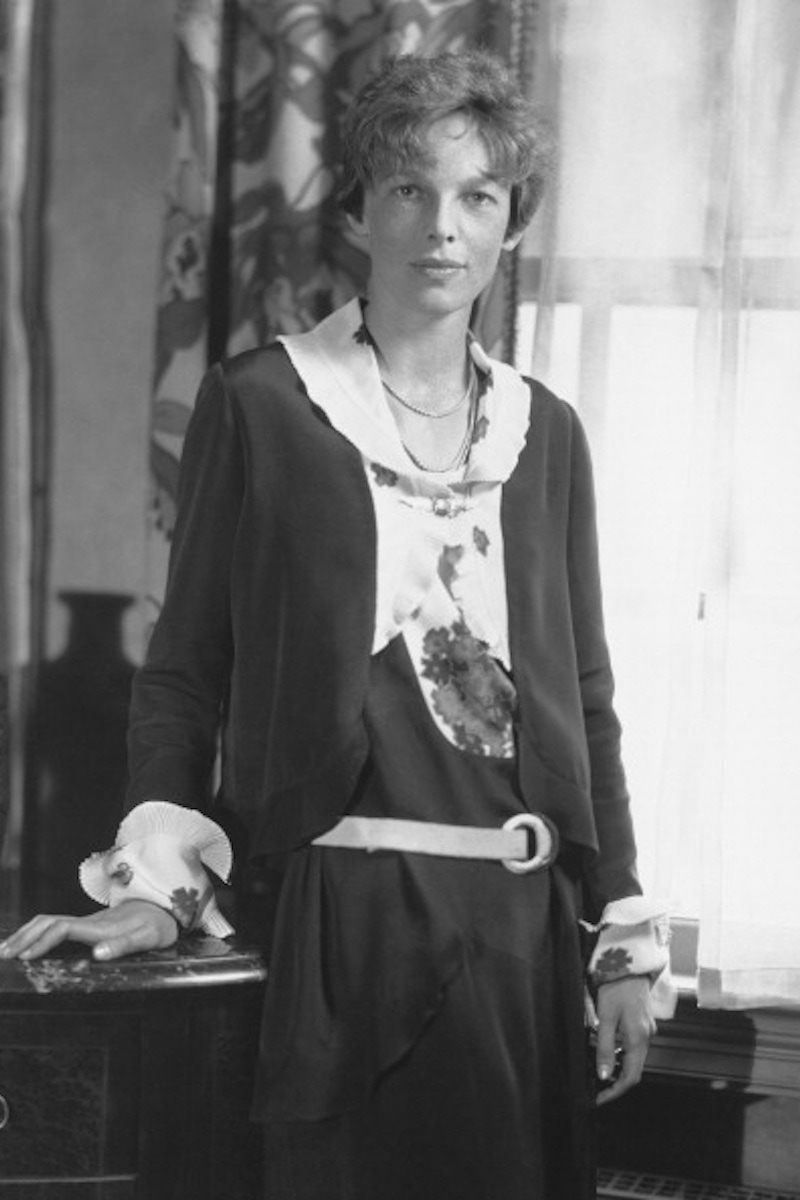 "You must know again my reluctance to marry, my feeling that I shatter thereby chances in work which means so much to me… In our life together I shall not hold you to any medieval code of faithfulness to me, nor shall I consider myself bound to you similarly… I may have to keep some place where I can go to be myself now and then, for I cannot guarantee to endure at all the confinements of even an attractive cage." Earhart always had a bold and insouciant streak. She was born in 1897, in a Gothic mansion on a bluff overlooking the Missouri River, and was descended from long lines of Puritans and pioneers. From the start, she was a daddy's girl: Edwin Earhart worked himself through law school but became what one in-law disdainfully referred to as "a claims chaser". He was also an amateur inventor and a jovial drunk. He bought Amelia the kinds of presents normally reserved for sons — a baseball bat, a football, a .22-calibre rifle, which she used to pick off rats — and took her to her first air meet, in the dry valleys of Southern California, near the L.A. home the family had moved to. She had already been smitten by a visit to a military airfield in Toronto — "They were terribly young, those air men, young and eager," she wrote in an early memoir. "Aviation… inevitably attracted the romanticists" — and she herself now became one of them, taking a "trial hop", declaring herself "ready at any price" to take lessons, and acquiring her first plane, an experimental Kinner Airster, after only a few hours off the ground (her mother, Amy, the daughter of a wealthy lawyer, coughed up the $2,000 for it). Earhart was soon, she wrote, "a hobo of the air", describing her early, and hairy, exploits as "vagabonding". Having attended boarding school in Philadelphia, Earhart now ditched plans to go to Bryn Mawr, burning through jobs — as a phone company clerk, amateur photographer, and even, for a time, hauling gravel — while devoting herself to flying. In 1923, having learned to "stunt", she was a featured performer in an air rodeo (she also got engaged, to an engineer named Sam Chapman, but broke it off, seemingly without acrimony, when she became famous). Her big break came in 1928, when she was drafted in to replace Mrs. Frederick E. Guest, a steel heiress who was underwriting a planned Atlantic crossing by a plane called the Friendship, with herself installed as passenger. When Guest, a former British cabinet minister, expressed his alarm at the prospect, a hunt was launched for "the right sort of girl" to replace her; Earhart, then engaged in social work, was deemed to fit the bill.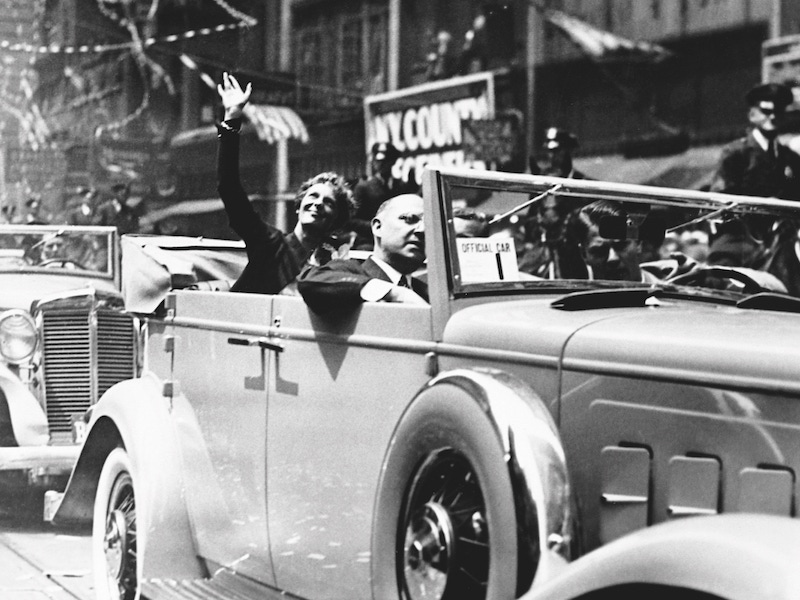 By the time she and Noonan came to plan their expedition round the equator, on the eve of Earhart's 40th birthday, even her staunchest admirers were getting somewhat jaded about her compulsion to up the ante; one accused her of being "caught up in the hero racket". Earhart put her chances of success at no more than 50-50, but claimed to be more worried for Noonan's sake than her own: "As far as I know I've only got one obsession, a small and probably typically feminine horror of growing old, so I won't feel completely cheated if I fail to come back." In the end, her last message was received early on the morning of July 2, when she radioed that she was flying at a thousand feet and should soon be landing at Howland Island, halfway between Hawaii and Australia. The plane — and its crew — vanished shortly afterwards. "Women, like men, should try to do the impossible," Earhart once said, but perhaps the reason that her legend has obscured that of all her fellow pioneering female flying aces, to the extent that Mattel have brought out a breeked-and-booted Amelia Barbie in their 'Inspiring Women' series, is that she made it all — the feats, the endurance, the danger, the hard-won Right Stuff — seem like a breeze; this is one ghost of aviation whose spirit soared forever free of the earthbound. "Adventure," she liked to say, "is worthwhile in itself."