Big Light | Stanley Tucci
Who doesn't like to watch Stanley Tucci on screen? Well, Stanley Tucci, for one. 'Kind of horrifying,' he says. But what does he know? He's loved by Hollywood for his ability to inhabit great characters and produce dramatic moments that can transform a story. Meryl Streep says she owes him 'everything' for the success of The Devil Wears Prada and Julie & Julia. Now that's more like it - he should listen more to Meryl...
Without wishing to sound pejorative or antediluvian, Stanley Tucci is the thinking woman's crumpet. He is smart, articulate, funny, handsome and tactile, and he speaks with a calm, clear New York cadence iced with a mellifluent timbre (which also makes him hardly anyone's worst nightmare as an interview subject). He is a genuine multi-hyphenate: actor, director, producer, writer, cookbook author, father and altruist. But what has really captured the imagination of The Rake is his career-long capacity to play the most memorable character on any screen - a scene-stealer beyond compare, though not in a selfish way. This ability is the most intriguing aspect of his oeuvre, a soupçon of mysticism and a power that you will rarely find in other actors. Yet what makes it more intriguing is that it is hard to pin down exactly how he does it. So in a nook of Claridge's Foyer in London, over a chicken caesar salad, we set about analysing what makes Tucci one of the most compelling actors in Hollywood.
The interview followed a lengthy photoshoot nearby, at The Connaught in Mayfair, during which there were several pauses to admire the clothing: shoes from Gaziano & Girling received a lot of applause; Edward Sexton and Ralph Lauren pieces, too; and also a Thom Sweeney checked three-piece suit with a double-breasted waistcoat, which were meticulously examined and experimented with (shirt, roll-neck, tie/no tie). After the shoot wrapped he turned to yours truly and said, 'Right, Tom, we're going to have a martini and I'm going to bore the shit out of you'. Tucci likes martinis, and it was refreshing to see someone so suave that they can order a martini 'with a twist' without sounding like a creep. Meryl Streep once said of Tucci that, 'He has a kind of manly self-assuredness that he can make you laugh and make you the perfect martini, which he did every single night [while making Julie & Julia]'. In terms of boring the shit out of me, he certainly did not live up to his promise. Read the interview in the new issue of The Rake, available on newsstands now.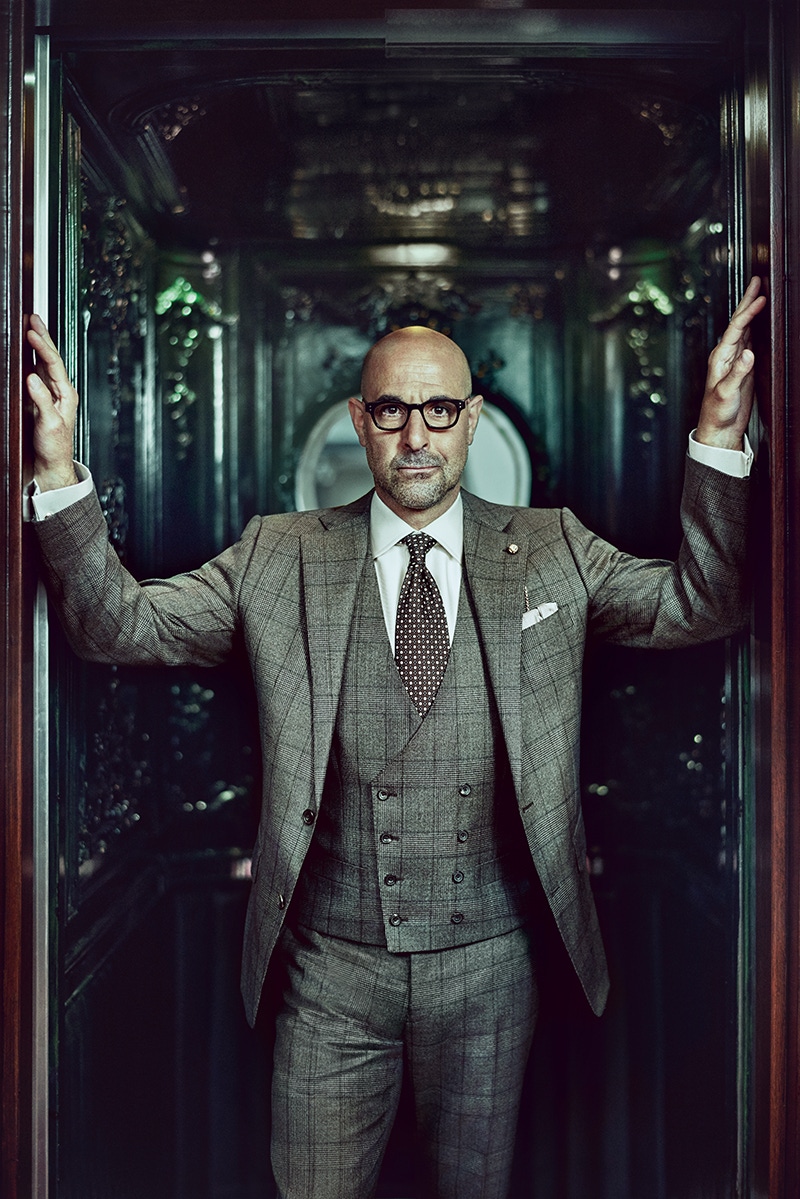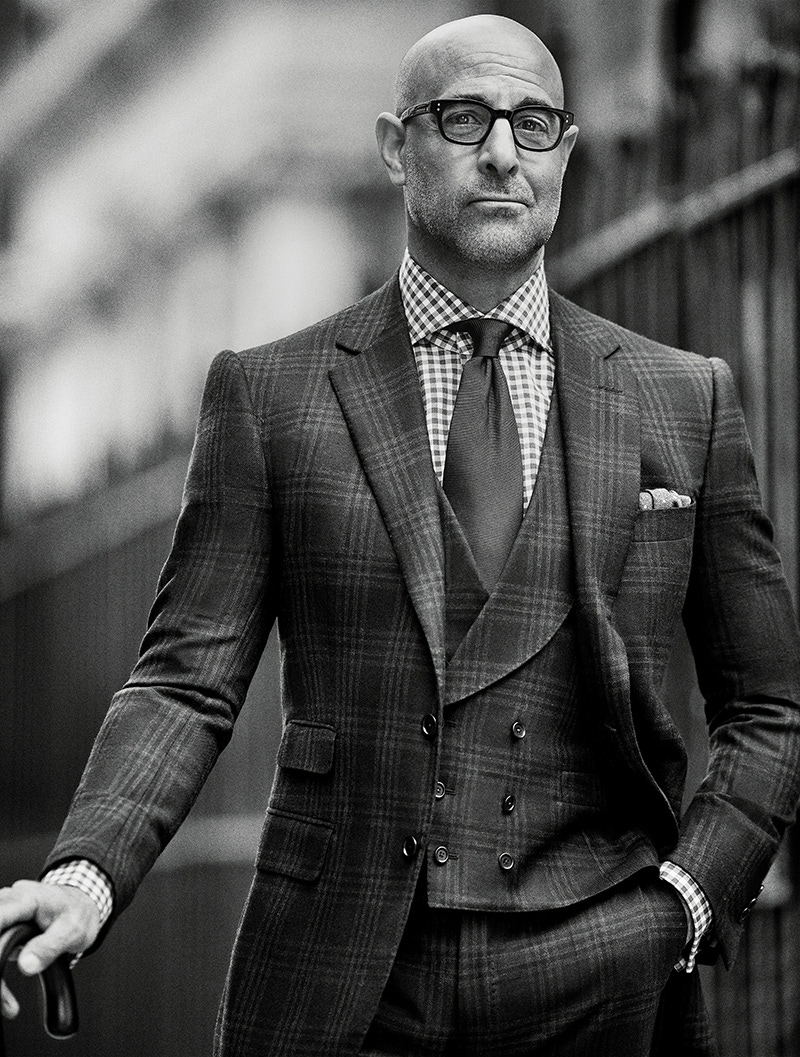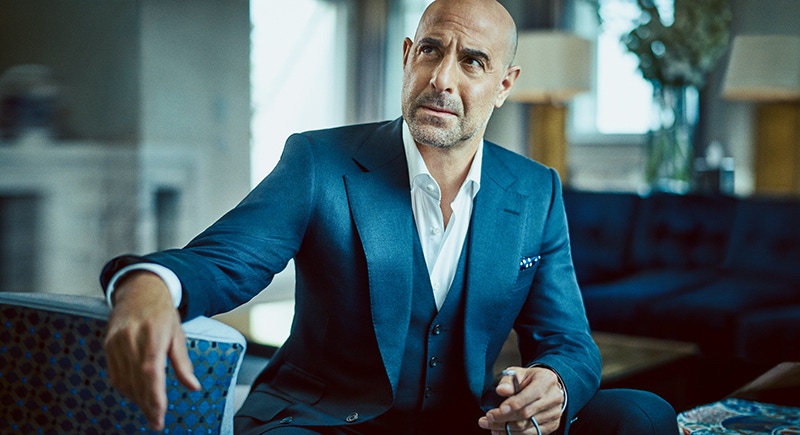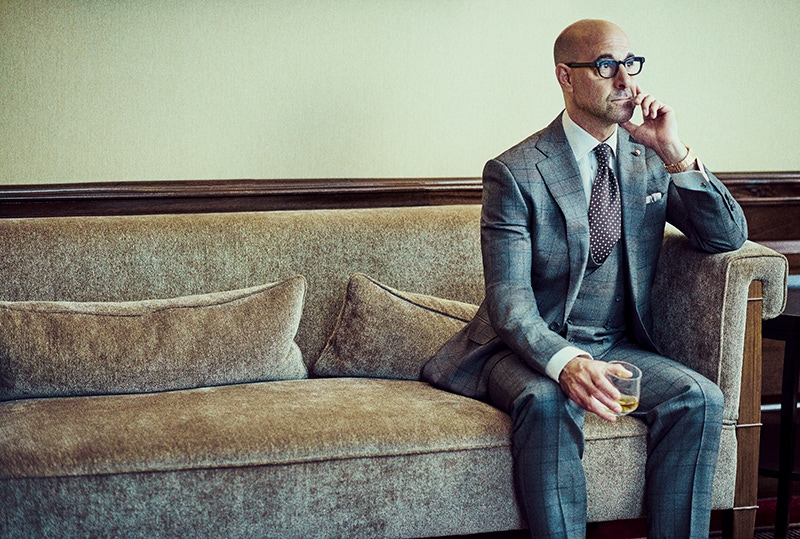 Shot at the Connaught Hotel, Apartment Suite. Photography by Tomo Brejc, art & fashion direction by Sarah Ann Murray, Styling by Jo Grzeszczuk, digital operator - Jem Rigby, photography assistants - Adam Fussell & Robert Self, grooming by Louise Shooman, fashion assistant - Stephanie Everett.