Captain America: Peter Fonda
Easy Rider was a cinematic game-changer, its characters symbolic of much more than the pot-smoking, whisky-swilling youths of 1960s America.
"The idea for Easy Rider came to me while I was in Toronto promoting The Trip. I'd taken a couple of aspirins and was lying on the bed looking at a picture of Marlon Brando in his Wild One get-up. And then it came to me: a modern Western set on motorbikes! The next day, I called Dennis." Peter Fonda and Dennis Hopper proceeded to co-write and co-star in one of the most seminal cult-classic movies ever made, Easy Rider (1969). Fans of Fonda may raise a knowing eyebrow at the idea of 'a couple of aspirins', considering Fonda's self-confessed penchant for marijuana and LSD (among others), but it seems fitting either way. Easy Rider is celebrated as a turning point in groundbreaking American cinema; scripts were partially improvised, locations were authentic, the budget was small and the actors were almost perpetually stoned on camera. Hopper and Fonda wrote, directed and starred in the movie as Billy and Wyatt respectively, Terry Southern wrote the script and Jack Nicholson delivered a character that launched his hugely successful acting career. Immersing themselves in the American counterculture of the early 1970s, the film is dripping with symbolism both subtle and sledgehammer-obvious. In the opening credits, Wyatt takes one look at his watch and – apparently disliking what he sees – removes it from his wrist and flings it in the dust, dismissing the corporate constraints of time and routine. He and his companion then ride their motorbikes off into the distance, to the soundtrack of Steppenwolf's Born To Be Wild (what else?) in pursuit of the all-American ideal: freedom. American paraphernalia was in abundance – Wyatt's leather jacket featured an armband of red, white and blue, with an unmissable star-spangled banner appliquéd on the back. The jacket was made by ABC Leathers, by "little old lady" Clarice Amberg in California. She was praised as one of the first female owners of a racing jacket company (appropriate considering the progressive nature of the film), and it was she who made some of the first colourful biker jackets in an era where they were mostly black and riders were near impossible to tell apart. Peter spoke fondly of both Ms Amberg and the jacket, and once told journalists; "Dennis and I had our offices in Beverly Hills. Nobody wanted to see us around there. We were wearing our costumes to break them in, so the two of us were walking around looking like a couple of hippies. When we were on the street, people would run away from us!" Fonda kept his jacket for years until it wore out, at which point he removed the flag patch and had it framed (it later sold for just under $90,000.00 at auction).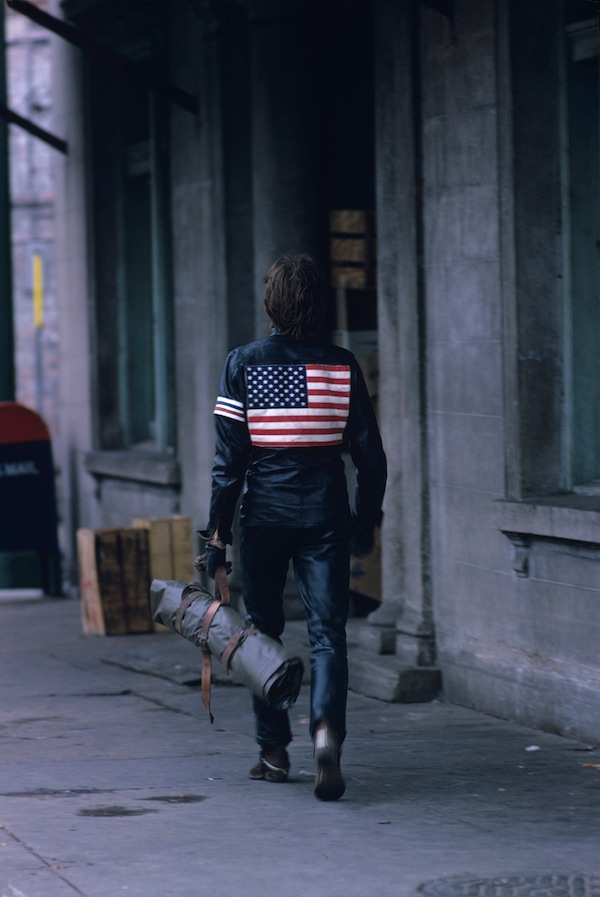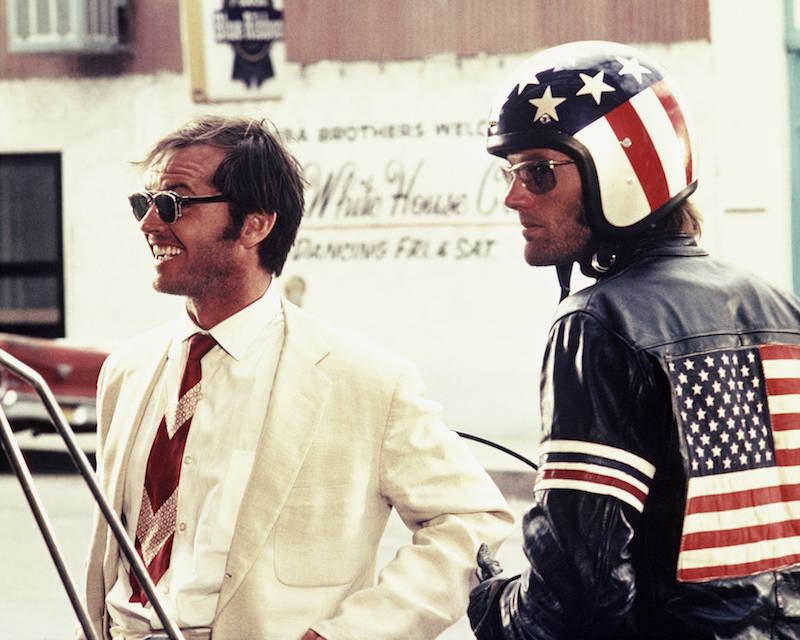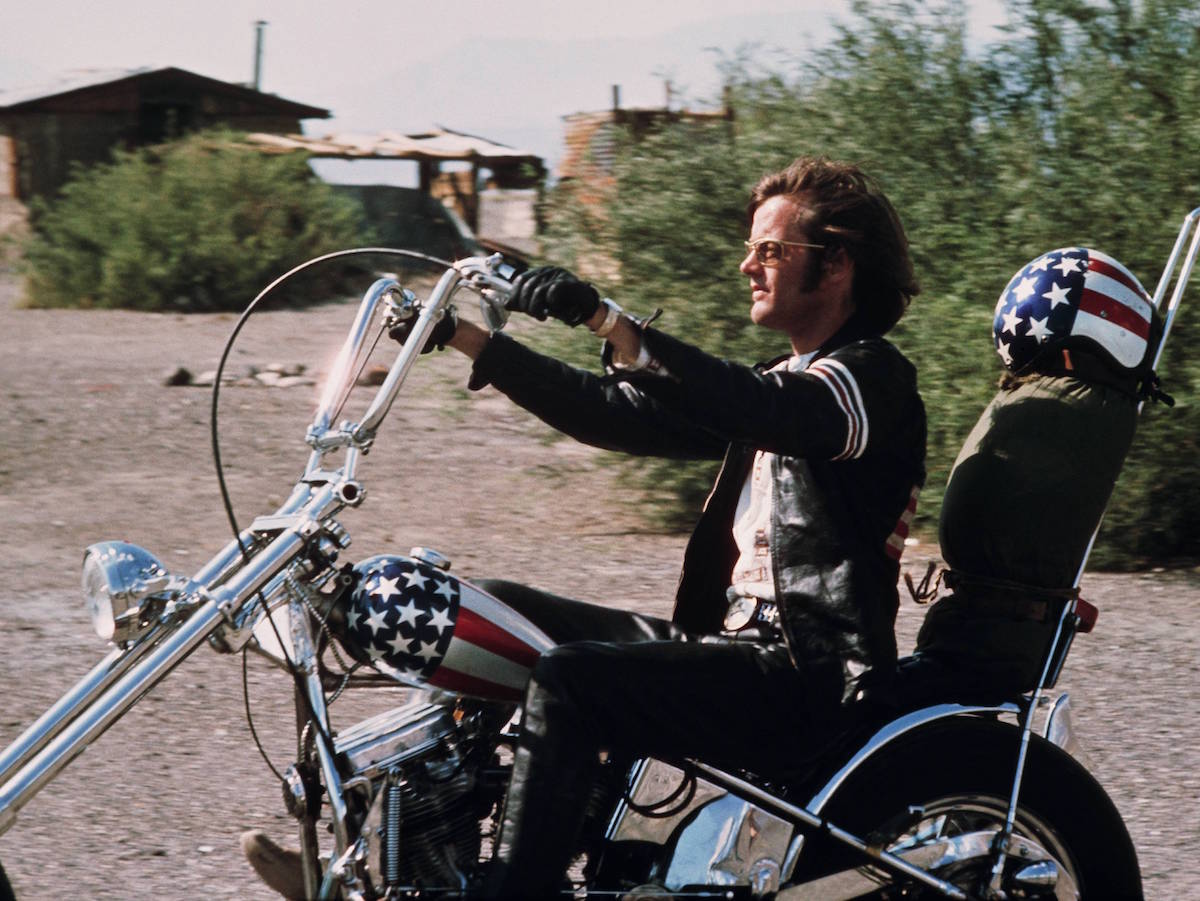 Their costumed characters may have been rejected by society, but audiences devoured Easy Rider like no film before it. "We made a movie for these people that didn't have their own movie", Fonda once said, and he and Hopper consciously made an effort to move cinema away – and forward – from the polished glamour of squeaky clean Hollywood. Karen Black, one of the actresses who played a prostitute, described seeing the film and thinking "What the hell am I looking at? This has value! This has a completely different kind of value than Pillow Talk." Not fitting in with the commune-dwelling hippies or the rough-and-ready bikers in the film, Billy and Wyatt represented the growing concept of the outsider, in a period of social, political and cultural unrest, and an ideological way to break the mould. Young people felt underrepresented, and this was arguably the first in a string of films that addressed them. But Easy Rider is no teenage-angst-ridden, self-pitying chronicle of America's next generation, it's a sad examination of individuality, and its unwelcomeness at the time. Or, in the words of George (played by Jack Nicholson), "They're scared of what you represent to them… What you represent to them is freedom... That's what it's all about it, but talking about it and being it – that's two different things… They gonna talk to you and talk to you and talk to you about individual freedom, but if they see a free individual, it's gonna scare 'em." Hopper and Fonda wanted to make a film that not only commented on the norm, but criticised and challenged it, no more so than in the last few minutes of the film where the pair get shot by a 'redneck', the personification of intolerance and narrowmindedness. The transitional period the film was set in reflected reality, and none were more conscious of this than Fonda. In 1966 he was arrested at the Sunset Strip riots, protesting for the rights of young people, and has since involved himself in politics and environmental issues; he co-produced The Big Fix with Tim Robbins in 2011, a documentary that examined BP's role in the Deepwater Horizon oil spill and the effect it had on the Gulf of Mexico. His criticism of President Barack Obama also caused controversy at Cannes Film Festival following the success of The Big Fix, but Fonda was never one to be fussed by 'sticking it to the man'. In an interview following Easy Rider, he summed up his feelings towards the country when asked about the name of the film; "Terry gave us the title, Easy Rider. That was fabulous. That title alone is cool. Easy Rider is a term for a whore's old man; not a pimp, but a dude who lives with a chick. Because he's got the easy ride. Well, that's what happened to America - Liberty became a whore and the whole country took an easy ride." His cynicism might not have been filtered through the rose-tinted glasses of his era, but Easy Rider now symbolises a monumental shift in focus and freedom in America, one which the world over might be without had it been for a lesser director, writer, actor and story, and amid our celebration of 'America the Beautiful', it would be a crying shame not to acknowledge the man and movie behind it. Captain America – we salute you.