How To Carve An Impression on The Slopes
The golden years of ski style are being brought back by a handful of brands with a distinctly chic retro aesthetic. Here's how to look the part on the pistes this season.
We're racking our brains trying to think of another sport which has so sartorially declined as much as skiing has. We're not pointing any fingers, but since the 1970s, the equipment – and consequentially the fashions – of the slopes have evolved beyond all recognition, thanks in part to a cultural shift towards a professionalisation of sports apparel, leading to the broad adoption of hi-tech synthetic fabrics by Olympians and weekend schussers alike. But in recent seasons, we've seen a wave of nostalgia carve a new line in skiwear. Brands like
Alps & Meters
, who take their cue from the traditional use of wool on the early twentieth century slopes, and the retro-inspired
Fusalp
both nod to the days when one could ski straight into the Gstaad Palace in your slope garb and not look out of place at the bar. We look back at the origins of some of the familiar ski style trends that are beginning to influence slopes styles today.
The Origins of Ski Style
We could go way back, of course. Back two thousand years, when our distant ancestors strapped bits of wood to his, or her, feet and took a chance down the mountain. But the ski styles upon which we look back fondly on, and which flourished more across the Alps than in the United States, began in the early twentieth century and hit their peak by the mid-century, spearheaded by a flourishing jet set. Male skiers of those early years could not have imagined Gore-Tex and flurovisors as they padded themselves with knitwear and fur. The likes of Cary Grant and Errol Flynn would have worn wool (and more wool), layering sweaters and scarfs and then tucking them into trousers. Wool socks were then stuffed into leather hiking boots, ready for a trek up the Dolomites once the piste hit a dead end. Flat caps were fashionable in the 1920s. For American gentlemen, vintage ski-styles were based on rustic Old West aesthetics (this style came to an abrupt hockey stop in 1936, with the introduction of the first quilted goose-down jacket). After the war, it was the Europeans - hailing from centres of haute couture - who brought with them the slim-fitting roll necks, woolly hats, and scarves that made skiing every bit a showman's sport.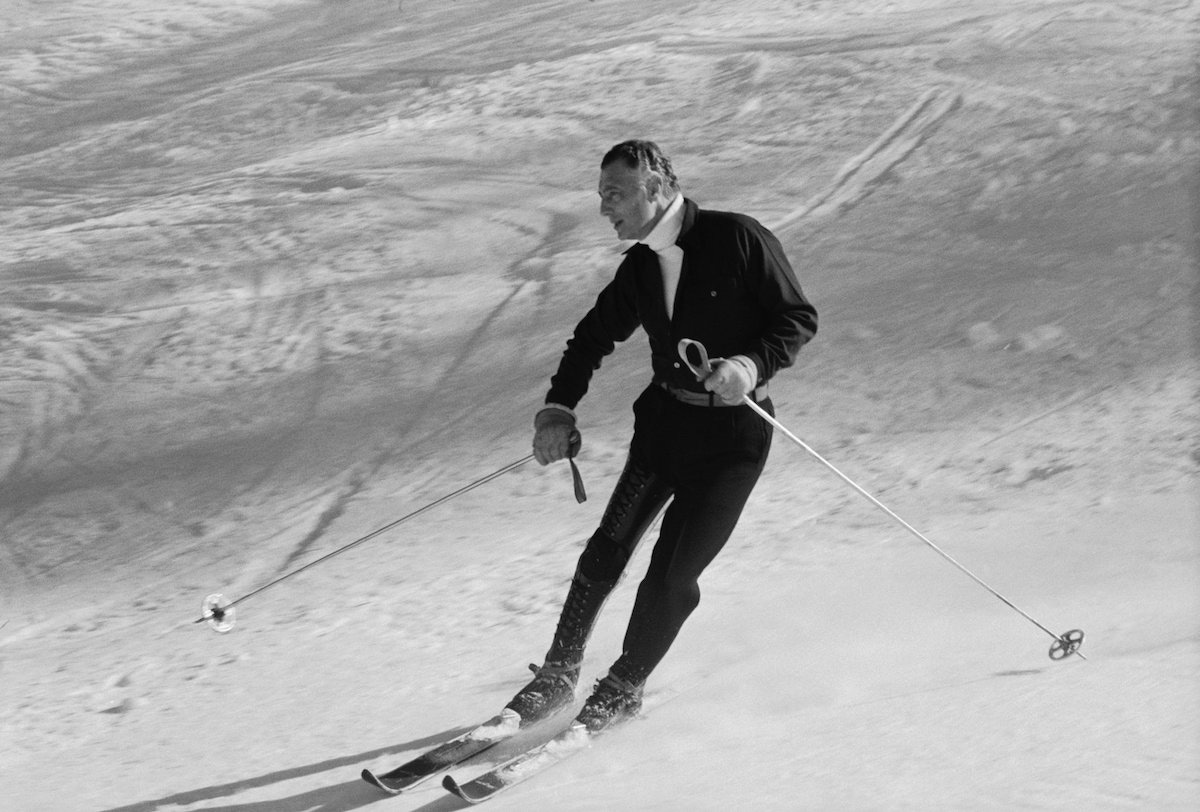 As with summertime bathers on the Cote d'Azur, trends emerged; racing stripes woven along the trousers, or a red arrow on the face of a navy sweatshirt. These details (which also extended to a patchwork of materials and patterns) were to hit their zenith a decade after the sixties. But like most modern menswear, it was the wealthy mid-century icons – part of the Jet-Set crew – like Alain Delon, Jean-Paul Belmondo, or Gianni Agnelli – who lay the foundations for what we recognise today as classic, fail-proof slopestyle. Warmth-insulating and moisture-proofing synthetics appeared more often on the piste in the sixties (though nylon had been used as an outer shell during the fifties), replacing traditional tweed coats and leather boots. Wool, however, still remained the fabric of choice for sweaters and other accessories. Glamorous, slim-fitted nylon jackets (occasionally lined with cashmere) seemed to pre-empt the craze for personal fitness, a trend which continues to snowball today. As with jumpers and trousers, the jackets developed sporting details: an arrow here, or a stripe there, and the colours became brighter. A lot brighter. This is where style, for the most part, began to clash with fashion - making it a little less Sacha Distel and a bit more Elton John. Slopes in the eighties and nineties were awash with technicolour fabrics of the man-made variety. The emergence of waterproof synthetics such as Gore-Tex coincided with the growing popularity of the skier's nemesis, the snowboarder, proffering an avalanche of new slope styles in bright block colours and kaleidoscopic prints more befitting a beach than a black run. One could be pessimistic, but the codes have shifted since the millennium. Skiing today is more tribal: different slopes for different skiers. Those wishing to do 'gnarly' tricks and listen to dubstep are mountains away from the re-emerging jet set. For them, a baggy silhouette is de rigeur, but for the chicest of skiers, the retro style is making a comeback. Fusalp, the brand started by two tailors from Annecy in 1952, has enjoyed a resurgence in recent years. Worn by generations of ski champions, including the Goitschel sisters at the 1964 Olympic Games in Innsbruck, Jean-Claude Killy at the 1968 games in Grenoble, as well as Annie Famose, Guy Périllat and Léo Lacroix—who remarkably won a total of 16 medals at the 1966 World Championships in Portillo, Chile, Fusalp recently returned to the highest international competition as official supplier of the Monaco Olympic Committee at the 2018 Winter Olympic Games in Pyeongchang. This should come as no surprise: as fast fashion hits the buffers, discerning types have turned to brands with credibility, vision, and timeless taste and Fusalp ticks all of those boxes. Likewise Alps & Meters, which was born from a snow-filled trip to the village of Åre, Sweden. Since inception, Alps & Meters has built a brand based on traditional values that reflect its deep appreciation for authentic alpine sport, combining natural materials, classic garment construction techniques and contemporary technologies.
To ensure you look every bit as sophisticated as the slope generals of old, shop Fusalp and Alps & Meters now at TheRake.com.