Cut Loose: Pleated, Wide-Legged Trousers
Wearing them has changed everything, and hunger for the wider-legged, pleated trouser aesthetic has taken over, writes our Fashion Editor-At-Large.
Timothy Everest made me a pair of strides so good they've ruined other trousers for me. That's the long and short of it; or rather the width and height. Wide, very high-waisted with band- and side-adjusters, turn-ups, and single, large, arching, inwardly facing pleats. Wearing them has changed everything, and hunger for this pleated trouser aesthetic has taken over. I can't go back. A major part of my trews-rail is sitting redundant on the dock of the eBay. 
These seminal pleated, wide-legged trousers are actually part of a blisteringly cool double-breasted bespoke Everest suit, cut by the overtly talented Mr. Freddie 'Natty Boy' Neiddu, in a rich ochre, slubby Solbiati linen. It has such clout you could drop it during winter – which I did. The long coat initially steals the show, with acute peak lapels and a gorgeous drape, commanding a zoot-like presence. I'm never happier than when flowing and slouching about in its swathes of volume, both dressed up but street connected, too.
Busting this Everest suit in the heat of the Milan and Paris shows, I became aware that the trousers are actually potent game-changers when teamed jacket-less with either a silk-sateen

Connolly

shirt or a

Sunspel

vest and with crocodile Louis Vuitton Oxfords or unlined Gucci snaffles. It's the proportion that's the killer lick – small up top, big below. The height gives you a more compact-looking body (something I badly need). The volume lends an unhurried, fluid swagger – a refreshing mood reversal from the rigour and inhibited shuffle of narrow flat fronts.  The swish action gives your bowl a new buzz. To clarify, I'm dead keen on these pleats.
What's changed? Well, fashion, really. Let's not dress it up.
Trouser wise, low and flat seems common. It looks Liverpool-Street-bus-stop. It feels body-con-Billericay-Saturday-night-out. Pleats and volume channel next-chapter suave. Volume is hardly a breaking news trend – it's already been out in fashion mags and press for seasons, but the first true-grit signs something's shifted is when your old trouser styles feel offensively dated. 
Lean has prevailed since Hedi Slimane's first

Dior

show in 2000. People forget this moment. As a result, skinny ruled the last decade or so, but now it's being sidelined – made to feel silly. 
It's almost as if fabric has been rationed, then suddenly lifted. Could this taste for generous helpings of cloth be to counter further economic uncertainty ahead? Who knows. Regardless, high, wide and pleated is the trouser antidote to skinny. It's simple. But where to score the fix? Far trickier.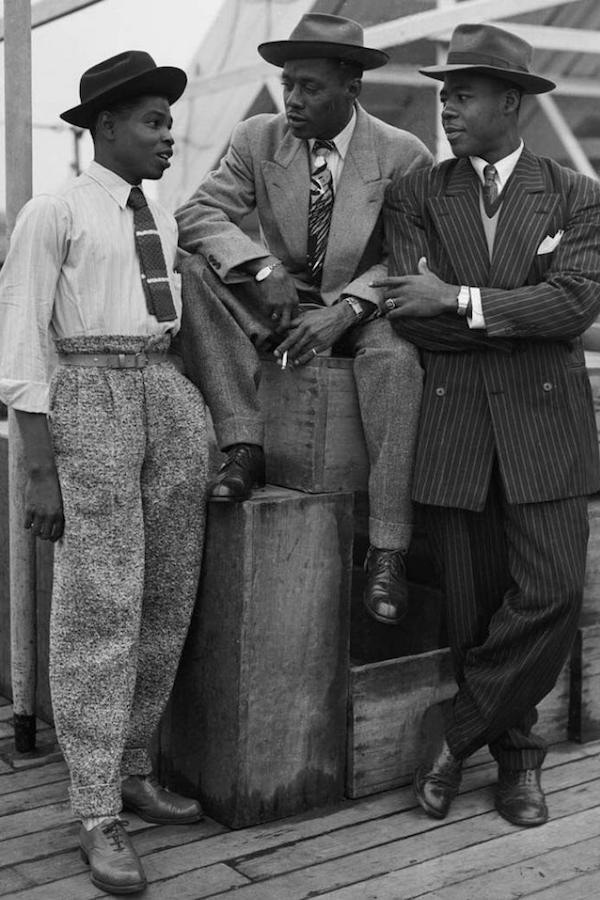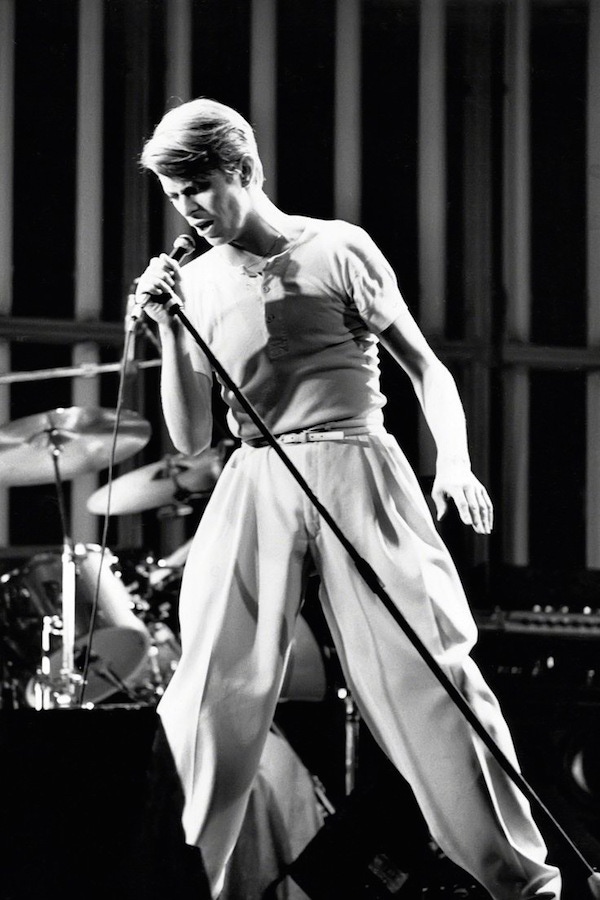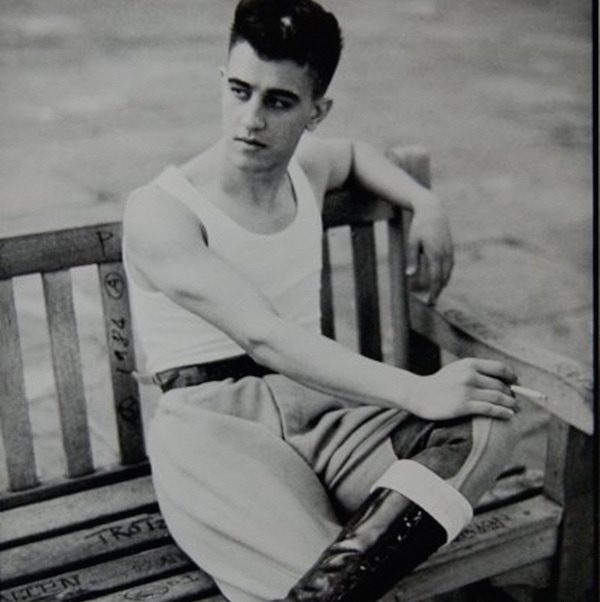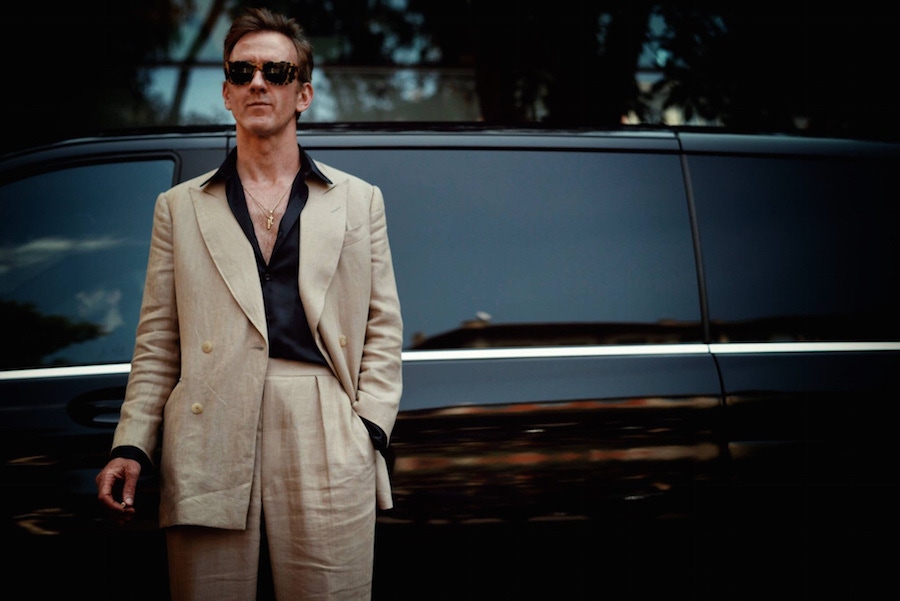 Few get the cut right. Go online and search 'pleats' on the big style retail sites and you get pleats yes, but cropped, low-rise trendy stuff. Dalston meets Chinese agriculture worker stance. These sites seem more obsessed with £700 pairs of track pants than elegance. Some of the very best RTW pleat strides are from
E.Tautz
, particularly for SS18. Available in various width stripes or fine textures, they're half '80s, half zoot, and double cool. Tautz's take on tailoring is one rare thing worth sitting down to watch at London Fashion Week Mens on an 'I could actually wear this' level. Autumn/winter 2017 is good, but spring/summer 2018 is the best tailoring I've seen on the runway since Pontius was a Pilot. On zoot and the eighties, the 'pump up the volume' trouser diktat has rolled well for some men, regardless of fashion. I bow to them. Christos Tolera, '80s style icon, actor, singer and percussionist in seminal Latin Funk band Blue Rondo à la Turk, swears by them. Ultra stylish, the man has combined suave and edgy since the Blitz Club & Le Kilt through the decades. Tolera favours Mark Powell bespoke and vintage '50s gear, and also sites the decadence of tonnes of trouser cloth to be part of the appeal.
Patrick Grant
, owner and director of E. Tautz and Norton & Sons, wears massive, wide chinos and jeans, as he tells
The Rake
, "I go with wide-straight for less smart, either cotton (usually rolled) for bicycling, gardening, and other outdoor activities. Or wool for town. Wide-straight needs a beefier shoe I feel, like a pair from Tricker's, or if rolled, a Red Wing boot. But a pleated-tapered style will work with anything." I've looted my wardrobe to get me through this pleat dearth, finding
Anderson & Sheppard
's trews from three-piece suits to be rather good in their own right. For ready-to-wear: Anderson & Sheppard – check the brand's haberdashery on Clifford Street, an institution founded on delivering top-end pants to proper men. And that's rather what I feel about these trousers – they're 'proper' man attire.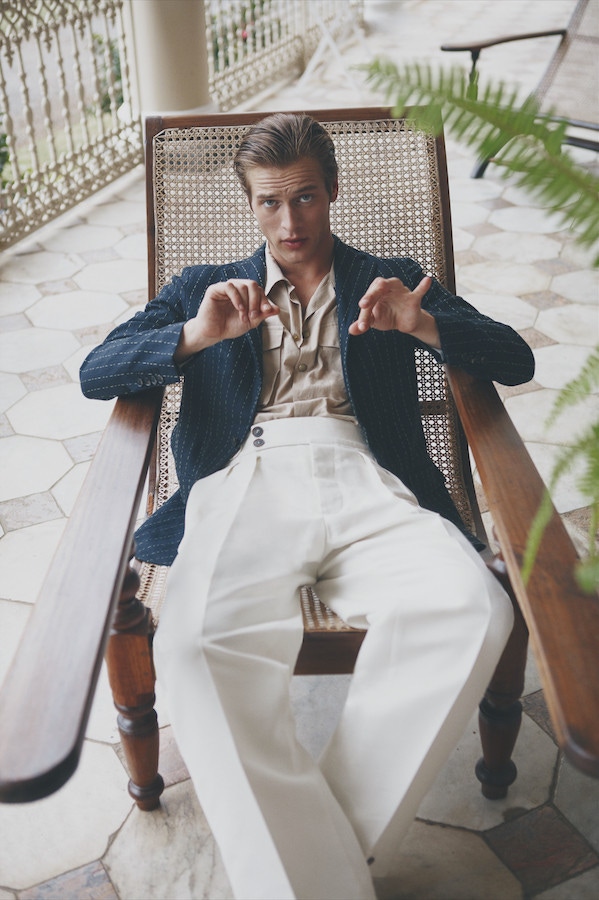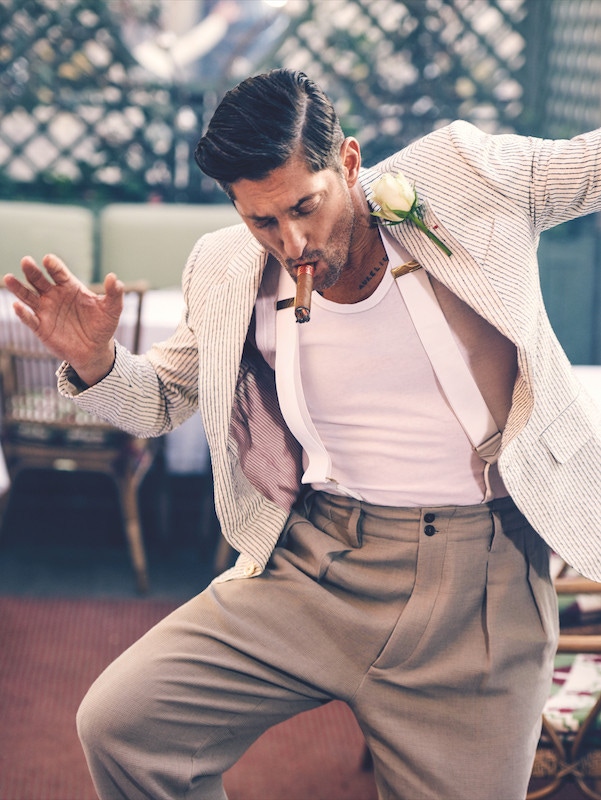 Rubinacci 'Manny' trousers
feature a military crossover double self-belt contraption, as does the house's wickedly hip Ghurka shorts. They're a good pleated trouser, but you need the height to pull them off. Stick them on a shorter guy and I've witnessed a film star transformed into a bloke who'd come to fit the boiler, complete with roll down overalls. Furthermore,
Edward Sexton
Hollywood tops are blindingly debonair, with two sets of outfacing deep pleats and no waistband. The things are a great-looking approach to straight 19" trousers.
David Bowie
is, of course, the prince of contemporary pleated trousers, but the man was as slight as a mantis and poised like a Siamese Cat. On a serious level, caution: pleat hazard ahead. Maybe it's a coming of middle age, but middle is a critical word in this equation. I stay in reasonable shape. A strong penchant for croissants, honey, and Sancerre has taken a toll on my 'figure', and I'm not as svelte as I'd like. To my horror, even a couple of ounces on that spot where men's bodies first prefer to store fat – the belly, just below the navel – shows big time in the new pleat stance. The croissant Derby* nestles just below the waistband of high-waist pleats. The elongated fly can curve outward, accentuating things. I can find myself with a visible Man Gunt. You have been warned. For me, it's the biggest single reason to drop the wine/carbs since Speedos. There's another peril with high, wide guys. What jacket to wear them with? Suits are easy but it's hard to pull off separates as convincingly. Shirt, knit and vest – all fine. Petite blousons and bombers, also good. There's something else I'm finding compelling about pleats and volume clearly being the next big thing in trousers. Unlike the skinny Dior silhouette, pleat-volume is not fancied by everyone. Not everyone can do it, and not many want to, currently. It's a good old-fashioned fashion separator. Like it used to be in the old days, pre-Internet. You either got it, or you didn't. A bit like The Smiths. Speaking of which, and with Mark Gill's excellent
England Is Mine
still in the cinemas, in reference to how I feel trouser-wise, my mind goes back to the charming final track on
Hatful of Hollow
: Pleats, pleats, pleats, let me get what I want this time.
* Derby Kelly is cockney rhyming slang for 'belly', immortalised by Harry Champion in the song 'Boiled Beef and Carrots'.
Read more from

Tom Stubbs

at Styleanderror.co.uk.