The Director's Cut: Alfred Hitchcock
Alfred Hitchcock's personality and characteristic traits are subject to intense debate. The Rake explores what made the complex but immensely talented director's character so intriguing.
In The Birds (1963), the female protagonist played by the model-turned-actress Tippi Hedren, seeks refuge inside the family home after having avoided a string of violent attacks from various different species of birds. During the night she enters the attic and with a torch in hand, opens the door and looks up to see a hole in the roof. Suddenly a flurry of birds swarm down upon her, the sound of their flapping wings emulating the sound of machine gun fire, as she is then viciously pecked, scratched and scarred to within an inch of her life. The heroine is helpless and unable to escape, it is, in every sense a classic cinematic horror-scene. It's a truth universally acknowledged that the magical aspect of cinema that we as film-goers love is the transportation to a fictional moment, but that's not how Hitchcock mastered this particular scene. Unbeknown to Hedren, Hitchcock had swapped out the fake bird props for real birds. The filming of this scene lasted for a few days, with Hedren hopelessly subjected to repeatedly being attacked by the birds, whilst Hitchcock, standing behind the camera was adamant to have the scene captured perfectly, irrespective of Hedren's wellbeing.
Otherwise known as 'The Master of Suspense', Alfred Hitchcock is deservedly lauded and recognised for his directorial style, and for pioneering a camera movement that mimics one's gaze, otherwise known as 'voyeurism'. Obsessed by the horror genre that he defines, it's widely thought that his obsession is symptomatic of his upbringing. "I suppose it must have all started when I was in my mother's arms at the age of six months and she said to me, 'boo' and scared the something out of me", he said.
"Hitchcock was the vanguard in breaking up the accepted cinematic rules of the period."
A common theme throughout many of Hitchcock's films was the quintessential blonde female protagonist; Joan Fontaine, Madeline Carrol, Grace Kelly, Kim Novak, Janet Leigh and the aforementioned Tippen Hedren all graced Hitchcock's feature films. They are always portrayed as immaculate heroines, rife with inner troubles and ulterior motives. Those, along with many more, were subject to intense torture at Hitchcock's behest, both mentally and physically, to such an extent that his female stars became his obsession. He was married to Alma Reville for over 50 years who, despite their marriage being a mostly celibate bond, had a huge influence on the British director, often reading his scripts and offering him constructive criticism. It's important to reflect on the context of cinema during Hitchcock's career. Before him, nudity, sex and violence were non-existent and Hitchcock was the vanguard in breaking up the accepted cinematic rules of the period. So when it came to funding the production of Psycho (1960), arguably his greatest film, he had to resort to self-finance due to Paramount Pictures not wanting any role in supporting the film due to its violent and sexual nature. Based on the 1959 novel of the same name by Robert Bloch, Hitchcock didn't want anyone to know the dramatic ending, so he attempted to buy every copy of the book worldwide and made all crew members swear to secrecy, keeping a closed set for the duration of filming.
You could go so far as to say that Hitchcock's talent with the camera was on par with his never-ending appetite for food and drink. He was certainly blessed with cinematic talent, rather than a fast metabolism, handsome genes and an athletic physique. He ate quickly, in contrast to his slow-paced work ethic and would go to a restaurant to order not one, but three steaks, followed by three portions of ice cream. Full? Not even close; he's been cited to have eased his way through a can of foie gras imported from his favourite shop in Paris on top. Suffice to say, it certainly showed. He was also a big wine collector, aptly buying a weekend home in California's vineyards, and was later awarded the honour of Grand Office of the Burgundian Order of Tastevin, who hold Burgundy wines in high regard. Hitchcock cited that these layers of extra wadding were the result of his binge eating to create an "armour of fat", which is great in its brutal honesty and self-proclaimed confession.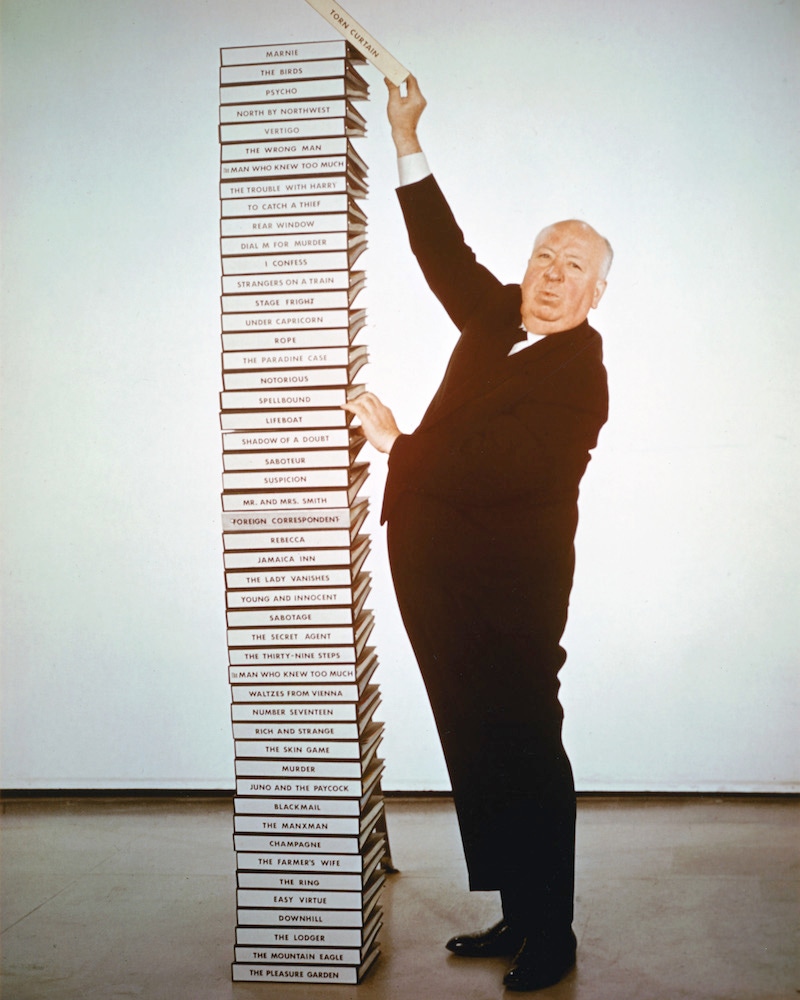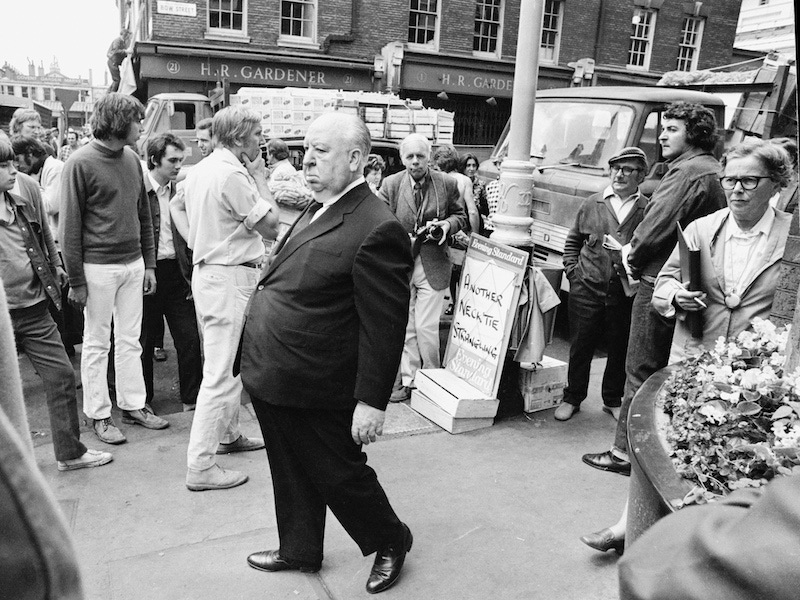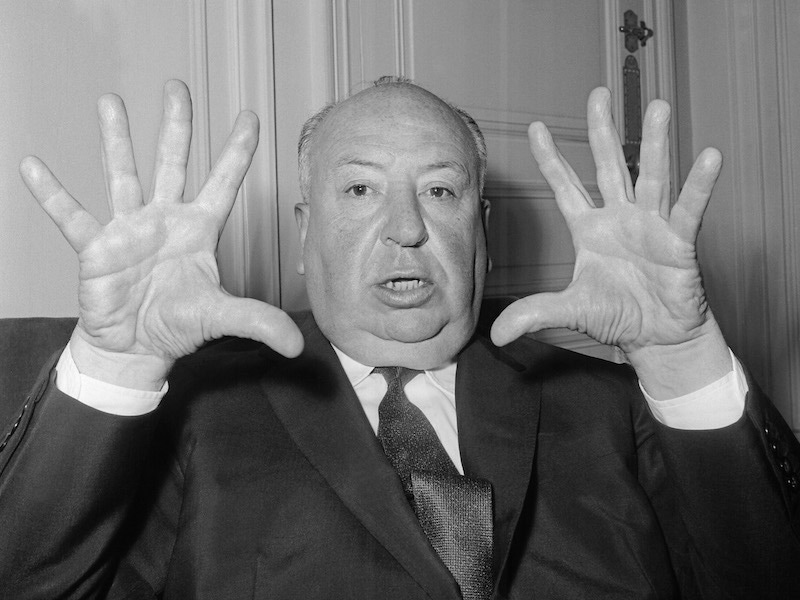 Despite his cold exterior, Hitchcock loved a practical joke and never held back from going too far. He told the film critic Francoise Truffaut in 1966, "I do have a weakness for practical jokes and have played quite a few in my time" which was a slight understatement. From the childish whoopee cushions at the dinner table to serving dinner backwards, some were a harmless hark back to innocent playground comedy. At the other end of the prankster-spectrum, when filming Strangers on a Train (1951), his daughter Pat (who was a main role), asked to go on a ride on the ferris wheel which was an integral structure to the film. Hitchcock waited until his daughter was at the top and then stopped the ride, turning off all the light and leaving her in the dark so high up that her screams would have been just a whisper to him on the ground. I'd go as far as saying that that could be considered parent-child abuse. Prankster? Debatable.
One of the most intriguing facets of Hitchcock's work are the psychoanalytics that you can break down throughout his filmography. One of them in particular, the psychology of fashion, is most interesting. Hitchcock was fascinated by people and the way in which they can communicate in various ways, good and bad. But to keep the voyeur's focus on the plot and dialogue, the male and female fashion, cannot conflict. As a result, throughout Hitchcock's films, the fashion or 'look' of each film was always monochromatic, with subdued colour tones and he understood the importance that classic tailoring and men's style had in the horror genre. Cary Grant and James Stewart, who featured in four Hitchcock films, perfected this style. In North By North West (1959), Cary Grant wears a semi-drape Kilgour grey worsted suit that not only evokes masculinity but also a subtle sense of understated elegance that doesn't grab the viewer's attention. In Vertigo (1958), James Stewart wears mostly brown suits, evoking feelings of strength and reliability but also of sadness and isolation. These are just some examples of the archetypal characteristics that Hitchcock's male protagonists embody.
Perhaps the greatest and most rakish Hitchcock moment came later in his career. Despite never winning the award during his career, Hitchcock was nominated for five academy awards for Best Director. In 1967 he won the Irving G. Thalberg Memorial Award, which of the Academy Awards ceremony was an honorary award for services to film. Hitchcock walked slowly up to accept the award, taking his time. Always one for the dramatic, he took the award in hand and shook hands and delivered his acceptance speech. "Thank you. Thank you very much indeed." Short and sweet, but heavily tongue in cheek, it was an undeniable 'fuck you' to the establishment and utterly Hitchcockian.