Edward Sexton: Down to Business
Aware of how people want to feel in an outfit, Edward Sexton have conjured up their most extensive and luxurious ready-to-wear collection to date. Featuring many of the Sexton classics, the assortment has a strong focus on the comforts of flannel, whilst their imposing coats are not short of eccentric detailing.
People born in the same era as Edward Sexton have lived through a potpourri of societal shifts. Most people guide themselves according to the flow of the time, but Edward Sexton is different. He is an artist with an adventurous spirit that has always had a burning to desire to be proactive and respond to change. Moonlighting as a private tailor to some fairly lively East End gangsters, whilst working as a junior cutter at Donaldson, Williams and G. Ward revealed early signs of his rebellious nature. And no, I don't mean in an anarchic sense, but his response is activated through design; tailoring made the traditional way yet full of eccentricities – to perfectly capture the style zeitgeist that the Rock 'n' Roll set hanker after. Responding to the marvellously louche, carefree existence of the Swinging Sixties, his quest to accommodate such an insurgency officially started in 1969. With his business partner Tommy Nutter, through their firm Nutters of Savile Row, they re-wrote the tailoring rule book of the graveyard-like famed street by not only offering meticulously crafted, sharp, sexy and glamorous tailoring from luxury fabrics, but they dramatized their shop windows with groovy and artistic displays.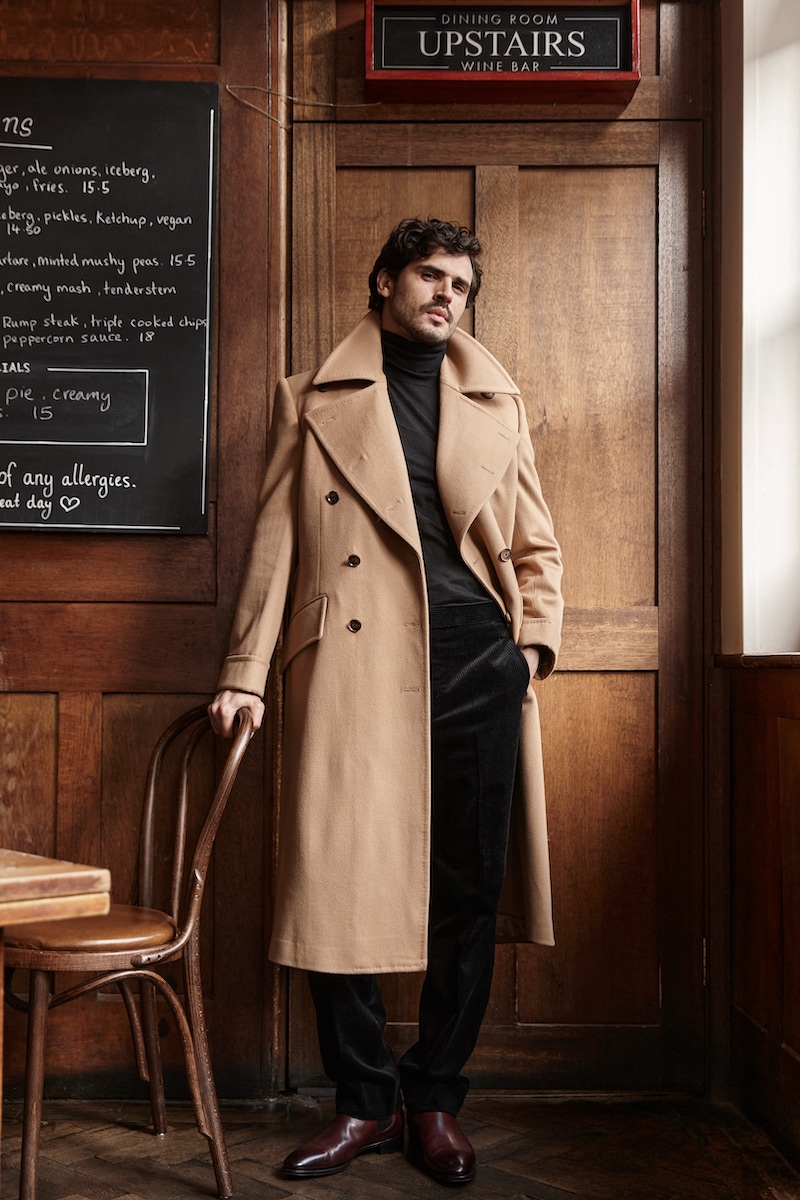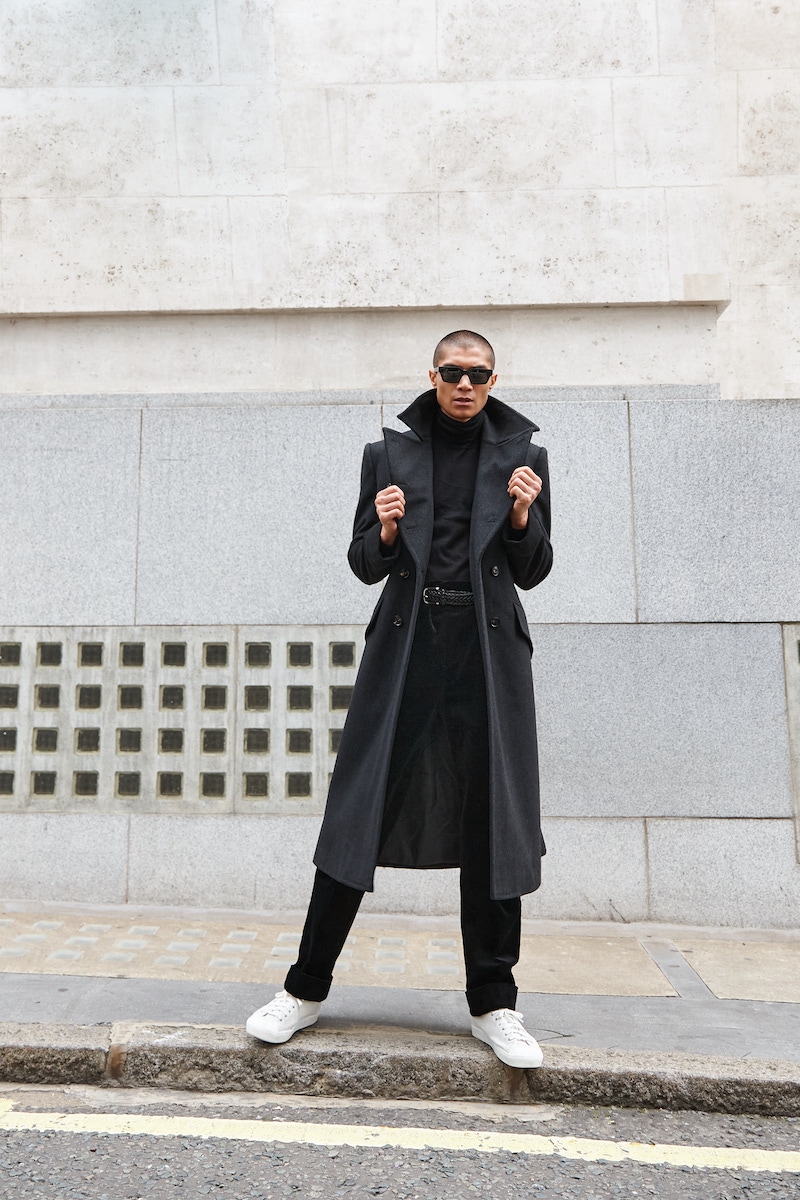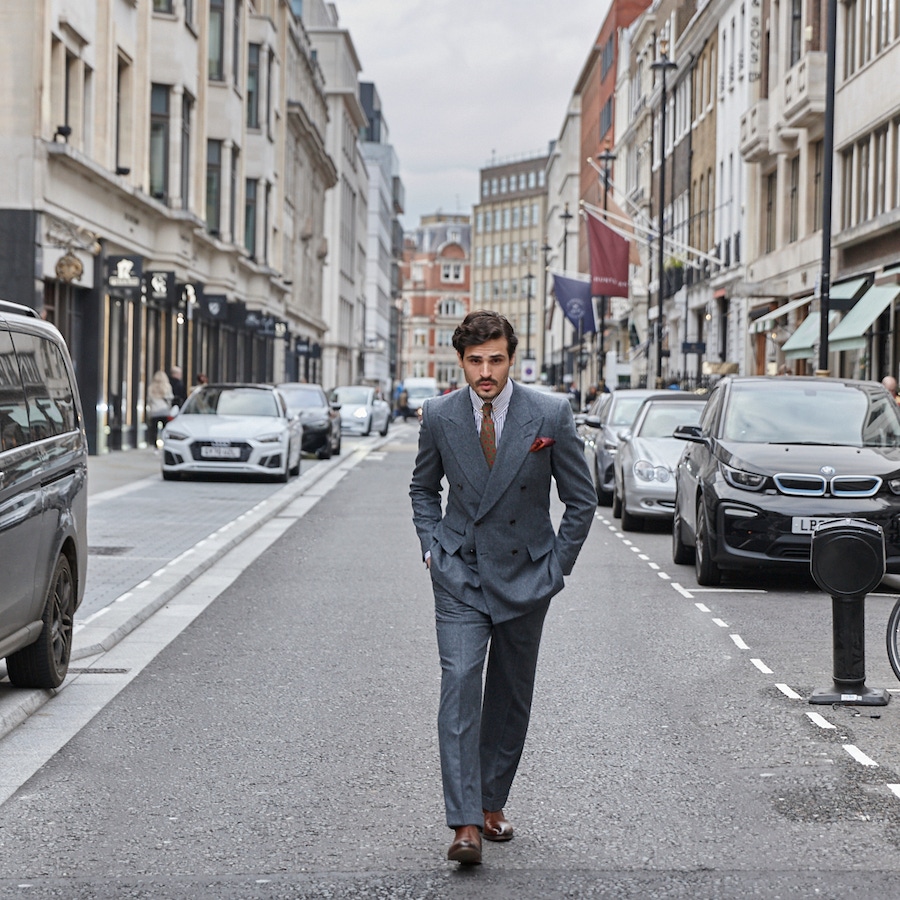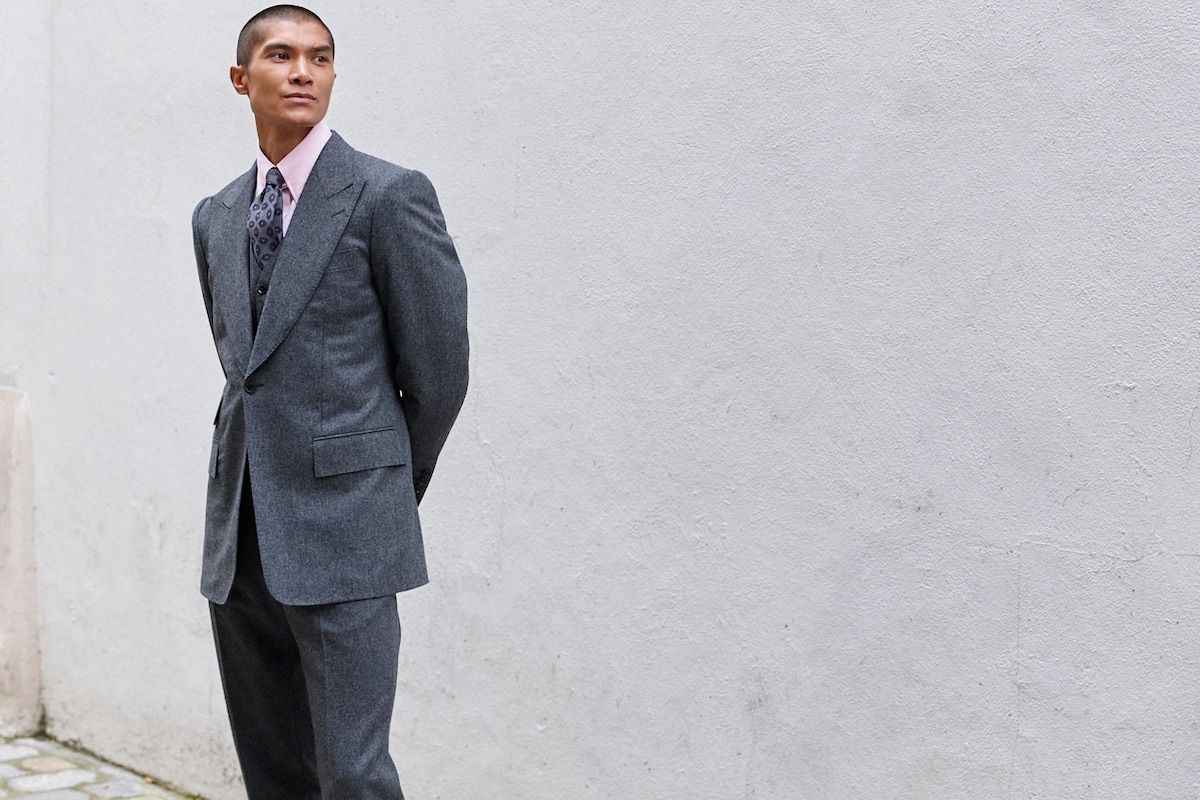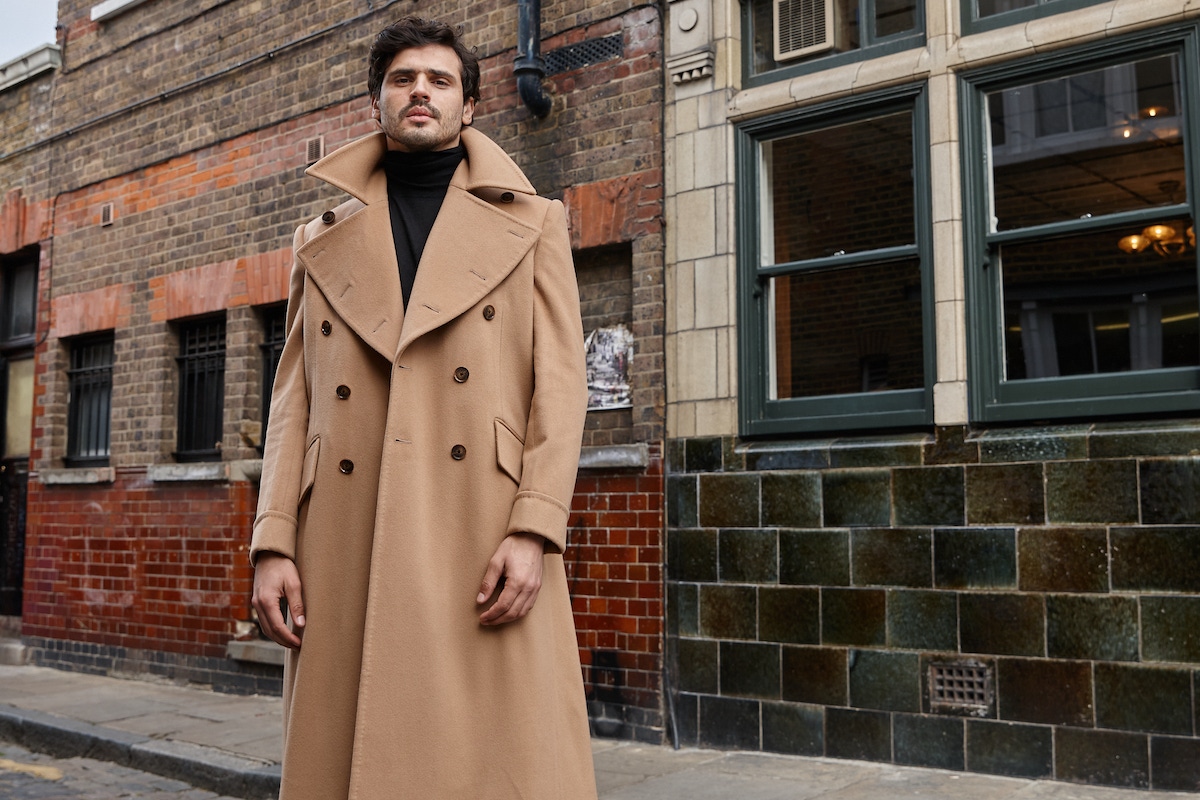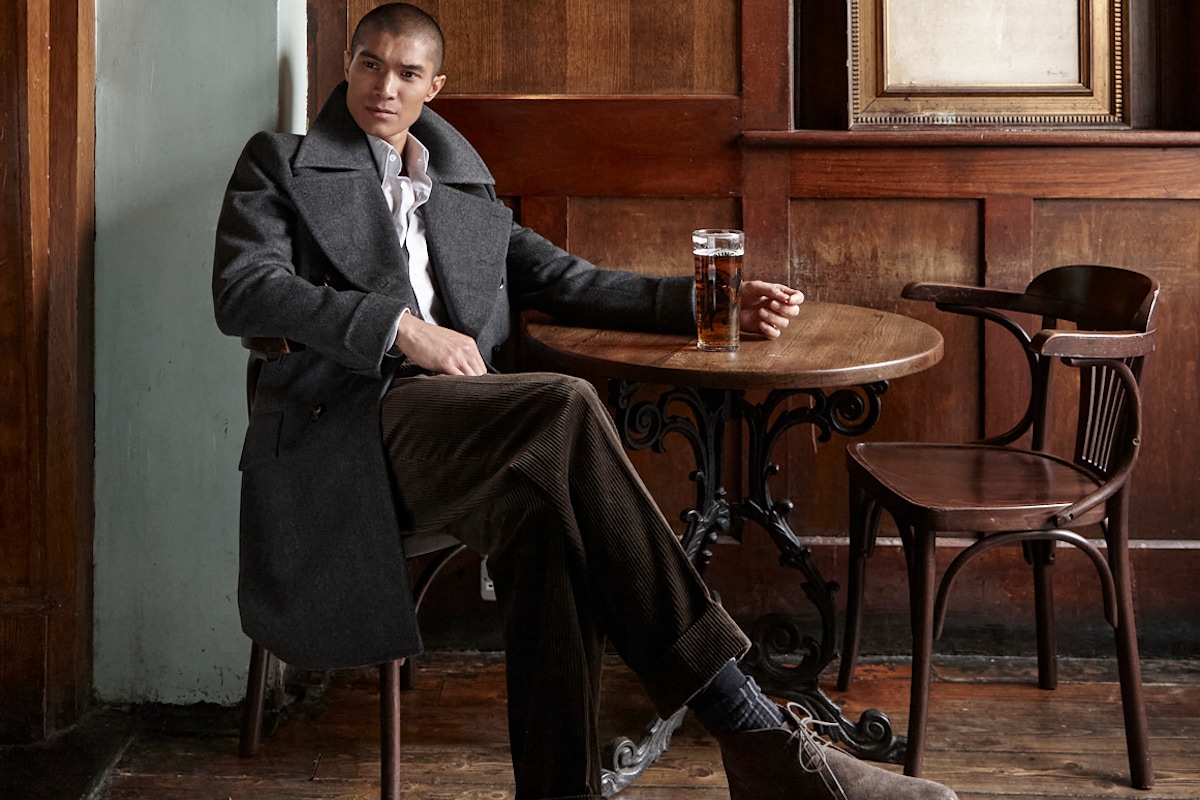 When people think of the '70s they think of Bianca Jagger on a white horse in Studio 54; the fact that Nutters of Savile Row were appointed to cut Mick Jagger's and Bianca Pérez-Mora Macias's wedding suit in 1971 only goes some way in emphasizing the gravitas of their influence on popular culture. 50 years has passed since Mick and Bianca's wedding in Saint-Tropez, but in the ensuing years, and to this very day Edward Sexton has continued to not only perfectly judge to mood of society with his creations, but he's popped up at the right time to help safeguard Savile Row's iconic tailoring legacy. Right in the middle of the pandemic, he chose to re-open 36 Savile Row after a near 30-year absence. Yet again he's taken it upon himself to be the one responsible to bring a bit of pizzazz and attention to Savile Row. It is the showroom for their ready-to-wear line, which house's their new collection, many of which can now be found on TheRake.com. Sexton is aware these days that menswear is all about the luxury of feeling comfortable. It is why the new collection is full to the brim of carefully sourced flannel and corduroy, but still retaining the signature Sexton aesthetic. He once told The Rake about the Sexton look: "Tremendously elegant – edgy but elegant… sophisticated, but totally revolutionary." The autumn/winter collection perfectly encapsulates this quote – as although you've got the authentic foundations of classic tailoring, there is the typical and flamboyant Sexton details that include the architectural shoulders, suppressed waist, elongated trouser silhouettes and the famous wide peak lapels. Speaking of lapels, and generous ones for that matter the vibrant turmeric yellow wool Bridgecoat is arguably the most flamboyant piece in the assortment. It is an evolution of Sexton's signature greatcoat, cut to a knee-length with the same collar, cuffs and half-belt back. However, unlike the greatcoat it features two jetted hand-warmer pockets and straight flap pockets at each hip. Mirroring their bespoke creations with a full canvas construction, this imposing coat is actually very easy to wear, and makes a great statement to lift yourself and others out of the bleak winter months. If you feel the need to neutralize the colour, they have you covered with their extensive repertoire of grey flannel trousers.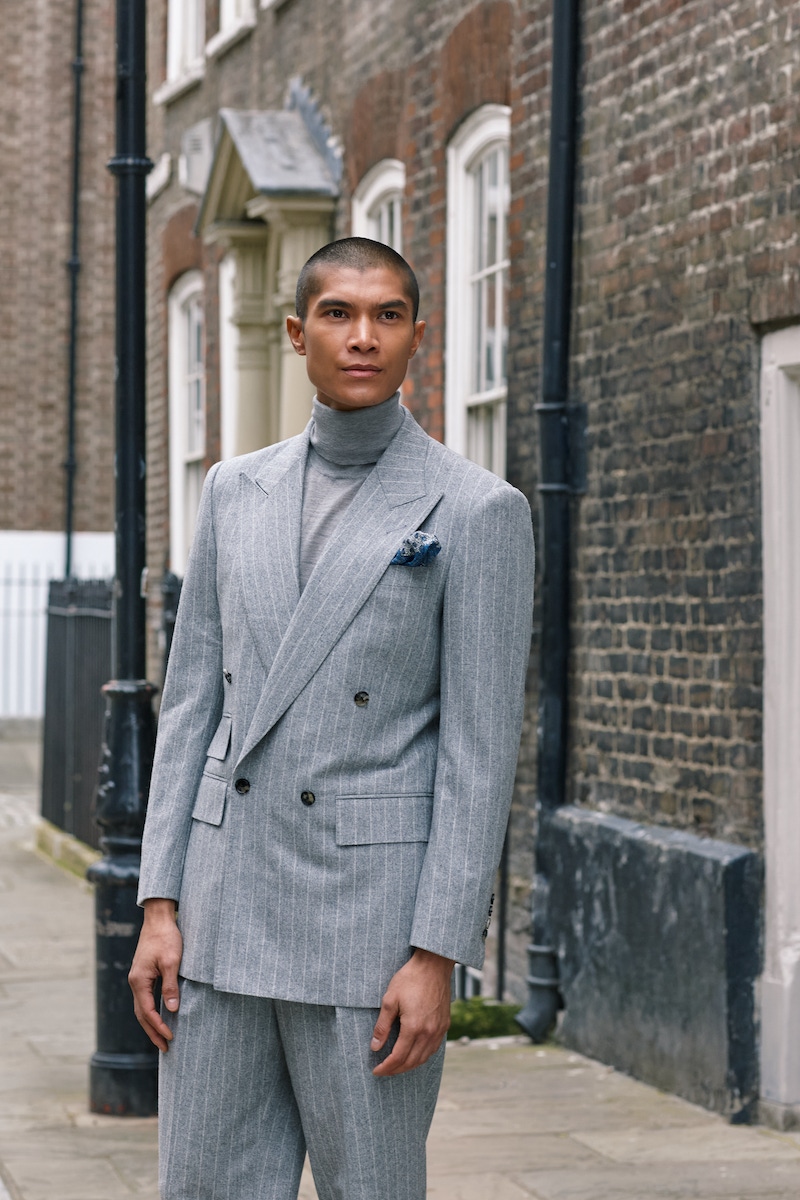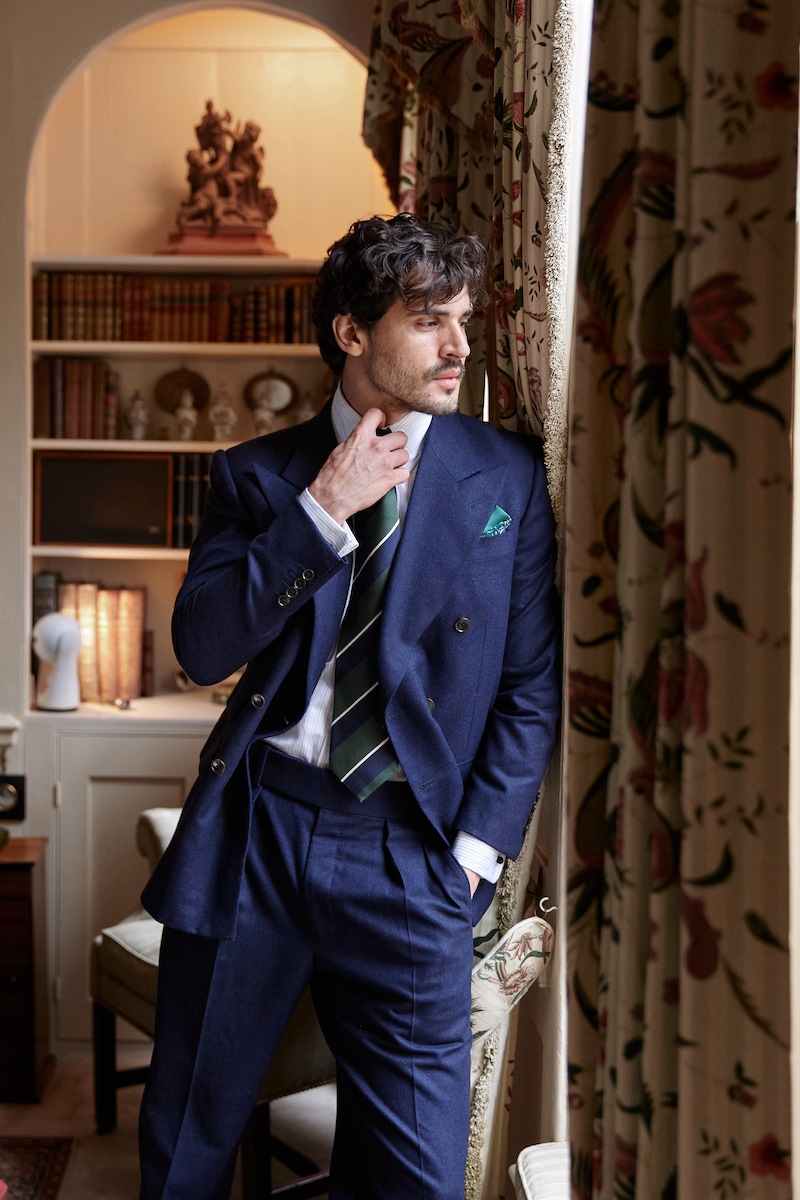 Flat-fronted, and rendered in an understated charcoal flannel, their trouser in the contemporary style is an accomplished partner to a Sexton coat. Cut in their House style, so is the forward-facing double-pleated iteration, which features a full leg silhouette – a design reminiscent of the high-rise trousers embraced by Fred Astaire and Cary Grant, two top international film stars that Sexton looked after whilst working at Kilgour. Outfitting the Beatles, Eric Clapton and Elton John, Edward Sexton is used to creating truly knockout pieces with a rockstar edge. In each collection, there seems to be more than one to revere. Two of them this winter are the striking flannel chalkstripe double-breasted suits in both light grey and navy. Available in the near future they're quintessentially Savile Row, but featuring libertine broad peak lapels to exert a touch of hedonism. The trousers are pleated, full-cut and finished with side adjusters. Eccentric and flamboyant, whilst inheriting complete originality these flannel suits are set to become the standouts in the realms of ready-to-wear. Back into the fold are the fabled Hollywood Top trousers. Its name comes from the long-standing association with the wardrobe departments of the big American studios, and although Sexton originally restricted their offering to bespoke clients, a surge in popularity propelled him to give the same art deco treatment to a ready-to-wear line. Sitting high on the waist, there is a new winter edition in corduroy. To style the trousers, emanate Hollywood leading man Tyrone Power and tuck in a polo shirt for the epitome of smart-casual Hollywood glamour. They also add a modern and relaxed edge to tailoring – a perfect soup for the moment.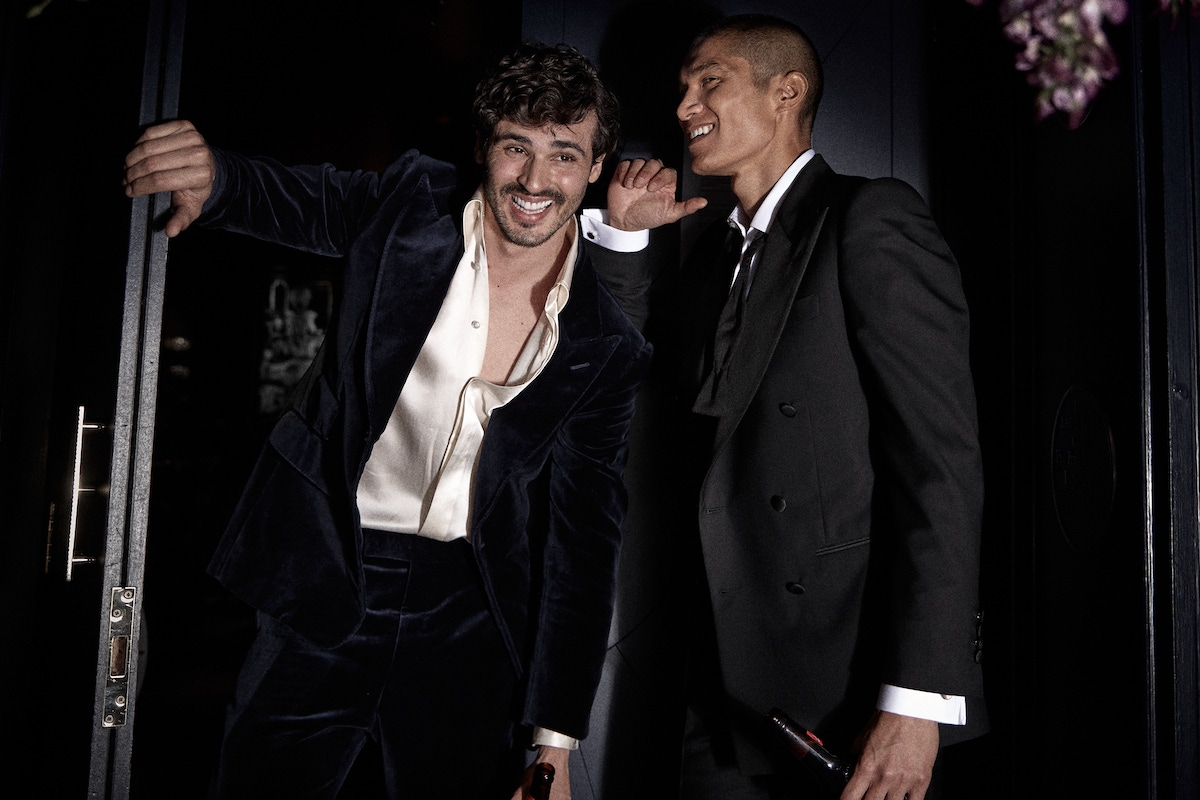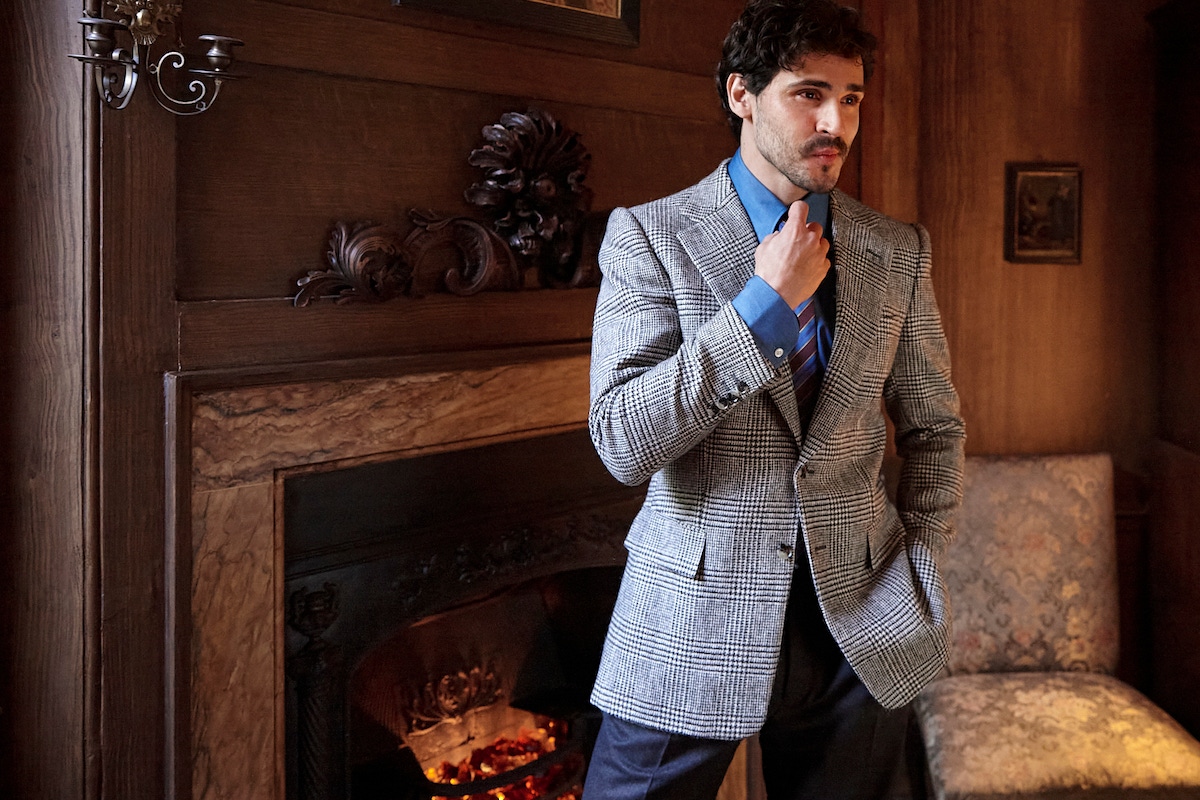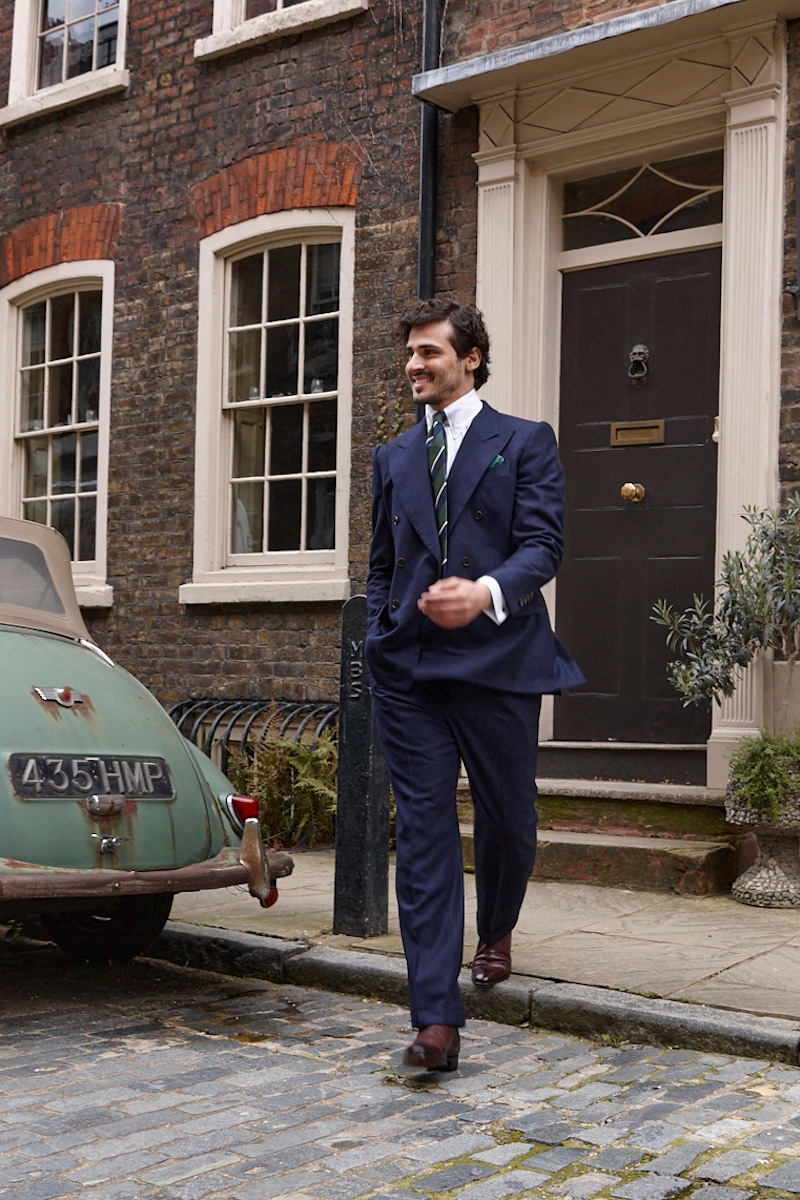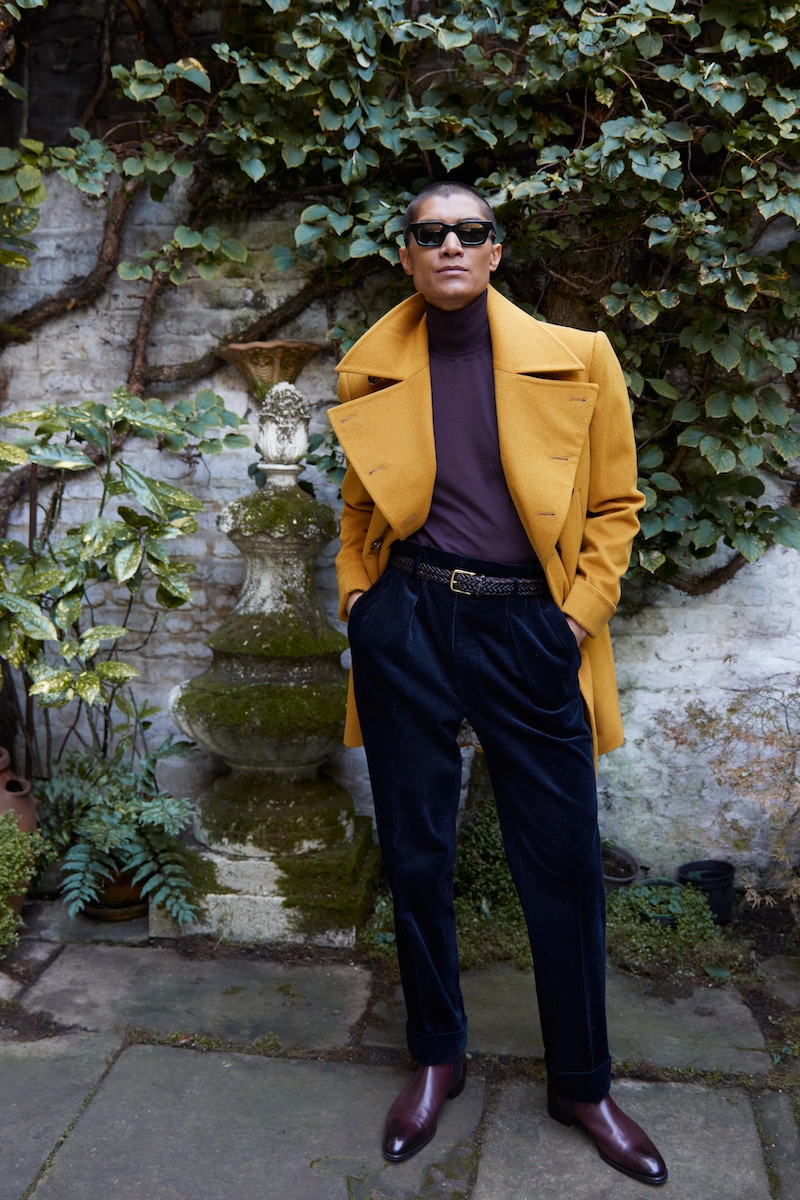 Developed in Sexton's Knightsbridge studio, their imposing selection of coats extends much beyond the three Bridgecoat designs in turmeric yellow, navy and grey. The charcoal Edward Sexton greatcoat, which is their pièce de résistance is both elegant in appearance and a technical feat of cutting and tailoring. Dramatic with its generous stand-and-fall collar and full wrap, 'S-shaped' double-breasted closure and pleated and panelled back, it is certainly a commanding coat and very much ingrained into the Sexton identity. Elsewhere, there is a charcoal grey flannel three-piece single-breasted suit, but can be bought as separates. Chic and soft, the flannel on the jacket has a gentle drape, whilst it's cut in their one-button House style, renowned for its highly elegant silhouette. If you prefer the double-breasted jacket this style is available in the same 11oz Italian flannel cloth. Edward Sexton is again leading the charge with some truly outstanding eveningwear pieces. Designed in the one-button house style, the blue velvet dinner jacket is elegant and full of unabashed romance. Creative Director, Dominic Sebag-Montefiore tells The Rake: "This is our largest and most luxurious ready-to-wear collection to date. It has been forged with the idea of getting down to business and living life again in style and comfort."