Electric Warrior: Marc Bolan
The personification of the proverb 'where there's a will there's a way', Marc Bolan's flamboyant style - both in his career and his clothes - made him a star like no other.
Mark Twain said that success is assured for those who have both ignorance and confidence. Few could be said to embody this philosophy as gloriously as T. Rex's Marc Bolan. Here was someone so convinced that he was going to be a famous rock star that he all but willed it into being; forming one of the seventies' most influential acts in the process. His unique and peculiar alchemy of raw talent and self-delusion - as well his ostentatious style - profoundly changed what a rock musician could be. For Bolan, finding fame was not without its setbacks, but they were simply beside the point. To him, it was inevitable; 'If God were to appear in my room,' he once said to a journalist, 'obviously I would be in awe, but I don't think I would be humble. I might cry, but I think he would dig me like crazy.' Bolan was born Mark Feld, and grew up in East London's Stoke Newington. From an early age he was entranced with music and performance, and began telling anyone who would listen that he would be a star 'bigger than Elvis'. As a kid, he played in the adorably-named band Susie and the Hula Hoops with a twelve year old Helen Shapiro, and hung out after school at the Hackney Empire - even carrying his idol Eddie Cochran's guitar. After being kicked out of school at 14, he began working as a model (despite being all of 5'4") and a dedicated follower of fashion. He was an early adopter of mod style, even appearing not long after his expulsion on the cover of Town Magazine, boasting of his 'ten suits, eight sports jackets, fifteen pairs of slacks, about twenty jumpers, three leather jackets, two suede jackets, five or six pairs of shoes and thirty exceptionally good ties.' The young Feld began recording music after changing his name (for unknown reasons) to Toby Tyler, releasing several singles that sank before changing it to Mark Bowland and then again to Marc Bolan. He began writing prolifically, music and his other love, fantasy literature. His biggest literary obsession was with The Lord of the Rings - which ironically he had never read due to his dyslexia, and he began penning novels and poetry collections with titles like The Krakenmist and The Warlock of Love. After releasing several singles as both Tyler and Bolan, he was invited to join mod band John's Children, and it was during his brief tenure with the outfit that he caught the eye of David Bowie's producer Tony Visconti. 'I didn't see a musician,' recalled Visconti, 'I saw a star. I went up to him and he said, "Oh, you're the eighth producer I've met this week. John Lennon was in here last night, and he wants to produce us." He was totally full of himself.' Visconti recalled that the very next day, Bolan called him from across the street asking if he could audition immediately. 'He made it sound casual. "I'm just passing by, we'd like to come up and audition."'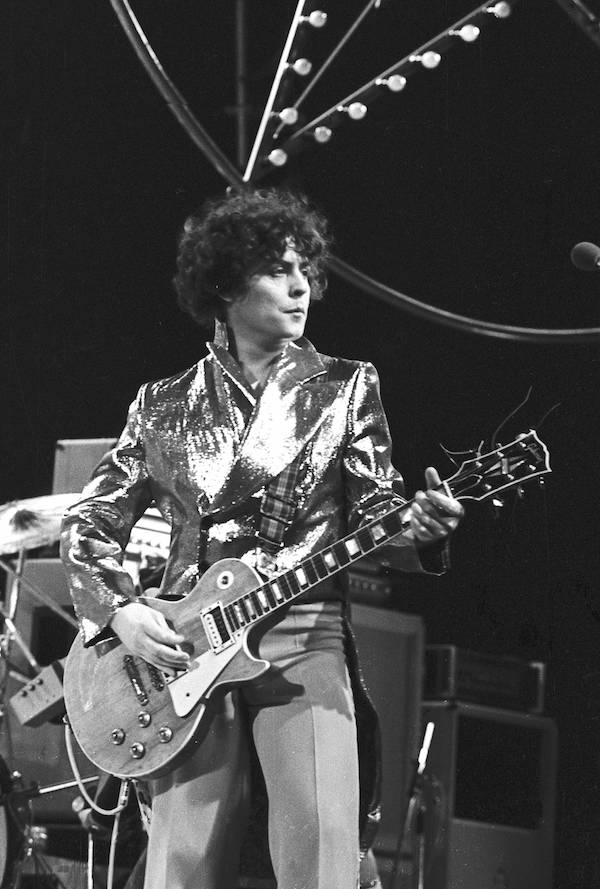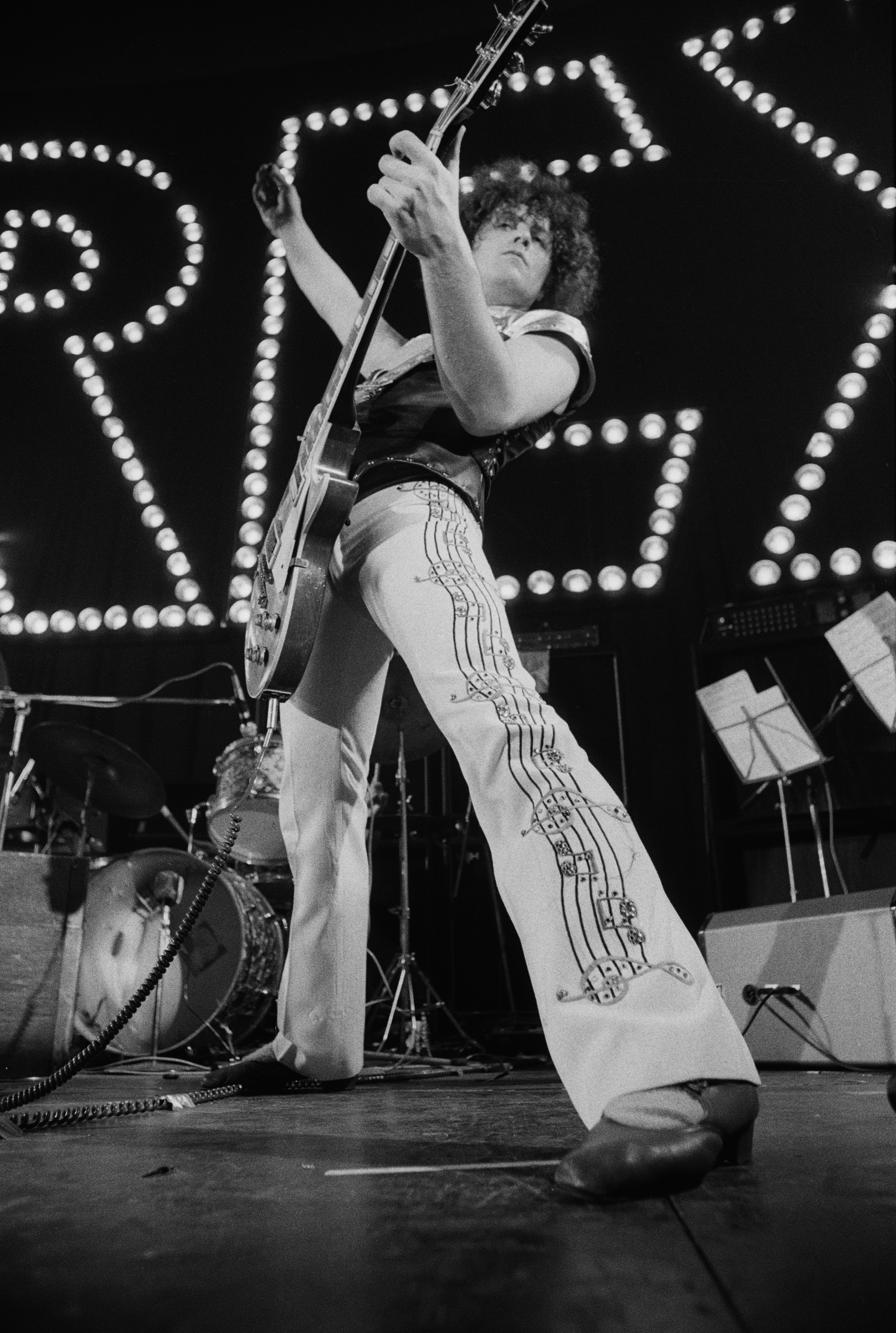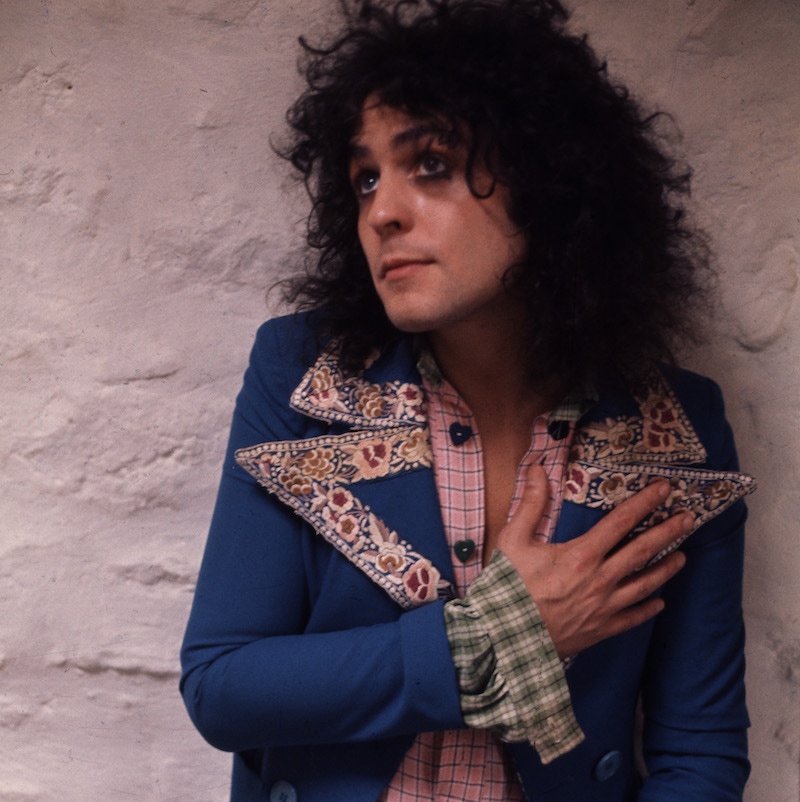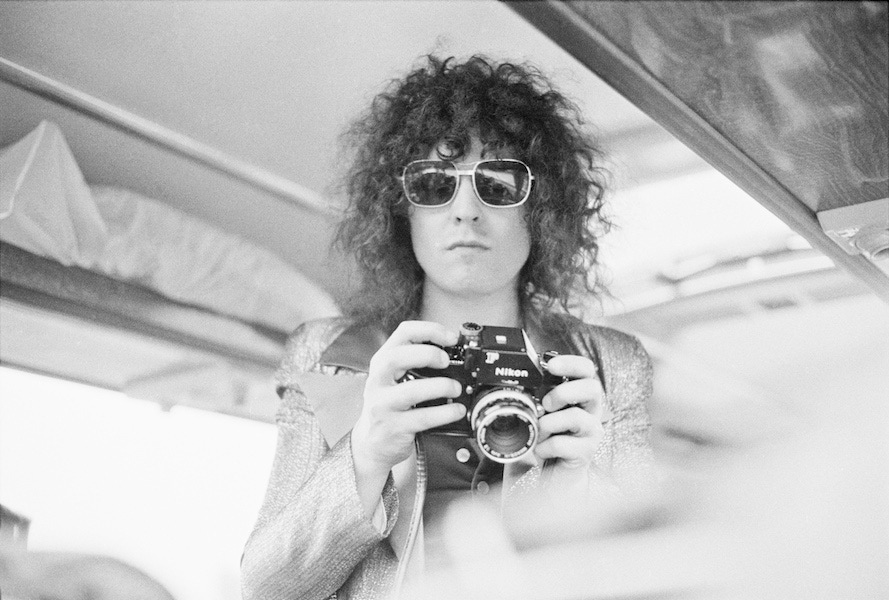 John's Children broke up soon after. Undeterred, Bolan reconvened under the mantle Tyrannosaurus Rex and eventually managed to secure a record deal, with production duties being handled by Visconti. It a crucial partnership, and after several (pretty average) folk-oriented records, it bore fruit with their first major hit - the electric, groove-driven Ride a White Swan. This song single-handedly changed the course of their career. Tyrannosaurus Rex became T. Rex and Bolan ditched the renaissance faire aesthetic for something altogether more glamorous. Clad in a top, outrageously lapelled jacket and feather boa, Bolan was transformed; his rock star ambitions crystallised into final shimmering reality. Bolan's success with Ride a White Swan led T. Rex to a string of brilliant records - including their inarguable apotheosis, 1971's Electric Warrior -  and their a fuzzed-out wall of guitar sound, swaggering rhythm section and flamboyant style came to define what 'glam rock' was. It also made Bolan a star.  Somewhat predictably for one who had held his own talent in such unimpeachable regard, this also could make him intolerable - he began claiming that he was to star in a David Niven film, that he was selling double his reported record sales, that Lennon was imitating him. DJ and promoter Jeff Dexter, who became Bolan's manager around this time said that Bolan could be incredibly arrogant. 'People from working-class backgrounds who suddenly become famous often feel they can take liberties with people; and Marc took a lot of liberties. All the sycophants were telling him he was the most wonderful thing in the world and he believed it.' It couldn't last, and despite several more brilliant to pretty-good albums (including what must be a contender for history's most outlandishly named album: Zinc Alloy and the Hidden Riders of Tomorrow: A Creamed Cage in August), Bolan began to slip from the charts by the mid-seventies. With much of his band rotating at a fierce clip due to the difficulty of working with Bolan, and Bolan himself struggling with his weight as well as drug and alcohol abuse, his career got put on hold. By 1977 he had cleaned himself up with the help of his new wife, Gloria Jones, and was back to recording and even had his own TV show. Sadly it wasn't to be. His car - driven by Jones - wrapped itself around a tree in southwest London on September the 16th, killing him instantly. Even today, decades later, it feels like a career cut tragically short. Perhaps in some way though, it's the end that Bolan might have wanted - his career and legacy forever hermetically sealed, his place in the pantheon assured, his preening, strutting self-preserved perfectly for us to enjoy for all eternity.