The Rake Style Guide: The Enduring Influence of Mad Men
Over a decade after it first aired, the legacy of AMC's Mad Men lives on, through both the show's sublime storytelling and the classic, tailored style of its lead protagonists.
Fun fact: according to Forbes, between 1998 and 2014 suit sales doubled in the US. This may or may not have something to do with the enormous success of Mad Men, the peerlessly sophisticated TV drama that aired from 2007 until 2015. 
The series has many qualities (Cheever-worthy characterisation, tantric pace, forensic sixties mood), but most unusual is a sartorial texture so dense it has been deciphered for clues ever since.
It also changed the way men dressed. The mid-noughties taste for smarter, more minimalist menswear may well have been a reaction against the casual nineties: compare, for example, J. Crew's slim-cut Ludlow suit and
Mad Men
-inspired collections from Brooks Brothers and Banana Republic to the scuffed trainers and baggy sweaters popularised by 
Seinfeld
 and 
Friends
.
Mad Men
's visionary costume designer Janie Bryant has said that for series one, set in 1960, the men favour skinny fitted suits, skinny ties, flat front trousers, lapels, tie bars, collar bars and "club collars". Nostalgia-chic seems to work in forty-year cycles: just as
Mad Men
helped the noughties fetishise the sixties, the club collars worn by patrician smoothie Roger Sterling hark back to the twenties and thirties, reviving a look that became popular again in the late fifties. As the series wends its way through the decade, however, there's a shift to kitsch - wider ties, plaid, more colour, more facial hair.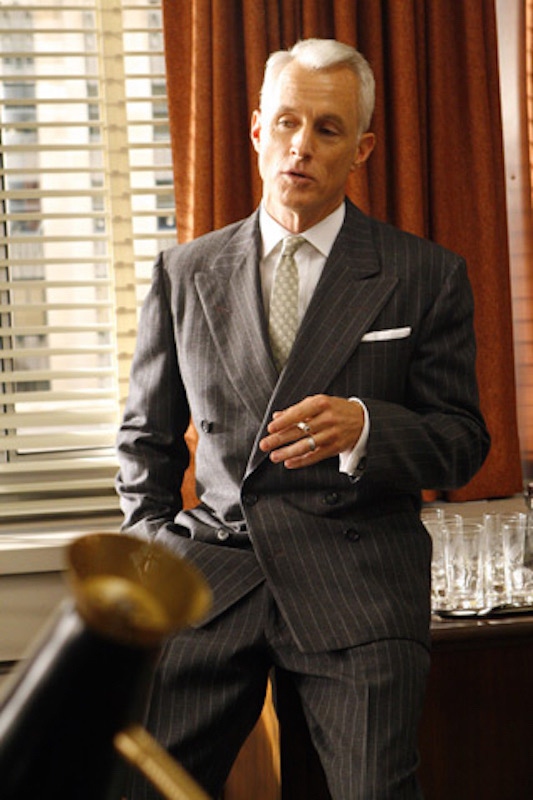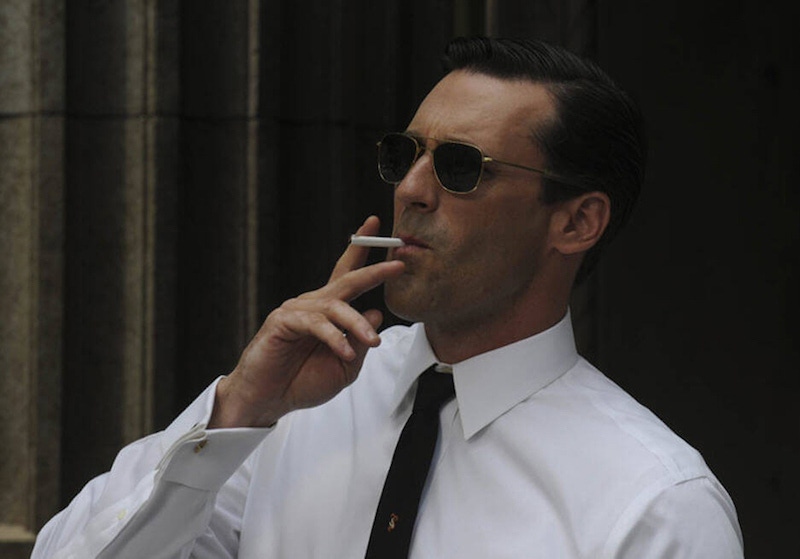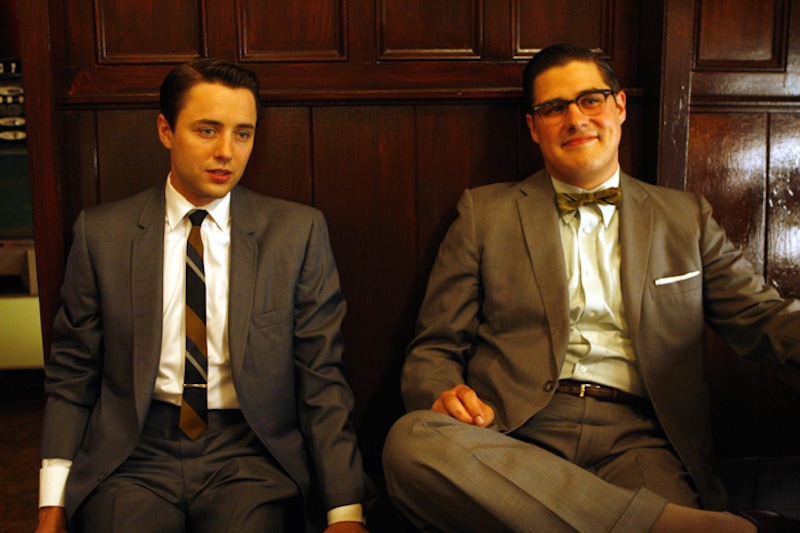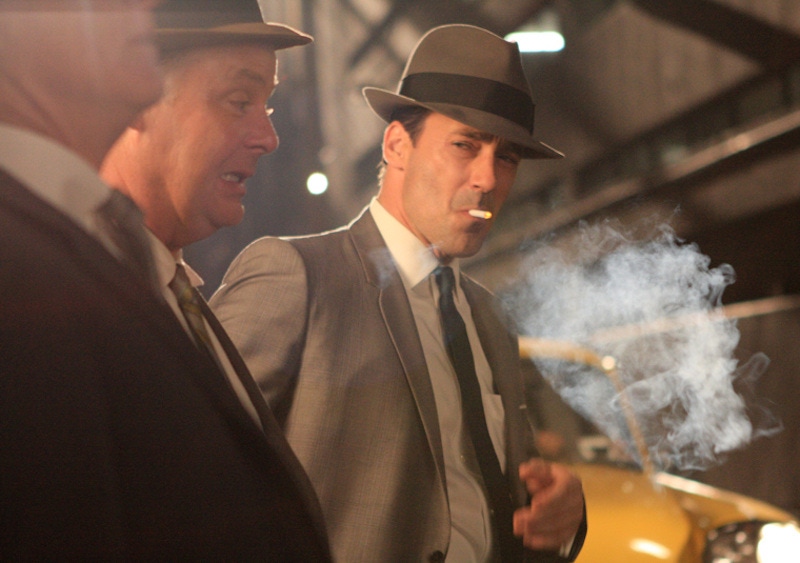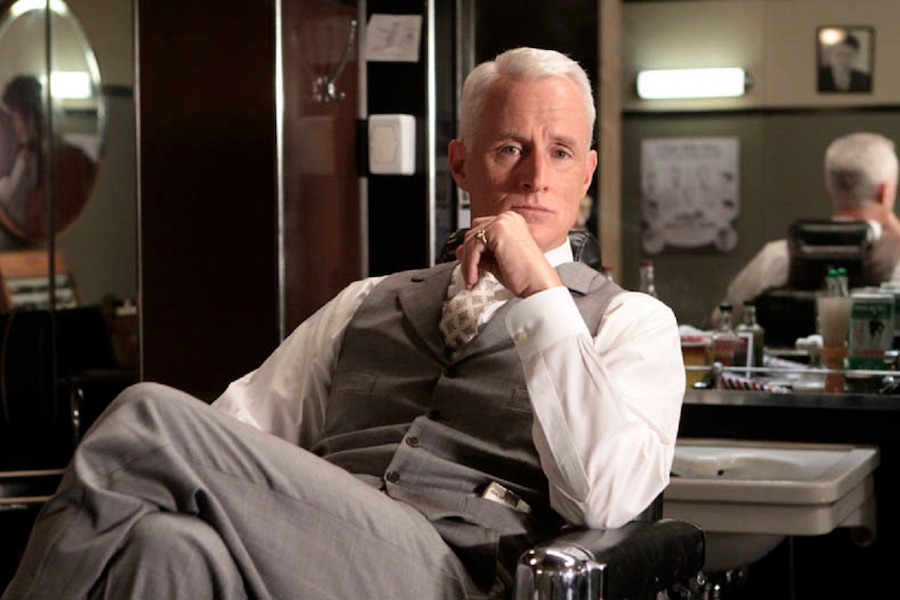 Jon Hamm's Gatsby-esque antihero Don Draper, like the advertising industry he masters, is a metaphor for reinvention (idealised, dishonest, gorgeously performed) and the evolution of Don's wardrobe through the sixties mirrors his personality's. Until about 1963, his look is conservative: 
Jonathan Heaf in The Guardian
lists the early Draper look as grey suits, heavily pomaded side-parted hair, billowy white shirts (with crisp reserves kept in an office drawer), pocket squares, high-collar brown trenches and proper pyjamas in bed. But from season four onwards, trips to California and a new, (briefly) happier marriage bring out Prince of Wales checks, flamboyant plaid and even a mock polo neck. By the final scene in the final episode in 1969, he's meditating barefoot on a hill by the sea. Every character expresses their psychology through their clothes. Irreverent partner Roger Sterling dabbles in double-breasted, three-piece suits and monogrammed cuffs. Ms Bryant made old-money brat Pete Campbell's suits as blue as his blood, but once the Draper-worshipping Campbell starts to mimic his idol's infidelities and ascent up the company, his palette switches to greys, blacks and three-piece pinstripes. Starchy Englishman Lane Pryce wears waistcoats, neurotic Michael Ginsberg fizzes in anti-establishment colour, and chronically uncool Harry Crane swaps short-sleeves and clip-on bow ties for mustard-yellow sports jackets, long scarfs and shades (
Michael Caine
he is not). Even grooming and accessories offer insights: Sterling's immaculate white hair is the best mix of old and young; the combination of Campbell's receding hairline and his baby face is the worst of old and young (he grows mutton chops to compensate); Ginsberg is the first staffer to grow a moustache, but the counter-cultural prescience it represents foreshadows his breakdown; and Jared Harris' Lane smashes his glasses during his first failed suicide, one of the most poignant scenes in the whole show.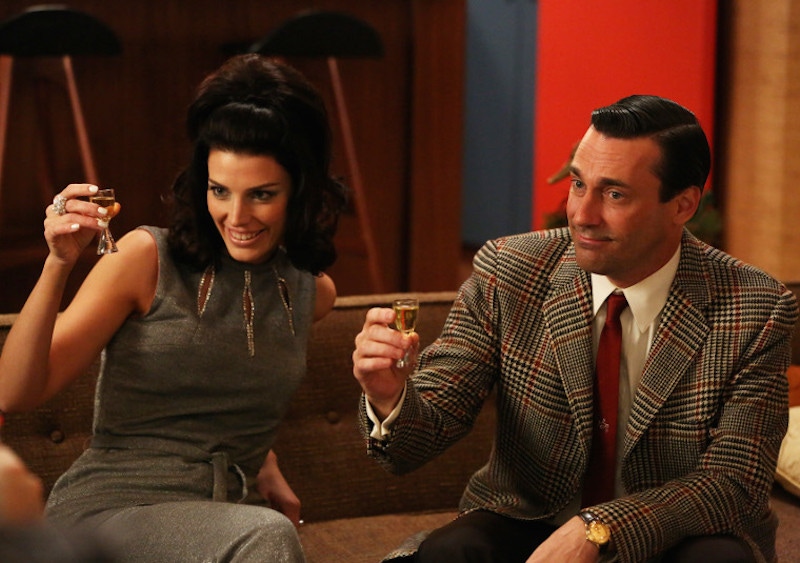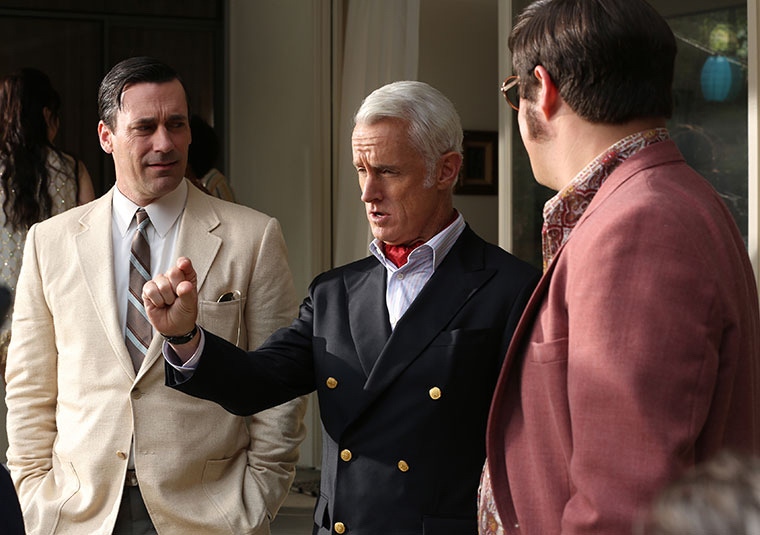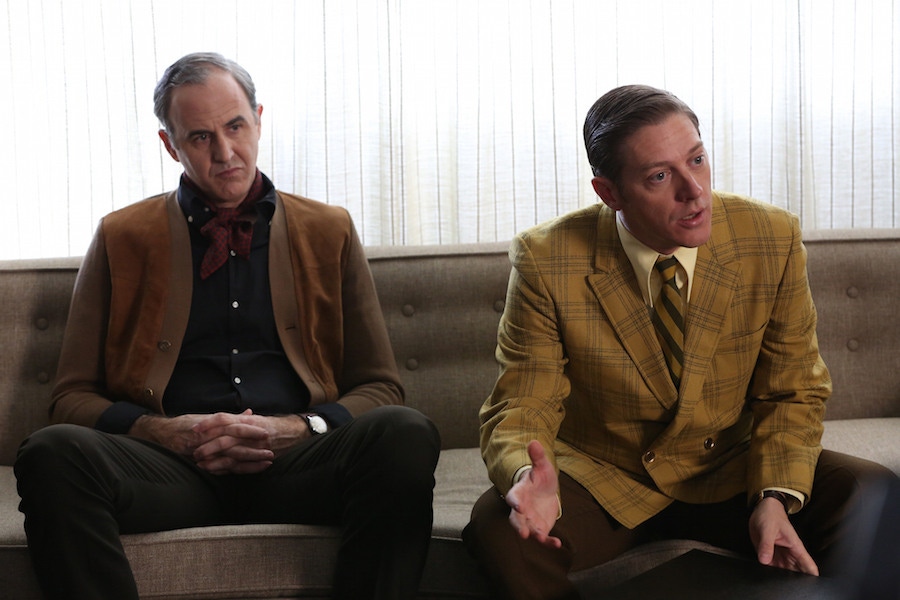 Ms Bryant approached the sartorial composition of 
Mad Men
 like a painting, always thinking of the "complete tableaux", and clues are so lyrically hidden in every frame that you could study it like an art historian (one American university even offers a
course in Mad Men studies
). A particularly rampant fan theory insisted that, because Don's third wife Megan wore a 
red-starred white T-shirt
like Sharon Tate's, she would be murdered (she wasn't). Joan wears a phallic pencil necklace round her neck (note when she takes it off) and the flowers on her dresses bloom and recede depending how happy her love life is. Satisfyingly, Roger Sterling doesn't even take his suit off to take LSD. Nostalgia, as Don claims in his hypnotic carousel pitch, comes from the Greek for 'pain from an old wound', but 
Mad Men
's retro-revival has been the purest pleasure, simultaneously classic and radical. To quote Matt Zoller Seitz' wonderful 
Mad Men Carousel
,
the show is a "masterpiece of construction, filled with major and minor bits of foreshadowing and recollection, lines and images that seem to answer each other across time". Though fashion is a carousel itself, giddy with echoes, throwbacks and reinterpretations, rarely has television influenced menswear as tastefully or knowingly as 
Mad Men
. Let's enjoy the dapper vogue while it lasts. The forty-year nostalgia-rule suggests we may have to brace ourselves for the post-formal throwback…