Hamilton's Ultimate Soldiers' Watch
To uphold the relevance of the mechanical watch to a new generation of consumers with value, style and performance, a Hamilton is hard to beat.
Why are Revolution and The Rake e-tailing and championing a watch under $900? And why am I bigging it up? For several reasons. First of all, we live in a time when the mechanical watch is at risk of losing its relevance to the next generation. Not because of the dominance of technology, not because time is readily available from a seemingly infinite myriad of omnipresent electronic screens that blink and blare at us from every possible corner of our lives. But because of complacency and a little bit of arrogance. Arrogance in what way? Well this relates to the immense cost of luxury watches that in the context of a young person's life, where they have rent, school loans, a car loan if they are lucky, the watch is the last priority in their lives. Especially if their starting price is three to five thousands of dollars. And I can understand in the context of today why Instagram friendly experiences like a road trip to Tulum, a concert, a culinary adventure has taken precedence. Not because the mechanical watch is not appealing, but simply in terms of relative value, it is not really that great of a proposition. I mean, you can have a hell of a lot of incredible experiences and create some really cool images for five thousand dollars. The other thing, which I've always found somewhat amusing is that it is as if watch brands when creating a sub-$1,000 offer, were given the dictate from the parent groups: "Make it decent but not so nice looking that it might threaten the appeal of our more expensive watches." And so the fact is that for many years anything in the price category with the exception of Japanese watches like Seiko Divers, which were particularly cool when modded by Bill Yao, was largely bereft of anything even vaguely appealing. The category was essentially an afterthought. Relegated to the junior designer and told that his target audience were people purchasing bland soulless timepieces from the Duty Free catalogue. But all that has changed. Thanks to the rise of a handful of appealing startups which are designing great looking retro-modern timepieces at $500-$800 price points. And thanks in large part to one incredible brand named Hamilton. I defy anyone, your most hard core watch pundit, grizzled jaded watch journalist or urbane horological sophisticate to tell me that the Hamilton Khaki Field Mechanical is not an outright superb timepiece.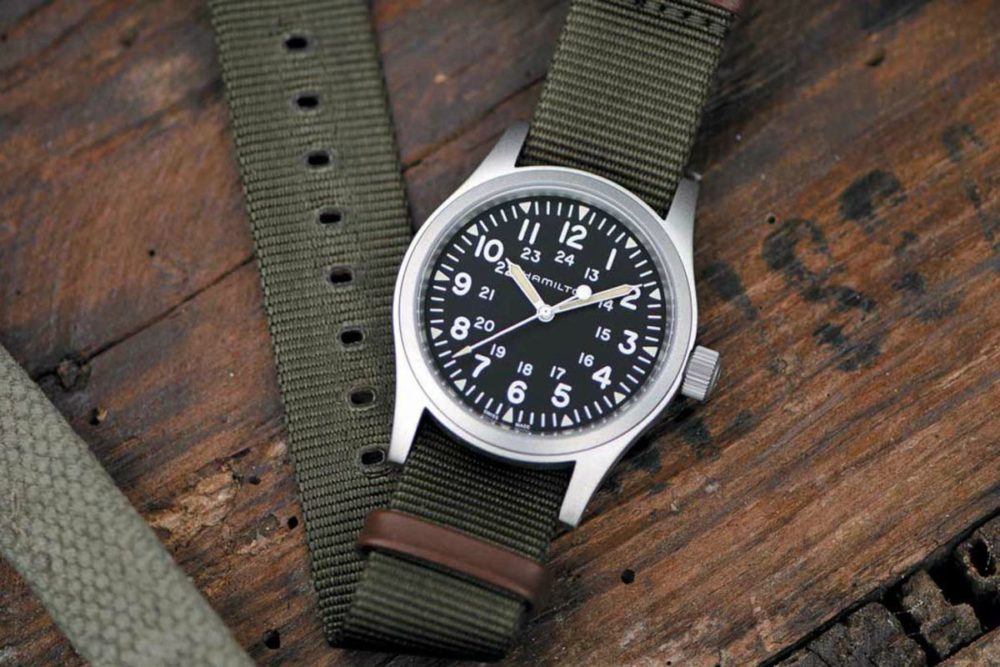 Hamilton got everything right with this watch. First of all is the size which at 38 mm is precisely the correct size for this time of military-inspired time-only timepiece and yet is a diameter that older more entrenched luxury brands still think is too small. It isn't. It's the right size. As an aside, this reminds me of when we showed our collaboration with IWC, a 36mm tribute to the brand's Mark 11, to a watch retail expert and he remarked, "What is that, a ladies watch? No man would ever buy that." Which showed how woefully out of touch even those in the industry are regarding how consumer tastes have changed. Second is the design of the Khaki Field Mechanical. It lives up to its billing as the "ultimate soldiers' watch," with its bold Arabic dial with added luminous triangular markers and a second 13-24 hour scale. The treatment of the steel cases to evoke an aged patina is perfectly rendered, the watch uses a quality H-50 (ETA based) movement with hacking seconds and you can outfit it in a variety of NATO straps. And best of all, the watch retails for 500 bucks. Says the brand's dynamic CEO Sylvain Dolla, "We strongly felt that a customer shouldn't have to compromise just because he is entering the mechanical watch world at that price. And our mission was to create a timepiece that would be universally appealing despite the fact it cost 500 dollars. I think the Khaki Field Mechanical is just this kind of watch. I see it appealing to everyone from the young person who wants a great military style watch with a great history and authenticity, to the most sophisticated watch collector who wants a watch that looks great but that he doesn't stress about when he's on holiday or in the country."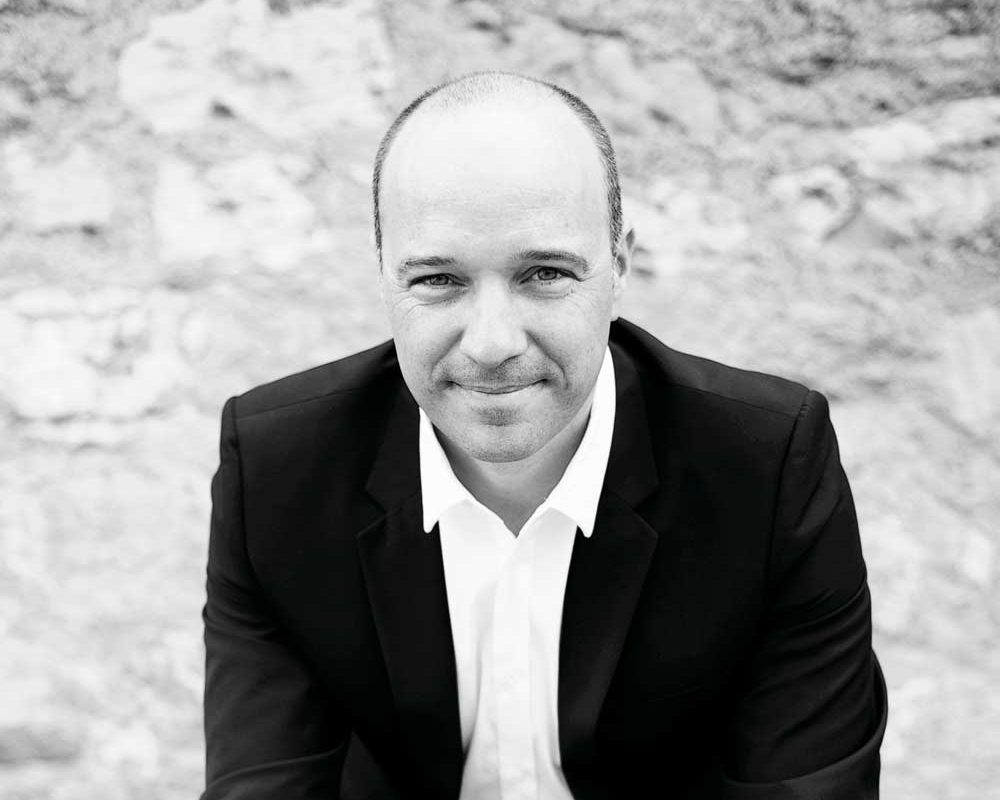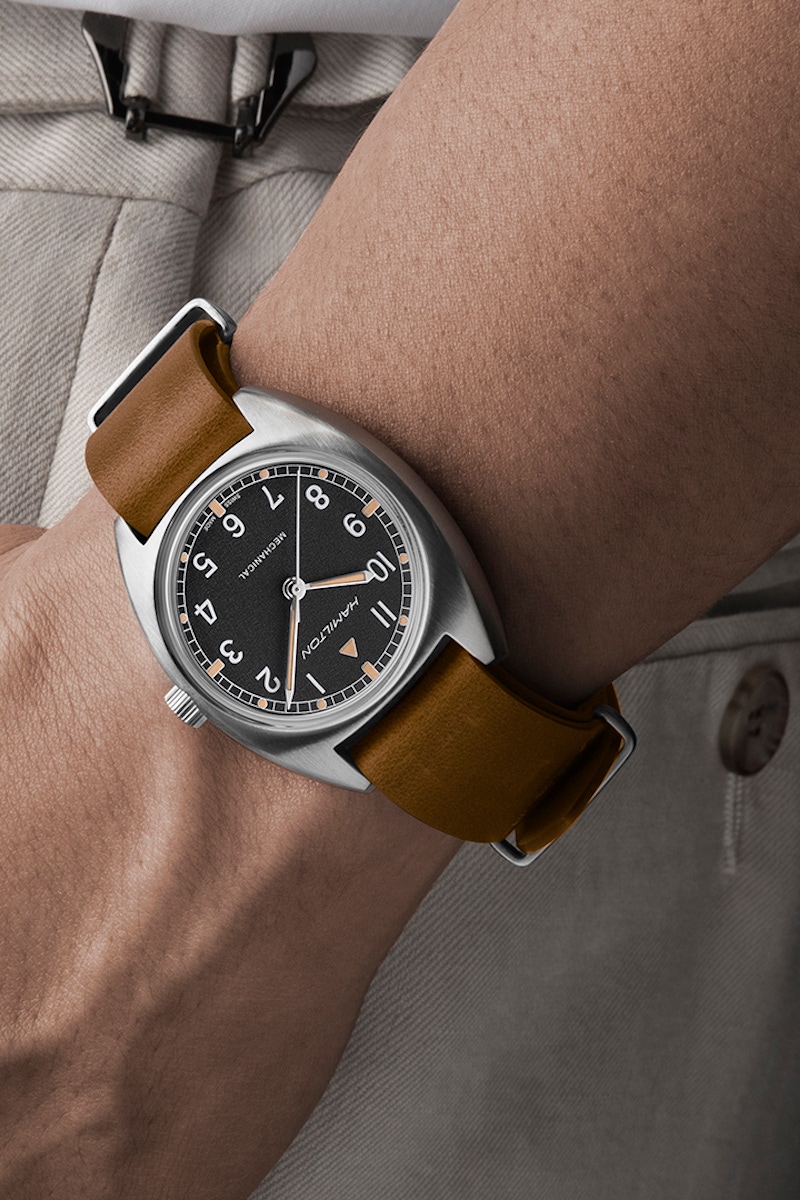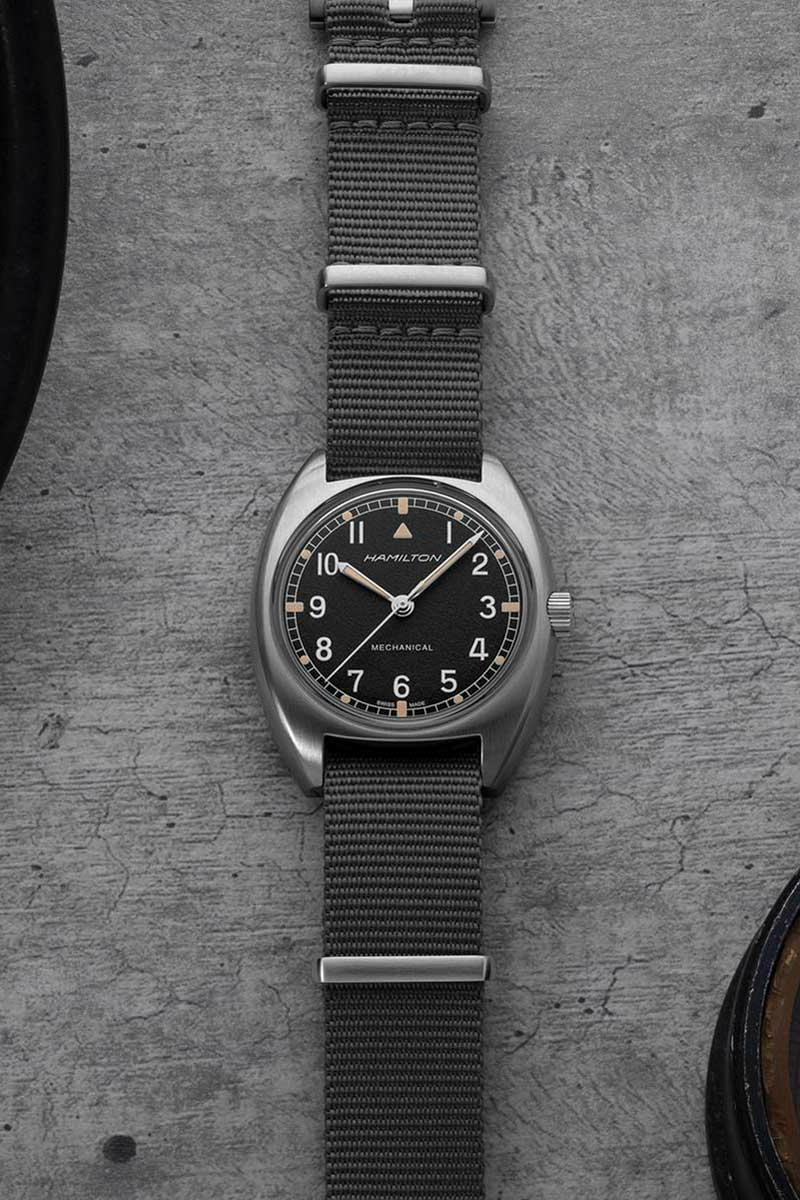 What's Hamilton's latest watch? It's called the Khaki Pilot Pioneer Mechanical and I've had it on my wrist for a week now, worn it motorcycling, at spin class, with a suit and it just works. It's particularly cool because it is a homage to a watch Hamilton made for the British Ministry of Defence from 1973-1976. And it was created like the Dirty Dozen watches to be the everyman/soldier's military timepiece. Unlike the Mark 11 which was specially designed as a pilot's watch, the W10 was used by all branches of the British armed forces. It actually succeeded the Smiths W10, but different from it significantly in that it introduced a tonneau or barrel shape which to my mind endows it with an added sense of elegance as well as a Sword hour hand.
Every time I show it to some one the 33 x 35 mm beauty brings a smile to their faces. No one thinks you're a dick when you wear a Hamilton. In fact, they see it as a statement that you recognize great value. And that's exactly why we are honored to partner with Hamilton in our new e-commerce venture with them, because we know they make damnably great watches and at a price point that is an expression of the single greatest value on the mechanical watch market. With an ambition to connect this hobby we love with a new generation of customers but also to appeal to guys that might be anything from Richard Mille or AP customers who might want the ultimate in low-key, low-maintenance charm, a watch they can put on and forget about if they're visiting the beautiful but crime-ridden streets of Naples, for instance. Anyway, today discretion has become fashionable and while you might have Eric Clapton's Arabic dial 5004, 3970 and 5970 in your collection like a friend of mine does, there will be times you might prefer to be seen in public with a watch that doesn't inspire jealousy or put a target on your back; and if so, a Hamilton is your huckleberry.