Hay Fever Season
She is one of the most talented and adaptable British actors of her generation, and with the release of the new Mission: Impossible blockbuster, Hayley Atwell has earned her moment in the sun. She tells The Rake's Editor-in-Chief, Tom Chamberlin, about the experience of working with another famous Tom...
The road of happy destiny awaits trudgers like Hayley Atwell. She is a woman who wears her experience, strength and hope as if a loose garment, not a cursed straightjacket — at ease with herself, projecting her comfort via osmosis to those in her company. Inner battles are common in the Hollywood set, an industry in which rejection is currency and the slings and arrows of fame and fortune the Scylla and Charybdis for anyone brave enough to bet their talent (and self- esteem) on its bright lights. It's worse if you're a woman.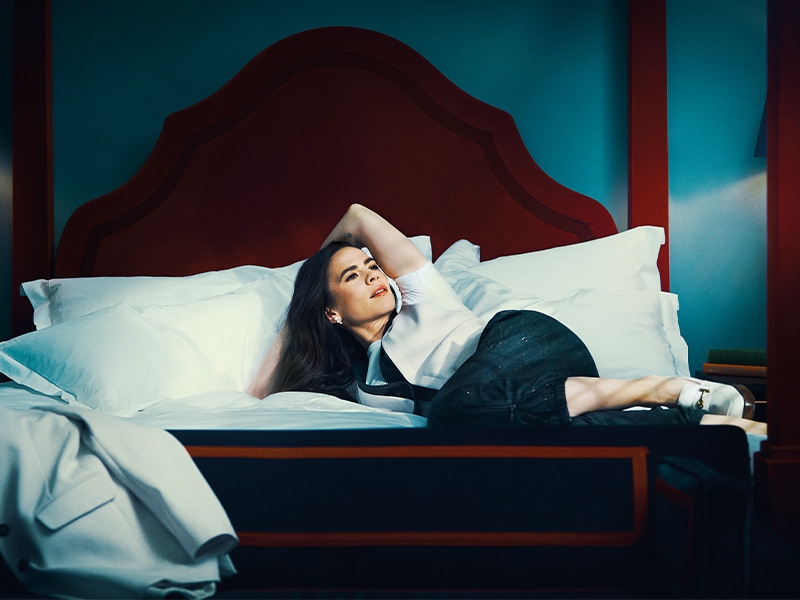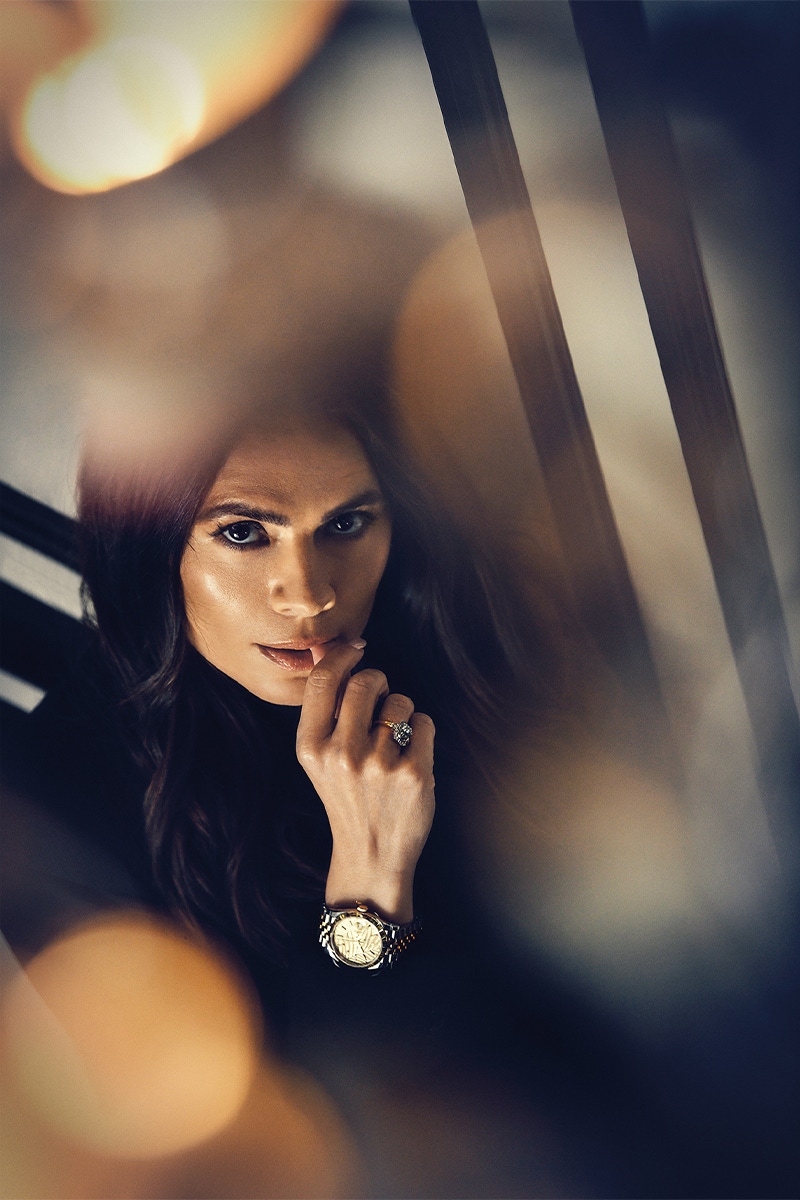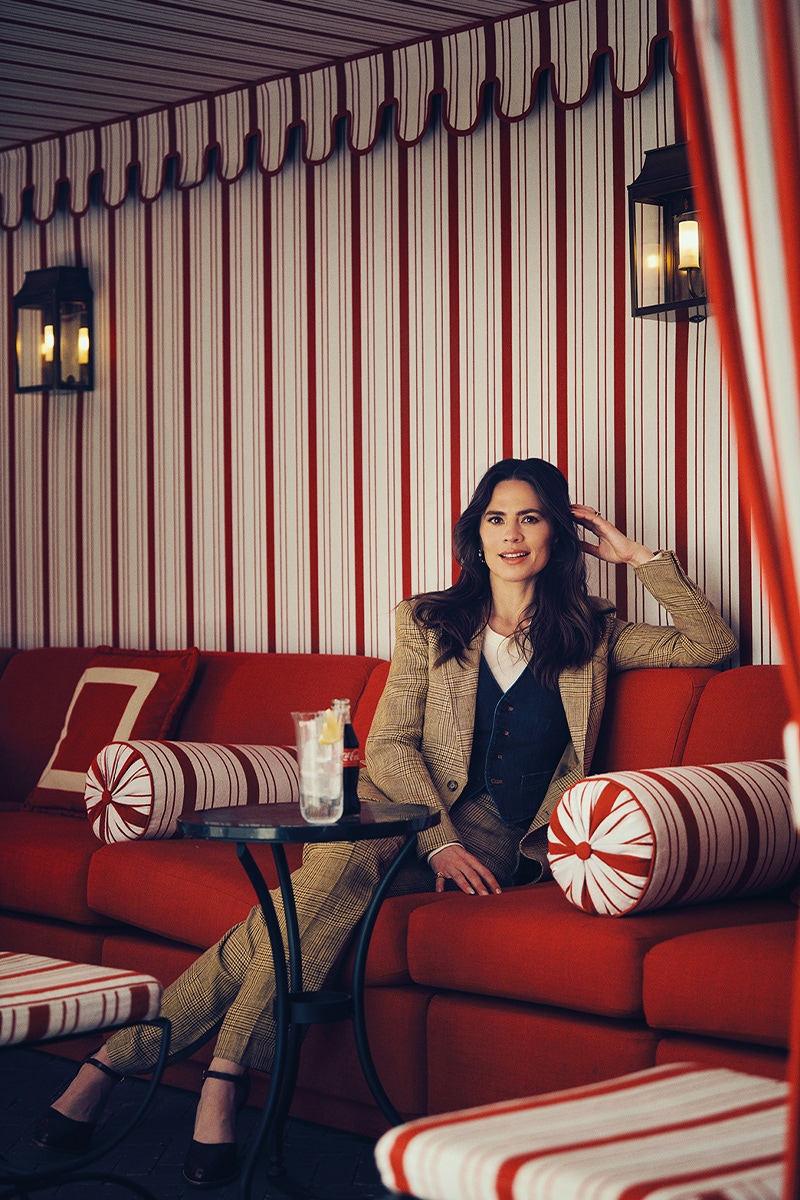 Above Hayley wears Cream silk jacket, white T-shirt, waistcoat and wool utility trousers, Brunello Cucinelli; white leather loafers, Tod's; Datejust 36mm in Oystersteel and yellow-gold, Rolex. Left, Black two-piece wool suit, The Deck; silk bow blouse, Safiyaa. Right,

 

Plaid wool suit, denim waistcoat and T-shirt, Polo Ralph Lauren; burgundy leather heels, Tod's; crystal hooped earrings, Completedworks.
So the ebullience, play- fulness and energy that Atwell possessed at our photoshoot and interview at The Twenty Two, a remarkably chic hotel, restaurant and private members' club on the north-west corner of Grosvenor Square in Mayfair, brought the best out of every member of The Rake's crew. Every tilt or adjustment of Atwell's noctilucous face and Rossetti jawline came with a commentary of her thought process. An extended leg in the air (showing remarkable litheness) brought well-timed irreverence to the table. By the end of the day, we had a full gamut of images to work with — exactly what you want from a shoot. To then conduct an interview in a bath, an opportunistic idea by yours truly and sportingly accepted by Hayley — well, it blended perfectly the sublime and ridiculous.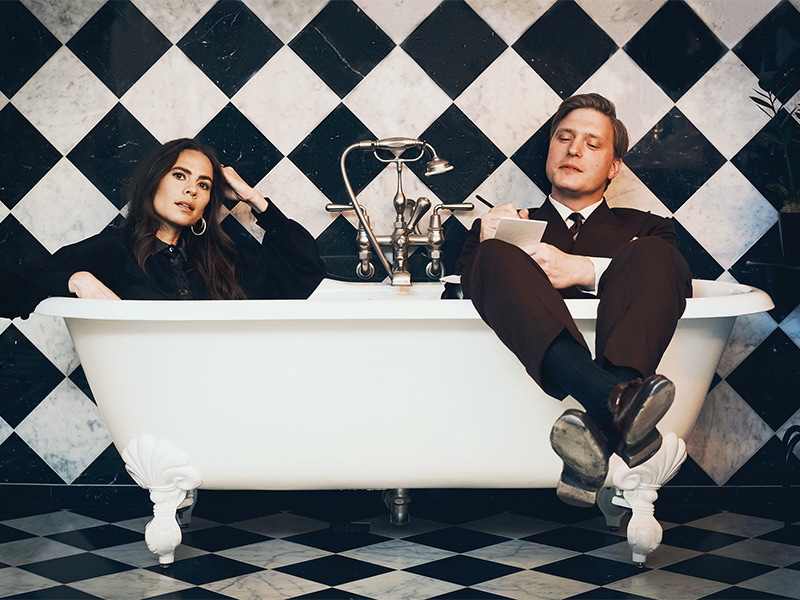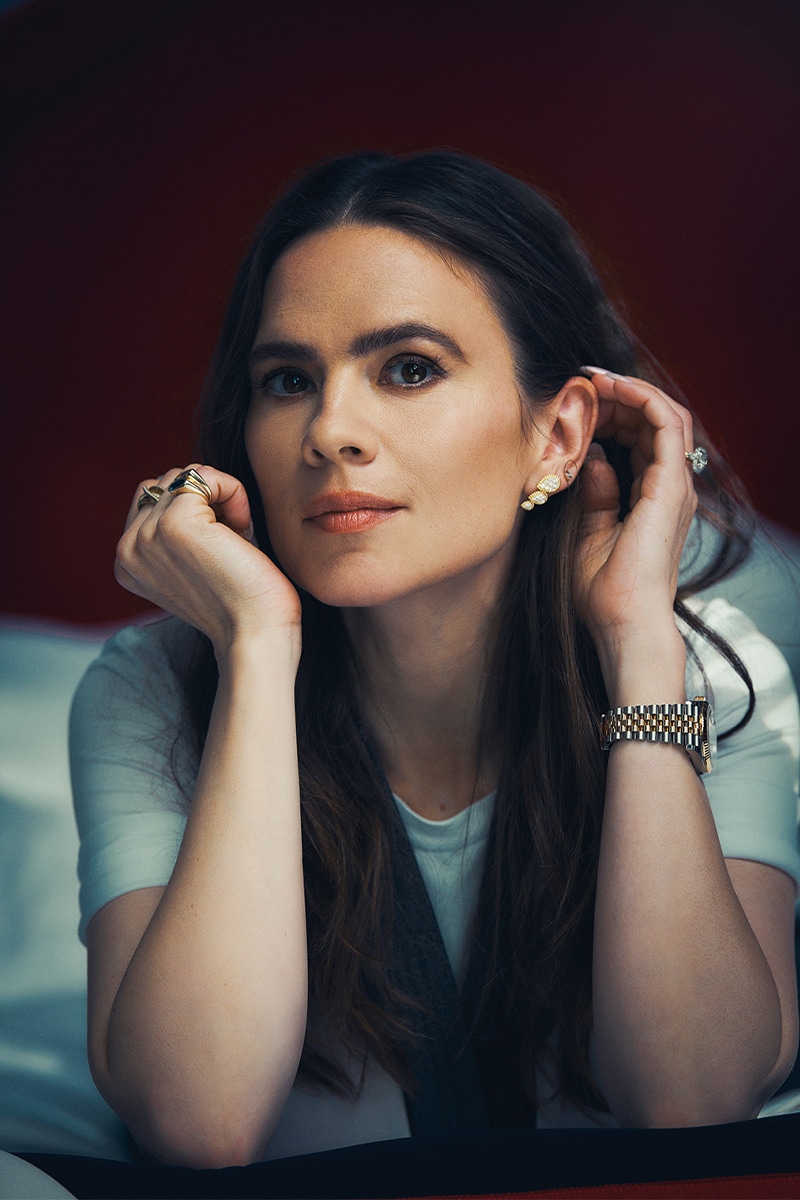 Above Hayley wears Black silk blouse with sequin tie and silk trousers, Brunello Cucinelli; black heels, Roger Vivier; chain ring, Pomellato; Rota hoop earrings, Swarovski. Left, Cream silk jacket, white T-shirt, waistcoat and wool utility trousers, Brunello Cucinelli; white leather loafers, Tod's; Datejust 36mm in Oystersteel and yellow-gold, Rolex. Right,

 

White wool jacket, The Deck; Serpent earrings, Boucheron.
Atwell's career has slalomed between mediums with the kind of effortlessness that every RADA fresher dreams of. This capacity to adapt "in a chameleonic way", as she puts it, is something she credits to her early schooling: she began at Hill House, in the centre of Chelsea and alongside nephews of sultans, before being moved to the local state school, with a "rock star's kids and a mix of really cool, creative council-estate kids. Then I went to quite a rough secondary school." It has enabled her to go from blockbuster movie to television, theatre, radio and audiobooks. The skill it takes to shift focus like that is impressive and beyond the capability of many, but to Hayley it is just like exercising different muscles at the gym. She says: "It sharpens the skills of the other [formats]: the best preparation I can do for film is to have done theatre. Also, I get a burst of energy from doing something different, not lying on a couch for three days." In Alcoholics Anonymous they say that the definition of insanity is trying the same thing over and over again and expecting a different result. So perhaps the opposite can also act as a restoration of sanity.
Special thanks to The Twenty Two, Mayfair.
Read the full interview with Hayley Atwell in Issue 89, available to purchase on TheRake.com and on newsstands worldwide now.
Subscribers, please allow up to 3 weeks to receive your magazine.