How to Wear Knitwear With Tailoring
Combining knitwear with tailoring is a failsafe way to approach the tricky territory of business and smart casual dress codes. Let's break it down for you...
With the proliferation of office-wear becoming increasingly more open to variety and interpretation, the necessity of the
combination of business shirt and tie
with formal tailoring has diminished quite significantly. As a result,
knitwear
has weaved its way to the front of the queue and it's a beautiful thing. Unfortunately, though, some men aren't in the know on this front, so allow us to break it down.
A usual rule of thumb is that the top, pullover or jumper (whatever you refer to it as), should be made from a fine-gauge material so it can work seamlessly beneath a
tailored jacket
- too bulky and you'll look ridiculous, too thin and you'll be cold. For those wondering what on earth 'gauge' means, it's the metric applied to knitwear that governs the number of stitches per inch. Less than 10 is considered heavy, 10 to 20 medium, and anything more than that is fine. 
Come the cooler months knitwear in its many guises comes into its own. There are numerous styles, constructions, gauges and materials from many reputable makers – from British mainstays such as
Johnstons of Elgin
,
Anderson & Sheppard
and
Inis Meáin
,
to the continental brands who fearlessly dazzle with colourful combinations, like
Altea
,
Doppiaa
and
Scaglione
– to work with and choose from.
To kick it all off, we have the
rollneck,
which has reached stratospheric heights of popularity within the sartorial world in recent years. No other piece of knitwear underlines the changes in formal dress codes than it. It's chic and so, so bloody easy to pull off. As mentioned earlier (and I'm going to drum it in), if you're to wear a rollneck beneath a jacket, it can't be too thick as it will look ridiculous and puffy. In terms of styling, the obvious instinct is to
keep it tonal
, for instance with a charcoal cashmere or Merino wool rollneck beneath a charcoal flannel suit. For that look,
Edward Sexton
or
Johnston's
should be your port of call. However, tonal could be considered boring by some, so using a rollneck for punctuation is also a great way of incorporating it into an outfit. Whether it's in a soft, neutral tone that contrasts against a navy or grey jacket, or a vibrant or block-patterned design,
Doppiaa
and
Larusmiani
have options aplenty. If you're looking for something a bit more casual and interesting, opting for a cable-knit rollneck
 is a good way to do so, as the decorative and intricate design versus a plain weave adds depth and character. Note: you don't have to ignore your shirting options, as a rollneck can be layered beneath one and even on top with the collars poking out from the neck. 
V-NECK
In voracious fashion, the v-neck sweater is back with a vengeance, and it really is time to think about it as a trusted steed in knitwear form. From where it originates is hard to know - perhaps it's a revival of 1980s style, beautifully manifested in old Ralph Lauren and Giorgio Armani campaign imagery, or it being plucked out from the annals of vintage sportswear like old-school cricket jumpers. Traditionally speaking, lightweight v-neck jumpers are best worn with a tailored jacket compared to a heavy cricket jumper, the latter of which look fantastic layered against muted, earthy browns. When it comes to shirting, a soft-collared white shirt is always a reliable option, and will also help you channel that old-school charm of 1980s campaign imagery. If your jackets are cut full and are able to cater to a heavy knit beneath, roll out the cricket jumper, but if you're in need of something a little smarter, a thin gauge knit ought to do the trick. Need further help? Here's
how to wear a v-neck
.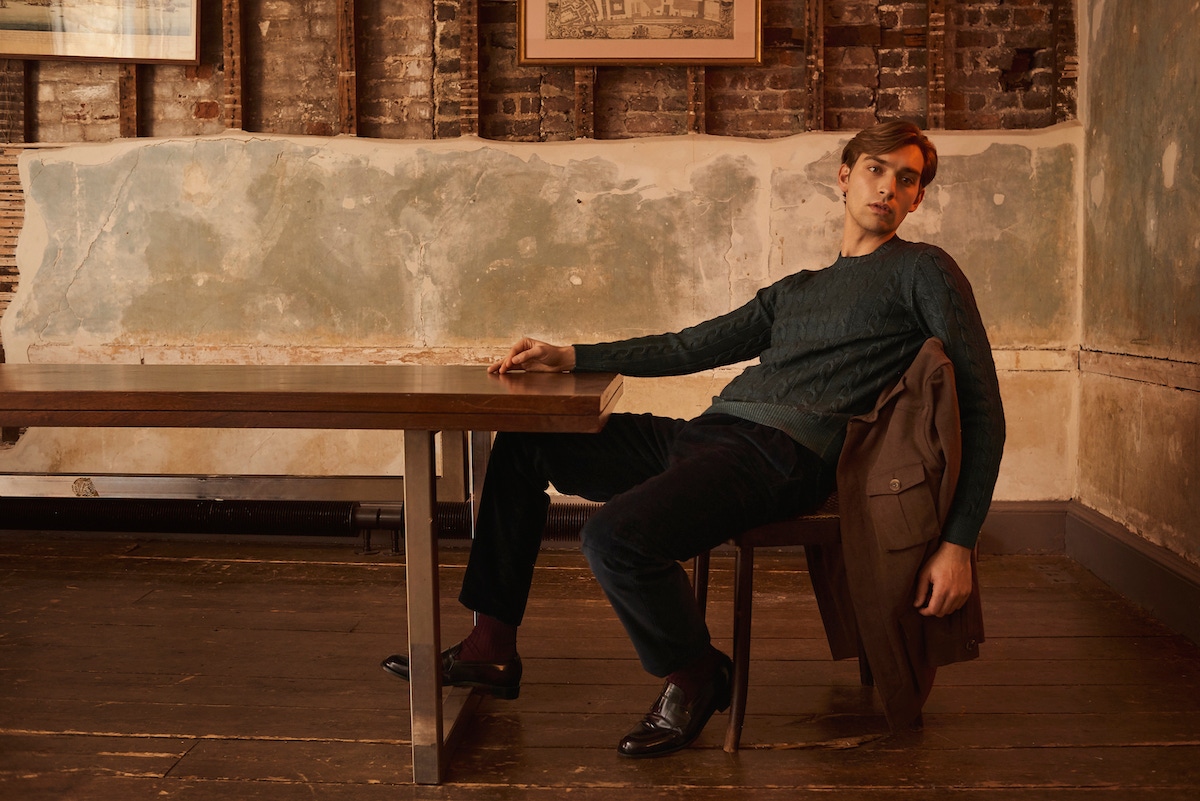 CREWNECK
The crewneck is the most popular form of knitwear and arguably the smartest, even though a crewneck can be very casual given its sportswear roots (cotton variants aren't a smart option with tailored jackets). When it comes to wearing a crewneck jumper with tailoring, again, you need to wear a relatively thin-gauge one if you're going to wear a shirt beneath. However, it can easily replace the shirt. If you're wanting to wear a soft neutral, make sure it's not too thin as #freethenip is certainly not appropriate in this case. Regardless, though, with the crewneck, there's more variety in terms of the design with stripes (check out Edward Sexton for your stripey-needs), both vertical and horizontal, Argyle motifs, and cable and waffle knits. Doppiaa has some excellent options in this category that can add a needed lift to sombre business suiting. If you're starting to get a bit warm, merely tie and hang the jumper around your shoulders for a louche and cool look. 
CARDIGAN
If you're required to wear a shirt and tie to work, a cardigan can easily add an extra layer of warmth if it's made from cashmere or wool. What's more, a cardigan can be very complimentary towards a jacket but it can go as far as being able to replace one if your workplace condones it. For this, it should have sleeves and come in a conservative colour like mid-grey or navy. Keep it buttoned up and treat it the same as a waistcoat by leaving the bottom button unfastened. For all your cardigan needs, Budd Shirtmakers has muted and pastel tones covered. In case you were wondering, too, shawl collar cardigans don't work with tailored jackets as the roll of shawl collar is too bulky and the collar of your jacket won't sit flush on your shoulder blades. 
It would be wrong to go into such length about the particular styles of knits that you can wear with tailoring without giving thanks to our friends in the northern part of the British Isles - the Scots and the Irish, as due to the harsh climates that they find themselves in during winter, they've invested centuries into designing a range of knitwear pieces that were befitting of their locale and seafaring professions.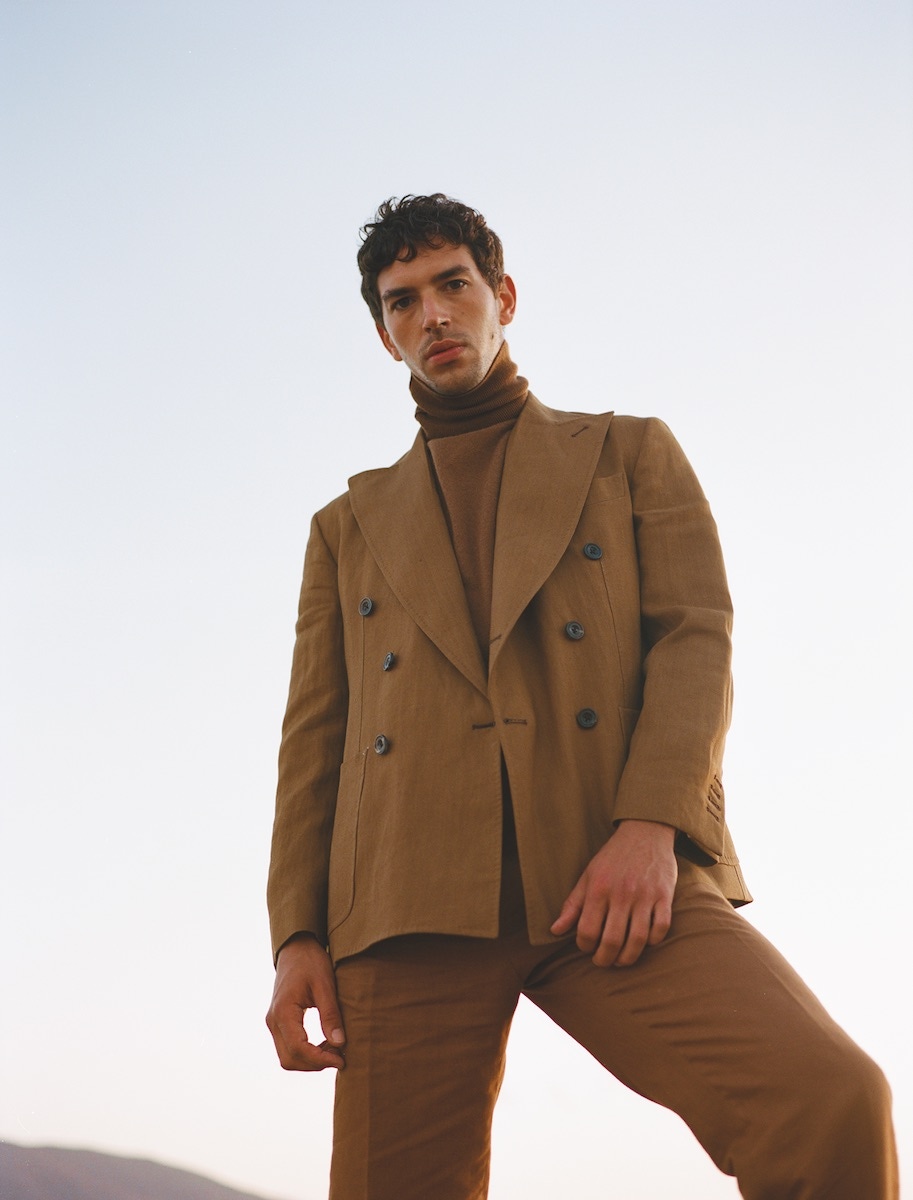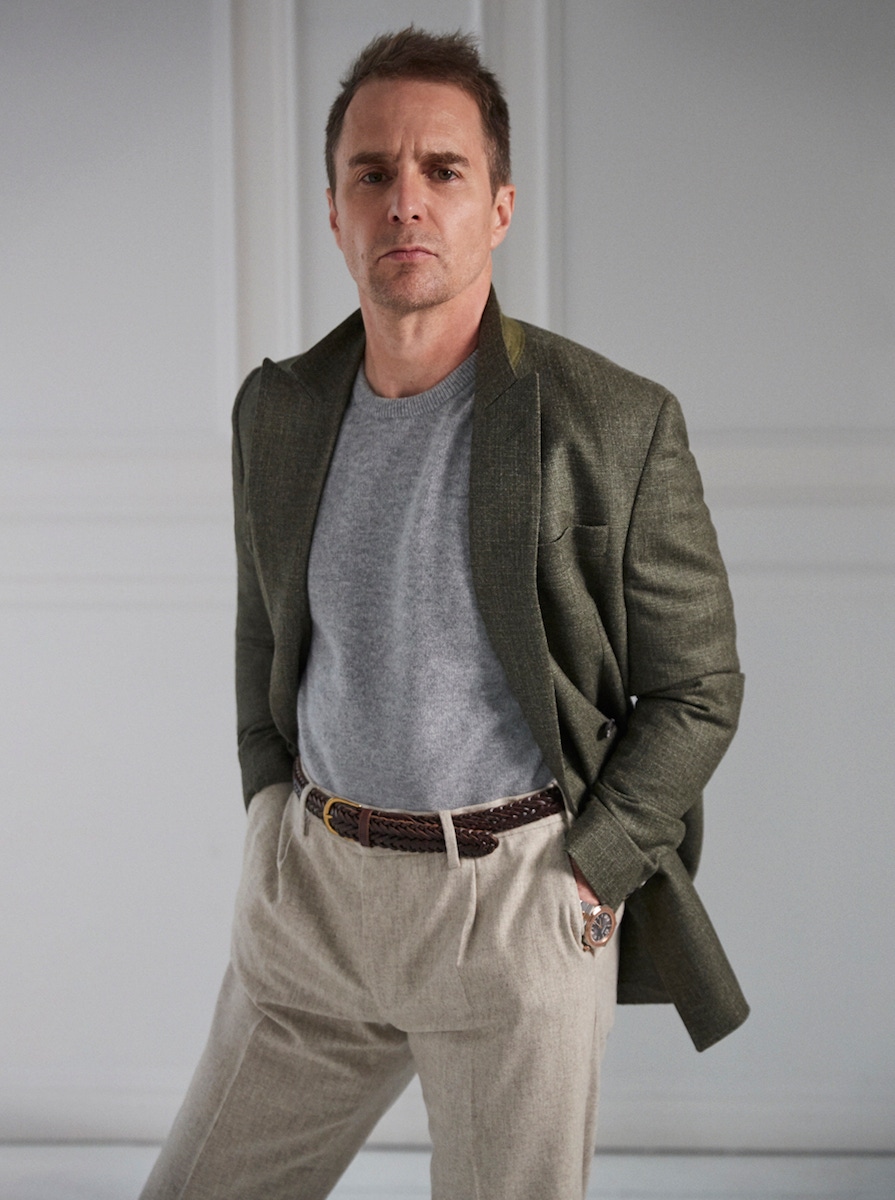 CABLE KNIT 
One popular design is the cable-knit jumper, which is something of an essential when building an arsenal of beautiful knits. As the name alludes to, it's instantly recognisable via the vertical cable panels that run up and down in the centre of the jumper. The style has its roots in maritime culture: seafaring wives would knit their other halves jumpers – usually made from unscoured wool, which retains its natural oils and in turn creates a weatherproof barrier – providing a personal and homely touch. They're a certified classic, and depending on the thickness, can be worn with tailoring. A cable-knit jumper in a soft, neutral tone is a fail-safe option and
Paul Stuart
has a few excellent options in this category for you to explore. 
ARAN KNIT 
Named after the Aran islands just off the west coast of Ireland, Aran knits are similar to cable knits, but more decorative. This decorative touch gives the knit a more personal feeling and seaman's wives would design them in such a way that they were a signifier of who they were and where they came from. Since then, they have become less of an instant tool for recognising someone and more of a fashionable choice. Inis Meáin, an excellent knitwear manufacturer from Ireland, is currently producing some of the finest examples today, offering a hefty rollneck and crewneck, the latter of which can easily slide beneath a tailored sports jacket. While it's off mainland Scotland, there are Shetland knits, which have a more shaggy nature. We have a few options from Anderson & Sheppard and Scaglione. 
DONEGAL 
The term Donegal (another fine Irish export) applies to garments and accessories that have the same flecked appearance, maintaining a sombre look with tiny speckles of character. It's a lovely design that can be woven or knitted, as the flecks come from the spinning process, but in terms of knitwear options, The Rake's offering is largely restricted to Anderson & Sheppard, who make a fine blend of cashmere and wool - they're hefty though, so will be best worn with a tailored overcoat or a roomy sports jacket.